St. Nicholas Liturgy this Saturday, December 6 at 9:30am, Vespers at 5:30
On St.Nicholas Day (Saturday, December 6) will we celebrate Divine Liturgy at 9:30am and Vespers at 5:30pm. Following Vespers we will decorate the tree and Church for Christmas.
Please bring an ornament for the Church Christmas tree and a canned good or nonperishable to donate to one of the local food banks. St. Nicholas cared for the poor. We should too.
The church will provide sandwiches, dessert, coffee, egg nog and juice. This is a great way to start off the Christmas season with your church family.

We Need Chanters and Readers
Interested? Please see Fr. Hans.
About St. Nicholas
The true story of Santa Claus begins with Nicholas, who was born during the third century in the village of Patara. At the time the area was Greek and is now on the southern coast of Turkey. His wealthy parents, who raised him to be a devout Christian, died in an epidemic while Nicholas was still young. Obeying Jesus' words to "sell what you own and give the money to the poor," Nicholas used his whole inheritance to assist the needy, the sick, and the suffering. He dedicated his life to serving God and was made Bishop of Myra while still a young man. Bishop Nicholas became known throughout the land for his generosity to those in need, his love for children, and his concern for sailors and ships.
Under the Roman Emperor Diocletian, who ruthlessly persecuted Christians, Bishop Nicholas suffered for his faith, was exiled and imprisoned. The prisons were so full of bishops, priests, and deacons, there was no room for the real criminals—murderers, thieves and robbers. After his release, Nicholas attended the Council of Nicaea in AD 325. He died December 6, AD 343 in Myra and was buried in his cathedral church, where a unique relic, called manna, formed in his grave. This liquid substance, said to have healing powers, fostered the growth of devotion to Nicholas. The anniversary of his death became a day of celebration, St. Nicholas Day, December 6th (December 19 on the Julian Calendar).
Through the centuries many stories and legends have been told of St. Nicholas' life and deeds. These accounts help us understand his extraordinary character and why he is so beloved and revered as protector and helper of those in need.
Read more on the St.Nicholas website.
Sunday School Begins on Sunday, December 7
Please bring your children to Church for the start of Sunday School. It is important for our children to be taught about the Bible, our Church, and our faith.
We are starting small but it will grow! Sunday School is headed by Mary Copeland and Georgia Katsigianopoulos.
Parishioner Needs Temporary Lodging
Melanie Pefinis, a parishioner of St Peter's will be buying a home in Bonita Springs but needs a few months to get the lay of the land, check out neighborhoods, and so forth.
If anyone has a short-term rental situation or needs a house sitter, an inlaw apartment, guest house, empty space, or any other situation while she works with her realtors, please let Melanie know. You can call Melanie at 410-812-1268 or email her at pefinis@yahoo.com.
Parish Christmas Card – Deadline Approaching
Sign up for the parish Christmas Card. It is a great way to send Christmas greetings to all parishioners in one easy swoop. It is a great way to support your Church too.
Kindly download and print the information form here. Fill it in and bring it to Church.
Or if you prefer you can fill out the form and make your donation online. Deadline is December 14, 2014.
Stewardship for 2015
Stewardship forms for 2015 are available in the back pocket of each chair or on the website.
Your financial support of the Church is very important because it enables us to continue and grow.
We are also instructed to support our Church in scripture.
How much to give? How about the equivalent of one hour of work each week?

Watch Enthronement of Met. Joseph Live Online
The Saturday, December 6, Enthronement of His Eminence Metropolitan Joseph, and the Sunday, December 7, Divine Liturgy led by His Beatitude Patriarch John X will be available for viewing live online. Visit Antiochian.org during the services to watch the video being broadcast for a global audience by Noursat | Tele Lumiere.
The broadcast of the enthronement of Metropolitan Joseph is scheduled to begin at 4:30 pm EST on Saturday, December 6, and should go to at least 6 pm EST.
The broadcast of the Divine Liturgy led by Patriarch John X is scheduled to begin at 9:30 am EST on Sunday, December 7, and should go to at least 1 pm EST.
More information is available on the Antiochian Archdiocese website.
St. Peter Evangelism Seminar on Sunday, December 14
The Archdiocese has asked St. Peter's to join in a pilot program to teach about evangelism — how to speak about our faith to our friends and neighbors — that sort of thing. It involves a presentation and discussion after Liturgy and perhaps (if we are willing) some work down the road.
Adam Roberts, the man in charge of the project, will be visiting St. Peter's on Sunday, December 14 to give a talk after Liturgy. More details forthcoming.
We are the first of a handful of parishes to be asked to join in this program. From this early experience the program will be fine-tuned and eventually rolled out across the country.
One request: In order to keep costs down, Adam has asked if anyone would be willing to host him Sunday evening. Is there any parishoner who can host him? Please tell Fr. Hans. Adam will stay with you Sunday and leave Monday morning.
St. Paul's Founders Day
Archpriest Joseph Shaheen and the Parish Council
and Parishioners of St. Paul Antiochian Orthodox Church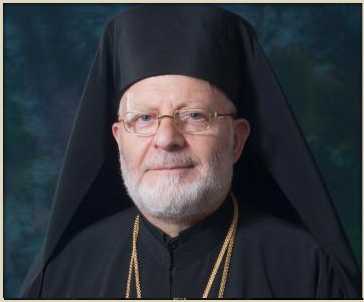 Announce with great joy the presence of His Eminence,
Metropolitan JOSEPH and His Grace, Bishop ANTOUN
February 21 and February 22, 2015
Celebrating the 18th Annual St. Paul Founders' Weekend
Please save these dates and plan to attend.
Watch for details!
Remember in Your Prayers
Please continue pray for Pauline Poulos. She is recuperating at home.
Pauline Poulos
1338 Alkazar Ave.
Ft. Myers, Fl. 33901
Please continue your prayers for Pat and Milam Evanoff. Milam is unable to make it to Church.
Bob and Jane Smith will be joining us soon when Bob has all his medical appointments completed.
Prayer is very powerful and changes situations and circumstances. God hears your prayers.
The Sunday Scripture Readings
The Gospel Reading
(For the Tenth Sunday of Luke)
The Reading from the Holy Gospel according to St. Luke. (13:10-17)
At that time, Jesus was teaching in one of the synagogues on the Sabbath. And there was a woman who had had a spirit of infirmity for eighteen years; she was bent over and could not fully straighten herself. And when Jesus saw her, He called her and said to her, "Woman, you are freed from your infirmity." And He laid His hands upon her, and immediately she was made straight, and she praised God.

But the ruler of the synagogue, indignant because Jesus had healed on the Sabbath, said to the people, "There are six days on which work ought to be done; come on those days and be healed, and not on the Sabbath day."

Then the Lord answered him, "You hypocrite! Does not each of you on the Sabbath untie his ox or his ass from the manger, and lead it away to water it? And ought not this woman, a daughter of Abraham, whom Satan bound for eighteen years, be loosed from this bond on the Sabbath day?"

As Jesus said this, all His adversaries were put to shame; and all the people rejoiced at all the glorious things that were done by Him.
The Epistle Reading
(For the Twenty-Sixth Sunday after Pentecost)
Let Thy mercy, O Lord, be upon us. Rejoice in the Lord, O ye righteous.
The Reading from the Epistle of St. Paul to the Ephesians. (5:8-19)
Brethren, walk as children of light (for the fruit of light is found in all that is good and right and true), and try to learn what is pleasing to the Lord.

Take no part in the unfruitful works of darkness, but instead expose them. For it is a shame even to speak of the things that they do in secret; but when anything is exposed by the light it becomes visible, for anything that becomes visible is light.

Therefore it is said, "Awake, O sleeper, and arise from the dead, and Christ shall give you light." Look carefully then how you walk, not as unwise men but as wise, making the most of the time, because the days are evil.

Therefore, do not be foolish, but understand what the will of the Lord is. And do not get drunk with wine, for that is debauchery; but be filled with the Spirit, addressing one another in psalms and hymns and spiritual songs, singing and making melody to the Lord with all your heart.