Twenty-Fifth Sunday after Pentecost
Tenth Sunday of Luke
Forefeast of the Conception of the Theotokos; Venerable Patapios of Thebes; Sophronios, Bishop of Cyprus; Apostles Sosthenes, Apollos, Crispos, Caesar and Epaphroditos of the Seventy
St. Patapios
Who Was Venerable Patapios of Thebes?
Saint Patapios was born in 380 in the Egyptian city of Thebes. His father was a governor of the region and a descendant of a well known Egyptian family. He and his wife were devout Christians and instructed Patapios in Scripture. As Patapios reached a mature age, well-known tutors were brought from Alexandria to instruct him in science, mathematics, philosophy and rhetoric. Through this education, he became accutely aware of how transient this world is and was attracted to the ascetical way of life. He was particularly inspired by Clement, Origen and Athanasius. His father also took him to the renowned catechetical school in Alexandria where Patapios came under the influence of a blind teacher named Didemus. Didemus inspired him even further to desire the ascetical path he had chosen. When he finished his studies, he returned to Thebes to find out that his father had passed away. Desiring to live a life like the ascetics, he decided to leave for the Egyptian desert where he became well known for his ascetic deeds.
No longer able to find peace in the desert he set off for Constantinople in 428. During his voyage, he met his disciple Sechnuti, who was an Egyptian rower. [During this voyage, their ship passed near Corinth where they stayed for seven years]
By 435, after seven years in Corinth, Patapios left his skete in the Geranian mountains to resume his journey to Constantinople taking with him the monk Sechnuti. In Constantinople, they secretly went to the Monastery of Blachernae, where he obtained a cell in the city wall. Patapios kept his identity a secret and resumed a life of strict fasting, vigil and prayer under the guise of a simple monk.
Here he performed many miracles of healing. After a life adorned with virtue and miracles, he died at a great age of eighty-three (83) in 463 and was buried by his disciples in the church of St. John the Baptist in Constaninople of Petras (of Stone) which was under the protection of the royal family of Constantinople, Palaiologoi, and especially of Saint Hipomoni (Saint Patience) who was the mother of the last emperor of Byzantium, Constantine Palaiologos.
Since the saint's repose, the Church has carefully preserved the stories of his life and his sacred relics. One thousand years after the repose of the saint, when the Turks captured Constantinople, his relics where removed and taken to the little cave-skete in Corinth (as he had requested during his lifetime). The saint's body was hidden behind a western wall in the cave facing the iconostasis and chapel they built.
In the early 20th-century a local priest discovered the relics of the saint hidden in the wall. He was an unnaturally tall priest who regularly served this small chapel and because of his height commissioned some changes to the chapel. The night before the works to the western wall were to commence, Fr. Constantine had a dream in which a monk warned him to "take care when you break the wall because I am on the other side. I am Saint Patapios of Egypt." He was found the next day holding a large wooden cross on his chest, a parchment scroll with his identity and large leaves covering his relics as fresh as they had been picked that very moment.
Since his relics have been discovered, many people have been visited by the saint in visions and dreams asking them to visit "his house in Loutraki". He is especially known for healing cancer and miracles occur world-wide throughout the world, including Australia and America.
Read more on the Orthodox Church in America website.
ATTN PARENTS: St. Nicholas Divine Liturgy and Children's Program, on Thursday, December 5, at 5:30pm
We will hold our annual St. Nicholas Program on Thursday, December 5 starting with the Divine Liturgy at 5:30pm. The program for children follows. Please mark you calendar.
PROGRAM: Fr. Hans and his Elves
FOOD: Pizza, popcorn, hot chocolate, cookies
PRIZES: Come and find out!
Please RSVP by December 3, 2019. Call Mary Copeland at 239-498-1331.
Why aren't we holding it on Friday? Because no organizer was available that evening so we moved it to a day earlier.
Parents, bring your kids! They will learn about how the real Santa Claus is.
Lenten Cookbook by Tabita Valentine Available
Tabit Valentine has compiled a cookbook of Lenten recipes available to our parishioners and for sale in our bookstore.
The recipies are good. Many of you have sampled her work during Social Hall and special events and will agree that what she makes tastes great and topped with a good dose of healthy!
Suggested donation is $15 with all proceeds going to the building fund.
Dr. Zannos and Julia Are Going to be Married and You Are Invited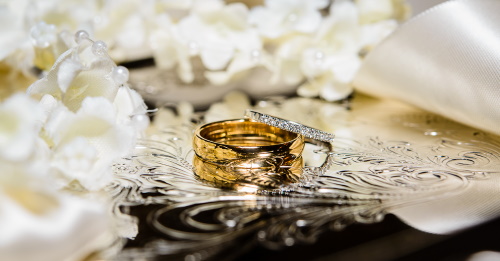 We are pleased to announce the marriage of Zannos and Julia to be held on Saturday, January 4, 2020 in the afternoon. They have invited all members of the parish to attend.
If you plan to attend, please RSVP online to Julia (click here) or mention it to her in person by December 14, 2019.
Nativity Fast Continues 2019
The Nativity Fast is one of the four Canonical Fasting Seasons in the Church year. This is a joyous fast in anticipation of the Nativity of Christ. That is the reason it is less strict than other fasting periods. The fast is divided into two periods. The 1st period is November 15th through December 19th when the traditional fasting discipline (no meat, dairy, fish, wine, and oil) is observed. There is dispensation given for wine and oil on Tuesdays and Thursdays. Similarly, fish, wine, and oil are permitted on Saturdays and Sundays. The 2nd period is December 20th through 24th when the traditional fasting discipline (no meat, dairy, fish, wine, and oil) is observed. There is dispensation given for wine and oil only on Saturday and Sunday during this period. Here are the guidelines:
| | | | | |
| --- | --- | --- | --- | --- |
| Meat | Dairy | Fish | Wine | Oil |
| beef, chicken, pork, turkey, elk, veal, lamb, deer, rabbit, buffalo, and so forth | milk, eggs, cheese, butter, yogurt, cream, and so forth | fish with a backbone (not including shrimp, octopus, shellfish, squid, or other seafood. | (some include all types of alcohol in this category) | (some include all types of oil in this category) |
| Abstain. | Abstain. | Permitted only on Saturdays and Sundays before December 20. (some permit fish Tuesdays and Thursdays also) | Permitted only on Tuesdays, Thursdays, Saturdays, & Sundays before December 20. | Permitted only on Tuesdays, Thursdays, Saturdays, & Sundays before December 20. |
The Purpose of Fasting
The purpose of fasting is to focus on the things that are above, the Kingdom of God. It is a means of putting on virtue in reality, here and now. Through it we are freed from dependence on worldly things. We fast faithfully and in secret, not judging others, and not holding ourselves up as an example.
Fasting in itself is not a means of pleasing God. Fasting is not a punishment for our sins. Nor is fasting a means of suffering and pain to be undertaken as some kind of atonement. Christ already redeemed us on His Cross. Salvation is a gift from God that is not bought by our hunger or thirst.

We fast to be delivered from carnal passions so that God's gift of Salvation may bear fruit in us.

We fast and turn our eyes toward God in His Holy Church. Fasting and prayer go together.

Fasting is not irrelevant. Fasting is not obsolete, and it is not something for someone else. Fasting is from God, for us, right here and right now.

Most of all, we should not devour each other. We ask God to "set a watch and keep the door of our lips."
Diocese of Miami Winter Retreat
Bible Studies
Please note: Bible Studies have been postoned until January, 2020.
November
Wed Nov 27 — CANCELLED Men's & Women's Bible Study (Thanksgiving Divine Liturgy held instead) 7:00pm
No Bible Studies in December
The Community Bible Study is for the entire community.
The Men's and Women's Bible Study are separate studies but held concurrently.
Thankyou to Everyone who Donated to Toys for Tots!
At St. Peter's we help the poor and disadvantaged. It is part of our mission. Organizations we support include Interfaith Charities, NAAMI, and Toys for Tots.
Thank you to everyone who donated to Toys for Tots. Your gift brought some joy to a child this Christmas.
Sunday School Holiday Food Drive
Our Sunday School children would like to make Thanksgiving and Christmas a little happier for those in need.
Towards that effort, they are asking our parishioners to donate Holiday food items such as:
Stuffing
Cranberry Sauce
Instant Potatoes
Canned Vegetables
Rice
Beans
Pie Shells/Cake Fillings
Cake Mixes
The food will be donated to Interfaith Charities.
A collection basket will be placed outside the Sunday School classroom.
The collection begins this Sunday.
Whatever you can do will be appreciated!
Upcoming Liturgies
St. Nicholas Christmas Liturgy and Program, Thursday, December 5, 5:30pm
St. Spyridon Divine Liturgy, Thursday, December 12, 9:30pm
St. Ignatios of Antioch Divine Liturgy, Friday, December 20, 9:30pm
Nativity Divine Liturgy on Tuesday, December 24, 2019 at 6:30pm
Synaxis of the Theotokos Divine Liturgy on Thursday, December 26, 2019 at 9:30pm
St. Stephen the Proto-Martyr Divine Liturgy on Friday, December 27, 2019 at 9:30pm
Pledge & Income Report – October 2019
In October we took in $17,201 in total donations. Our monthly goal is $16,777.00 leaving us $424 above our monthly expenses for.
These are very good numbers for September.
Please continue giving and thank you for it. We are on track to meet all of our 2019 expenses.
Interfaith Charities Needs More Food Items
They need:
Ramen noodles
Canned tuna
Vegetables
Beans
Soups
Please note: Interfaith Charities is no longer accepting clothing or household items so we won't be accepting them at St. Peter's either.
Bring the food items to church and we will get them to Interfaith Charities. Interfaith Charities is a coalition of local churches helping the poor in our immediate community. See more on their website.
Calendar At A Glance
December
Thu Dec 5 — St. Nicholas Divine Liturgy and Program starting at 5:30pm
Thu Dec 12 — St. Spyridon Divine Liturgy 9:30am
Fri Dec 20 — St. Ignatius of Antioch Divine Liturgy 9:30am
Fri Dec 20 — Parish Council Meeting 3:00pm
Tue Dec 24 — Nativity of Our Lord and Savior Jesus Christ Divine Liturgy 6:30pm
Tue Dec 26 — Synaxis of the Theotokos Divine Liturgy 9:30pm
Tue Dec 27 — St. Stephen the Proto-Martyr Divine Liturgy 9:30pm
Please note the extra remaining liturgies scheduled for November/December:
Thu Dec 5 — St. Nicholas Divine Liturgy and Children's Program, 5:30pm
Thu Dec 12 — St. Spyridon Divine Liturgy 9:30am
Fri Dec 20 — St. Ignatius of Antioch Divine Liturgy 9:30am
Tue Dec 24 — Nativity of Our Lord and Savior Jesus Christ Divine Liturgy 6:30pm
Tue Dec 26 — Synaxis of the Theotokos Divine Liturgy 9:30pm
Tue Dec 27 — St. Stephen the Proto-Martyr Divine Liturgy 9:30pm
Wisdom From The Elders
Whether it's a mirror or a cover from a tin can, unless the rays of the sun fall upon it, it won't shine. The Saints were enlightened by the rays of the Grace of God, just as the stars receive light from the sun. Saint Paisios of Mount Athos
It is impossible to love God if one has bad feelings towards even a single individual. Understandably so. Love and hostility cannot exist in the same soul. Abbot Nikon Vorobiev
When your heart is disturbed in spirit by any passion, and you are deprived of peace, and are filled with agitation, and words of displeasure and animosity to your neighbour fall from your tongue, do not linger in this condition, so destructive to you, but immediately bend your knees and confess your sin before the Holy Spirit. Righteous John, Wonderworker of Kronstadt
Everything is gained by prayer. You are only approaching the first step, you haven't yet ascended it, only approach it and you still have to enter the door, but you can't go in by any effort if God's mercy is not there. That is why you first of all need to ask, "Open unto me the doors of Thy compassion, O Lord! St. Nikon of Optina
You see people abusing and reviling holy and sacred things and others not saying anything. Being meek on such an occasion is demonic. Saint Paisios of Mount Athos
Do not indulge the flesh by anything; either by pleasures, fine views, dainty food, and drink, or by sleep, idleness, and slothfulness, by shameful deeds, games, idle travelling, or frivolous books and sights. Love the one God with all your heart, all your soul, all your strength, and all your thoughts, and your neighbour as yourself, and be indifferent to everything else in the world. Righteous John, Wonderworker of Kronstadt
Remember in Your Prayers
Diomidis (Kanellos)

Anastasia (Ann Constan)
Ben (Ben)
Thomas (Ben)
Irene (C. Diveris)
Vasiliki (C.Diveris)
Efrosini (C. diveris)
Charles (Oberg)
Christine (Kouzes)
Nina (Kovalev)
Hugh (Jacquie)
Violet (Jacquie Mom)
Tammie (Jacquie friend)
Phillip
Baby Luke
George
Priest Kyprianos
Savannah (Jonson)
Bud
Silvana
Nicole
Evan
Megan
Bill R.
Pat R.
Aglaia
George
Hieromonk Serapion
Priest Kyprianos
Athanasia
Alexandra
Constantina
Maryanne (E)
Ron (E)
Tim
Robert (J)
Mary (J)
Patricia
Gregory
Andreas
Sofia Tešanovic
Paul
Dennis H. and Family
Victor Evan
Ann
James
Vasiliki
Efstratia
Alexandra
Nikos
Georgia
Ioannis
Costandino
Jeffrey
Vaso
Dave
Dimitri – Presbyter
Vassiliki
Octavio
Tom
Carl
Rena
Nikolay (5 year old boy in Bulgaria whose parents asked us to pray)
David
Rosie
Kathryn
Jeremy
Constantine
Robert
Jane
Theodora
David
Gina
Micheal
Haralambos
Lillian
Presbytera Rosy
Valentina
Eva W.
Barbara
Angela
Carol Ann
Matthew
Chrysostom
Tim
Pat
Christina
Maria Louise
Maximos
Marian
Photini
Nicholas
Sarah
Constantine Houpis
Anna Marie Smith Baker
Katerina
Mary Kassis
Baby Maximus
Christine
Maria
Annette Star
Claire Livaditis
Eva Chandilles
Baby Dani
Scott Nedoff
James Hord
How should we pray for the sick? Remember them daily. Say their names (first names are sufficient) and ask God to bestow mercy and grace on them.
Add or remove names and print this list for easy reference during your prayer time on the St. Peter website.
Sunday Readings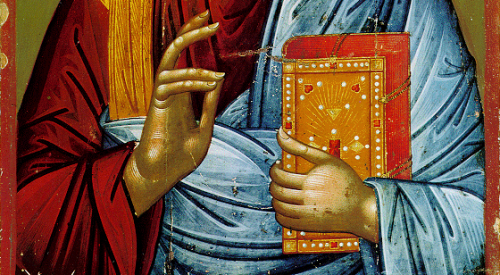 Epistle
For the Twenty-fifth Sunday after Pentecost
Make your vows to the Lord our God and perform them.
God is known in Judah; His Name is great in Israel.
The Reading from the Epistle of St. Paul to the Ephesians. (4:1-7)
Brethren, I, a prisoner for the Lord, beg you to lead a life worthy of the calling to which you have been called, with all lowliness and meekness, with patience, forbearing one another in love, eager to maintain the unity of the Spirit in the bond of peace. There is one body and one Spirit, just as you were called to the one hope that belongs to your call, one Lord, one faith, one baptism, one God and Father of us all, Who is above all and through all and in all. But grace was given to each of us according to the measure of Christ's gift.
Gospel
For the Tenth Sunday of Luke
The Reading from the Holy Gospel according to St. Luke. (13:10-17)
At that time, Jesus was teaching in one of the synagogues on the Sabbath. And there was a woman who had had a spirit of infirmity for eighteen years; she was bent over and could not fully straighten herself. And when Jesus saw her, He called her and said to her, "Woman, you are freed from your infirmity." And He laid His hands upon her, and immediately she was made straight, and she praised God. But the ruler of the synagogue, indignant because Jesus had healed on the Sabbath, said to the people, "There are six days on which work ought to be done; come on those days and be healed, and not on the Sabbath day." Then the Lord answered him, "You hypocrite! Does not each of you on the Sabbath untie his ox or his ass from the manger, and lead it away to water it? And ought not this woman, a daughter of Abraham, whom Satan bound for eighteen years, be loosed from this bond on the Sabbath day?" As Jesus said this, all His adversaries were put to shame; and all the people rejoiced at all the glorious things that were done by Him.