Hieromartyr Eleutherios, bishop of Illyria
Sunday of the Forefathers (Ancestors) of Christ
Martyr Anthia, Mother of Eleutherios; Venerable Paul of Latra; Stephen, Bishop-Confessor of Surozh; Venerable Tryphon of Pechenga
The Forefathers (Ancestors) of Christ
Sermon on the Sunday of the Forefathers
By Fr. Thaddeus Hardenbrook
On the second Sunday before Nativity, the Gospel reading leaves off its progression based on Pentecost and aligns itself with the approaching Nativity. This is a sign for us; a message of urgency regarding what is about to happen. Worries, distractions, and cares must now be set aside for the sake of not missing out on the greatest of the Father's gifts to us, which is His Son in human flesh. Every other mystical and sacred gift is secondary to the Incarnation.
We have been preparing for the feast by fasting. And now that we have moved past the midpoint of the fast, the pace quickens in anticipation of Christ's birth. We commemorate the Holy Forefathers who were part of mankind's preparation for the Messiah. Without them, there would be no God-man, no Christ, for prophecy foretold His birth from their lineage. Therefore their flesh, their prophecies, and their piety prepared the way for the coming of Christ.
Without the Incarnation, there is no salvation as we know it, there is no Cross, there is no Resurrection, there is no partaking in the divine energies of God and no deification. Even paradise and immortality submit to the mystical superiority of the Incarnation. For both paradise and immortality were given to man before the fall. Without the Incarnation, Paradise and eternal life only result in being perfectly and eternally joined to God as His servants.
[…]
Read the rest of the sermon here.
Who is St. Eleftherios?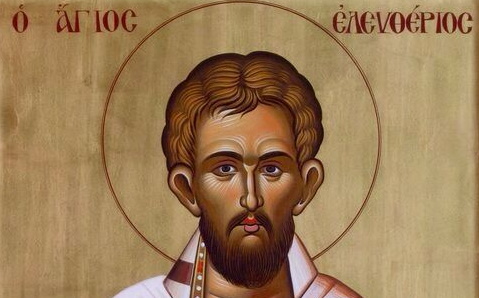 St. Eleftherios
The Hieromartyr Saint Eleftherios, a Young Bishop
This wonderful saint was the son of noble and prominent parents. He was born in Rome, where his father was an official in the imperial service, though he died in the saint's childhood. His mother, Anthia, had heard the Gospel from Saint Paul and was, in fact, baptized by him. Given the fact that she was a widow, she entrusted her son's education to the Bishop of Rome, Anacletus (or Anectus or Anencletus). The Bishop saw how promising the young boy was and how he was illumined by the grace of God and so ordained him deacon when he was no more than fifteen, priest at eighteen and bishop at twenty.
He more than made up in wisdom what he lacked in years, and became Bishop of the Illyricum province, with his seat in Valona, in what is now Albania. His flock increased, but the Emperor Hadrian (117-138), persecuted Christians and sent a commander (comes) called Felix, with a detachment of soldiers, to fetch Eleftherios to Rome. Felix arrived in Valona and went into the church there, but when he saw and heard Eleftherios, his heat softened and he became Christian. When Eleftherios arrived in Rome, he was subjected to dreadful tortures, but withstood them so well that Choribus, the governor in charge of his punishment, was also persuaded to become a Christian. Both he and Felix were tortured and beheaded. Then it was Saint Eleftherios' turn to be martyred. His mother Anthia found the remains of he dead son and embraced them, before also being beheaded. This was in about the year 126.
St. Eleftherios is the saint to pray to for a safe childbirth.
Source: Antiochian Orthodox Archdiocese.
Thank you to Everyone Who Helped with the St. Nicholas Program
What a great evening it was! Thank you to everyone who pitched in and contributed to its success!
You can see pictures of the event on our Facebook page.
Lenten Cookbook by Tabita Valentine Available
Tabit Valentine has compiled a cookbook of Lenten recipes available to our parishioners and for sale in our bookstore.
The recipes are good. Many of you have sampled her work during Social Hall and special events and will agree that what she makes tastes great and topped with a good dose of healthy!
Suggested donation is $15 with all proceeds going to the building fund.
Dr. Zannos and Julia Are Going to be Married and You Are Invited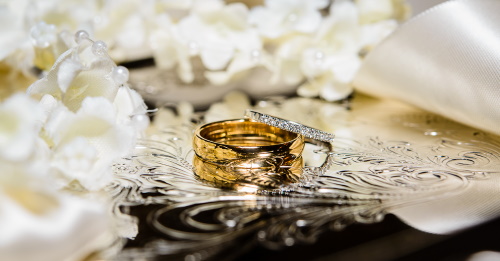 We are pleased to announce the marriage of Zannos and Julia to be held on Saturday, January 4, 2020 in the afternoon. They have invited all members of the parish to attend.
If you plan to attend, please RSVP online to Julia (click here) or mention it to her in person by December 14, 2019.
Nativity Fast Continues 2019
The Nativity Fast is one of the four Canonical Fasting Seasons in the Church year. This is a joyous fast in anticipation of the Nativity of Christ. That is the reason it is less strict than other fasting periods. The fast is divided into two periods. The 1st period is November 15th through December 19th when the traditional fasting discipline (no meat, dairy, fish, wine, and oil) is observed. There is dispensation given for wine and oil on Tuesdays and Thursdays. Similarly, fish, wine, and oil are permitted on Saturdays and Sundays. The 2nd period is December 20th through 24th when the traditional fasting discipline (no meat, dairy, fish, wine, and oil) is observed. There is dispensation given for wine and oil only on Saturday and Sunday during this period. Here are the guidelines:
| | | | | |
| --- | --- | --- | --- | --- |
| Meat | Dairy | Fish | Wine | Oil |
| beef, chicken, pork, turkey, elk, veal, lamb, deer, rabbit, buffalo, and so forth | milk, eggs, cheese, butter, yogurt, cream, and so forth | fish with a backbone (not including shrimp, octopus, shellfish, squid, or other seafood. | (some include all types of alcohol in this category) | (some include all types of oil in this category) |
| Abstain. | Abstain. | Permitted only on Saturdays and Sundays before December 20. (some permit fish Tuesdays and Thursdays also) | Permitted only on Tuesdays, Thursdays, Saturdays, & Sundays before December 20. | Permitted only on Tuesdays, Thursdays, Saturdays, & Sundays before December 20. |
The Purpose of Fasting
The purpose of fasting is to focus on the things that are above, the Kingdom of God. It is a means of putting on virtue in reality, here and now. Through it we are freed from dependence on worldly things. We fast faithfully and in secret, not judging others, and not holding ourselves up as an example.
Fasting in itself is not a means of pleasing God. Fasting is not a punishment for our sins. Nor is fasting a means of suffering and pain to be undertaken as some kind of atonement. Christ already redeemed us on His Cross. Salvation is a gift from God that is not bought by our hunger or thirst.

We fast to be delivered from carnal passions so that God's gift of Salvation may bear fruit in us.

We fast and turn our eyes toward God in His Holy Church. Fasting and prayer go together.

Fasting is not irrelevant. Fasting is not obsolete, and it is not something for someone else. Fasting is from God, for us, right here and right now.

Most of all, we should not devour each other. We ask God to "set a watch and keep the door of our lips."
Diocese of Miami Winter Retreat
Bible Studies
Please note: Bible Studies have been postoned until January, 2020.
November
Wed Nov 27 — CANCELLED Men's & Women's Bible Study (Thanksgiving Divine Liturgy held instead) 7:00pm
No Bible Studies in December
The Community Bible Study is for the entire community.
The Men's and Women's Bible Study are separate studies but held concurrently.
Sunday School Holiday Food Drive
Our Sunday School children would like to make Thanksgiving and Christmas a little happier for those in need.
Towards that effort, they are asking our parishioners to donate Holiday food items such as:
Stuffing
Cranberry Sauce
Instant Potatoes
Canned Vegetables
Rice
Beans
Pie Shells/Cake Fillings
Cake Mixes
The food will be donated to Interfaith Charities.
A collection basket will be placed outside the Sunday School classroom.
The collection begins this Sunday.
Whatever you can do will be appreciated!
Upcoming Liturgies
St. Spyridon Divine Liturgy, Thursday, December 12, 9:30pm
St. Ignatios of Antioch Divine Liturgy, Friday, December 20, 9:30pm
Nativity Divine Liturgy on Tuesday, December 24, 2019 at 6:30pm
Synaxis of the Theotokos Divine Liturgy on Thursday, December 26, 2019 at 9:30pm
St. Stephen the Proto-Martyr Divine Liturgy on Friday, December 27, 2019 at 9:30pm
Pledge & Income Report – October 2019
In October we took in $17,201 in total donations. Our monthly goal is $16,777.00 leaving us $424 above our monthly expenses for.
These are very good numbers for September.
Please continue giving and thank you for it. We are on track to meet all of our 2019 expenses.
Interfaith Charities Needs More Food Items
They need:
Ramen noodles
Canned tuna
Vegetables
Beans
Soups
Please note: Interfaith Charities is no longer accepting clothing or household items so we won't be accepting them at St. Peter's either.
Bring the food items to church and we will get them to Interfaith Charities. Interfaith Charities is a coalition of local churches helping the poor in our immediate community. See more on their website.
Calendar At A Glance
December
Thu Dec 12 — St. Spyridon Divine Liturgy 9:30am
Fri Dec 20 — St. Ignatius of Antioch Divine Liturgy 9:30am
Fri Dec 20 — Parish Council Meeting 3:00pm
Tue Dec 24 — Nativity of Our Lord and Savior Jesus Christ Divine Liturgy 6:30pm
Tue Dec 26 — Synaxis of the Theotokos Divine Liturgy 9:30pm
Tue Dec 27 — St. Stephen the Proto-Martyr Divine Liturgy 9:30pm
Please note the extra remaining liturgies scheduled for November/December:
Thu Dec 12 — St. Spyridon Divine Liturgy 9:30am
Fri Dec 20 — St. Ignatius of Antioch Divine Liturgy 9:30am
Tue Dec 24 — Nativity of Our Lord and Savior Jesus Christ Divine Liturgy 6:30pm
Tue Dec 26 — Synaxis of the Theotokos Divine Liturgy 9:30pm
Tue Dec 27 — St. Stephen the Proto-Martyr Divine Liturgy 9:30pm
Wisdom From The Elders
True fasting lies is rejecting evil, holding one's tongue, suppressing one's hatred, and banishing one's lust, evil words, lying, and betrayal of vows. St. Basil the Great
Do not spare yourself, but pray earnestly, even if you have been toiling all day. Do not be negligent in holy prayer; say it to God unto the end from your whole heart, for it is a duty you owe to God. Righteous John, Wonderworker of Kronstadt
In the first place, do not talk yourself when you are agitated, in malice. In the second place, forgive those who are hot tempered and irritated, when they pour forth abuse and reproaches, either just or unjust. Righteous John, Wonderworker of Kronstadt
Everything we do, our every objective, must be undertaken for the sake of… purity of heart… we must practice the reading of the Scripture, together with all the other virtuous activities… to hold our hearts free of the harm of every dangerous passion and in order to rise step by step to the high point of love. St. John Cassian
Our soul is simple, as the image and likeness of God; therefore, when it is well-regulated and is living in accordance with the will of God, then it is peaceful, easy, and joyous; whilst, on the contrary, when it consents to sin, commits sin, or is forced into sin by the Enemy, then it becomes disturbed, darkened, and heavy. Thus, always do the will of God, and you will be simple and quiet; but if you sin you will have no peace. Righteous John, Wonderworker of Kronstadt
Remember in Your Prayers
Diomidis (Kanellos)

Anastasia (Ann Constan)
Ben (Ben)
Thomas (Ben)
Irene (C. Diveris)
Vasiliki (C.Diveris)
Efrosini (C. diveris)
Charles (Oberg)
Christine (Kouzes)
Nina (Kovalev)
Hugh (Jacquie)
Violet (Jacquie Mom)
Tammie (Jacquie friend)
Phillip
Baby Luke
George
Priest Kyprianos
Savannah (Jonson)
Bud
Silvana
Nicole
Evan
Megan
Bill R.
Pat R.
Aglaia
George
Hieromonk Serapion
Priest Kyprianos
Athanasia
Alexandra
Constantina
Maryanne (E)
Ron (E)
Tim
Robert (J)
Mary (J)
Patricia
Gregory
Andreas
Sofia Tešanovic
Paul
Dennis H. and Family
Victor Evan
Ann
James
Vasiliki
Efstratia
Alexandra
Nikos
Georgia
Ioannis
Costandino
Jeffrey
Vaso
Dave
Dimitri – Presbyter
Vassiliki
Octavio
Tom
Carl
Rena
Nikolay (5 year old boy in Bulgaria whose parents asked us to pray)
David
Rosie
Kathryn
Jeremy
Constantine
Robert
Jane
Theodora
David
Gina
Micheal
Haralambos
Lillian
Presbytera Rosy
Valentina
Eva W.
Barbara
Angela
Carol Ann
Matthew
Chrysostom
Tim
Pat
Christina
Maria Louise
Maximos
Marian
Photini
Nicholas
Sarah
Constantine Houpis
Anna Marie Smith Baker
Katerina
Mary Kassis
Baby Maximus
Christine
Maria
Annette Star
Claire Livaditis
Eva Chandilles
Baby Dani
Scott Nedoff
James Hord
How should we pray for the sick? Remember them daily. Say their names (first names are sufficient) and ask God to bestow mercy and grace on them.
Add or remove names and print this list for easy reference during your prayer time on the St. Peter website.
Sunday Readings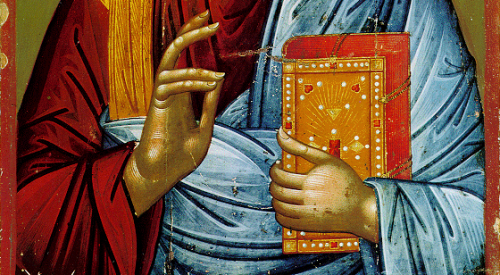 Epistle
For St. Eleutherios
Precious in the sight of the Lord is the death of His saint.
What shall we render unto the Lord for all that He hath rendered unto us?
The Reading from the Second Epistle of St. Paul to St. Timothy. (1:8-18)
Timothy, my son, do not be ashamed then of testifying to our Lord, nor of me his prisoner,but share in suffering for the gospel in the power of God, Who saved us and called us with a holycalling, not in virtue of our works but in virtue of his own purpose and the grace which he gave usin Christ Jesus ages ago, and now has manifested through the appearing of our Savior Christ Jesus,Who abolished death and brought life and immortality to light through the gospel. For this gospelI was appointed a preacher and apostle and teacher, and therefore I suffer as I do. But I am notashamed, for I know Whom I have believed, and I am sure that He is able to guard until that Daywhat has been entrusted to me. Follow the pattern of the sound words which you have heard fromme, in the faith and love which are in Christ Jesus; guard the truth that has been entrusted to youby the Holy Spirit Who dwells within us. You are aware that all who are in Asia turned away fromme, and among them Phygelos and Hermogenes. May the Lord grant mercy to the household ofOnesiphoros, for he often refreshed me; he was not ashamed of my chains, but when he arrived inRome he searched for me eagerly and found me. May the Lord grant him to find mercy from theLord on that Day and you well know all the service he rendered at Ephesus.
Gospel
For the Holy Forefathers
The Lord spoke this parable: "A man once gave a great banquet, and invited many; and atthe time for the banquet he sent his servant to say to those who had been invited, 'Come; for all isnow ready.' But, one by one, they all began to make excuses. The first said to him, 'I have boughta field, and I must go out and see it; I pray you, have me excused.' And another said, 'I havebought five yoke of oxen, and I go to examine them; I pray you, have me excused.' And anothersaid, 'I have married a wife, and therefore I cannot come.' So the servant came and reported thisto his master. Then the householder in anger said to his servant, 'Go out quickly to the streets andlanes of the city, and bring in the poor and maimed and blind and lame.' And the servant said,'Sir, what you commanded has been done, and still there is room.' And the master said to theservant, 'Go out to the highways and hedges, and compel people to come in, that my house maybe filled. For I tell you, none of those men who were invited shall taste my banquet.' For manyare called, but few are chosen."