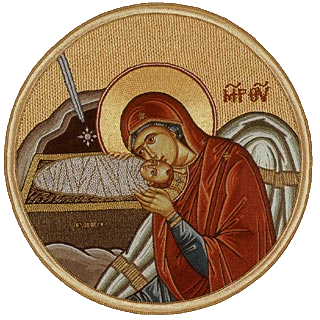 Christ is Born! Glorify Him!
Did You Notice the Beautiful Icon of the Theotokos at Christmas Liturgy?
That was painted by our parishioner Michael Moukios. Unfortunately with the press of events I neglected to mention it that evening. I apologize for that but I am sure you will agree it is a beautiful work.
Thank you to Michael for creating it and building the stand that it holds.
Website Updated. What's the Philosophy Behind it Anyway?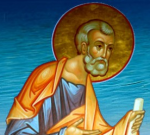 Several months ago the Parish Council was decided appropriate measures for outreach for St. Peter's. We discussed ads in the paper but the truth is hardly anyone reads the paper anymore. Most people get their information of the internet.
We decided we would be more assertive getting the word out about our parish.
Phase I was a visually pleasing, easy to navigate, and informative website that would give a taste of our parish culture. To that end we created a good looking site with information in bite-size nuggets, timely posting of news, and lots of video.
We started by posting videos of the sermons and are adding to it weekly with Youtube videos and more. You can see the latest on the "New to Orthodoxy?" page.
Phase II is getting our name out in the communities more. In January, Fr. Hans and John Heers, a history teacher at Seacrest and member of St. Demetrios (OCA) is south Naples, will begin a three lecture series open to the public. It will be held at Naples Public Library.
The first session is tentatively titled "God and the Gladiators." We don't know if this will be successful, but we think the potential for success is very good. It also conforms to our Lord's command in scripture to "compel" the people to come.
Account of Jeremiah's Miracle Sent to Greece
Fr. Hans was asked by the nuns of the monastery in Greece where Elder Paisios last served to write an essay that outlined Jeremiah's miraculous healing this summer. These will be included in papers sent to the Ecumenical Patriarchate for the canonization of Elder Paisios as a Saint. We expect a decision shortly.
The essay titled "A Miracle by Elder Paisios" is posted on the website.
May God be glorified in all things.
Presentation by Rev. Robert Scuderi
On December 29 following the Divine Liturgy, Rev. Robert Scuderi, Associate Pastor at Faith Lutheran Church in Naples will join us for worship. He will present to the parish a book on iconography that he received from Bp. Nicholas during the Bishop's visit several weeks ago.
Members of St. Peter aided Pastor Bob with the visit. Pastor Bob will present the book as a gesture of appreciation and also because he knows that we would value the book in our parish library (as soon as it is built).
We will be sure to give him a very warm welcome.
Sunday Scripture Readings
Epistle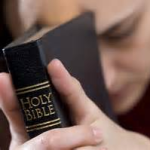 Galatians 1:11-19 (Sunday after Christmas)
God is wonderful among his saints.
Bless God in the Congregations
The reading is from St. Paul's Letter to the Galatians

Brethren, I would have you know that the gospel which was preached y me is not man's gospel. For I did not receive it from man, for was I taught it, but it came through a revelation of Jesus Christ.

For you have heard of my former life in Judaism, how I persecuted the church of God violently and tried to destroy it; and I advanced in Judaism beyond many of my own age among my own people, so extremely zeal ous was I for the traditions of my fathers.

But when he who had set me apart before I was born, and had called me through his grace, was pleased to reveal his Son to me, in order that I might preach him among the Gentiles, I did not confer with flesh and blood, nor did I do up to Jerusalem to those who were apostles before me, but I went away into Arabia; and again I returned to Damascus.

Then after three years I went up to Jerusalem to visit Cephas, and remained with him fifteen days. But I saw none of the other apostles except James the Lord's brother.
Gospel
Matthew 2:13-23 (Sunday after Christmas)
The Reading of the Holy Gospel according to St. Matthew
When the wise men had departed, behold, an angel of the Lord appeared to Joseph in a dream and said, "Rise, take the child and his mother, and flee to Egypt, and remain there till I tell you; for Herod is about to search for the child, to destroy him." And he rose and took the child and his mother by night, and departed to Egypt, and remained there until the death of Herod. This was to fulfill what the ford had spoken by the prophet, "Out of Egypt have I called my son."

Then Herod, when he saw that he had been tricked by the wise men was in a furious rage, and he sent and killed all the male childre n in Bethlehem and in all that region who were two years old or under, according to the time which he had ascertained from the wise men. Then was fulfilled what was spoken by the prophet Jeremiah: "A voice was heard in Ramah, wailing and loud lamentation , Rachel weeping for her children; she refused to be consoled, because they were no more."

But when Herod died, behold, an angel of the Lord appeared in a dream to Joseph in Egypt, saying, "Rise, take the child and his mother, and go to the land of Israel , for those who sought the child's life are dead." And he rose and took the child and his mother, and went to the land of Israel. But when he heard that Archela'us reigned of Judea in place of his father Herod, he was afraid to go there, and being warned in a dream he withdrew to the district of Galilee. and he went and dwelt in the city called Nazareth, that what was spoken by the prophets might be fulfilled, "He shall be called a Nazarene