Sunday of the Forefathers (Ancestors) of Christ
Spyridon, bishop of Trimythous, the Wonderworker
VJohn, metropolitan of Zichnon; Hieromartyr Alexander, archbishop of Jerusalem
The Forefathers (Ancestors) of Christ
Sermon on the Sunday of the Forefathers
By Fr. Thaddeus Hardenbrook
On the second Sunday before Nativity, the Gospel reading leaves off its progression based on Pentecost and aligns itself with the approaching Nativity. This is a sign for us; a message of urgency regarding what is about to happen. Worries, distractions, and cares must now be set aside for the sake of not missing out on the greatest of the Father's gifts to us, which is His Son in human flesh. Every other mystical and sacred gift is secondary to the Incarnation.
We have been preparing for the feast by fasting. And now that we have moved past the midpoint of the fast, the pace quickens in anticipation of Christ's birth. We commemorate the Holy Forefathers who were part of mankind's preparation for the Messiah. Without them, there would be no God-man, no Christ, for prophecy foretold His birth from their lineage. Therefore their flesh, their prophecies, and their piety prepared the way for the coming of Christ.
Without the Incarnation, there is no salvation as we know it, there is no Cross, there is no Resurrection, there is no partaking in the divine energies of God and no deification. Even paradise and immortality submit to the mystical superiority of the Incarnation. For both paradise and immortality were given to man before the fall. Without the Incarnation, Paradise and eternal life only result in being perfectly and eternally joined to God as His servants.
[…]
Read the rest of the sermon here.
Sunday of St. Spyridon
St. Spyridon
Saint Spyridon of Tremithus was born towards the end of the third century on the island of Cyprus. He was a shepherd, and had a wife and children. He used all his substance for the needs of his neighbors and the homeless, for which the Lord rewarded him with a gift of wonderworking. He healed those who were incurably sick, and cast out demons.
After the death of his wife, during the reign of Constantine the Great (306-337), he was made Bishop of Tremithus, Cyprus. As a bishop, the saint did not alter his manner of life, but combined pastoral service with deeds of charity.
[…]
Another historical detail reported by Sozomen, was characteristic of the saint. It was his custom to distribute one part of the gathered harvest to the destitute, and another portion to those having need while in debt. He did not take a portion for himself, but simply showed them the entrance to his storeroom, where each could take as much as was needed, and could later pay it back in the same way, without records or accountings.
Read the entire biography of St. Spyridon on the Orthodox Church in America website.
Services This Week
Sun Dec 05 — SUNDAY DIVINE LITURGY – Orthros 8:30am Divine Liturgy 9:30am LIVE STREAM
Mon Dec 06 — Divine Liturgy St. Nicholas 9:30am LIVE STREAM
Fri Dec 10 — Paraklesis to the Theotokos 9:30am LIVE STREAM
Services Next Week
Sun Dec 12 — SUNDAY DIVINE LITURGY – Orthros 8:30am Divine Liturgy 9:30am LIVE STREAM
Wed Dec 15 — Divine Liturgy St. Eleutherios 9:30am LIVE STREAM
Fri Dec 17 — Paraklesis to the Theotokos 9:30am LIVE STREAM
Nicholas the Wonderworker, Archbishop of Myra Divine Liturgy, Monday December 6, 2021 at 9:30am
Paraklesis to the Theotokos, Friday, December 10, 2021 at 9:30am
Events at St. Peter's
Margaret Pallis Memorial held Sunday, December 5, 2021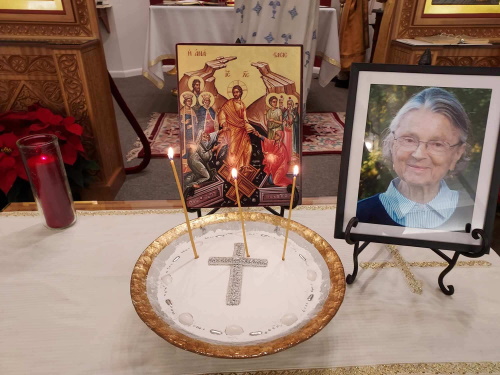 From Theo Pallis
Dear Fr. Hans, brothers and sisters in Christ, Friends and Parishioners of St. Peter's:
I wish to express my appreciation and agape for your love to me and Margaret, for your presence and prayers today at the one year memorial for Margaret.
With love in Christ,
Theo
Nativity Fast Continues
November 15 is the beginning of the Nativity Fast, one of the four Canonical Fasting Seasons in the Church year. This is a joyous fast in anticipation of the Nativity of Christ.
In the weeks between now and December 25, Orthodox Christians prepare themselves to celebrate the birth in the flesh of our Lord Jesus Christ. As we begin the fast, we encourage both believing Orthodox and inquirers to review the reflections and resources in the special Nativity section on the Antiochian Archdiocese website.
For additional general resources on the Orthodox Christian tradition of feasting and fasting, visit the Feasts and Fasts section of Discover Orthodox Christianity.
Can Anyone Help Barbara Unpack?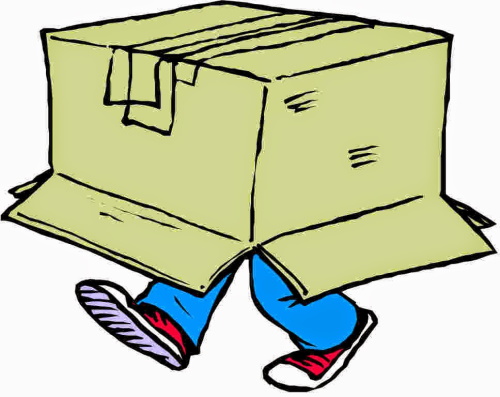 Barbara Dusckas need help unpacking boxes and sorting and organizing a few things. This is not a full blown move, only a small clean up. Can you help? Please call Barbara at 239-220-7383.
The Church is Decorated
The Christmas decorations are up and everything is ready for Nativity! Thank you ladies for the good work!
Parishioners, we have all the decorations we need and can't use any more. Anything that comes in would have to be thown out. Thank you for the thoughtfullness however.
Blessed Nativity!
Calling All Teens!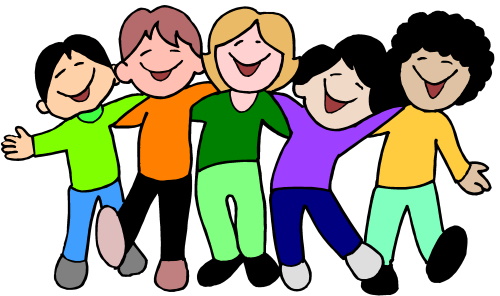 Fr. Hans needs your name and email address (or your parent's address) so you can receive SOYO (Society of Orthodox Youth Organization) materials. Maybe we can begin a SOYO group at St. Peter's too.
Learn more about Teen SOYO on the DOMSE website.
Cafe of Life – Calling All Volunteers! This Thursday, December 9, 2021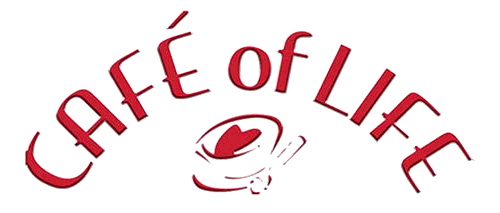 We will be meeting meet this Thursday at 12:00 noon in the social hall of St. Peter's Orthodox Church to make 200 sandwiches. You are all encouraged to partake in this very important ministry.
For those who are unable to join us and would like to donate, checks (made out to St. Peter's Church) or cash can be given to Father Hans.
REMEMBER. . .Do not neglect to do good and to share what you have, for such sacrifices are pleasing to God. Hebrews 13:16
Church Closed December 7-8, 2021. We Are Upgrading!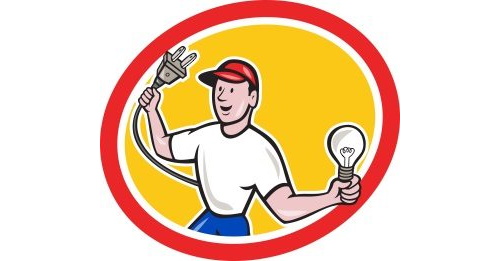 We will be upgrading the electrical system. All power will be shut down for two days.
Toys for Tots Drive Ends Next Sunday (December 12, 2021)!
Every Christmas season St. Peter's parishioners contribute to Toys for Tots which gives children who otherwise would receive no gifts some presents on Christmas Day.
There are two boxes one in the narthex and one in the community center. Please bring in an unwrapped toy for a boy or a girl and place in box.
If you prefer to make a monetary contribution and have Mary Copeland go shopping for you, please contact Mary.
We have until December 15 to fill the two boxes.
Christmas Season Toiletry Supplies Drive for NAMI nds Next Sunday (December 12, 2021)!
Every Christmas season St. Peter's supports NAMI (National Association for Mental Illness)serving local people in need. NAMI helps people with serious and persistent mental illnesses, as well as their parents, children, spouses, siblings and friends.
The Sarah Ann Drop in Center deeply appreciates the items donated so far. Mary Copeland, the organizer of this drive personally thanks everyone who donated.
You can learn more about the Sarah Ann Drop in Center here.
St. Peter's has contributed to NAMI emergency food bank care for nine years. Donations go to the Sarah Ann Drop In Center in Naples, FL. Three categories of items are needed:
Shampoo
Body lotion
Tooth pasete
Tooth brushes
Ladies and mens disposable shavers
Anything you brought home from traveling and in sits your linen closet
Bring them to church with "Mary Copeland" written on the bag and she will get them to NAMI.
The drive runs through December 15, 2021.
Could You Support a Special Project?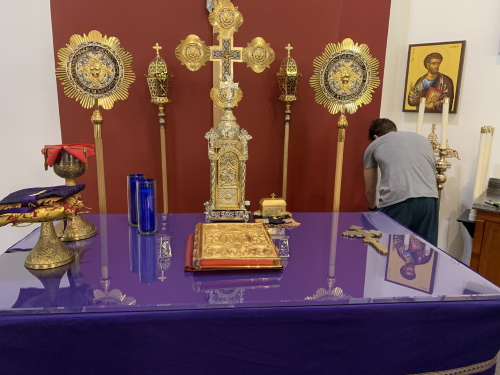 Some parishioners have requested a needs list they could contribute to. Below are the special projects we still need to get done. If you can help please mention it to Fr. Hans, Jack Long, or John Simon.
Replace Church computer
$1,500 Donated.
Replace Flat roof on Church
$30,000. Donated.
Replace windows in the Sunday School rooms
$8000.
Upgrade Church sound system
$1700.00 Donated.
Seal coat and restripe parking Lot
$6,300.
Upgrade Church Electrical System
$3600 Donated.

Pledge & Income Report – October 2021
Donations received in October: $22,884.
Amount of money needed to cover expenses: $22,760.
We are ahead by $124.
These numbers reflect the operating costs of the the Hickory Drive property.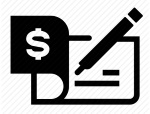 St. Peter Orthodox Church
7470 Hickory Drive
Fort Myers, FL 33967
You can also donate online:
Sign up the the Monthly DOMSE Newsletter on the DOMSE (Diocese of Miami and the Southeast) Website!
Visit the DOMSE Website (scroll to the bottom, fill in the form on the left side) to sign up for "The Light" Newsletter and DOMSE emails.

The Social Hall All Stars are the men and women that make St. Peter's Social Hall happen. Thank you All Stars!
November 7 – November 28
Olga Bilych
Pavlo Bilych
Bonnie Joseph
Al Joseph
Sandy Krotov
Leon Dephkalion
John Hurley
Nader Sahawneh
December 5 – December 26
Marlene Haley
Tom Haley
Cheryl Morse
Elaine Semeretis
Gregory Semeretis
Tim Morse
Anna Tsikitas
Procedures for Hospitality
Please note: If you would like to bring in your own prepared food, please contact Tom Haley at 239-887-0753 a week before the upcoming Sunday. That way we know not to prepare any food for Sunday.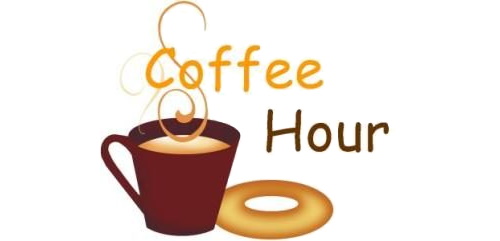 On most Sundays we will serve lighter refreshments like coffee, sweets, hummus, olives, feta, pita and similar items. Please continue bringing these items. Even though we have a range (unlike our former facility), we appreciate items that are "ready to be served."
Please do not donate coffee. We have a space age coffee brewer that we acquired at no cost if we buy our coffee from one supplier. If you bring in coffee, we can't use it.
We cannot continue preparing meals for Memorials, Name Days, Anniversaries, and other celebrations. We don't have the appliances or manpower to do it well. We do, however, have the name of two catering companies that can prepare and deliver the food if you would like to sponsor a celebration. Please call Tom Haley at 239-887-0753 for details and to make arrangements.
If you would like to bring in your own prepared food, please contact Tom Haley at 239-887-0753 a week before the upcoming Sunday. That way we know not to prepare any food for Sunday.
The Safest Way to Come to Church
US 41 is a busy highway and the intersection at Hickory Drive does not have a stop light. We recommend turning on Sanibel Boulevard and following Coconut Road instead.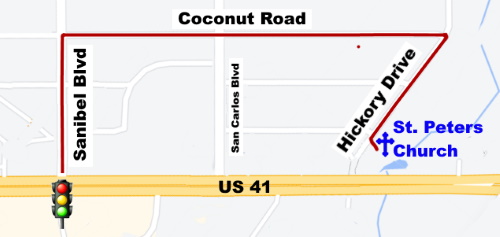 Calendar At A Glance
Calendar also available on the St. Peter website.
NOVEMBER – DECEMBER 2
Nativity Fast Begins November 15 through December 24, 2022
DECEMBER 5 – JANUARY 1
Sun Dec 05 — SUNDAY DIVINE LITURGY – Orthros 8:30am Divine Liturgy 9:30am LIVE STREAM
Mon Dec 06 — Divine Liturgy St. Nicholas 9:30am LIVE STREAM
Fri Dec 10 — Paraklesis to the Theotokos 9:30am LIVE STREAM
Sun Dec 12 — SUNDAY DIVINE LITURGY – Orthros 8:30am Divine Liturgy 9:30am LIVE STREAM
Wed Dec 15 — Divine Liturgy St. Eleutherios 9:30am LIVE STREAM
Fri Dec 17 — Paraklesis to the Theotokos 9:30am LIVE STREAM
Sun Dec 19 — SUNDAY DIVINE LITURGY – Orthros 8:30am Divine Liturgy 9:30am LIVE STREAM
Mon Dec 20 — St. Ignatios of Antioch 9:30am LIVE STREAM
Fri Dec 24 — Royal Hours NOTE EARLIER TIME 9:00am LIVE STREAM
Fri Dec 24 — Nativity of Our Lord and Savior Jesus Christ Divine Liturgy 7:00pm LIVE STREAM
Sun Dec 26 — SUNDAY DIVINE LITURGY – Orthros 8:30am Divine Liturgy 9:30am LIVE STREAM
Mon Dec 27 — St. Stephen the Proto-Martyr 9:30am LIVE STREAM
Thu Dec 29 — The Holy Innocents Divine Liturgy 9:30am LIVE STREAM
Sat Jan 01 — Circumcision of Christ / St. Basil Divine Liturgy Divine Liturgy 9:30am LIVE STREAM
Wisdom From The Elders
Fire and water do not mix, neither can you mix judgment of others with the desire to repent. If a man commits a sin before you at the very moment of his death, pass no judgment, because the judgment of God is hidden from men. It has happened that men have sinned greatly in the open but have done greater deeds in secret, so that those who would disparage them have been fooled, with smoke instead of sunlight in their eyes. St. John Climacus
Souls that love truth and God, that long with much hope and faith to put on Christ completely, do not need so much to be put in remembrance by others, nor do they endure, even for a while, to be deprived of the heavenly desire and of passionate affection to the Lord; but being wholly and entirely nailed to the cross of Christ, they perceive in themselves day by day a sense of spiritual advance towards the spiritual Bridegroom. St. Macarius the Great
If one is trained to taste sweetness in the word of God and the cross, He will make the soul resent every bodily pleasure. Metropolitan Saba (Esber)
Do not fear the conflict, do not flee it. Where there is no struggle, there is no virtue; where faith and love are not tempted, it is not possible to be sure whether they are really present. They are proved and revealed in adversity, that is, in difficult and grievous circumstances, both outward and inward –during sickness, sorrow, and privations. Righteous John, Wonderworker of Kronstadt
We do not pray in order for God to know our needs, but to purify our hearts through prayer, and to become worthy of the mercies of God, to enter with our spirit into inner communion with God. This communion with God is the goal of prayer Archbishop Averky (Taushev)
If we listen to our neighbor with only half our attention, of course we will not be able to answer them or comfort them….We are distracted. They talk, but we do not participate in the conversation; we are immersed in our own thoughts. But if we give them our full attention, then we take up both our own burden and theirs. Elder Thaddeus(Strabulovich) of Vitovnica
Remember in Your Prayers
List has been updated. If you want some names restored, please mention it to Fr. Hans.
Names will remain on the list for two months.
If you would like to keep them on longer please mention it to Fr. Hans. We will keep the names on the list for as long as the person needs prayers.
Names will include the person who requested the prayers and the month the name will be removed.
The permanent list includes friends and members of St. Peter's and others including shut-ins.
Were names dropped that should have remained? Please mention it to Fr. Hans. He will add them back.
Updated November 18 / Resets January 1.
Current Prayer List
Nicholas (Ghanem 1/22)
Arielle (Ghanem 1/22)
Georgia (Sarros 1/22)
Kerri (Dusckas 1/21)
Aggie (Dusckas 12/21)
Fr. Thomas (Forderhase 12/21)
Emily (Forderhase 12/21)
Sean (Breitenbach 12/21)
David (Zafiris 12/21)
Robin (Zafiris 12/21)
Dana (Zafiris 12/21)
Mackenzie (Zafiris 12/21)
Harry (Zafiris 12/21)
Bettina (Zafiris 12/21)
Harry James (Zafiris 12/21)
Anastasia (Protopapadakis 12/21)
Barbara (Dusckas 11/21)
Dave (Dusckas 11/21)
Elizabeth (Wolfe 11/21)
Catherine (Breitenbach 11/21)
Permanent Prayer List
Sarina (Ghanem)
Kasiani, Jordan and their unborn child (Chapekis)
Debbie (Breitenbach)
Kathy (Breitenbach)
Hope (Isadore)
John (Long)
Pantelis (Tsikita)
Marisa (Tsikita)
Barbara (Dionysopoulos)
Patricia (Evanoff)
Gabriel (Mankus)
Baby Dani (Repya)
Maria and her newborn baby (Diveris)
Despina (Diversis)b
Fredericos (Diveris)
Sophia (D. Constantine)
Herman (Kerr)
Innocent (Kerr)
Nicholas (Kerr)
Paola (Jacobse)
Gregory (Yankopolos)
Soterios (Ninos)
Pauline (Poulos)
Sergio (Kazakos)
Rae (Semeretis)
Fran (Hansen)
Nina (Krotov)
Franklin (Pyrrson)
George (Chionis)
Stamatia (Evelyn)
Demetrios (Kuchera)
Theodosios (Palis)
Theodora (Webb)
Helen (Rogers)
Robert (Smith)
Robert (Jarvis)
Presbytera Rosy (in Pakistan)
James (Hord)
Vassiliki (Kontinos)
Vassiliki (Morekeas)
Founders, Members, and Benefactors Departed this Life
John (Hansen)
Anatoly (Kurdsjuk)
Thareni (Brooks)
Milan Evanoff
Jean (Sam)
Eleni (Pearson)
Richard (Pearson)
Fr. Stephanos (Shagoury)
Panagiota (Bea Chionis)
Anthony (Mourgis)
Anthony (Mankus)
Constantine (Houpis)
Constantine (Joseph)
Mary (Jarvis)
Panagiota Margarita (Palis)
Maria (Ninos)
John (Katsigianopoulos)
George (Chionis)
Gregory (Pappas)
Angela (Coran K)
How should we pray for the sick? Remember them daily. Say their names (first names are sufficient) and ask God to bestow mercy and grace on them.
Add or remove names and print this list for easy reference during your prayer time on the St. Peter website.
Sunday Readings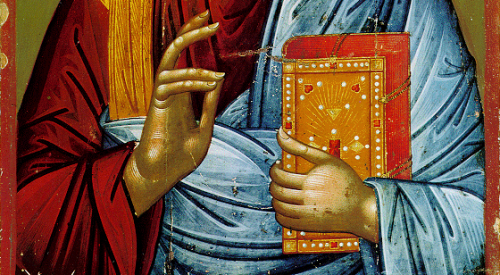 EPISTLE
For St. Spyridon
The saints shall boast in glory.
Sing unto the Lord a new song.
The Reading from the Epistle of St. Paul to the Ephesians. (5:8-19)
Brethren, walk as children of light—for the fruit of the Spirit is in all goodness and righteousness and truth—proving what is acceptable to the Lord; and have no communion with the unfruitful works of darkness, but instead expose them; for it is a shame even to speak of the things which they do in secret. But all things when they are exposed are made manifest by the light, for everything that is made manifest is light. Therefore, he says: "Awake, O sleeper, and arise from the dead, and Christ will shine upon thee." See then that you walk circumspectly, not as unwise, but as wise, redeeming the time, because the days are evil. Therefore, do not be foolish, but understand what the will of the Lord is. And do not get drunk with wine, for that is debauchery, but be filled with the Spirit; speaking to one another in psalms and hymns and spiritual songs, singing and chanting in your heart to the Lord.
GOSPEL
For the Holy Forefathers
The Reading from the Holy Gospel according to St. Luke. (14:16-24)
The Lord spoke this parable: "A man once gave a great banquet, and invited many; and at the time for the banquet he sent his servant to say to those who had been invited, 'Come; for all is now ready.' But, one by one, they all began to make excuses. The first said to him, 'I have bought a field, and I must go out and see it; I pray you, have me excused.' And another said, 'I have bought five yoke of oxen, and I go to examine them; I pray you, have me excused.' And another said, 'I have married a wife, and therefore I cannot come.' So the servant came and reported this to his master. Then the householder in anger said to his servant, 'Go out quickly to the streets and lanes of the city, and bring in the poor and maimed and blind and lame.' And the servant said, 'Sir, what you commanded has been done, and still there is room.' And the master said to the servant, 'Go out to the highways and hedges, and compel people to come in, that my house may be filled. For I tell you, none of those men who were invited shall taste my banquet.' For many are called, but few are chosen."