Sunday before the Elevation of the Holy Cross
After-feast of the Nativity of the Theotokos
Martyrs Menodora, Metrodora and Nymphodora of Bithynia; Empress Pulcheria; Peter, bishop of Nicaea
Nativity of the Theotokos Divine Liturgy on Friday, September 8, 2023 at 9:30am
Nativity of the Theotokos
The Feast of the Nativity of Our Most Holy Lady, the Theotokos and Ever-Virgin Mary is celebrated on September 8 each year. The Feast commemorates the birth of the Mother of Jesus Christ, our Lord.
The birth and early life of the Virgin Mary is not recorded in the Gospels or other books of the New Testament, however this information can be found in a work dating from the second century known as the Book of James or Protevangelion.
According to the story found in this book, Mary's parents, Joachim and Anna, were childless for many years. They remained faithful to God, but their prayers for a child were unanswered. One day, when Joachim came to the temple to make an offering, he was turned away by the High Priest who chastised him for his lack of children. To hide his shame, Joachim retreated to the hill country to live among the shepherds and their flocks.
As Joachim was praying, his wife Anna was praying at the same time at their house in Jerusalem. An angel appeared to both of them and announced that Anna would have a child whose name would be known throughout the world. Anna promised to offer her child as a gift to the Lord. Joachim returned home, and in due time Anna bore a daughter, Mary.
[…]
Source: Greek Orthodox Archdiocese of America website.
Services and Events This Week
Sun Sep 03 — SUNDAY DIVINE LITURGY Orthros 8:30am Liturgy 9:30am LIVE STREAM
Wed Sep 06 — Early Divine Liturgy 6:00am LIVE STREAM
Wed Sep 06 — St. Peter Game Night 6:00pm-9pm
Fri Sep 08 — Nativity of the Theotokos Divine Liturgy 9:30am LIVE STREAM
Fri Sep 08 — St. Paisios Brotherhood 7:00pm
Sat Sep 09 — Parish Council Meeting 10:00am
Fr. Hans on Vacation Monday September 11 – Friday, September 22, 2023
Vatopedi Monastery
Fr. Hans will be on traveling from September 11-22. On Sunday September 17 the Divine Liturgy will be served by Fr. Michael Massouh, a retired priest from Tampa Florida. Please give him a warm welcome. Fr. Hans will leading a trip to Vatopedi Monastery on Mt. Athos in Greece, the center of Orthodox monastic life in the world.
Sunday School Blessing of Teachers and Students on Sunday, August 10
As is our tradition at St. Peter's, Fr. Hans will bless all students for the 2023/24 school year immediately following the Divine Liturgy. This blessing is not limited to Sunday School students only but anyone studying in any grade or school.
On this same day, registration for Sunday School continues in our newly revamped Sunday School rooms.
Sunday School classes begin on Sunday, September 17. We are pleased to announce that Joan Simon and Tina Kucera will be joining the teaching staff.
If you have questions please reach out to Georgia Katsigianonoulos who oversees the Sunday School.
Let's Pray the Paraklesis to the Theotokos Daily
Our goal at St. Peter's is to have one person or family pray the Parakelsis to the Theotokos for at least one day of every month. For each day of the month, individuals or even an entire family can sign up to pray the Paraklesis in their homes on the day/s which they select.
Get more information on how to participate from the St. Peter's website.

DOMSE Retreat September 22-23, 2023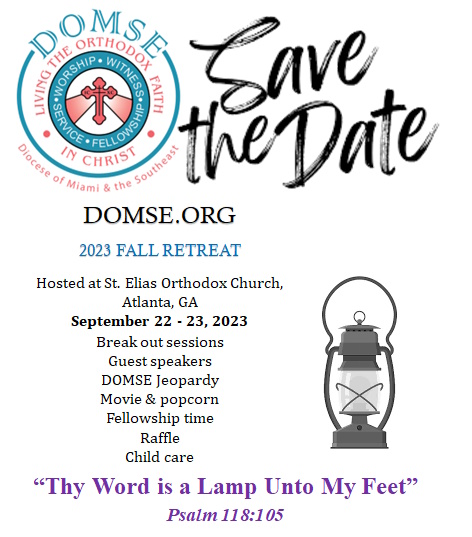 Sign up the the Monthly DOMSE Newsletter on the DOMSE (Diocese of Miami and the Southeast) Website!

Visit the DOMSE Website (scroll to the bottom, fill in the form on the left side) to sign up for "The Light" Newsletter and DOMSE emails.

ST. PETER'S GREETERS
Can you volunteer? Please call Joe Repya 612-270-4443.
NEW! St. Peter Game Night on Wednesdays 6:00pm – 9:00pm

Join us on Wednesday evening for a few hours of fellowship and fun. Bring the board games you like to play. It's casual, fun, and an opportunity for great fellowship.
No sign-up required.
SOCIAL HALL ALL STARS

SEPTEMBER
Cheryl and Tim Morse 612-210-1444
Diana Najjar 317-213-5785
Deb Repya 651-485-4817
Diana Najjar 317-213-5785
Elaine Tzouganaokis 239-603-2302
Jordan Voss 239-785-9848
Niki and Ray Locklear 859-240-1227
Megas Family 239-839-3442
The Social Hall All Stars are the men and women that make St. Peter's Social Hall happen. Thank you All Stars!

SEPTEMBER
Sun Sep 03 — SUNDAY DIVINE LITURGY Orthros 8:30am Liturgy 9:30am LIVE STREAM
Wed Sep 06 — Early Divine Liturgy 6:00am LIVE STREAM
Wed Sep 06 — St. Peter Game Night 6:00pm-9pm
Fri Sep 08 — Nativity of the Theotokos Divine Liturgy 9:30am LIVE STREAM
Fri Sep 08 — St. Paisios Brotherhood 7:00pm
Sat Sep 09 — Parish Council Meeting 10:00am
Sun Sep 10 — SUNDAY DIVINE LITURGY Orthros 8:30am Liturgy 9:30am LIVE STREAM
Mon Sep 11-22 — Fr. Hans on Vacation
Sun Sep 17 — SUNDAY DIVINE LITURGY Orthros 8:30am Liturgy 9:30am LIVE STREAM
Mon Sep 11-22 — Fr. Hans on Vacation
Sun Sep 24 — SUNDAY DIVINE LITURGY Orthros 8:30am Liturgy 9:30am LIVE STREAM
Tue Sep 26 — Paraklesis to the Theotokos 9:30am LIVE STREAM
Wed Sep 27 — Early Divine Liturgy 6:00am LIVE STREAM
Wed Sep 27 — St. Peter Game Night 6:00pm-9pm
Fri Sep 29 — St. Kyriakos Divine Liturgy 9:30am LIVE STREAM
Fri Sep 29 — St. Paisios Brotherhood 7:00pm

You should all wear a cross around your neck. It is a frightful weapon against the devil. Not an amulet. Do you hear? A cross. It doesn't matter if it's wooden or metallic. Elder Ieronimos
Our soul is single, because it cannot at the same time love both God and, for instance,money, food, drink; or both its neighbour and at the same time money, food, and drink. Righteous John, Wonderworker of Kronstadt
Without sorrows and trials a man cannot come to humility. Vainglory, self-love and pride nest so deeply in the human heart that it requires strong means and a prolonged period of training, through sorrows and temptations, to uproot them and bring one to some kind of humility. Abbot Nikon Vorobiev
Yet such workings of the Spirit, much as they are desired by us, are brief. Our corrupt nature cannot contain God, and our manifold cares in this world, our contacts with the world, and the distractions connected with such contacts make it difficult for us to concentrate. They displace the gifts of grace from our souls. Aside from this, it must also be pointed out that only simple souls, which are in full command of the treasure of humility, can avail themselves of grace more often and for a longer period of time, while others can use even grace for harm rather than for good. Yakov Tyagunoff
But a person becomes truly meek and humble when he turns his heart of hearts into the Lord Jesus, humble and meek, He being the only truly "meek and lowly in heart" (Matth. 11:29). The soul of the people must be rendered meek by Christ's meekness. Every person must learn to pray: Meek, gentle Lord, assuage my fierce soul! The Lord humbled himself with the greatest humility—he was incarnate and became man. Venerable Justin (Popovic) of Chelije in Serbia

Names will remain on the list for three months.
If you would like to keep them on longer please mention it to Fr. Hans. We will keep the names on the list for as long as the person needs prayers.
Names will include the person who requested the prayers and the month the name will be removed.
The permanent list includes friends and members of St. Peter's and others including shut-ins.
Were names dropped that should have remained? Please mention it to Fr. Hans. He will add them back.
Current Prayer List
George (Chionis 11-1)
Mark (Chionis 11-1)
Katheryn (Chionis 11-1)
Jacob (Chionis 11-1)
Ken (Chionis 11-1)
Maxim (Koco)
George (Tsikistas 8/1)
George (Mourgis 8/1)
Barbara (Sason 8/1)
Anthony (Breitenbach 6/1)
Arielle (Ghanem 6/1)
Nicholas (Ghanem 6/1)
Christos
Father Demetris
Jamie
Pamela
David
Jessica
Christina (Hildreth)
Georgia and Richard and their unborn child (Chapekis)
Dionysios Chapekis)
Nancy (Forderhase)
Kayla (Palantine)
George (3/23 Chapekis)
Penelope (3/23 Chapekis)
Theodora (3/23)
Victor (3/23)
Barbara (Dusckas 3/23)
James (Dusckas 3/23)
Les (3/23
Lynn (Hurely 1/23)
Irene and newborn baby (Tsikitas 1/23)
Linda (Pappas 1/23)
Ekaterina (Chapekis 1/23)
Lee (Hurley 1/23)
Emmanuel (Kalousdis 1/23)
Katherine (Dusckas 1/23)
Vassiliki (Diveris 1/23)
Zena Touma (Contorelli 1/23
Lamia Touma (Contorelli 1/23
Matthew (Contorelli 1/23
Emmanuel (Kaloudis 1/23)
Nicholas
Marlene (Tewis 12/22)
Tina (Johnson 12/22)
Nicholas (De Lorenzo 12/22)
Priest Anthony (Karbo 11/22)
Archpriest Dionysius (Valentine 9/12)
Anthony Presbyter (Kerr 10/22)
John Presbyter (Jacobse)
Elain Presbytera (Jacobse)
Constantine(Jacobse)
Chrysoula(Jacobse)
Angel (Ghanem 10/22)
Edgar (Chapekis 9/22)
Evthriki (Jacobse 9/22)
Christos (Johnson 8/22)
Jon Paul (Andrew 8/22)
William (Brubaker 8/22)
Peter (Tewis 8/22)
The People of Ukraine and People of Russia and all those who are suffering in the war
Permanent Prayer List
Michael (Sovjani)
Maria (Sovjani)
Maria (Sovjani)
Maria (Sovjani)
Katerina (Sovjani)
Frederick (Sovjani)
Arsen (Sovjani)
Irene (Diveris)
Katheryn (Tolkkinen)
Markisia (Long)
Angela (Long)
Marina (Long)
Eleni (Long)
Raphaella (Long)
Joanne (Haley)
Corwin (Dusckas)
Corgette (Troutman)
Irina (Irina)
Lidia (Irina)
Sarina (Ghanem)
Debbie (Breitenbach)
Kathy (Breitenbach)
Hope (Isadore)
s
John (Long)
Pantelis (Tsikita)
Marisa (Tsikita)
Barbara (Dionysopoulos)
Patricia (Evanoff)
Gabriel (Mankus)
Baby Dani (Repya)
Despina (Diversis)
Fredericos (Diveris)
Herman (Kerr)
Innocent (Kerr)
Nicholas (Kerr)
Paola (Jacobse)
Gregory (Yankopolos)
Pauline (Poulos)
Sergio (Kazakos)
Fran (Hansen)
Nina (Krotov)
Franklin (Pyrrson)
Demetrios (Kuchera)
Theodosios (Palis)
Theodora (Webb)
Robert (Smith)
Presbytera Rosy (in Pakistan)
James (Hord)
Vassiliki (Kontinos)
Vassiliki (Morekeas)
Vassilike (Hord)
Founders, Members, Benefactors and Friends Departed this Life
John (Hansen)
Anatoly (Kurdsjuk)
Thareni (Brooks)
Milan Evanoff
Jean (Sam)
Eleni (Pearson)
Richard (Pearson)
Fr. Stephanos (Shagoury)
Panagiota (Bea Chionis)
Anthony (Mourgis)
Anthony (Mankus)
Constantine (Houpis)
Constantine (Joseph)
Mary (Jarvis)
Panagiota Margarita (Palis)
Maria (Ninos)
Soterios (Ninos)
George (Ninos)
John (Katsigianopoulos)
George (Chionis)
Mary (Spiropoulos)
Gregory (Pappas)
Angela (Coran K
Eugene (Rust)
Robert (Jarvis)
George (Corey)
Patricia (Cotsones)
Seraphim (Zolio)
Apostolos
How should we pray for the sick? Remember them daily. Say their names (first names are sufficient) and ask God to bestow mercy and grace on them.
Add or remove names and print this list for easy reference during your prayer time on the St. Peter website.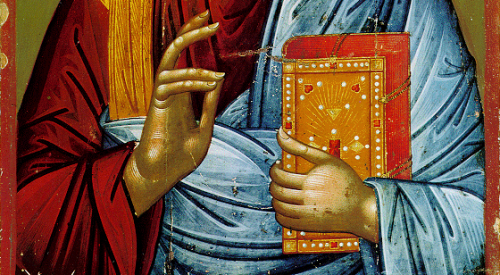 EPISTLE
For the Sunday before the Elevation of the Holy Cross
O Lord, save Thy people and bless Thine inheritance.
To Thee, O Lord, I have cried, O my God.
The Reading from the Epistle of St. Paul to the Galatians. (6:11-18)
Brethren, see with what large letters I am writing to you with my own hand. It is those who want to make a good showing in the flesh that would compel you to be circumcised and only in order that they may not be persecuted for the cross of Christ. For even those who receive circumcision do not themselves keep the Law, but they desire to have you circumcised that they may glory in your flesh. But far be it from me to glory except in the cross of our Lord Jesus Christ, by which the world has been crucified to me and I to the world. For neither circumcision counts for anything, nor uncircumcision, but a new creation. Peace and mercy be upon all, who walk by this rule, upon the Israel of God. Henceforth let no man trouble me; for I bear on my body the marks of Jesus. The grace of our Lord Jesus Christ be with your spirit, brethren. Amen.
GOSPEL
For the Sunday before the Elevation of the Holy Cross
The Reading from the Holy Gospel according to St. John. (3:13-17)
The Lord said, "No one has ascended into heaven but He who descended from heaven, the Son of man. And as Moses lifted up the serpent in the wilderness, so must the Son of man be lifted up, that whoever believes in Him should not perish but have eternal life. For God so loved the world that He gave His only Son, that whoever believes in Him should not perish but have eternal life. For God sent His Son into the world, not to condemn the world, but that the world might be saved through Him."