Sixth Sunday of Luke
The Holy Apostle James the "Brother of God"
Ignatius, patriarch of Constantinople; James of Borovichi, wonderworker of Novgorod
The Holy Apostle James the "Brother of God"
One of the Seventy, in the opinion of the majority of the holy fathers of the Church, especially the Eastern, he was the son of St. Joseph the Betrothed, and needs to be distinguished from James, son of Zebedee (see Apr. 30) and James, son of Alpheus (see Oct. 9). As his father Joseph is called the father of Jesus Christ, and thus he is called "the brother of the Lord in the flesh" (Gal. 1:19), and in this sense even the All-Holy Virgin Mary may be called his mother (Mt. 13:55; Mk. 6:3). According to tradition, he accompanied the All-Holy Theotokos when she with the Baby Jesus and Joseph fled to Egypt from the wrath of Herod (Refer to Dec. 26). After the resurrection of Jesus Christ, he was worthy of the special appearance of the Lord (1 Cor. 15:7).
St. James was strictly devout from youth. Distinguished by an unusually strict way of life, he observed the strictest fast; neither partook of wine nor meat, nor cut his hair, nor bathed, nor rubbed his body with olive oil, nor wore soft clothes but wore coarse haircloth and frequently prayed with prostrations. In prayer he practiced asceticism with such fervor that a hardened leather formed on his knees, like a camel's, from the frequent prostrations. For such a virtuous life James was known to all people as the righteous one and so earned great respect among the Judaic leaders, that he alone was given permission by the high priest to enter the Holy of Holies, the innermost part of the Jerusalem temple, where St. James retired for prayer.
[…]
Read the entire biography on the Orthodox Christianity Then and Now website.
Services This Week
SUN Oct 16 — FATHERS OF THE SEVENTH ECUMENICAL COUNCIL Orthros 8:30am, Divine Liturgy 9:30am LIVE STREAM
Tue Oct 18 — CANCELLED St. Luke the Apostle Divine Liturgy 9:30am LIVE STREAM
Thu Oct 20 — Artemius the Great Martyr of Antioch Divine Liturgy 9:30am LIVE STREAM
Artemius the Great Martyr of Antioch Divine Liturgy 9:30am on Thursday October 20, 2022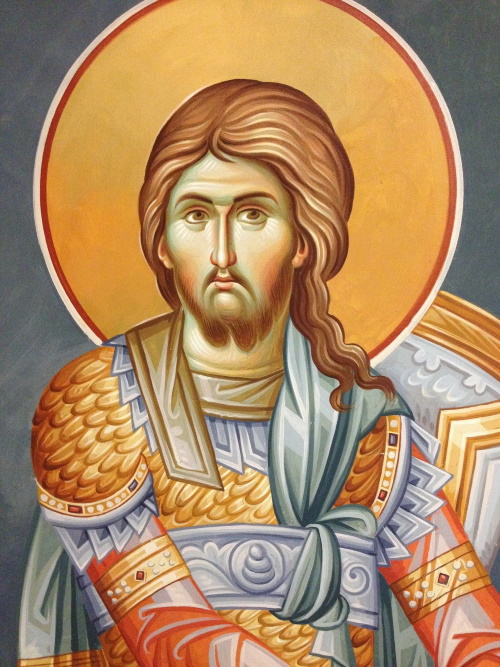 Holy Great Martyr Artemius of Antioch was a prominent military leader during the reigns of the emperor Constantine the Great (May 21), and his son and successor Constantius (337-361). Artemius received many awards for distinguished service and courage. He was appointed viceroy of Egypt. In this official position he did much for the spreading and strengthening Christianity in Egypt.
Saint Artemius was sent by the emperor Constantius to bring the relics of the holy Apostle Andrew from Patras, and the relics of the holy Apostle Luke from Thebes of Boeotia, to Constantinople. The holy relics were placed in the Church of the Holy Apostles beneath the table of oblation. The emperor rewarded him by making him ruler of Egypt.
The emperor Constantius was succeeded on the throne by Julian the Apostate (361-363). Julian in his desire to restore paganism was extremely antagonistic towards Christians, sending hundreds to their death. At Antioch he ordered the torture of two bishops unwilling to forsake the Christian Faith.
During this time, Saint Artemius arrived in Antioch and publicly denounced Julian for his impiety. The enraged Julian subjected the saint to terrible tortures and threw the Great Martyr Artemius into prison. While Artemius was praying, Christ, surrounded by angels, appeared to him and said, "Take courage, Artemius! I am with you and will preserve you from every hurt which is inflicted upon you, and I already have prepared your crown of glory. Since you have confessed Me before the people on earth, so shall I confess you before My Heavenly Father. Therefore, take courage and rejoice, you shall be with Me in My Kingdom." Hearing this, Artemius rejoiced and offered up glory and thanksgiving to Him.
[…]
Read the entire history on the Orthodox Church in America website.
St. Nicholas Academy and Thursday Liturgies
Two families of St. Peter's have established a home school cooperative that will meet every Thursday at St. Peter's. The day begins with a Divine Liturgy to which all parishioners are invited to attend. The chanting will be done by the students. Liturgies begin at at 9:30am
Services Moved to Evenings
Evening services in October:
Tue Oct 25 — St. Demetrios of Thessaloniki Divine Liturgy 6:30am EVENING LITURGY LIVE STREAM
Thu Oct 27 — Protection of the Theotokos Divine Liturgy 9:30am EVENING LITURGY LIVE STREAM
Cleaning the Grounds after Hurricane Ian
Power and internet have also been restored.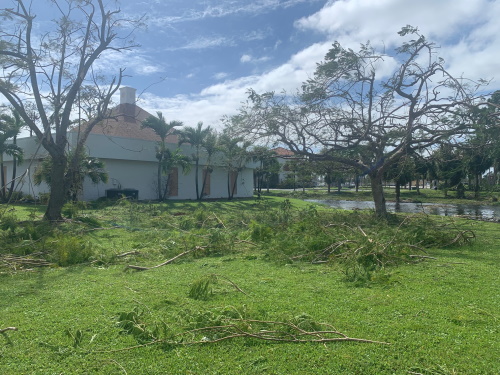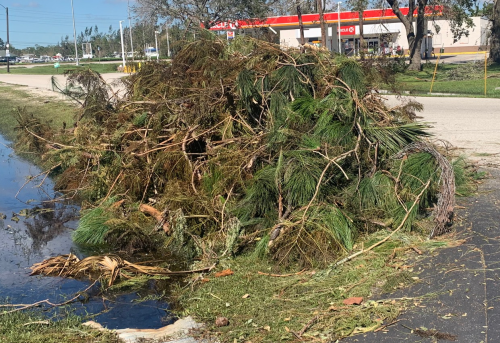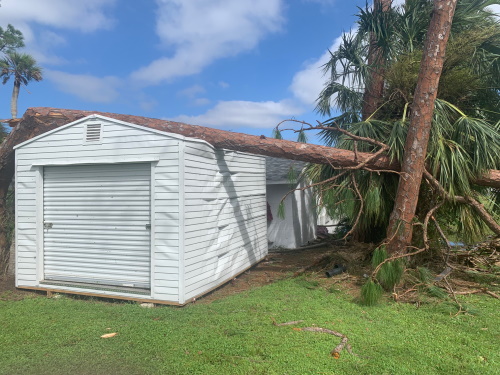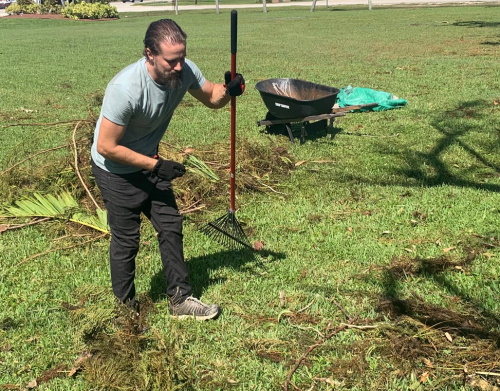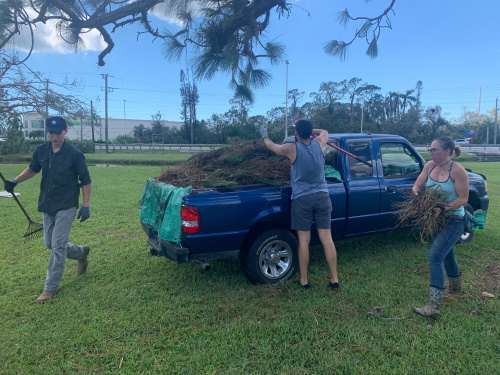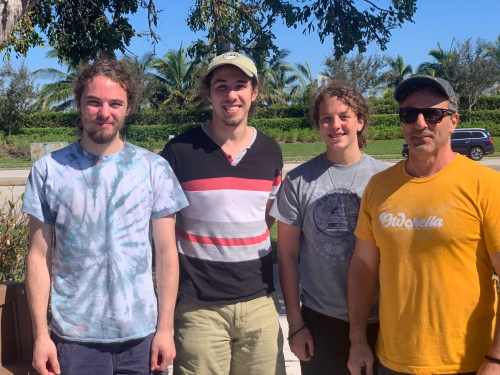 Mark You Calendar! Parish General Assembly on Sunday October 23, 2022 Following the Divine Liturgy
The General Assembly will be held in the Social Hall after a few minutes of refreshment following the Divine Liturgy. The state of parish will be discussed including plans for next year, and the new budget will be presented for approval.
Leaving a Legacy – Remembering St. Peter's in Our Estate Planning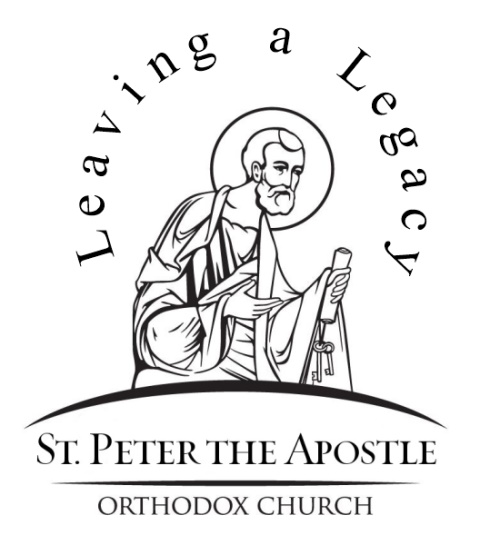 The growth and success of St. Peter's is certainly inspiring. Through it we see the benevolent work of our Lord and Savior Jesus Christ and the commitment, generosity, and fortitude of our members and friends who worked and contributed to the growth of our parish. St. Paul says that we are to become "co-laborers with Christ" and our support of St. Peter's is one way that happens.
Several people have asked how they can leave a legacy for St. Peter's. Thanks to the good work of Joe and Debbie Repya, St. Peter's has developed a guide for anyone who would like to consider a gift to the parish in their estate planning.
Our vision at St. Peter's is to become a church where anyone who is seeking Christ can find him. It happens when Christ calls them. But it also haappens because there is a parish to which our Lord and Savior can bring them. That's our part of the work.
That work can continue long after our work on this earth is completed. Through planned giving today, we can leave a legacy that helps ensure the good work of St. Peter's in the future.
For more information including an informational packet that answers many questions please see Fr. Hans.

Let's Pray the Paraklesis to the Theotokos Daily
Our goal at St. Peter's is to have one person or family pray the Parakelsis to the Theotokos for at least one day of every month. For each day of the month, individuals or even an entire family can sign up to pray the Paraklesis in their homes on the day/s which they select.
Get more information on how to participate from the St. Peter's website.
Cafe of Life – Giving for the Devastation of Hurricane Ian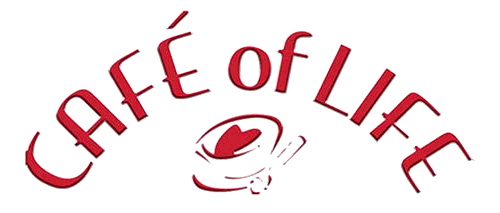 These passed few weeks Floridians have experienced the worst devastation ever from a storm surge called hurricane Ian. Some had minimum damages, Praise be to God, while many others lost their homes, personal possessions and loved ones.
Now more ever our Christian duty is to open our homes and extend our hospitality to those impoverished due to Ian.
So please be extra charitable and give your donations to Father Hans who is cognizant of families suffering right now and remember: But if anyone has the world's goods and sees his brother in need, yet closes his heart against him, how does God's love abide in him? Little children, let us not love in word or talk but in deed and in truth" (John 3:17-18).
Thank you and IC XC NI KA!

Pledge & Income Report – September 2022
Contributions received in September: $31,641.
Amount of money needed to cover expenses: $24,114.
We are ahead by $7,527.
Every year we need an extra push in the summer to keep our income current. Please keep up with you pledge so we can keep current with our bills.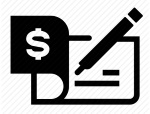 St. Peter Orthodox Church
7470 Hickory Drive
Fort Myers, FL 33967
You can also donate online:

Sign up the the Monthly DOMSE Newsletter on the DOMSE (Diocese of Miami and the Southeast) Website!
Visit the DOMSE Website (scroll to the bottom, fill in the form on the left side) to sign up for "The Light" Newsletter and DOMSE emails.


The Social Hall All Stars are the men and women that make St. Peter's Social Hall happen. Thank you All Stars!
September
TOM HALEY
Marlene Haley
Cheryl Morse
Tim Morse
Diana Najjar
Deb Repya
Elaine Seremetis
Greogry Seremetis
Procedures for Hospitality
Please note: If you would like to bring in your own prepared food, please contact Tom Haley at 239-887-0753 a week before the upcoming Sunday. That way we know not to prepare any food for Sunday.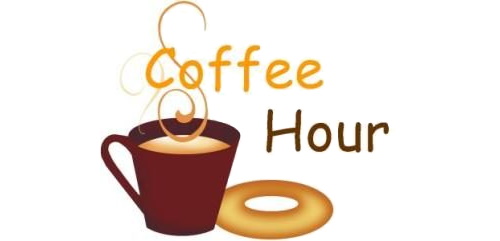 On most Sundays we will serve lighter refreshments like coffee, sweets, hummus, olives, feta, pita and similar items. Please continue bringing these items. Even though we have a range (unlike our former facility), we appreciate items that are "ready to be served."
Please do not donate coffee. We have a space age coffee brewer that we acquired at no cost if we buy our coffee from one supplier. If you bring in coffee, we can't use it.
We cannot continue preparing meals for Memorials, Name Days, Anniversaries, and other celebrations. We don't have the appliances or manpower to do it well. We do, however, have the name of two catering companies that can prepare and deliver the food if you would like to sponsor a celebration. Please call Tom Haley at 239-887-0753 for details and to make arrangements.
If you would like to bring in your own prepared food, please contact Tom Haley at 239-887-0753 a week before the upcoming Sunday. That way we know not to prepare any food for Sunday.
The Safest Way to Come to Church
US 41 is a busy highway and the intersection at Hickory Drive does not have a stop light. We recommend turning on Sanibel Boulevard and following Coconut Road instead.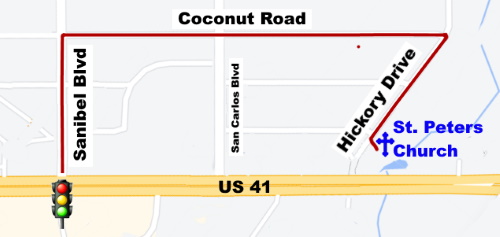 Helping Our Seniors With Parking
With the church growing the parking lot is close to full every Sunday. Younger parishioners, could you park in the grass lot even if spaces are open in the paved area? That way our seniors can park closer to the entrance and avoid the grassy area where it is easier to stumble and fall.

Calendar also available on the St. Peter website.
OCTOBER
SUN Oct 16 — FATHERS OF THE SEVENTH ECUMENICAL COUNCIL Orthros 8:30am, Divine Liturgy 9:30am LIVE STREAM
Tue Oct 18 — CANCELLED St. Luke the Apostle Divine Liturgy 9:30am LIVE STREAM
Thu Oct 20 — Artemius the Great Martyr of Antioch Divine Liturgy 9:30am LIVE STREAM
SUN Oct 23 — SIXTH SUNDAY OF LUKE Orthros 8:30am, Divine Liturgy 9:30am LIVE STREAM
Tue Oct 25 — St. Demetrios of Thessaloniki Divine Liturgy 6:30am EVENING LITURGY LIVE STREAM
Thu Oct 27 — Protection of the Theotokos Divine Liturgy 9:30am EVENING LITURGY LIVE STREAM
SUN Oct 30 — FIFTH SUNDAY OF LUKE Orthros 8:30am, Divine Liturgy 9:30am LIVE STREAM
Tue Nov 01 — Sts. Kosmas and Damian Divine Liturgy 6:30am EVENING LITURGY LIVE STREAM
Thu Nov 03 — Acepsimas the Bishop, Joseph the Presbyter, and Aeithalas the Deacon, Divine Liturgy 9:30am LIVE STREAM

In Paradise,each person will see the glory of God in accordance with the purity of the eyes of their soul. The degree of visibility will not be determined by God, but will depend on each person's purity. Saint Paisios of Mount Athos
In order to purify and stimulate our prayer, the Lord allows the Devil to painfully inflame our inward parts, so that we, feeling a strange fire within us, and suffering from it, may endeavour to bring into our heart by means of humble prayer the fire of God, the fire of the Holy Ghost giving life to our hearts. Righteous John, Wonderworker of Kronstadt
Blessed is he who despises all earthly things, and who is wounded by the love of God, by heavenly love. But how few such men there are amongst the fallen sons of Adam! Righteous John, Wonderworker of Kronstadt
We must understand that as long as we are still attached to anything earthly, as long as we lean on anything within or without that is not God, as long as we find our enjoyment in something created, we are unfit to be a burnt offering. We must come to the point of endeavoring to renounce all this, making all the lives inside us stop, with only one life remaining—life in God. Fr. Jack Sparks
That a small Christian child is wiser than philosophers has been shown by experience. This experience is repeated sometimes today, but in earlier times it was everywhere. For example, during the period of martyrdom, small children discoursed on Christ the Saviour, on the folly of idol-worship, on the future life, and the like; this was because their mother or father had explained these things to them in simple conversations. These truths had then become close to the heart, which began to treasure them all the way to readiness to die for them. St. Theophan the Recluse, bishop of Tambov
We have replaced strict church singing of the past two centuries with Italian, concert singing, which satisfies the worldly-minded and is, therefore, favored by our contemporaries who wallow in emotionalism. Archbishop Averky (Taushev)

PLEASE NOTE: The names list in "The Current Prayer List listed to be removed after September 1 have been taken of the list. If you would like someone added back please send a text to Fr. Hans or send the name through website here.
Names will remain on the list for three months.
If you would like to keep them on longer please mention it to Fr. Hans. We will keep the names on the list for as long as the person needs prayers.
Names will include the person who requested the prayers and the month the name will be removed.
The permanent list includes friends and members of St. Peter's and others including shut-ins.
Were names dropped that should have remained? Please mention it to Fr. Hans. He will add them back.
Updated June 4 / Resets Sep 1.
Current Prayer List
Marlene (Tewis 12/22)
Tina (Johnson 12/22)
Mikaela (Wolff 12/22)
Nicholas (De Lorenzo 12/22)
Priest Anthony (Karbo 11/22)
Archpriest Dionysius (Valentine 9/12)
Anthony Presbyter (Kerr 10/22)
Angel (Ghanem 10/22)
Abott Tryphon (Jacobse 10/22)
Edgar (Chapekis 9/22)
Evthriki (Jacobse 9/22)
Christos (Johnson 8/22)
Jon Paul (Andrew 8/22)
William (Brubaker 8/22)
Peter (Tewis 8/22)
Alberta (Dusckas 8/22)
Connie (Dusckas 8/22)
The People of Ukraine and People of Russia and all those who are suffering in the war
Permanent Prayer List
Katheryn (Tolkkinen)
Markisia (Long)
Angela (Long)
Marina (Long)
Eleni (Long)
Raphaella (Long)
Joanne (Haley)
Francine (Anton)
Corwin (Dusckas)
Corgette (Troutman)
Irina (Irina)
Seraphim (Irina)
Lidia (Irina)
Sarina (Ghanem)
Debbie (Breitenbach)
Kathy (Breitenbach)
Hope (Isadore)
John (Long)
Pantelis (Tsikita)
Marisa (Tsikita)
Barbara (Dionysopoulos)
Patricia (Evanoff)
Gabriel (Mankus)
Baby Dani (Repya)
Despina (Diversis)b
Fredericos (Diveris)
Herman (Kerr)
Innocent (Kerr)
Nicholas (Kerr)
Paola (Jacobse)
Gregory (Yankopolos)
Soterios (Ninos)
Pauline (Poulos)
Sergio (Kazakos)
Fran (Hansen)
Nina (Krotov)
Franklin (Pyrrson)
Demetrios (Kuchera)
Theodosios (Palis)
Theodora (Webb)
Robert (Smith)
Presbytera Rosy (in Pakistan)
James (Hord)
Vassiliki (Kontinos)
Vassiliki (Morekeas)
Vassilike (Hord)
Founders, Members, Benefactors and Friends Departed this Life
John (Hansen)
Anatoly (Kurdsjuk)
Thareni (Brooks)
Milan Evanoff
Jean (Sam)
Eleni (Pearson)
Richard (Pearson)
Fr. Stephanos (Shagoury)
Panagiota (Bea Chionis)
Anthony (Mourgis)
Anthony (Mankus)
Constantine (Houpis)
Constantine (Joseph)
Mary (Jarvis)
Panagiota Margarita (Palis)
Maria (Ninos)
John (Katsigianopoulos)
George (Chionis)
Mary (Spiropoulos)
Gregory (Pappas)
Angela (Coran K
Eugene (Rust)
Robert (Jarvis)
George (Corey)
How should we pray for the sick? Remember them daily. Say their names (first names are sufficient) and ask God to bestow mercy and grace on them.
Add or remove names and print this list for easy reference during your prayer time on the St. Peter website.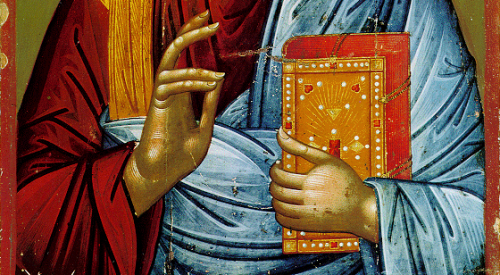 EPISTLE
For St. James
His voice has gone out into all the earth.
The heavens declare the glory of God.
The Reading from the Epistle of St. Paul to the Galatians. (1:11-19)
Brethren, I would have you know that the Gospel which was preached by me is not man's gospel. For I did not receive it from man, nor was I taught it, but it came through a revelation of Jesus Christ. For you have heard of my former life in Judaism, how I persecuted the Church of God violently and tried to destroy it; and I advanced in Judaism beyond many of my own age among my people; so extremely zealous was I for the traditions of my fathers. But when He Who had set me apart before I was born, and had called me through His grace, was pleased to reveal His Son to me, in order that I might preach Him among the Gentiles, I did not confer with flesh and blood, nor did I go up to Jerusalem to those who were Apostles before me, but I went away into Arabia; and again I returned to Damascus. Then after three years I went up to Jerusalem to visit Cephas, and remained with him fifteen days. But I saw none of the other Apostles except James the Lord's brother.
GOSPEL
For the Sixth Sunday of Luke
The Reading from the Holy Gospel according to St. Luke. (8:26-39)
At that time, Jesus arrived at the country of the Gadarenes, which is opposite Galilee. And as He stepped out on land, there met Him a man from the city who had demons; for a long time he had worn no clothes, and he lived not in a house but among the tombs. When he saw Jesus, he cried out and fell down before him, and said with a loud voice, "What hast Thou to do with me, Jesus, Son of the Most High God? I beseech Thee, do not torment me." For Jesus had commanded the unclean spirit to come out of the man. [For many a time it had seized him; he was kept under guard, and bound with chains and fetters, but he broke the bonds and was driven by the demon into the desert.]

Jesus then asked him, "What is your name?" And he said, "Legion"; for many demons had entered him. And they begged Jesus not to command them to depart into the abyss. Now a large herd of swine was feeding there on the hillside; and they begged Jesus to let them enter these. So He gave them leave. Then the demons came out of the man and entered the swine, and the herd rushed down the steep bank into the lake and was drowned. When the herdsmen saw what had happened, they fled, and told it in the city and in the country.

Then people went out to see what had happened, and they came to Jesus, and found the man from whom the demons had gone, sitting at the feet of Jesus, clothed and in his right mind; and they were afraid. And those who had seen it told them how he who had been possessed with demons was healed. Then all the people of the surrounding country of the Gadarenes asked Jesus to depart from them; for they were seized with great fear; so He got into the boat and returned.

The man from whom the demons had gone begged that he might be with Jesus; but Jesus sent him away, saying, "Return to your home, and declare all that God has done for you." And he went away, proclaiming throughout the whole city all that Jesus had done for him.