St John the Almsgiver, Patriarch of Alexandria
Eighth Sunday of Luke
Martyrs Galaktion and Episteme of Emmes; Apostles Hermas, Linus, Gaius, Patrobas and Philologos of the Seventy
Neilos the Faster of Sinai; Neilos the myrrh-streaming of the Great Lavra on Athos; Martin the wonderworker, bishop of Tours
Who Was St. John the Almsgiver, Patriarch of Alexandria
St. John the Merciful
John was born in Amathus on Cyprus c. 550 to the patrician Epiphanius, a governor of the island. He married and had children, but was a widower when he was called to become patriarch of Alexandria on the recommendation of his friend, the city's imperial prefect Nicetas.
John was remarkable for his almsgiving or mercy (??e?µ?s??? in Greek, hence his title ??e?µ??). To someone who was astounded at his generosity he recounted a vision he had seen in his youth in which Compassion appeared to him as a beautiful maiden and told him that she was the eldest daughter of God.
The patriarchate of Alexandria had at its disposal immense wealth in both money and commercial enterprises, including shipping, and John put it all at the disposal of the poor. He was not only liberal with the resources of his see, but with his own goods.
In one incident in his life he felt remorseful for accepting a richly-embroidered blanket as a gift and was unable to sleep until he sold it and gave the proceeds to the poor. He also made himself available to anyone who had a petition, grievance, or request.
His generosity did draw censure at times. In one case one of his aides noticed that someone was abusing the distribution of goods in John's very presence, returning several times in different guises, but when he mentioned this John replied that it might be Christ in disguise. In another case he came to loggerheads with his friend Nicetas when the latter, concerned to contribute to Emperor Heraclius' war effort against the Persians, tried to appropriate some of the church's wealth to that end, an attempt which John firmly resisted and which ended in Nicetas' apology.
His care was not limited to his own flock in Alexandria, but extended to the people of Palestine in their sufferings during the Persian invasion and sack of Jerusalem. John sent convoys of essential supplies to Palestine and welcomed many refugees to Alexandria.
He was forced to flee Alexandria by the Persian invasion of Egypt in 619. Returning to Cyprus, he died soon thereafter.
Source: The Orthodoxwiki website.
Services and Events This Week
Sun Nov 05 — SUNDAY DIVINE LITURGY Orthros 8:30am Liturgy 9:30am LIVE STREAM
Tue Nov 07 — Paraklesis to the Theotokos 8:00am LIVE STREAM
Wed Nov 08 — Early Divine Liturgy 6:00am LIVE STREAM
Thu Nov 09 — St. Nektarios Divine Liturgy 8:00am LIVE STREAM
Fri Nov 11 — St. Paisios Brotherhood 7:00pm
Sat Nov 12 — Parish Council Meeting 10:00am
Synaxis of the Archangels Michael and Gabriel Divine Liturgy on Wednesday, November 8, 2017 at 6:00am
St Nektarios of Aegina Divine Liturgy on Thursday, November 9 at 8:00am
The divine Nektarios of Aegina, is one of the most widely known of Greek Orthodox Saints. He was born on October 1st, 1846 in Silyvria, in Asia Minor (now occupied by Turkey).His great service to the Church, prolific writings and teachings, energy and zeal led Fr Nektarios to be ordained as the Metropolitan of Pentapolis in Egypt.
In 1904, our Saint founded a monastery for women in Aegina, the Holy Trinity Convent. Under his guidance the Convent flourished. In 1908, the Blessed Nektarios, at the age of 62, retired from the Rizarios Ecclesiastical School and withdrew to Holy Trinity Convent in Aegina. There, for the rest of his life as a true monk and ascetic. He served as a confessor and spiritual guide to the nuns and even priests from as far as Athens and Piraeus. His Holy and pious life shone forth like a guiding light to all near him. Many would come to him for healing. Saint Nektarios was a great ëWonder-workerí even while alive.
On September 20, 1920 one of the nuns took him to the local hospital, in spite of his protest. He was convulsing in pain from a long-standing ailment. He was admitted, and placed into a ward reserved for the poor and unwanted. There he stayed for two months among the sick and dying. At 10:30 in the evening of November 8th, although in the midst of terrible pains, in peace and at prayer he gave up his spirit unto God at the age of 74.
As soon as the Saint gave up his Spirit, a nurse came to prepare him for transfer to Aegina for burial. As the nurse removed the Saints sweater, she inadvertently placed it on the next bed, on which a paralytic lay. And O, strange wonder!, the paralytic immediately began to regain his strength and arose from his bed healthy, and glorifying God.
Read the complete story on the Orthodox Christian Info website.
Changes at St. Peter's
Changes are happening at St. Peter's. Some of the changes are bring us closer to the proper ordering of Orthodox practice while others are for better functioning of St. Peter's.
CHANGE OF SERVICE TIMES
Weekday services formerly held at 9:30am will begin at 8am. This is to better accommodate the worshipers who attend.
Weekday liturgies with a start time of 6:00am remain the same.
Sunday Orthos and Divine Liturgy start times (8:30am/9:30am) remain the same.
PRIEST AND ALTAR SERVERS DURING THE GREAT PROCESSION
When St. Peter's was smaller, lay worshiper participated in the Great Procession because there was a need. Starting immediately only the Priest and Altar Servers will participate in the procession. This is in keeping with proper Orthodox practice.
If there is ever a need for lay participation, Fr. Hans will ask one or two men to help out.
BLESSING OF CATECHUMENS AND OTHER COMMUNICANTS
The proper place to receive the andidoron (blessed bread) for anyone not receiving the Holy Eucharist is during the dismissal at the conclusion of the Liturgy. Only baptized Orthodox Christians in good moral and ecclesiastic standing should be in the line approaching Holy Communion. This change restores the proper Orthodox practice.
TOUCHING THE PRIEST'S VESTMENTS DURING DURING THE GREAT PROCESSION
Some people touch the priests vestments during the Great Procession. While this is a pious custom and there is nothing intrinsically wrong with it and no real prohibition exists against it, please refrain from the practice going forward. The practice has become so widespread that it disturbs the solemnity of the worship.
THE DISMISSAL IS STILL PART OF THE SERVICE AND WE SHOULD EXIT QUIETLY AS THE PRAYERS FOLLOWING HOLY COMMUNION ARE BEING READ
Please start the private conversations after exiting the Church so that the Thanksgiving prayers can be heard clearly.
CASUAL IS FINE BUT NOT TOO CASUAL
We live in Florida where the dress code is more relaxed than Orthodox parishes in the north. However, we need to keep a level of formality that rises above something that is suitable for, say, Walmart or Publix, or a quick drive to Home Depot. No shorts, no tank tops, no flip-flops, that sort of thing. Modest and respectable is the key.
New Landscaping in the Works
It's time to spruce up the grounds. The dying palms will be removed, irrigation with be added to the courtyard, the wooded area south of the parking lot will be cleared, new trees planted, and more. Stay tuned.
St. Peter Adult Education: The Holy Things for the Holy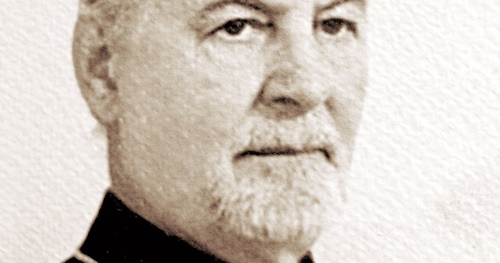 Fr. Alexander Schmemann
On Saturday, December 9, 2023 from 10:00am to 12:pm, Fr. Hans will overview of secularism in our lives and in the parish. Everyone is encouraged to attend.
Decades ago, Fr. Alexander Schmemann, formerly the President of St. Vladimir's Seminary and a widely known theologian in America was able to locate one the most serious challenge facing Orthodoxy Christianity in America. That challenge was secularism, the idea that Orthodox Christianity was just another religion, instead of the road to God that offers transformation, healing, and hope.
Orthodoxy is not a religion. Orthodoxy is a way of life, a walking of the narrow road that reveals God to us and makes us fully human. If we have trouble seeing this, most likely it's because we have adopted secular ideals and don't even know it. This spills into our life, and if it spills into our life, it also spills into the Church. If that happens the Church ceases to become the true body of Christ. It just turns into another denomination.
Fr. Alexanders essay is posted on the website.
The meeting will also be available on ZOOM at this link: https://us06web.zoom.us/j/88061553942?pwd=5vjaGXtmhbEKGphW1twrW2A46JfBut.1
Parish Council Members: Please note that the Parish Council meeting will begin at 8:30am and conclude at 10:00am that morning. All members are required to attend.
Let's Pray the Paraklesis to the Theotokos Daily
Our goal at St. Peter's is to have one person or family pray the Parakelsis to the Theotokos for at least one day of every month. For each day of the month, individuals or even an entire family can sign up to pray the Paraklesis in their homes on the day/s which they select.
Get more information on how to participate from the St. Peter's website.

Sign up the the Monthly DOMSE Newsletter on the DOMSE (Diocese of Miami and the Southeast) Website!

Visit the DOMSE Website (scroll to the bottom, fill in the form on the left side) to sign up for "The Light" Newsletter and DOMSE emails.
DOMSE MEN'S RETREAT IN MARCH 2024
Only 62 spaces left so register early.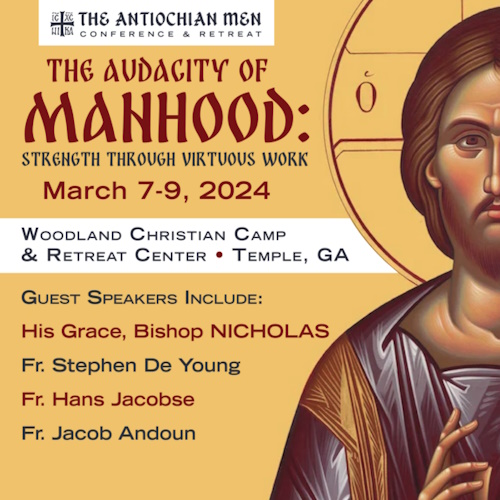 More information at DOMSE website.

ST. PETER'S GREETERS
NOVEMBER 2023
NOV 5 Paula Kambaros – Candice Rosen

NOV 12 Joe and Deb Repya
NOV 19 George Karounos – Doug and Tina Kucera
NOV 26 Pavlo Bilych – Will Schwarz – George Tsikitas
DECEMBER 2023
DEC 3 Will Schwarz – Ray Locklear – George Tsikitas
DEC 10 Joe Repya – Ray Locklear
DEC 17 Candice Rosen – Ray Locklear
DEC 24 Will Schwarz – Candice Rosen
DEC 31 Moriah Peterson – Joe Repya
Can you volunteer? Please call Joe Repya 612-270-4443.

SOCIAL HALL ALL STARS
NOVEMBER 2023
TEAM #2 – Margie Zimmerman Group for November
Nov 5 –- Coffee, Cake and Mixed Fruit
Nov 12 –- Coffee, Bagels and Mixed Fruit
Nov 19 –- Coffee, Donuts and Mixed Fruit
Nove 26 –- Coffee, Cookies and Mixed Fruit
For Special Events/Koliva please contact BARBARA SASEN and give her a completed Special Events Form which is found in the lobby of the church.
The Social Hall All Stars are the men and women that make St. Peter's Social Hall happen. Thank you All Stars!

NOVEMBER
Sun Nov 05 — SUNDAY DIVINE LITURGY Orthros 8:30am Liturgy 9:30am LIVE STREAM
Tue Nov 07 — Paraklesis to the Theotokos 8:00am LIVE STREAM
Wed Nov 08 — Early Divine Liturgy 6:00am LIVE STREAM
Thu Nov 09 — St. Nektarios Divine Liturgy 8:00am LIVE STREAM
Fri Nov 11 — St. Paisios Brotherhood 7:00pm
Sat Nov 12 — Parish Council Meeting 10:00am
Sun Nov 12 — SUNDAY DIVINE LITURGY Orthros 8:30am Liturgy 9:30am LIVE STREAM
Mon Nov 13 — St. John Chrysostom Divine Liturgy 8:00am LIVE STREAM
Mon Nov 13 Noon – Wed Nov 15 Fr. Hans out of town
Wed Nov 16 — CANCELLED Early Divine Liturgy 6:00am LIVE STREAM
Fri Nov 17 — St. Paisios Brotherhood 7:00pm
Sun Nov 19 — SUNDAY DIVINE LITURGY Orthros 8:30am Liturgy 9:30am LIVE STREAM
Tue Nov 21 — Entrance of the Theotokos into the Temple Divine Liturgy 8:00am LIVE STREAM
Wed Nov 22 — Early Divine Liturgy 6:00am LIVE STREAM
Thu Nov 23 — Thanksgiving Day
Fri Nov 24 — St. Paisios Brotherhood 7:00pm
Sat Nov 25 — St. Katherine the Great Martyr Divine Liturgy 8:00am
NOVEMBER—DECEMBER
Sun Nov 26 — SUNDAY DIVINE LITURGY Orthros 8:30am Liturgy 9:30am LIVE STREAM
Wed Nov 29 — Early Divine Liturgy 6:00am LIVE STREAM
Thu Nov 30 — St. Andrew the First Called Divine Liturgy 8:00am LIVE STREAM
Fri Dec 01 — St. Paisios Brotherhood 7:00pm
Sat Dec 02 — St. Porphyrios Divine Liturgy 8:00am LIVE STREAM

Wisdom From The Elders
Temperance derives from humility, and it is by humility that the intellect is healed and made whole. Venerable Justin (Popovic) of Chelije in Serbia
If you want to bring someone onto the right path, to teach and advise him, then you must humble yourself first and talk to the person with a lot of love. He will accept your advice, for he will feel that it is given with love.
Elder Thaddeus(Strabulovich) of Vitovnica
Here is the truth we must absorb: The greatest and most perfect thing a human being can ever desire to achieve is to come near to God and dwell in union with Him. Fr. Jack Sparks
Separately, love, peace, and joy work miracles, but united they can rule over all things. When they are united and deeply rooted in a person's heart, wherever that person emits a thought, there is peace, for such a person radiates peace. Elder Thaddeus(Strabulovich) of Vitovnica
Let us stand firm in the fear of God, rigorously practising the virtues and not giving our conscience cause to stumble. In the fear of God let us keep our attention fixed within ourselves, until our conscience achieves its freedom. Then there will be a union between it and us, and thereafter it will be our guardian, showing us each thing that we must uproot. But if we do not obey our conscience, it will abandon us and we shall fall into the hands of our enemies, who will never let us go. Venerable Isaiah the Solitary of Seeds and Palestine
The angels are completely obedient, and their harmony and love are perfect. We too must imitate their model of obedience in our relationship with our parents. Elder Thaddeus(Strabulovich) of Vitovnica

Names will remain on the list for three months.
If you would like to keep them on longer please mention it to Fr. Hans. We will keep the names on the list for as long as the person needs prayers.
Names will include the person who requested the prayers and the month the name will be removed.
The permanent list includes friends and members of St. Peter's and others including shut-ins.
Were names dropped that should have remained? Please mention it to Fr. Hans. He will add them back.
Current Prayer List
George (Chionis 11-1)
Mark (Chionis 11-1)
Katheryn (Chionis 11-1)
Jacob (Chionis 11-1)
Ken (Chionis 11-1)
Maxim (Koco)
George (Tsikistas 8/1)
George (Mourgis 8/1)
Barbara (Sason 8/1)
Anthony (Breitenbach 6/1)
Arielle (Ghanem 6/1)
Nicholas (Ghanem 6/1)
Christos
Father Demetris
Jamie
Pamela
David
Jessica
Christina (Hildreth)
Georgia and Richard and their unborn child (Chapekis)
Dionysios Chapekis)
Nancy (Forderhase)
Kayla (Palantine)
George (3/23 Chapekis)
Penelope (3/23 Chapekis)
Theodora (3/23)
Victor (3/23)
Barbara (Dusckas 3/23)
James (Dusckas 3/23)
Les (3/23
Lynn (Hurely 1/23)
Irene and newborn baby (Tsikitas 1/23)
Linda (Pappas 1/23)
Ekaterina (Chapekis 1/23)
Lee (Hurley 1/23)
Emmanuel (Kalousdis 1/23)
Katherine (Dusckas 1/23)
Vassiliki (Diveris 1/23)
Zena Touma (Contorelli 1/23
Lamia Touma (Contorelli 1/23
Matthew (Contorelli 1/23
Emmanuel (Kaloudis 1/23)
Nicholas
Marlene (Tewis 12/22)
Tina (Johnson 12/22)
Nicholas (De Lorenzo 12/22)
Priest Anthony (Karbo 11/22)
Archpriest Dionysius (Valentine 9/12)
Anthony Presbyter (Kerr 10/22)
John Presbyter (Jacobse)
Elain Presbytera (Jacobse)
Constantine(Jacobse)
Chrysoula(Jacobse)
Angel (Ghanem 10/22)
Edgar (Chapekis 9/22)
Evthriki (Jacobse 9/22)
Christos (Johnson 8/22)
Jon Paul (Andrew 8/22)
William (Brubaker 8/22)
Peter (Tewis 8/22)
The People of Ukraine and People of Russia and all those who are suffering in the war
Permanent Prayer List
Michael (Sovjani)
Maria (Sovjani)
Maria (Sovjani)
Maria (Sovjani)
Katerina (Sovjani)
Frederick (Sovjani)
Arsen (Sovjani)
Irene (Diveris)
Katheryn (Tolkkinen)
Markisia (Long)
Angela (Long)
Marina (Long)
Eleni (Long)
Raphaella (Long)
Joanne (Haley)
Corwin (Dusckas)
Corgette (Troutman)
Irina (Irina)
Lidia (Irina)
Sarina (Ghanem)
Debbie (Breitenbach)
Kathy (Breitenbach)
Hope (Isadore)
s
John (Long)
Pantelis (Tsikita)
Marisa (Tsikita)
Barbara (Dionysopoulos)
Patricia (Evanoff)
Gabriel (Mankus)
Baby Dani (Repya)
Despina (Diversis)
Fredericos (Diveris)
Herman (Kerr)
Innocent (Kerr)
Nicholas (Kerr)
Paola (Jacobse)
Gregory (Yankopolos)
Pauline (Poulos)
Sergio (Kazakos)
Fran (Hansen)
Nina (Krotov)
Franklin (Pyrrson)
Demetrios (Kuchera)
Theodosios (Palis)
Theodora (Webb)
Robert (Smith)
Presbytera Rosy (in Pakistan)
James (Hord)
Vassiliki (Kontinos)
Vassiliki (Morekeas)
Vassilike (Hord)
Founders, Members, Benefactors and Friends Departed this Life
John (Hansen)
Anatoly (Kurdsjuk)
Thareni (Brooks)
Milan Evanoff
Jean (Sam)
Eleni (Pearson)
Richard (Pearson)
Fr. Stephanos (Shagoury)
Panagiota (Bea Chionis)
Anthony (Mourgis)
Anthony (Mankus)
Constantine (Houpis)
Constantine (Joseph)
Mary (Jarvis)
Panagiota Margarita (Palis)
Maria (Ninos)
Soterios (Ninos)
George (Ninos)
John (Katsigianopoulos)
George (Chionis)
Mary (Spiropoulos)
Gregory (Pappas)
Angela (Coran K
Eugene (Rust)
Robert (Jarvis)
George (Corey)
Patricia (Cotsones)
Seraphim (Zolio)
Apostolos
How should we pray for the sick? Remember them daily. Say their names (first names are sufficient) and ask God to bestow mercy and grace on them.
Add or remove names and print this list for easy reference during your prayer time on the St. Peter website.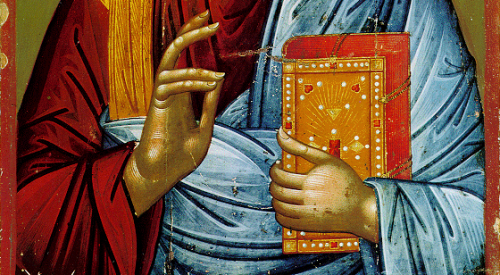 EPISTLE
For St. John the Almsgiver
Precious in the sight of the Lord is the death of His saints.
What shall I render to the Lord for all that He has given me?
The Reading from the Second Epistle of St. Paul to the Corinthians. (9:6-11)
Brethren, he who sows sparingly will also reap sparingly, and he who sows bountifully will also reap bountifully. Each one must do as he has made up his mind, not reluctantly or under compulsion, for God loves a cheerful giver. And God is able to provide you with every blessing in abundance, so that you may always have enough of everything and may provide in abundance for every good work. As it is written, "He scatters abroad, he gives to the poor; his righteousness endures forever." He who supplies seed to the sower and bread for food will supply and multiply your resources and increase the harvest of your righteousness. You will be enriched in every way for great generosity, which through us will produce thanksgiving to God.
GOSPEL
For the Eighth Sunday of Luke
The Reading from the Holy Gospel according to St. Luke. (10:25-37)
At that time, a lawyer stood up to put Jesus to the test, saying, "Teacher, what shall I do to inherit eternal life?" Jesus said to him, "What is written in the Law? How do you read?" And the lawyer answered, "You shall love the Lord your God with all your heart, and with all your soul, and with all your strength, and with all your mind; and your neighbor as yourself." And Jesus said to him, "You have answered right; do this, and you will live." But the lawyer, desiring to justify himself, said to Jesus, "And who is my neighbor?"

Jesus replied, "A man was going down from Jerusalem to Jericho, and he fell among robbers, who stripped him and beat him, and departed, leaving him half dead. Now by chance a priest was going down that road; and when he saw him he passed by on the other side. So likewise a Levite, when he came to the place and saw him, passed by on the other side. But a Samaritan, as he journeyed, came to where he was; and when he saw him, he had compassion, and went to him and bound up his wounds, pouring on oil and wine; then he set him on his own beast and brought him to an inn, and took care of him. And the next day he took out two denarii and gave them to the innkeeper, saying, 'Take care of him; and whatever more you spend, I will repay you when I come back.'

Which of these three, do you think, proved neighbor to the man who fell among the robbers?" The lawyer said, "The one who showed mercy on him." And Jesus said to him, "Go and do likewise."