Christ is Risen!
The Sixth Sunday After Pascha
The Sunday of the Blind Man
Equals-to-the-Apostles Constantine and Helen; Constantine, Prince of Murom, and his sons Michael and Theodore, the Wonderworkers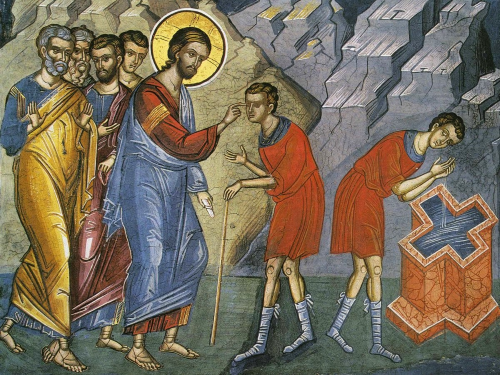 Jesus Heals the Blind Man
Introduction
The sixth Sunday of Holy Pascha is observed by the Orthodox Church as the Sunday of the Blind Man. The day commemorates the miracle of Christ healing the man who was blind since birth. The biblical story of this event is found in the Gospel of Saint John 9:1-41.
Background
The Lord Jesus was coming from the Temple on the Sabbath, when, while walking in the way, He saw the blind man mentioned in today's Gospel. This man had been born thus from his mother's womb, that is, he had been born without eyes (see Saint John Chrysostom, Homily LVI on John; Saint Irenaeus, Against Heresies, Book V:15; and the Second Exorcism of Saint Basil the Great). When the disciples saw this, they asked their Teacher, "Who did sin, this man, or his parents, that he was born blind?" They asked this because when the Lord had healed the paralytic at the Sheep's Pool, He had told him, "Sin no more, lest a worse thing come unto thee" (John 5:14); so they wondered, if sickness was caused by sin, what sin could have been the cause of his being born without eyes. But the Lord answered that this was for the glory of God. Then the God-man spat on the ground and made clay with the spittle. He anointed the eyes of the blind man and said to him, "Go, wash in the Pool of Siloam." Siloam (which means "sent") was a well-known spring in Jerusalem used by the inhabitants for its waters, which flowed to the eastern side of the city and collected in a large pool called "the Pool of Siloam."
When our Lord Jesus Christ, then, came at midday to this city, which is also called Sychar (John 4:5), He was wearied from the journey and the heat. He sat down at this well. After a little while the Samaritan woman mentioned in today's Gospel passage came to draw water. As she conversed at some length with the Lord and heard from Him secret things concerning herself, she believed in Him; through her many other Samaritans also believed.
Therefore, the Savior sent the blind man to this pool that he might wash his eyes, which had been anointed with the clay-not that the pool's water had such power, but that the faith and obedience of the one sent might be made manifest, and that the miracle might become more remarkable and known to all, and leave no room for doubt. Thus, the blind man believed in Jesus' words, obeyed His command, went and washed himself, and returned, no longer blind, but having eyes and seeing. This was the greatest miracle that our Lord had yet worked; as the man healed of his blindness himself testified, "Since time began, never was it heard that any man opened the eyes of one that was born blind," although the Lord had already healed the blind eyes of many. Because he now had eyes, some even doubted that he was the same person (John 9:8-9); and it was still lively in their remembrance when Christ came to the tomb of Lazarus, for they said, "Could not this man, who opened the eyes of the blind man, have caused that even this man should not have died?" Saint John Chrysostom gives a thorough and brilliant exposition of our Lord's meeting with the woman of Samaria, the healing of the paralytic, and the miracle of the blind man in his commentaries on the Gospel of Saint John.
Read more on the Greek Orthodox Archdiocese website.
Services and Events This Week
Sun May 14 — SUNDAY OF THE SAMARITAN WOMAN Orthros 8:30am Liturgy 9:30am LIVE STREAM
Tue May 16 — Mid-Pentecost Divine Liturgy 9:30am LIVE STREAM
Thu May 18 – Sat May 20 — Fr. Hans Out of Town – Attending Seminar at Antiochian Village
Thu May 18 — CANCELLED St. Nicholas School Divine Liturgy 9:30am LIVE STREAM
Fri May 19 — CANCELLED Men of St. Paisios 7:00pm Social Hall
Need Your Windows Cleaned?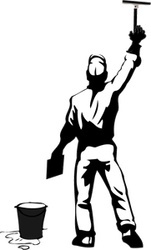 Timothy Peterson, a catechumen at St. Peter's, owns and operates "Transparent Window Cleaning" in Fort Myers, Florida.
Timothy has been at this for several years and is looking to expand his business. If you or any of your friends are looking for professional grade, high quality window cleaning give Timothy a call at 239-565-5256.
Let's Pray the Paraklesis to the Theotokos Daily
Our goal at St. Peter's is to have one person or family pray the Parakelsis to the Theotokos for at least one day of every month. For each day of the month, individuals or even an entire family can sign up to pray the Paraklesis in their homes on the day/s which they select.
Get more information on how to participate from the St. Peter's website.

Pledge & Income Report – April
Contributions received in March: $48,069..
Amount of money needed to cover expenses: $28,950.
We are ahead by $19,119.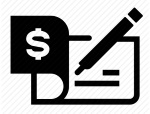 St. Peter Orthodox Church
7470 Hickory Drive
Fort Myers, FL 33967
You can also donate online:

Sign up the the Monthly DOMSE Newsletter on the DOMSE (Diocese of Miami and the Southeast) Website!
Visit the DOMSE Website (scroll to the bottom, fill in the form on the left side) to sign up for "The Light" Newsletter and DOMSE emails.

ST. PETER'S GREETERS
MAY 2023
May 07 Will Schwarz Need Additional Volunteer
May 14 Joe and Deb Repya, George Tsikitas
May 21 Candace Rosen, George Tsikitas
May 28 Candace Rosen, Need Additional Volunteer
JUNE 2023
Jun 04 Joe and Deb Repya Need Additional Volunteer
Jun 11 Need Additional Volunteers
Jun 18 Need Additional Volunteers
Jun 25 Need Additional Volunteers
Can you volunteer? Please call Joe Repya 612-270-4443.
SOCIAL HALL ALL STARS

MAY
MARGIE ZIMMERMAN
Leon Dephkalion
Glow Franklin
Moriah Peterson
Barbara Sasen
Will Schwarz
Anna Tsikitas
The Social Hall All Stars are the men and women that make St. Peter's Social Hall happen. Thank you All Stars!

APRIL / MAY
Sun May 14 — SUNDAY OF THE SAMARITAN WOMAN Orthros 8:30am Liturgy 9:30am LIVE STREAM
Tue May 16 — Mid-Pentecost Divine Liturgy 9:30am LIVE STREAM
Thu May 18 – Sat May 20 — Fr. Hans Out of Town – Attending Seminar at Antiochian Village
Thu May 18 — CANCELLED St. Nicholas School Divine Liturgy 9:30am LIVE STREAM
Fri May 19 — CANCELLED Men of St. Paisios 7:00pm Social Hall
MAY / JUNE
Sun May 21 — SUNDAY OF THE BLIND MAN Orthros 8:30am Liturgy 9:30am LIVE STREAM
Tue May 23 — Paraklesis to the Theotokos 9:30am LIVE STREAM
Thu May 25 — St. Nicholas School Divine Liturgy 9:30am LIVE STREAM
Fri May 26 — Men of St. Paisios 7:00pm Social Hall
Sun May 28 — FATHERS OF THE FIRST ECUMENICAL COUNCIL Orthros 8:30am Liturgy 9:30am LIVE STREAM
Tue May 30 — Paraklesis to the Theotokos 9:30am LIVE STREAM
Thu Jun 01 — St. Nicholas School Divine Liturgy 9:30am LIVE STREAM
Fri Jun 02 — Men of St. Paisios 7:00pm Social Hall

The theatre is the opponent of the Christian life; it is the offspring of the spirit of this world, and not of the Spirit of God. True children of the Church do not visit it. Righteous John, Wonderworker of Kronstadt
When the intellect, having grown to full maturity in the Lord, wrenches the soul from long-continued prepossession, the heart suffers torments as if on the rack, since intellect and passion drag it in opposite directions. St Mark the Ascetic
First we must struggle against our own passions, watching and keeping in mind the course of the battle; and then on the basis of personal experience we can advise others about this warfare, and render victory easier for them by describing the tactics beforehand. Venerable Nilus the Faster of Sinai
The glance of your intellect should be quick and keen, able to perceive the invading demons. When you perceive one, you should at once rebut it, crushing it like the head of a serpent. At the same time, call imploringly to Christ, and you will experience God's unseen help. Then you will clearly discern the heart's rectitude. St. Hesychius the Theologian of Jerusalem, disciple of St. Gregory the Theologian
The second function of the body is movement. Its organ is the muscles, in which lie the power and strength of the body, the means of labor. With relation to the soul this is the seat of the will, and it very easily develops self-will. The measured and sensible development of this function, giving to the body stimulation and animation, trains one to labor and forms the habit of stability. On the contrary, an unsteady development, left to the will of the child, develops in some a hyperactivity and inattentiveness, and in others a slowness, lifelessness, and laziness. St. Theophan the Recluse, bishop of Tambov

Names will remain on the list for three months.
If you would like to keep them on longer please mention it to Fr. Hans. We will keep the names on the list for as long as the person needs prayers.
Names will include the person who requested the prayers and the month the name will be removed.
The permanent list includes friends and members of St. Peter's and others including shut-ins.
Were names dropped that should have remained? Please mention it to Fr. Hans. He will add them back.
Current Prayer List
Madison (Tewis 6/1)
Anthony (Breitenbach 6/1)
Arielle (Ghanem 6/1)
Nicholas (Ghanem 6/1)
Christos
Father Demetris
Jamie
Pamela
David
Jessica
Christina (Hildreth)
Georgia and Richard and their unborn child (Chapekis)
Dionysios Chapekis)
Nancy (Forderhase)
Kayla (Palantine)
George (3/23 Chapekis)
Penelope (3/23 Chapekis)
Theodora (3/23)
Victor (3/23)
Barbara (Dusckas 3/23)
James (Dusckas 3/23)
Les (3/23
Lynn (Hurely 1/23)
Irene and unborn baby (Tsikitas 1/23)
Linda (Pappas 1/23)
Ekaterina (Chapekis 1/23)
Lee (Hurley 1/23)
Emmanuel (Kalousdis 1/23)
Katherine (Dusckas 1/23)
Vassiliki (Diveris 1/23)
Zena Touma (Contorelli 1/23
Lamia Touma (Contorelli 1/23
Matthew (Contorelli 1/23
Emmanuel (Kaloudis 1/23)
Nicholas
Marlene (Tewis 12/22)
Tina (Johnson 12/22)
Nicholas (De Lorenzo 12/22)
Priest Anthony (Karbo 11/22)
Archpriest Dionysius (Valentine 9/12)
Anthony Presbyter (Kerr 10/22)
John Presbyter (Jacobse)
Elain Presbytera (Jacobse)
Constantine(Jacobse)
Chrysoula(Jacobse)
Angel (Ghanem 10/22)
Edgar (Chapekis 9/22)
Evthriki (Jacobse 9/22)
Christos (Johnson 8/22)
Jon Paul (Andrew 8/22)
William (Brubaker 8/22)
Peter (Tewis 8/22)
The People of Ukraine and People of Russia and all those who are suffering in the war
Permanent Prayer List
Irene (Diveris)
Katheryn (Tolkkinen)
Markisia (Long)
Angela (Long)
Marina (Long)
Eleni (Long)
Raphaella (Long)
Joanne (Haley)
Corwin (Dusckas)
Corgette (Troutman)
Irina (Irina)
Seraphim (Irina)
Lidia (Irina)
Sarina (Ghanem)
Debbie (Breitenbach)
Kathy (Breitenbach)
Hope (Isadore)
John (Long)
Pantelis (Tsikita)
Marisa (Tsikita)
Barbara (Dionysopoulos)
Patricia (Evanoff)
Gabriel (Mankus)
Baby Dani (Repya)
Despina (Diversis)
Fredericos (Diveris)
Makrina and her unborn baby (Kerr)
Herman (Kerr)
Innocent (Kerr)
Nicholas (Kerr)
Paola (Jacobse)
Gregory (Yankopolos)
Pauline (Poulos)
Sergio (Kazakos)
Fran (Hansen)
Nina (Krotov)
Franklin (Pyrrson)
Demetrios (Kuchera)
Theodosios (Palis)
Theodora (Webb)
Robert (Smith)
Presbytera Rosy (in Pakistan)
James (Hord)
Vassiliki (Kontinos)
Vassiliki (Morekeas)
Vassilike (Hord)
Founders, Members, Benefactors and Friends Departed this Life
John (Hansen)
Anatoly (Kurdsjuk)
Thareni (Brooks)
Milan Evanoff
Jean (Sam)
Eleni (Pearson)
Richard (Pearson)
Fr. Stephanos (Shagoury)
Panagiota (Bea Chionis)
Anthony (Mourgis)
Anthony (Mankus)
Constantine (Houpis)
Constantine (Joseph)
Mary (Jarvis)
Panagiota Margarita (Palis)
Maria (Ninos)
Soterios (Ninos)
John (Katsigianopoulos)
George (Chionis)
Mary (Spiropoulos)
Gregory (Pappas)
Angela (Coran K
Eugene (Rust)
Robert (Jarvis)
George (Corey)
Patricia (Cotsones)
How should we pray for the sick? Remember them daily. Say their names (first names are sufficient) and ask God to bestow mercy and grace on them.
Add or remove names and print this list for easy reference during your prayer time on the St. Peter website.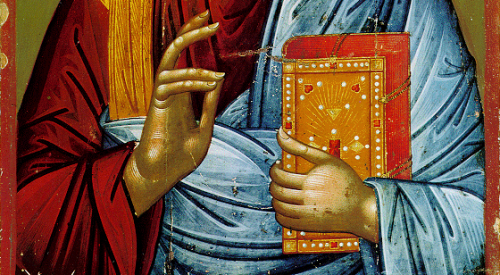 EPISTLE
For Ss. Constantine and Helen
Their voice has gone out into all the earth.
The heavens declare the glory of God.
The Reading from the Acts of the Saintly and Pure Apostles. (26:1, 12-20)
In those days, King Agrippa said to Paul, "You have permission to speak for yourself."
Then Paul stretched out his hand and made his defense: "I journeyed to Damascus with the authority and commission of the chief priests. At midday, O king, I saw on the way a light from heaven, brighter than the sun, shining round me and those who journeyed with me. And when we had all fallen to the ground, I heard a voice saying to me in the Hebrew language, 'Saul, Saul, why do you persecute me? It hurts you to kick against the goads.' And I said, 'Who art Thou, Lord?' And the Lord said, 'I am Jesus Whom you are persecuting. But rise and stand upon your feet; for I have appeared to you for this purpose, to appoint you to serve and bear witness to the things in which you have seen me and to those in which I will appear to you, delivering you from the people and from the Gentiles, to whom I send you to open their eyes, that they may turn from darkness to light and from the power of Satan to God, that they may receive forgiveness of sins and a place among those who are sanctified by faith in me.'
Wherefore, O King Agrippa, I was not disobedient to the heavenly vision, but declared first to those at Damascus, then at Jerusalem and throughout all the country of Judea, and also to the Gentiles, that they should repent and turn to God and perform deeds worthy of their repentance."
GOSPEL
The Reading from the Holy Gospel according to St. John. (9:1-38)
At that time, when Jesus was passing, He saw a man blind from his birth. And His Disciples asked Him, "Rabbi, who sinned, this man or his parents, that he was born blind?" Jesus answered, "It was not that this man sinned, or his parents, but that the works of God might be made manifest in him. I must work the works of Him Who sent me, while it is day; night comes, when no one can work. As long as I am in the world, I am the light of the world." As He said this, he spat on the ground and made clay of the spittle and anointed the man's eyes with the clay, saying to him, "Go, wash in the pool of Siloam" [which means Sent]. So he went and washed and came back seeing.

The neighbors and those who had seen him before as a beggar, said, "Is not this the man who used to sit and beg?" Some said, "It is he"; others said, "No, but he is like him." He said, "I am the man." They said to him, "Then how were your eyes opened?" He answered, "The man called Jesus made clay and anointed my eyes and said to me, 'Go to Siloam and wash'; so I went and washed and received my sight." They said to him, "Where is He?" He said, "I do not know." They brought to the Pharisees the man who had formerly been blind. Now it was a Sabbath day when Jesus made the clay and opened his eyes. The Pharisees again asked him how he had received his sight. And he said to them, "He put clay on my eyes, and I washed, and I see."

Some of the Pharisees said, "This man is not from God, for He does not keep the Sabbath." But others said, "How can a man who is a sinner do such signs?" There was a division among them. So they again said to the blind man, "What do you say about Him, since He has opened your eyes?" He said, "He is a prophet." The Jews did not believe that he had been blind and had received his sight,until they called the parents of the man who had received his sight, and asked them, "Is this your son, who you say was born blind? How then does he now see?" His parents answered, "We know that this is our son, and that he was born blind; but how he now sees we do not know, nor do we know who opened his eyes. Ask him; he is of age, he will speak for himself." His parents said this because they feared the Jews, for the Jews had already agreed that if anyone should confess Him to be Christ, he was to be put out of the synagogue. Therefore his parents said, "He is of age,ask him."

So for the second time they called the man who had been blind, and said to him, "Give God the praise; we know that this man is a sinner." He answered, "Whether He is a sinner, I don ot know; one thing I know, that though I was blind, now I see." They said to him, "What did He do to you? How did He open your eyes?" He answered them, "I have told you already, and you would not listen. Why do you want to hear it again? Do you too want to become His disciples?" And they reviled him, saying, "You are His disciple, but we are disciples of Moses. We know that God has spoken to Moses, but as for this man, we do not know where He comes from." The man answered, "Why, this is a marvel! You do not know where He comes from, and yet He opened my eyes. We know that God does not listen to sinners, but if anyone is a worshiper of God and does His will, God listens to him. Never since the world began has it been heard that anyone opened the eyes of a man born blind. If this man were not from God, He could do nothing."

They answered him, "You were born in utter sin, and would you teach us?" And they cast him out. Jesus heard that they had cast him out, and having found him He said, "Do you believe in the Son of God?" He answered, "And Who is He, Sir, that I may believe in Him?" Jesus said to him,"You have seen Him, and it is He who speaks to you." He said, "Lord, I believe"; and he worshiped Him.