Third Sunday of Great Lent
Veneration of the Precious and Life-Giving Cross

The Divine Liturgy of St. Basil
Martyrs Chrysanthos, Daria, and those with them of Rome; Martyr Pancharios of Nicomedia
Elevation of the Precious and Life Giving Cross
Each of the Sundays of Great Lent has its own special theme. This Sunday's theme is that in the cross of Christ crucified lies both "the power of God and the wisdom of God" for those being saved (1 Cor 1:24). On this Sunday in the middle of the Lenten season, the cross stands in the middle of the church, not merely to remind the faithful of Christ's redemption and for them to keep the goal of their Lenten efforts, but also as a reminder: "He who does not take up his cross and follow me is not worthy of me" (Mt 10:38).
Historical theme
The historical theme, as seen in the hymnology, is the victory and joy of the cross, not the suffering. The Church fathers equate the life-giving cross with the tree of life and plant it in the middle of the Lenten pilgrimage. It was the tree that was planted in Paradise; it is to remind the faithful of both Adam's bliss and how he was deprived from it.
Personal theme
For the catechumens of the early church, and the faithful preparing for Pascha today, the spiritual theme starts to change from personal faith, and personal effort, to Christ. The Church teaches that it is Christ's cross that saves. One cannot take up his own cross and follow Christ unless one has Christ's cross which he took up to save mankind. Partaking of this tree, one will no longer die, but will be kept alive.
This is done to refresh, reassure and to encourage those participating in Great Lent. The Church equates the appearance of the cross at this time to the banners and symbols that precede the return of a victorious king. The Epistle reading is from Hebrews 4:14-5:6 and explains Christ's priesthood, and the Gospel lesson from Mark 8:34-9:1 ends with And He said to them, "Assuredly, I say to you that there are some standing here who will not taste death till they see the kingdom of God present with power."
From Orthodoxwiki website.
Fr. Thomas Hopko on "Taking Up Your Cross"
On the third Sunday of Great Lent, we concentrate on the Cross of Christ, and Fr. Tom helps us understand what it means to take up our cross.
Listen here:
Services This Week
SUN Mar 12 — SUNDAY OF ST. GREGORY PALAMAS Orthros 8:30am, Divine Liturgy 9:30am LIVE STREAM
Mon Mar 13 — Great Compline 6:30pm LIVE STREAM
Wed Mar 15 — Presanctified Liturgy 6:30pm LIVE STREAM
Fri Mar 17 — Third Stanza Salutations 6:30pm LIVE STREAM
Sat Mar 18 — Great Vespers and Reception with Fr. John Parker 6:00pm LIVE STREAM
PLEASE NOTE: The Akahist Hymn scheduled for Friday March 10, has been moved to Thursday, March 9 at 6:30pm.
Fr. John Park, President of St. Tikhon's Seminary Visits St. Peter Saturday and Sunday March 18-19, 2023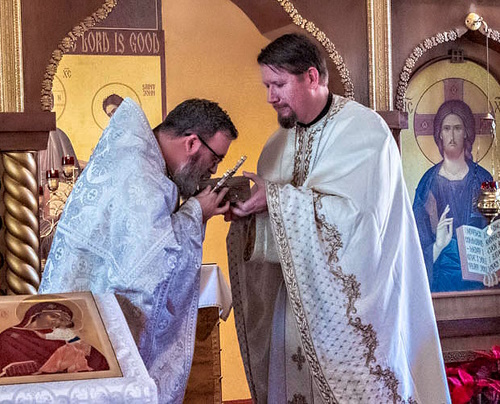 Fr. John Parker (right)
Fr. John Parker, Dean of St. Tikhon Seminary, one of the three major Orthodox seminaries in the the United States, will visit St. Peter's this weekend on Saturday and Sunday, March 18-19 2023.
Schedule:
Saturday March 18 — Vespers and Reception with Fr. John Parker 6:00pm LIVE STREAM
Sunday March 12 — Orthros 8:30am, Divine Liturgy 9:30am Fr. John Parker will give the sermon LIVE STREAM
On Saturday following the Vespers Service Fr. John will speak about the seminary and take questions in the Social Hall. Immediately following he will meet with the men of St. Paisios Brotherhood.
On Sunday Fr. John will serve with Fr. Hans during the Divine Liturgy. Fr. John will give the sermon.
Father John earned his Bachelor of Arts degree (major in Spanish Language and Literature and minor in German) at the College of William and Mary, Williamsburg, VA, where he met his wife Jeanette in 1993. After their marriage in 1994, he taught Spanish for three years at the Shipley School, Bryn Mawr, PA, before doing full-time youth ministry at the Episcopal Church of the Good Samaritan, Paoli, PA. In 2001, he earned his Master of Divinity degree from Trinity Episcopal School for Ministry [TESM], Ambridge, PA, and served for a brief period as Curate at Holy Cross Episcopal Church, Sullivan's Island, SC.
During his last year at TESM and his time at Holy Cross, he and Jeanette, along with their two sons, discovered the Orthodox Faith. On July 7, 2002, the family was received into the Orthodox Church at Holy Ascension Mission, Mount Pleasant, SC. They moved to Yonkers, NY in August 2002, where Father John began studies at Saint Vladimir's Orthodox Theological Seminary. He was ordained to the diaconate by His Beatitude, Metropolitan Herman, in November 2002, and to the priesthood by His Eminence, the late Archbishop Dmitri of Dallas and the South of blessed memory, in April 2003. Father John pursued a Master of Theology degree, which he earned in 2004.
Fr. John has served as Dean of St. Tikhons since 2018. Read Fr. John's complete biography.
Planning for Palm Sunday Brunch and the Pascha Celebration — Mark you Calendars!
If there is one thing we do well at St. Peter's, it's our community gatherings. Mark you calendars for the Palm Sunday Brunch on Sunday, April 9, 2023 (following Divine Liturgy) and Pascha Community Dinner of Sunday, April 16 2023 (around 1pm).
Menu:
Palm Sunday — Fish
Pasch — Lamb
Sign up sheets will be made available as the dates approach.
Diocese of Miami Parish Life Conference in Miami June 14-17, 2023
For more information visit the DOMSE website.

Let's Pray the Paraklesis to the Theotokos Daily
Our goal at St. Peter's is to have one person or family pray the Parakelsis to the Theotokos for at least one day of every month. For each day of the month, individuals or even an entire family can sign up to pray the Paraklesis in their homes on the day/s which they select.
Get more information on how to participate from the St. Peter's website.
Cafe of Life – God Loves a Cheerful Giver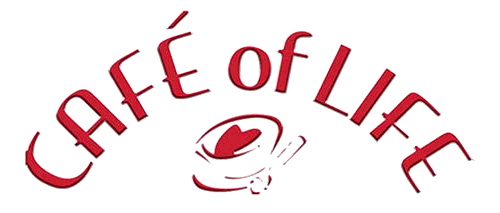 A big thank to all those who have donated their time and monetary contribution for the poor, homeless and hungry in our community. Please help us to continue this important mission by giving generously.
Please remember, "Whoever sows sparingly will also reap sparingly, and whoever sows bountifully will also reap bountifully. Each one must give as he has decided in his heart, not reluctantly or under compulsion, for God loves a cheerful giver" (Corinthians 9:6-7).
Thank you and IC XC NI KA!

Sign up the the Monthly DOMSE Newsletter on the DOMSE (Diocese of Miami and the Southeast) Website!
Visit the DOMSE Website (scroll to the bottom, fill in the form on the left side) to sign up for "The Light" Newsletter and DOMSE emails.

ST. PETER'S GREETERS
MARCH 2023
Mar 05 Will Schwarz, Nader Sahawneh
Mar 12 Al Joseph, Joe and Deb Repya
Mar 19 Barb and Costa Dionysopoulos, Need Additional Volunteer
Mar 26 Will Schwarz, Candice Rosen
APRIL 2023
Apr 2 Joe and Deb Repya, Need Additional Volunteer   
Apr 9   Dan Delorenzo, George Tsikitas
Apr 16  Joe and Deb Repya Need Additional Volunteer
Apr 23  Dan Delorenzo,  Need Additional Volunteer
Apr 30  Need Additional Volunteer
We have a few Sunday's in March and April with only one person or couple that we need to fill. If anyone else would like to volunteer, please call Joe Repya 612-270-4443.
SOCIAL HALL ALL STARS

MARCH
TOM HALEY
Marlene Haley
Cheryl Morse
Tim Morse
Diana Najjar
Deb Repya
Elaine Semeretis
Gregory Semeretis
Dino Magas
Jennifer Magas
Mikala Magas
Michael Magas
The Social Hall All Stars are the men and women that make St. Peter's Social Hall happen. Thank you All Stars!

Calendar also available on the St. Peter website.
MARCH
SUN Mar 12 — SUNDAY OF ST. GREGORY PALAMAS Orthros 8:30am, Divine Liturgy 9:30am LIVE STREAM
Mon Mar 13 — Great Compline 6:30pm LIVE STREAM
Wed Mar 15 — Presanctified Liturgy 6:30pm LIVE STREAM
Fri Mar 17 — Third Stanza Salutations 6:30pm LIVE STREAM
Fri Mar 17 — CANCELLED Men of St. Paisios 7:30pm Social Hall
Sat Mar 18 — Parish Council Meeting 10am
Sat Mar 18 — Great Vespers and Reception with Fr. John Parker 6:00pm LIVE STREAM
Sat Mar 18 — St. Paisios Brotherhood meets wit Fr. John Parker 7:30pm LIVE STREAM
SUN Mar 19 — SUNDAY OF THE VENERATION OF THE CROSS Orthros 8:30am, Divine Liturgy 9:30am LIVE STREAM
Mon Mar 20 — Great Compline 6:30pm LIVE STREAM
Wed Mar 22 — Presanctified Liturgy 6:30pm LIVE STREAM
Fri Mar 24 — Great Vespers for Annunciation 6:30pm LIVE STREAM
Fri Mar 24 — CANCELLED Men of St. Paisios 7:30pm Social Hall
Sat Mar 25 — Annunciation of the Theotokos Divine Liturgy 9:30am LIVE STREAM
SUN Mar 26 — SUNDAY OF ST. JOHN OF THE LADDER Orthros 8:30am, Divine Liturgy 9:30am LIVE STREAM
Mon Mar 27 — Great Compline 6:30pm LIVE STREAM
Wed Mar 29 — Presanctified Liturgy 6:30pm LIVE STREAM
Fri Mar 31 — Complete Salutations/Akathist Hymn 6:30pm LIVE STREAM
Fri Mar 31 — Men of St. Paisios 7:30pm Social Hall

If we do complain or blame someone for our misfortune, then we must humble our­ selves even further and say: Lord, I really am worth nothing, only You can save me. Abbot Nikon Vorobiev
The Lord is always waiting for us to unite ourselves with Him in love; but instead, we drift further and further away from Him. We know that there can be no life without love. This means that there is no life without God, for God is Love. But His love is not according to the understanding of the world. The love that the world gives us consists of suffering and enslavement, because the spirits of evil interfere with it. Elder Thaddeus
Thus humility should be the first concern of those who are fighting the presumption of the devil, for as we advance it will be a sure guide to all the paths of virtue. St. Diadochus, bishop of Photike in Epirus
A man whose heart is clouded by a storm of thoughts and conquered by passions does not know shame before men, nor does he fear God. Venerable Ephraim the Syrian
We must pray with faith for every matter and we must have patience, and God will speak. Because when man prays with faith, God is in a sense obligated by virtue of our faith to fulfil our request. For this reason, when we ask for something from God, let us never be in doubt and we shall be heard. Saint Paisios of Mount Athos

Names will remain on the list for three months.
If you would like to keep them on longer please mention it to Fr. Hans. We will keep the names on the list for as long as the person needs prayers.
Names will include the person who requested the prayers and the month the name will be removed.
The permanent list includes friends and members of St. Peter's and others including shut-ins.
Were names dropped that should have remained? Please mention it to Fr. Hans. He will add them back.
Current Prayer List
Georgia and Richard and their unborn child Chapekis)
Dionysios Chapekis)
Nancy (Forderhase)
Kayla (Palantine)
George (3/23 Chapekis)
Penelope (3/23 Chapekis)
Theodora (3/23)
Victor (3/23)
Barbara (Dusckas 3/23)
James (Dusckas 3/23)
Les (3/23
Lynn (Hurely 1/23)
Irene and unborn baby (Tsikitas 1/23)
Linda (Pappas 1/23)
Ekaterina (Chapekis 1/23)
Mikaela and unborn baby (Irena 1/23)
Lee (Hurley 1/23)
Emmanuel (Kalousdis 1/23)
Katherine (Dusckas 1/23)
Vassiliki (Diveris 1/23)
Zena Touma (Contorelli 1/23
Lamia Touma (Contorelli 1/23
Matthew (Contorelli 1/23
Emmanuel (Kaloudis 1/23)
Nicholas
Marlene (Tewis 12/22)
Tina (Johnson 12/22)
Nicholas (De Lorenzo 12/22)
Priest Anthony (Karbo 11/22)
Archpriest Dionysius (Valentine 9/12)
Anthony Presbyter (Kerr 10/22)
Angel (Ghanem 10/22)
Edgar (Chapekis 9/22)
Evthriki (Jacobse 9/22)
Christos (Johnson 8/22)
Jon Paul (Andrew 8/22)
William (Brubaker 8/22)
Peter (Tewis 8/22)
The People of Ukraine and People of Russia and all those who are suffering in the war
Permanent Prayer List
Katheryn (Tolkkinen)
Markisia (Long)
Angela (Long)
Marina (Long)
Eleni (Long)
Raphaella (Long)
Joanne (Haley)
Francine (Anton)
Corwin (Dusckas)
Corgette (Troutman)
Irina (Irina)
Seraphim (Irina)
Lidia (Irina)
Sarina (Ghanem)
Debbie (Breitenbach)
Kathy (Breitenbach)
Hope (Isadore)
John (Long)
Pantelis (Tsikita)
Marisa (Tsikita)
Barbara (Dionysopoulos)
Patricia (Evanoff)
Gabriel (Mankus)
Baby Dani (Repya)
Despina (Diversis)
Fredericos (Diveris)
Makrina and her unborn baby (Kerr)
Herman (Kerr)
Innocent (Kerr)
Nicholas (Kerr)
Paola (Jacobse)
Gregory (Yankopolos)
Pauline (Poulos)
Sergio (Kazakos)
Fran (Hansen)
Nina (Krotov)
Franklin (Pyrrson)
Demetrios (Kuchera)
Theodosios (Palis)
Theodora (Webb)
Robert (Smith)
Presbytera Rosy (in Pakistan)
James (Hord)
Vassiliki (Kontinos)
Vassiliki (Morekeas)
Vassilike (Hord)
Founders, Members, Benefactors and Friends Departed this Life
John (Hansen)
Anatoly (Kurdsjuk)
Thareni (Brooks)
Milan Evanoff
Jean (Sam)
Eleni (Pearson)
Richard (Pearson)
Fr. Stephanos (Shagoury)
Panagiota (Bea Chionis)
Anthony (Mourgis)
Anthony (Mankus)
Constantine (Houpis)
Constantine (Joseph)
Mary (Jarvis)
Panagiota Margarita (Palis)
Maria (Ninos)
Soterios (Ninos)
John (Katsigianopoulos)
George (Chionis)
Mary (Spiropoulos)
Gregory (Pappas)
Angela (Coran K
Eugene (Rust)
Robert (Jarvis)
George (Corey)
Patricia (Cotsones)
How should we pray for the sick? Remember them daily. Say their names (first names are sufficient) and ask God to bestow mercy and grace on them.
Add or remove names and print this list for easy reference during your prayer time on the St. Peter website.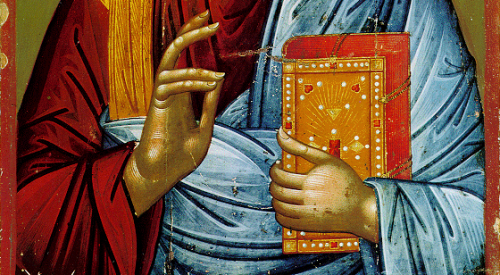 EPISTLE
For the Third Sunday of Great Lent
O Lord, save Thy people and bless Thine inheritance.
To Thee, O Lord, have I cried, O my God.
The Reading from the Epistle of St. Paul to the Hebrews. (4:14-5:6)
Brethren, since we have a High Priest, Who has passed through the heavens, Jesus, the Sonof God, let us hold fast our confession. For we have not a high priest who is unable to sympathizewith our weaknesses, but One Who in every respect has been tempted as we are, yet without sin.Let us then with confidence draw near to the throne of grace, that we may receive mercy and find grace to help in time of need.

For every high priest chosen from among men is appointed to act on behalf of men in relation to God, to offer gifts and sacrifices for sins. He can deal gently with the ignorant and wayward, since he himself is beset with weakness. Because of this he is bound to offer sacrifice for his own sins as well as for those of the people. And one does not take the honor upon himself, but he is called by God, just as Aaron was. So also Christ did not exalt Himself tobe made a high priest, but was appointed by Him Who said to Him, "Thou art My Son, today I have begotten Thee"; as He says also in another place, "Thou art a priest forever, after the order of Melchizedek."
GOSPEL
For the Third Sunday of Great Lent
The Reading from the Holy Gospel according to St. Mark. (8:34-9:1)
The Lord said, "If any man would come after Me, let him deny himself and take up hiscross and follow Me. For whoever would save his life will lose it; and whoever loses his life forMy sake and the Gospel's will save it. For what does it profit a man, to gain the whole world andforfeit his soul? For what can a man give in return for his soul? For whoever is ashamed of Meand My words in this adulterous and sinful generation, of him will the Son of man also be ashamed,when He comes in the glory of His Father with the holy angels." And Jesus said to them, "Truly,I say to you, there are some standing here who will not taste death before they see the Kingdom ofGod come with power."