Fifth Sunday of Matthew
Hieromartyr Pankratios, bishop of Taormina in Sicily; Martyrs Andrew and Probus
Services and Events This Week
Sun Jul 02 — SUNDAY DIVINE LITURGY Orthros 8:30am Liturgy 9:30am LIVE STREAM
Tue Jul 04 — CANCELLED Paraklesis to the Theotokos 9:30am LIVE STREAM
Wed Jul 05 — Early Divine Liturgy 6:00am LIVE STREAM
Fri Jul 07 — Men of St. Paisios 7:00pm Social Hall
Sat Jul 08 — Parish Council Meeting
Tuesday July 4 Paraklesis Cancelled
See you next week!
We Need Volunteers in the Kitchen

Wanr be a Social Hall All-Star? You won't have to cook, but you will have to like fun, food, and fellowship!
Basically the work is service during social hall — preparation after Divine Liturgy, serving the food, and clean up.
It's a great way to serve the Church and you will make some good friends doing it.
Please see Tom Haley if you can volunteer.
Nicholas (Timothy) and Photini (Moriah) Peterson Baptism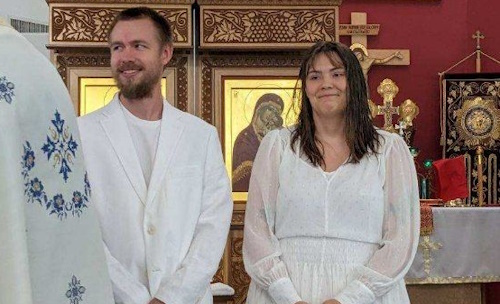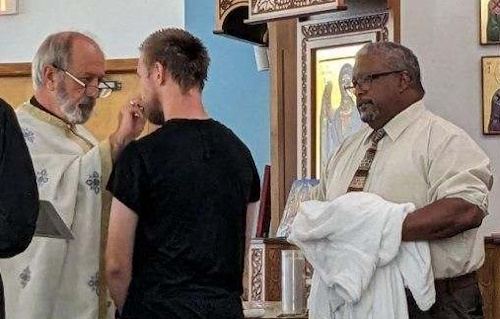 Humanitarian Aid for the Suffering in Ukraine
Humanitarian aid for Ukraine — What is Needed:
Children's clothes and footwear;
Baby formula;
Food for infants and toddlers;
Nut, protein bars;
Cookies;
Diapers ( size 1-6), wet wipes;
Hygiene products for kids and adults( soap, shampoo, toothpaste, toothbrushes);
Towels, bed sheets.
Look, please, at the expiration day of the food.
Please do not donate following:glass containers, liquids.
Humanitarian aid would be appreciated packed in boxes.Don't seal the boxes.
Galyna plans to have folks drop items off between noon and 3:00 PM on Sundays (you can bring them to church in a box). She will coordinate with contributors on Wednesday June 28, 2023.
Let's Pray the Paraklesis to the Theotokos Daily
Our goal at St. Peter's is to have one person or family pray the Parakelsis to the Theotokos for at least one day of every month. For each day of the month, individuals or even an entire family can sign up to pray the Paraklesis in their homes on the day/s which they select.
Get more information on how to participate from the St. Peter's website.

Pledge & Income Report – June
Contributions received in June 28,611..
Amount of money needed to cover expenses: $28,950.
We are behind by $339.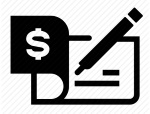 St. Peter Orthodox Church
7470 Hickory Drive
Fort Myers, FL 33967
You can also donate online:

Sign up the the Monthly DOMSE Newsletter on the DOMSE (Diocese of Miami and the Southeast) Website!

Visit the DOMSE Website (scroll to the bottom, fill in the form on the left side) to sign up for "The Light" Newsletter and DOMSE emails.

ST. PETER'S GREETERS
JUNE 2023
Jun 04 Joe and Deb Repya Need Additional Volunteer
Jun 11 Need Additional Volunteers
Jun 18 Need Additional Volunteers
Jun 25 Candice Rosen and Ray Locklear
JULY 2023
Jul 02 Will Schwartz Need Additional Volunteers
Jul 09 Will Schwartz Need Additional Volunteers
Jul 16 Will Schwartz Need Additional Volunteers
Jul 23 Will Schwartz Need Additional Volunteers
Jul 30 Will Schwartz Need Additional Volunteers
Can you volunteer? Please call Joe Repya 612-270-4443.
SOCIAL HALL ALL STARS

JULY
BARBARA DIONYSOPOULOS
Al Joseph
Bonnie Joseph
Marianthi Kazakos
Sandy Krotov
Niki Locklear
Ray Locklear
Eleni Moran
Koula Ormanidou
The Social Hall All Stars are the men and women that make St. Peter's Social Hall happen. Thank you All Stars!

JULY
Sun Jul 02 — SUNDAY DIVINE LITURGY Orthros 8:30am Liturgy 9:30am LIVE STREAM
Tue Jul 04 — Paraklesis to the Theotokos 9:30am LIVE STREAM
Wed Jul 05 — Early Divine Liturgy 6:00am LIVE STREAM
Fri Jul 07 — Men of St. Paisios 7:00pm Social Hall
Sat Jul 08 — Parish Council Meeting
Sun Jul 09 — SUNDAY DIVINE LITURGY Orthros 8:30am Liturgy 9:30am LIVE STREAM
Mon Jul 10 — St. Joseph of Damascus Divine Liturgy 9:30am LIVE STREAM
Wed Jul 12 — Early Divine Liturgy (St. Paisios of Athos) 6:00am LIVE STREAM
Fri Jul 14 — Men of St. Paisios 7:00pm Social Hall
Sat Jul 15 — St. Vladimir Divine Liturgy 9:30am LIVE STREAM
Sun Jul 16 — SUNDAY DIVINE LITURGY Orthros 8:30am Liturgy 9:30am LIVE STREAM
Tue Jul 18 — Paraklesis to the Theotokos 9:30am LIVE STREAM
Wed Jul 19 — Early Divine Liturgy (St. Paisios of Athos) 6:00am LIVE STREAM
Thu Jul 20 — Elias the Prophet Divine Liturgy 9:30am LIVE STREAM
Fri Jul 21 — Men of St. Paisios 7:00pm Social Hall
Sun Jul 23 — SUNDAY DIVINE LITURGY Orthros 8:30am Liturgy 9:30am LIVE STREAM
Mon Jul 24 – Sat Jul 29 — Fr. Hans out of town
Wed Jul 26 — CANCELLED Early Divine Liturgy 6:00am LIVE STREAM
Thu Jul 27 — Elias the Prophet Divine Liturgy 9:30am LIVE STREAM
Fri Jul 28 — CANCELLED Men of St. Paisios 7:00pm Social Hall

If a man resolves to treat and heal his soul, he must first apply himself to a careful examination of his whole being. He must learn to distinguish good from evil. Justin Popovich
Do you want to become a guardian of your soul? Withdraw from every place to a safe harbor, that sensual thoughts might not steal aboard and load your ships. Venerable Ephraim the Syrian
Evil is not a substance or independent reality: it is the willful misuse and distortion of God's sacred creation. Bishop Irenei Steenberg
The Son of God, the Word, did not become man in order only that men should believe in the Holy Trinity, glorify It, and theologize about It, but in order to destroy the works of the devil. Venerable Symeon the New Theologian
A distracted person has made his soul a highway, along which, through imagination, tempting objects pass by like shadows and tempt the soul to follow them. And then, when one is thus, so to speak, tom away from oneself, the devil secretly approaches, takes away the good seed, and puts a bad one in its place. St. Theophan the Recluse, bishop of Tambov

Names will remain on the list for three months.
If you would like to keep them on longer please mention it to Fr. Hans. We will keep the names on the list for as long as the person needs prayers.
Names will include the person who requested the prayers and the month the name will be removed.
The permanent list includes friends and members of St. Peter's and others including shut-ins.
Were names dropped that should have remained? Please mention it to Fr. Hans. He will add them back.
Current Prayer List
George (Tsikistas 8/1)
George (Mourgis 8/1)
Barbara (Sason 8/1)
Stelios (Haley 7/1)
Madison (Tewis 6/1)
Anthony (Breitenbach 6/1)
Arielle (Ghanem 6/1)
Nicholas (Ghanem 6/1)
Christos
Father Demetris
Jamie
Pamela
David
Jessica
Christina (Hildreth)
Georgia and Richard and their unborn child (Chapekis)
Dionysios Chapekis)
Nancy (Forderhase)
Kayla (Palantine)
George (3/23 Chapekis)
Penelope (3/23 Chapekis)
Theodora (3/23)
Victor (3/23)
Barbara (Dusckas 3/23)
James (Dusckas 3/23)
Les (3/23
Lynn (Hurely 1/23)
Irene and unborn baby (Tsikitas 1/23)
Linda (Pappas 1/23)
Ekaterina (Chapekis 1/23)
Lee (Hurley 1/23)
Emmanuel (Kalousdis 1/23)
Katherine (Dusckas 1/23)
Vassiliki (Diveris 1/23)
Zena Touma (Contorelli 1/23
Lamia Touma (Contorelli 1/23
Matthew (Contorelli 1/23
Emmanuel (Kaloudis 1/23)
Nicholas
Marlene (Tewis 12/22)
Tina (Johnson 12/22)
Nicholas (De Lorenzo 12/22)
Priest Anthony (Karbo 11/22)
Archpriest Dionysius (Valentine 9/12)
Anthony Presbyter (Kerr 10/22)
John Presbyter (Jacobse)
Elain Presbytera (Jacobse)
Constantine(Jacobse)
Chrysoula(Jacobse)
Angel (Ghanem 10/22)
Edgar (Chapekis 9/22)
Evthriki (Jacobse 9/22)
Christos (Johnson 8/22)
Jon Paul (Andrew 8/22)
William (Brubaker 8/22)
Peter (Tewis 8/22)
The People of Ukraine and People of Russia and all those who are suffering in the war
Permanent Prayer List
Michael (Sovjani)
Arsen (Sovjani)
Irene (Diveris)
Katheryn (Tolkkinen)
Markisia (Long)
Angela (Long)
Marina (Long)
Eleni (Long)
Raphaella (Long)
Joanne (Haley)
Corwin (Dusckas)
Corgette (Troutman)
Irina (Irina)
Lidia (Irina)
Sarina (Ghanem)
Debbie (Breitenbach)
Kathy (Breitenbach)
Hope (Isadore)
John (Long)
Pantelis (Tsikita)
Marisa (Tsikita)
Barbara (Dionysopoulos)
Patricia (Evanoff)
Gabriel (Mankus)
Baby Dani (Repya)
Despina (Diversis)
Fredericos (Diveris)
Makrina and her unborn baby (Kerr)
Herman (Kerr)
Innocent (Kerr)
Nicholas (Kerr)
Paola (Jacobse)
Gregory (Yankopolos)
Pauline (Poulos)
Sergio (Kazakos)
Fran (Hansen)
Nina (Krotov)
Franklin (Pyrrson)
Demetrios (Kuchera)
Theodosios (Palis)
Theodora (Webb)
Robert (Smith)
Presbytera Rosy (in Pakistan)
James (Hord)
Vassiliki (Kontinos)
Vassiliki (Morekeas)
Vassilike (Hord)
Founders, Members, Benefactors and Friends Departed this Life
John (Hansen)
Anatoly (Kurdsjuk)
Thareni (Brooks)
Milan Evanoff
Jean (Sam)
Eleni (Pearson)
Richard (Pearson)
Fr. Stephanos (Shagoury)
Panagiota (Bea Chionis)
Anthony (Mourgis)
Anthony (Mankus)
Constantine (Houpis)
Constantine (Joseph)
Mary (Jarvis)
Panagiota Margarita (Palis)
Maria (Ninos)
Soterios (Ninos)
George (Ninos)
John (Katsigianopoulos)
George (Chionis)
Mary (Spiropoulos)
Gregory (Pappas)
Angela (Coran K
Eugene (Rust)
Robert (Jarvis)
George (Corey)
Patricia (Cotsones)
Seraphim (Zolio)
How should we pray for the sick? Remember them daily. Say their names (first names are sufficient) and ask God to bestow mercy and grace on them.
Add or remove names and print this list for easy reference during your prayer time on the St. Peter website.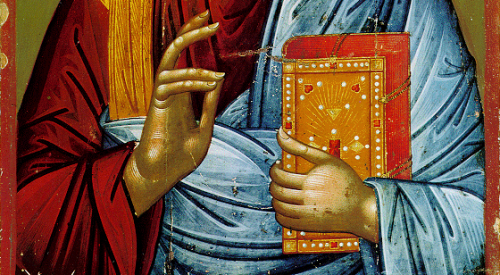 EPISTLE
For the Fifth Sunday after Pentecost
How great are Thy works, O Lord!
In wisdom hast Thou made them all.
Bless the Lord, O my soul.
The Reading from the Epistle of St. Paul to the Romans. (10:1-10)
Brethren, my heart's desire and prayer to God for Israel is that it may be saved. I bear them witness that they have a zeal for God, but it is not enlightened. For, being ignorant of the righteousness that comes from God, and seeking to establish their own, they did not submit to God's righteousness. For Christ is the end of the law, that everyone who has faith may be justified. Moses writes that the man who practices the righteousness which is based on the law shall live by it. But the righteousness based on faith says: Do not say in your heart, "Who will ascend into Heaven?" (that is, to bring Christ down) or "Who will descend into the abyss?" (that is, to bring Christ up from the dead). But what does it say? The word is near you, on your lips and in your heart (that is, the word of faith which we preach); because, if you confess with your lips that Jesus is Lord and believe in your heart that God raised Him from the dead, you will be saved. For man believes with his heart and so is justified, and he confesses with his lips and so is saved.
GOSPEL
For the Fourth Sunday of Matthew
For the Fifth Sunday of Matthew
The Reading from the Holy Gospel according to St. Matthew. (8:28-9:1)
At that time, when Jesus came to the country of the Gergesenes, two demoniacs met Him, coming out of the tombs, so fierce that no one could pass that way. And behold, they cried out, "What have we to do to Thee, O Son of God? Art Thou come here to torment us before the time?" Now a herd of many swine was feeding at some distance from them. And the demons begged Him, "If Thou castest us out, send us away into the herd of swine." And He said to them, "Go."

So they came out and went into the swine; and behold, the whole herd rushed down the steep bank into the sea, and perished in the waters. The herdsmen fled, and going into the city they told everything, and what had happened to the demoniacs. And behold, all the city came out to meet Jesus; and when they saw Him, they begged Him to leave their neighborhood. And getting into a boat He crossed over and came to His own city.