The Sixth Sunday of Matthew
Great-Martyr Christina of Tyre New-martyrs Athanasios of Ikia and Theophilos of Zakynthos; Athenagoras the Confessor; Passion-bearers Boris (Roman) and Gleb (David)

Fathers of the Fourth Ecumenical Council
Who Was Christina or Tyre?
The Martyr Christina lived during the third century. She was born into a rich family, and her father was governor of Tyre. By the age of 11 the girl was exceptionally beautiful, and many wanted to marry her. Christina's father, however, envisioned that his daughter should become a pagan priestess. To this end he placed her in a special dwelling where he had set up many gold and silver idols, and he commanded his daughter to burn incense before them. Two servants attended Christina.
In her solitude, Christina began to wonder who had created this beautiful world. From her room she was delighted by the stars of the heavens and she constantly came back to the thought about the Creator of all the world. She was convinced, that the voiceless and inanimate idols in her room could not create anything, since they themselves were created by human hands. She began to pray to the One God with tears, entreating Him to reveal Himself. Her soul blazed with love for the Unknown God, and she intensified her prayer all the more, and combined it with fasting.
One time Christina was visited by an angel, who instructed her in the true faith in Christ, the Savior of the world. The angel called her a bride of Christ and told her about her future suffering. The holy virgin smashed all the idols standing in her room and threw them out the window. In visiting his daughter Christina's father, Urban, asked her where all the idols had disappeared. Christina was silent. Then, having summoned the servants, Urban learned the truth from them.
[…]
Read the complete story on the Orthodox Church of America website.
Services This Week
SUN JUL 17 — FATHERS OF THE FOURTH ECUMENICAL COUNCIL Orthros 8:30am, Divine Liturgy 9:30am LIVE STREAM
Mon Jul 18 – Fri Jul 22 — Fr. Hans Out of Town
Fr. Hans Out of Town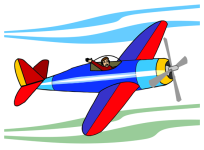 He will be attending the Antiochian Clergy Conference at Antiochian Village in Pittsburgh, PA.
Room to Rent or Apartment to Share Needed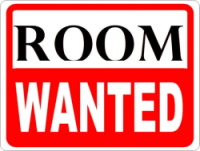 Our parishioner Pauline Poulos is looking for apartment or home to share or room to rent starting Mid-August or September 1st. Non Smoker and no pets.
Please call Pauline at 239-994-4797 (cell).
We Are Remodeling the Sunday School Rooms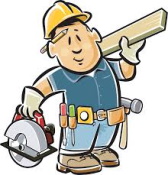 The outside wall is being replaced and the floors will be leveled. Work will take about four weeks to complete. Greek Language classes will be moved to the Social Hall.
Starting Soon – Orthodoxy 101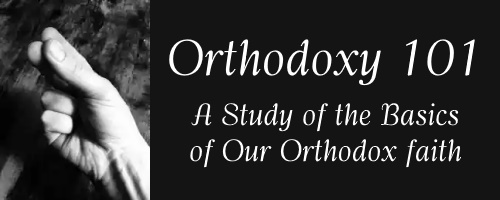 Starting soon St. Peter's offers a study of the Orthodox Basics (less philosophical, more factual and practical) of such things as worship, history, theology and more. This is for anyone and everyone who wants to understand our Orthodox faith and practice more thoroughly.
Dates will be determined but Saturday morning from 9:00am to 10:00 class time followed by a half hour optional discussion seems to work best for many people. Please let Fr. Hans know what works for you. We will begin when the summer starts and everyone's schedule is more flexible.
In the meantime check out the videos on the website Welcome to the Orthodox Church by Frederica Mathews-Green to prepare.
Helping Victims of the War in Ukraine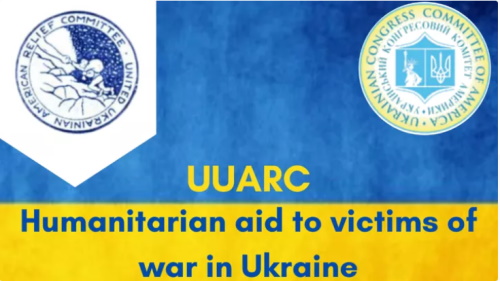 Galyna Seabrooke who has spoken on several occasions on the situation in Ukraine on behalf of our Ukranian parishioners mentioned opportunities to help the victims of the war.
One way to offer humanitarian aid is through a Go Fund Me page. Another is to donate essential items for Ukranian refugees. These items include:
No food items please.
A box will be set up in the church for donations.
We pray that war in Ukraine will end quickly.

Greek Language School Semester Completed

The first semester of Greek language school has completed. Second semester starts this fall!
Let's Pray the Paraklesis to the Theotokos Daily
Our goal at St. Peter's is to have one person or family pray the Parakelsis to the Theotokos for at least one day of every month. For each day of the month, individuals or even an entire family can sign up to pray the Paraklesis in their homes on the day/s which they select.
Get more information on how to participate from the St. Peter's website.
Cafe of Life: We Need Sponsors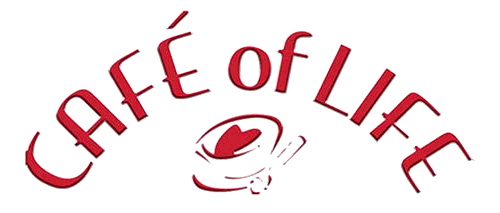 WANTED: Monthly sponsors or ongoing donors to help sustain St. Peter's commitment in supporting the hungry and homeless at the Cafe of life. These are challenging times and your donation is especially needed to support our local community. As Orthodox Christians it is our duty to help them.
Your tax deductible donation in cash or check can be given to Father Hans. No amount is too little for this important mission. "Do not withhold good from those to whom it is due when it is in your power to do it," (Proverb 3:27).
Thank you and IC XC NI KA!
Thank you and IC XC NI KA!

Pledge & Income Report – June 2022
Contributions received in June: $15,607.
Amount of money needed to cover expenses: $24,114.
We are behind by $8,507.
Every year we need an extra push in the summer to keep our income current. Please keep up with you pledge so we can keep current with our bills.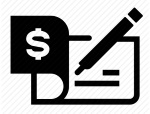 St. Peter Orthodox Church
7470 Hickory Drive
Fort Myers, FL 33967
You can also donate online:

Sign up the the Monthly DOMSE Newsletter on the DOMSE (Diocese of Miami and the Southeast) Website!
Visit the DOMSE Website (scroll to the bottom, fill in the form on the left side) to sign up for "The Light" Newsletter and DOMSE emails.


The Social Hall All Stars are the men and women that make St. Peter's Social Hall happen. Thank you All Stars!
July
Barbara Dionysopoulos 239-826-1655
Al Joseph 585-330-1859
Bonnie Joseph 585-760-9923
Niki Locklear 859-240-1227
Ray Locklear
Koula Ormandiou 239-850-5136
Marianthi Kazakos 239-275-5401
Sandy Krotov 239-940-0713
Eleni Moran 860-978-5136
Procedures for Hospitality
Please note: If you would like to bring in your own prepared food, please contact Tom Haley at 239-887-0753 a week before the upcoming Sunday. That way we know not to prepare any food for Sunday.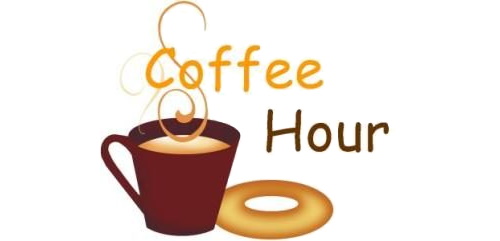 On most Sundays we will serve lighter refreshments like coffee, sweets, hummus, olives, feta, pita and similar items. Please continue bringing these items. Even though we have a range (unlike our former facility), we appreciate items that are "ready to be served."
Please do not donate coffee. We have a space age coffee brewer that we acquired at no cost if we buy our coffee from one supplier. If you bring in coffee, we can't use it.
We cannot continue preparing meals for Memorials, Name Days, Anniversaries, and other celebrations. We don't have the appliances or manpower to do it well. We do, however, have the name of two catering companies that can prepare and deliver the food if you would like to sponsor a celebration. Please call Tom Haley at 239-887-0753 for details and to make arrangements.
If you would like to bring in your own prepared food, please contact Tom Haley at 239-887-0753 a week before the upcoming Sunday. That way we know not to prepare any food for Sunday.
The Safest Way to Come to Church
US 41 is a busy highway and the intersection at Hickory Drive does not have a stop light. We recommend turning on Sanibel Boulevard and following Coconut Road instead.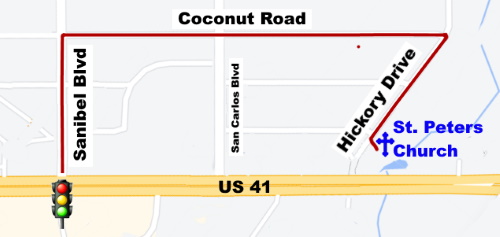 Helping Our Seniors With Parking
With the church growing the parking lot is close to full every Sunday. Younger parishioners, could you park in the grass lot even if spaces are open in the paved area? That way our seniors can park closer to the entrance and avoid the grassy area where it is easier to stumble and fall.

Calendar also available on the St. Peter website.
JULY
SUN JUL 17 — FATHERS OF THE FOURTH ECUMENICAL COUNCIL Orthros 8:30am, Divine Liturgy 9:30am LIVE STREAM
Mon Jul 18 – Fri Jul 22 — Fr. Hans Out of Town
SUN JUL 24 — SIXTH SUNDAY OF MATTHEW Orthros 8:30am, Divine Liturgy 9:30am LIVE STREAM
Fri Jul 29 — Paraklesis to the Theotokos 9:30am LIVE STREAM
JULY – AUG
Dormition Fasting Period from August 1-15.
SUN JUL 31 — SIXTH SUNDAY OF MATTHEW Orthros 8:30am, Divine Liturgy 9:30am LIVE STREAM
Mon Aug 01 – Aug 7 — Fr. Hans Out of Town

God belongs to all free beings. He is the life of all, the salvation of all —faithful and unfaithful, just and unjust, pious and impious, passionate and dispassionate, monks and laymen, wise and simple, healthy and sick, young and old —just as the effusion of light, the sight of the sun, and the changes of the seasons are for all alike; "for there is no respect of persons with God." St. John Climacus
Would a beggar, who is fed upon crumbs from his master's table, be proud of being fed upon his crumbs? What is there for him to be proud of? Of his poverty ? The beggar is myself, the master is the Lord; the crumbs from His table are all beneficial and natural gifts. Righteous John, Wonderworker of Kronstadt
Love satisfies the longing of the human soul for perfection. Priest Daniel Sysoev
If you are without compunction," said the fathers, "know that you have vainglory; for it does not allow the soul to come to compunction. St. Ignatius Brianchaninov
Our soul is, so to say, a reflection of God's countenance, and the brighter this reflection is, the clearer and calmer is the soul; and the less bright this reflection is, the darker, the and more disturbed is the soul. Righteous John, Wonderworker of Kronstadt

List has been updated. If you want some names restored, please mention it to Fr. Hans.
Names will remain on the list for three months.
If you would like to keep them on longer please mention it to Fr. Hans. We will keep the names on the list for as long as the person needs prayers.
Names will include the person who requested the prayers and the month the name will be removed.
The permanent list includes friends and members of St. Peter's and others including shut-ins.
Were names dropped that should have remained? Please mention it to Fr. Hans. He will add them back.
Updated June 4 / Resets August 1.
Current Prayer List
Anthony Presbyter (Kerr 10/22)
Angel (Ghanem 10/22)
Abott Tryphon (Jacobse 10/22)
Edgar (Chapekis 9/22)
Evthriki (Jacobse 9/22)
Christos (Johnson 8/22)
Jon Paul (Andrew 8/22)
William (Brubaker 8/22)
Peter (Tewis 8/22)
Alberta (Dusckas 8/22)
Connie (Dusckas 8/22)
Johanna (Dimartino 7/22)
Sarah (Tomlinson 7/22)
Natasha (Tomlinson 7/22)
Christine (Brubaker 7/22)
Elena (Brubaker 7/22)
Stella (Brubaker 7/22)
Steven (Breitenbach)
Gabrielle (Lowell 5/22)
Andrea, Yelena, newborn baby (Protpapadakis 4/22)
George (Haynes 4/21)
Kayla (Palentine 4/21)
Basil (Jacobse 3/22)
Linda M. (Dusckas 3/22)
Barbara (Dusckas 3/22)
Fr John (Jacobse 3/22)
John (Duskas 3/22)
Nancy (Coin 3/22)
Nicholas (Ghanem 1/22)
Arielle (Ghanem 1/22)
Georgia (Sarros 1/22)
Kerri (Dusckas 1/21)
Permanent Prayer List
Archpriest Dionysius (Valentine 9/12)
Katheryn (Tolkkinen)
Markisia (Long)
Angela (Long)
Marina (Long)
Eleni (Long)
Raphaella (Long)
Joanne (Haley)
Francine (Anton)
Corwin (Dusckas)
Corgette (Troutman)
Irina (Irina)
Seraphim (Irina)
Lidia (Irina)
Sarina (Ghanem)
Debbie (Breitenbach)
Kathy (Breitenbach)
Hope (Isadore)
John (Long)
Pantelis (Tsikita)
Marisa (Tsikita)
Barbara (Dionysopoulos)
Patricia (Evanoff)
Gabriel (Mankus)
Baby Dani (Repya)
Despina (Diversis)b
Fredericos (Diveris)
Herman (Kerr)
Innocent (Kerr)
Nicholas (Kerr)
Paola (Jacobse)
Gregory (Yankopolos)
Soterios (Ninos)
Pauline (Poulos)
Sergio (Kazakos)
Fran (Hansen)
Nina (Krotov)
Franklin (Pyrrson)
Demetrios (Kuchera)
Theodosios (Palis)
Theodora (Webb)
Robert (Smith)
Presbytera Rosy (in Pakistan)
James (Hord)
Vassiliki (Kontinos)
Vassiliki (Morekeas)
Vassilike (Hord)
Founders, Members, Benefactors and Friends Departed this Life
John (Hansen)
Anatoly (Kurdsjuk)
Thareni (Brooks)
Milan Evanoff
Jean (Sam)
Eleni (Pearson)
Richard (Pearson)
Fr. Stephanos (Shagoury)
Panagiota (Bea Chionis)
Anthony (Mourgis)
Anthony (Mankus)
Constantine (Houpis)
Constantine (Joseph)
Mary (Jarvis)
Panagiota Margarita (Palis)
Maria (Ninos)
John (Katsigianopoulos)
George (Chionis)
Mary (Spiropoulos)
Gregory (Pappas)
Angela (Coran K
Eugene (Rust)
Robert (Jarvis)
George (Corey)
Matushka Marion (Valentine)
Mary (Ghanem 10/22)
Sophia (D. Constantine)
How should we pray for the sick? Remember them daily. Say their names (first names are sufficient) and ask God to bestow mercy and grace on them.
Add or remove names and print this list for easy reference during your prayer time on the St. Peter website.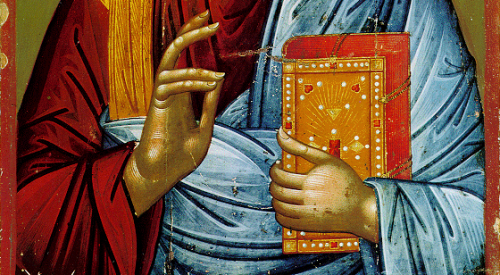 EPISTLE
For the Sixth Sunday after Pentecost
Thou, O Lord, wilt preserve us and keep us from this generation.
Save me, O Lord, for the Godly man hath disappeared.
The Reading from the Epistle of St. Paul to the Romans. (12:6-14)
Brethren, having gifts that differ according to the grace given to us, let us use them: if prophecy, in proportion to our faith; if service, in our serving; he who teaches, in his teaching; he who exhorts, in his exhortation; he who contributes, in liberality; he who gives aid, with zeal; he who does acts of mercy, with cheerfulness. Let love be genuine; hate what is evil, hold fast to what is good; love one another with brotherly affection; out do one another in showing honor. Never flag in zeal, be aglow with the Spirit, and serve the Lord. Rejoice in your hope, be patient in tribulation, be constant in prayer. Contribute to the needs of the saints, practice hospitality. Bless those who persecute you; bless and do not curse them.
GOSPEL
For Sixth Sunday of Matthew
The Reading from the Holy Gospel according to St. Matthew. (9:1-8)
At that time, Jesus got into a boat, crossed over and came to His own city. And behold, they brought to Him a paralytic, lying on his bed; and when Jesus saw their faith He said to the paralytic, "Take heart, my son; your sins are forgiven." And behold, some of the scribes said to themselves, "This man is blaspheming." But Jesus, knowing their thoughts, said, "Why do you think evil in your hearts? For which is easier,to say, 'Your sins are forgiven,' or to say, 'Rise and walk'? But that you may know that the Son of man has authority on earth to forgive sins"—He then said to the paralytic—"Rise, take up your bed and go home." And he rose and went home. When the crowds saw it, they marveled, and they glorified God, Who had given such authority to men.