The Seventh Sunday of Matthew
Hieromartyr Phocas, bishop of Sinope; Hieromartyrs Apollinaris and Vitalis, bishops of Ravenna; Martyr Apollonius of Rome; The Holy Prophet Ezekiel
The Holy Prophet Ezekiel
The Holy Prophet Ezekiel lived in the sixth century before the birth of Christ. He was born in the city of Sarir, and descended from the tribe of Levi; he was a priest and the son of the priest Buzi. Ezekiel was led off to Babylon when he was twenty-five years old together with King Jechoniah II and many other Jews during the second invasion of Jerusalem by the Babylonian king Nebuchadnezzar.
The Prophet Ezekiel lived in captivity by the River Chebar. When he was thirty years old, he had a vision of the future of the Hebrew nation and of all mankind. The prophet beheld a shining cloud, with fire flashing continually, and in the midst of the fire, gleaming bronze. He also saw four living creatures in the shape of men, but with four faces (Ez. 1:6). Each had the face of a man in front, the face of a lion on the right, the face of an ox on the left, and the face of an eagle at the back (Ez. 1:10). There was a wheel on the earth beside each creature, and the rim of each wheel was full of eyes.
Read the entire biography on the Orthodox Church of America website.
Services and Events This Week
Sun Jul 16 — SUNDAY DIVINE LITURGY Orthros 8:30am Liturgy 9:30am LIVE STREAM
Tue Jul 18 — Paraklesis to the Theotokos 9:30am LIVE STREAM
Wed Jul 19 — Early Divine Liturgy 6:00am LIVE STREAM
Thu Jul 20 — Elias the Prophet Divine Liturgy 9:30am LIVE STREAM
Fri Jul 21 — Men of St. Paisios 7:00pm Social Hall
We Need Volunteers in the Kitchen

Wanr be a Social Hall All-Star? You won't have to cook, but you will have to like fun, food, and fellowship!
Basically the work is service during social hall — preparation after Divine Liturgy, serving the food, and clean up.
It's a great way to serve the Church and you will make some good friends doing it.
Please see Tom Haley if you can volunteer.
Humanitarian Aid for the Suffering in Ukraine
Humanitarian aid for Ukraine — What is Needed:
Children's clothes and footwear;
Baby formula;
Food for infants and toddlers;
Nut, protein bars;
Cookies;
Diapers ( size 1-6), wet wipes;
Hygiene products for kids and adults( soap, shampoo, toothpaste, toothbrushes);
Towels, bed sheets.
Look, please, at the expiration day of the food.
Please do not donate following:glass containers, liquids.
Humanitarian aid would be appreciated packed in boxes.Don't seal the boxes.
Galyna plans to have folks drop items off between noon and 3:00 PM on Sundays (you can bring them to church in a box). She will coordinate with contributors on Wednesday June 28, 2023.
Let's Pray the Paraklesis to the Theotokos Daily
Our goal at St. Peter's is to have one person or family pray the Parakelsis to the Theotokos for at least one day of every month. For each day of the month, individuals or even an entire family can sign up to pray the Paraklesis in their homes on the day/s which they select.
Get more information on how to participate from the St. Peter's website.

Pledge & Income Report – June
Contributions received in June 28,611..
Amount of money needed to cover expenses: $28,950.
We are behind by $339.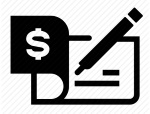 St. Peter Orthodox Church
7470 Hickory Drive
Fort Myers, FL 33967
You can also donate online:

Sign up the the Monthly DOMSE Newsletter on the DOMSE (Diocese of Miami and the Southeast) Website!

Visit the DOMSE Website (scroll to the bottom, fill in the form on the left side) to sign up for "The Light" Newsletter and DOMSE emails.

ST. PETER'S GREETERS
JUNE 2023
Jun 04 Joe and Deb Repya Need Additional Volunteer
Jun 11 Need Additional Volunteers
Jun 18 Need Additional Volunteers
Jun 25 Candice Rosen and Ray Locklear
JULY 2023
Jul 02 Will Schwartz Need Additional Volunteers
Jul 09 Will Schwartz Need Additional Volunteers
Jul 16 Will Schwartz Need Additional Volunteers
Jul 23 Will Schwartz Need Additional Volunteers
Jul 30 Will Schwartz Need Additional Volunteers
Can you volunteer? Please call Joe Repya 612-270-4443.
SOCIAL HALL ALL STARS

JULY
BARBARA DIONYSOPOULOS
Al Joseph
Bonnie Joseph
Marianthi Kazakos
Sandy Krotov
Niki Locklear
Ray Locklear
Eleni Moran
Koula Ormanidou
The Social Hall All Stars are the men and women that make St. Peter's Social Hall happen. Thank you All Stars!

JULY
Sun Jul 16 — SUNDAY DIVINE LITURGY Orthros 8:30am Liturgy 9:30am LIVE STREAM
Tue Jul 18 — Paraklesis to the Theotokos 9:30am LIVE STREAM
Wed Jul 19 — Early Divine Liturgy 6:00am LIVE STREAM
Thu Jul 20 — Elias the Prophet Divine Liturgy 9:30am LIVE STREAM
Fri Jul 21 — Men of St. Paisios 7:00pm Social Hall
Sun Jul 23 — SUNDAY DIVINE LITURGY Orthros 8:30am Liturgy 9:30am LIVE STREAM
Mon Jul 24 – Sat Jul 29 — Fr. Hans out of town
Wed Jul 26 — CANCELLED Early Divine Liturgy 6:00am LIVE STREAM
Fri Jul 28 — CANCELLED Men of St. Paisios 7:00pm Social Hall

When someone abandons himself to God, God does not abandon him. Saint Paisios of Mount Athos
When the soul loves prayer from the heart it cannot bear to be separated from its Father. It is always in His company, in His presence, either when conversing with people or while at work. Such souls are always with Him and walk in His presence, as the angels and the saints do. This is the beginning of the Kingdom of God in this life. Elder Thaddeus(Strabulovich) of Vitovnica
Evil inclinations cannot be peaceful, calm and joyful. The only way to pacify the soul is by suppressing and eradicating bad habits through asceticism, an ascetic way of life. Archbishop Averky (Taushev)
If we are to struggle authentically toward our sanctification and redemption, this orientation toward and into the Kingdom must become paramount in us. Every act must be considered from the perspective of that future life and its attainment. When we do not act in such a way, we reduce our choices and our behaviors to the limited perspective of this brief sojourn. Bishop Irenei Steenberg
You must bear the spiritual infirmities of your brother gladly, and without annoyance. For when someone is physically ill, we are not only not annoyed with him, but we are exemplary in our care of him; we should also set an example in cases of spiritual illness. St. Moses of Optina

Names will remain on the list for three months.
If you would like to keep them on longer please mention it to Fr. Hans. We will keep the names on the list for as long as the person needs prayers.
Names will include the person who requested the prayers and the month the name will be removed.
The permanent list includes friends and members of St. Peter's and others including shut-ins.
Were names dropped that should have remained? Please mention it to Fr. Hans. He will add them back.
Current Prayer List
Maxim (Koco)
George (Tsikistas 8/1)
George (Mourgis 8/1)
Barbara (Sason 8/1)
Stelios (Haley 7/1)
Madison (Tewis 6/1)
Anthony (Breitenbach 6/1)
Arielle (Ghanem 6/1)
Nicholas (Ghanem 6/1)
Christos
Father Demetris
Jamie
Pamela
David
Jessica
Christina (Hildreth)
Georgia and Richard and their unborn child (Chapekis)
Dionysios Chapekis)
Nancy (Forderhase)
Kayla (Palantine)
George (3/23 Chapekis)
Penelope (3/23 Chapekis)
Theodora (3/23)
Victor (3/23)
Barbara (Dusckas 3/23)
James (Dusckas 3/23)
Les (3/23
Lynn (Hurely 1/23)
Irene and newborn baby (Tsikitas 1/23)
Linda (Pappas 1/23)
Ekaterina (Chapekis 1/23)
Lee (Hurley 1/23)
Emmanuel (Kalousdis 1/23)
Katherine (Dusckas 1/23)
Vassiliki (Diveris 1/23)
Zena Touma (Contorelli 1/23
Lamia Touma (Contorelli 1/23
Matthew (Contorelli 1/23
Emmanuel (Kaloudis 1/23)
Nicholas
Marlene (Tewis 12/22)
Tina (Johnson 12/22)
Nicholas (De Lorenzo 12/22)
Priest Anthony (Karbo 11/22)
Archpriest Dionysius (Valentine 9/12)
Anthony Presbyter (Kerr 10/22)
John Presbyter (Jacobse)
Elain Presbytera (Jacobse)
Constantine(Jacobse)
Chrysoula(Jacobse)
Angel (Ghanem 10/22)
Edgar (Chapekis 9/22)
Evthriki (Jacobse 9/22)
Christos (Johnson 8/22)
Jon Paul (Andrew 8/22)
William (Brubaker 8/22)
Peter (Tewis 8/22)
The People of Ukraine and People of Russia and all those who are suffering in the war
Permanent Prayer List
Michael (Sovjani)
Maria (Sovjani)
Maria (Sovjani)
Maria (Sovjani)
Katerina (Sovjani)
Frederick (Sovjani)
Arsen (Sovjani)
Irene (Diveris)
Katheryn (Tolkkinen)
Markisia (Long)
Angela (Long)
Marina (Long)
Eleni (Long)
Raphaella (Long)
Joanne (Haley)
Corwin (Dusckas)
Corgette (Troutman)
Irina (Irina)
Lidia (Irina)
Sarina (Ghanem)
Debbie (Breitenbach)
Kathy (Breitenbach)
Hope (Isadore)
John (Long)
Pantelis (Tsikita)
Marisa (Tsikita)
Barbara (Dionysopoulos)
Patricia (Evanoff)
Gabriel (Mankus)
Baby Dani (Repya)
Despina (Diversis)
Fredericos (Diveris)
Herman (Kerr)
Innocent (Kerr)
Nicholas (Kerr)
Paola (Jacobse)
Gregory (Yankopolos)
Pauline (Poulos)
Sergio (Kazakos)
Fran (Hansen)
Nina (Krotov)
Franklin (Pyrrson)
Demetrios (Kuchera)
Theodosios (Palis)
Theodora (Webb)
Robert (Smith)
Presbytera Rosy (in Pakistan)
James (Hord)
Vassiliki (Kontinos)
Vassiliki (Morekeas)
Vassilike (Hord)
Founders, Members, Benefactors and Friends Departed this Life
John (Hansen)
Anatoly (Kurdsjuk)
Thareni (Brooks)
Milan Evanoff
Jean (Sam)
Eleni (Pearson)
Richard (Pearson)
Fr. Stephanos (Shagoury)
Panagiota (Bea Chionis)
Anthony (Mourgis)
Anthony (Mankus)
Constantine (Houpis)
Constantine (Joseph)
Mary (Jarvis)
Panagiota Margarita (Palis)
Maria (Ninos)
Soterios (Ninos)
George (Ninos)
John (Katsigianopoulos)
George (Chionis)
Mary (Spiropoulos)
Gregory (Pappas)
Angela (Coran K
Eugene (Rust)
Robert (Jarvis)
George (Corey)
Patricia (Cotsones)
Seraphim (Zolio)
Apostolos
How should we pray for the sick? Remember them daily. Say their names (first names are sufficient) and ask God to bestow mercy and grace on them.
Add or remove names and print this list for easy reference during your prayer time on the St. Peter website.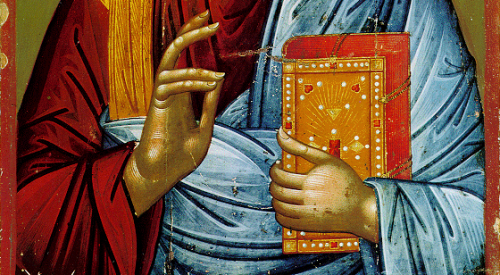 EPISTLE
For the Seventh Sunday after Pentecost
O Lord, save Thy people and bless Thine inheritance.
Unto Thee, O Lord, will I cry, O my God!
The Reading from the Epistle of St. Paul to the Romans. (15:1-7)
Brethren, we who are strong ought to bear the infirmities of the weak, and not to please ourselves. Let each one of us please his neighbor for that which is good for his edification. For Christ also did not please Himself; but, as it is written: "The reproaches of those who reproached Thee fell on Me." For whatever was written beforehand was written for our learning, that we might have hope, through the patience and comfort of the Scriptures. Now may the God of patience and comfort grant you to be of the same mind with one another, according to Christ Jesus, that with one accord and one mouth you may glorify God, even the Father of our Lord Jesus Christ.
GOSPEL
For the Seventh Sunday of Matthew
The Reading from the Holy Gospel according to St. Matthew. (9:27-35)
At that time, as Jesus passed on from there, two blind men followed him, crying aloud:"Have mercy on us, Son of David." When He entered the house, the blind men came to Him; and Jesus said to them, "Do you believe that I am able to do this?" They said to Him, "Yes, Lord."Then He touched their eyes, saying, "According to your faith be it done to you." And their eyes were opened. And Jesus sternly charged them, "See that no one knows it." But they went away and spread His fame through all that district. As they were going away, behold, a dumb demoniac was brought to Him. And when the demon had been cast out, the dumb man spoke; and the crowds marveled, saying, "Never was anything like this seen in Israel." But the Pharisees said, "He casts out demons by the prince of demons." And Jesus went about all the cities and villages, teaching in their synagogues and preaching the gospel of the kingdom, and healing every disease and every infirmity.