The Sunday Before Theophany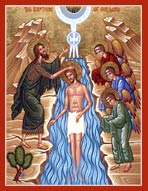 The Baptism of our Our Lord and Savior Jesus Christ is an important Holy Day in our Orthodox Church. We also call that day "Theophany" which roughly translated means the "manifestation of God" (theos – God; phany – revealing, showing forth). On this day of Jesus' baptism He was revealed as the Son of God first in his person (the Son), second by the "Spirit in the form of a dove" (the Holy Spirit), and finally by the voice of the father (which "thundered") who said, "This is my beloved Son in whom I am well pleased."
The baptism of Christ was the beginning of His public ministry. It would last only three short years before crucifixion, but then ultimately He would be resurrected.
We sill celebrate Theophany with our sister parish St. Paul Orthodox Church (get map) on the evening of January 5. Orthros begins at 6pm and Divine Liturgy follows at 7pm.
Should I go to Liturgy?
The answer is obviously yes, but less obvious perhaps is the reason why we should go. Worship on the Holy Days of our Lord opens for us in some measure deeper penetration into the working of God (through His Son Jesus) in the world. We don't go simply because this is what Orthodox Christians do (although that reason is good too). We go because deep inside we know there is truth in what we believe, even if we don't comprehend that truth as clearly as we should. That knowledge, that pull towards God that rests deep inside of us, should be listened to. And even if we are not sure why going is important, we know we should go, and we should listen to that "should" that tugs at our heart.
Then, if we go and partake in the Liturgy with deliberation and vigilance, something happens — we leave a bit different than when we first came. We can't always put our finger on it, but we know it is good. Then, as we remain faithful, the intuitions form into conceptions and we begin to understand what it is that we believe. And, as we understand, we begin to see life differently — as it really is — and we see God working in our lives and in the world. Then we become what the Apostle Paul calls "co-laborers" with Christ. We can work with Christ to bring good into our corner of the world.
Someone once said that life is a series of baby-steps, and in a way this is true. Even one small step in the right direction can be momentous in the long term. Small decisions have huge ramifications down the road, and the one small step towards God is not only a step in the right direction, but one that will have great significance down the road.
Scripture readings for this Sunday
2 Timothy 4:5-8 (New King James Version)
But you be watchful in all things, endure afflictions, do the work of an evangelist, fulfill your ministry.
For I am already being poured out as a drink offering, and the time of my departure is at hand. I have fought the good fight, I have finished the race, I have kept the faith. Finally, there is laid up for me the crown of righteousness, which the Lord, the righteous Judge, will give to me on that Day, and not to me only but also to all who have loved His appearing.
Mark 1:1-8 (New King James Version)
The beginning of the gospel of Jesus Christ, the Son of God. 2 As it is written in the Prophets:
Behold, I send My messenger before Your face,
Who will prepare Your way before You.
The voice of one crying in the wilderness:
"Prepare the way of the LORD;
Make His paths straight."
John came baptizing in the wilderness and preaching a baptism of repentance for the remission of sins. Then all the land of Judea, and those from Jerusalem, went out to him and were all baptized by him in the Jordan River, confessing their sins.
Now John was clothed with camel's hair and with a leather belt around his waist, and he ate locusts and wild honey. And he preached, saying, "There comes One after me who is mightier than I, whose sandal strap I am not worthy to stoop down and loose. I indeed baptized you with water, but He will baptize you with the Holy Spirit."
Yours in Christ,
Fr. Hans