The following article appeared on the web a few days ago. It will be published in the Estero/Bonita section of the Ft. Meyers News-Press newspaper on Friday, June 26, 2009.
Orthodox Christian church starts in San Carlos Park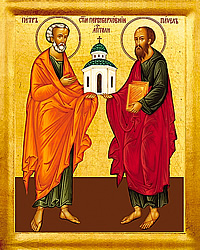 BY CHRISTINA CEPERO • ccepero@news-press.com • June 11, 2009
Father Hans Jacobse welcomes all to his startup church, St. Peter Orthodox Mission, in San Carlos Park.
"Our vision is just to reach out to anybody who is interested in Orthodox Christianity," he said. "We're reaching out to Christians who want a more substantial and deeper faith."
Jacobse gave the first service in mid-May. About 50 to 60 parishioners meet at 9:30 every Sunday morning at the Holiday Inn at Alico Road and Interstate 75.
He chose the central location to draw people from all over Lee County.
Orthodox Christianity dates back to the first century. It is the original church, the church that Jesus Christ's apostles founded. It had five centers: Jerusalem, Antioch, Rome, Alexandria and Constantinople. The Roman church split from it in 1054 and became the Catholic church, and in the 1500s, Protestant churches began forming.
Orthodox Christians in the United States have primarily identified themselves by their ethnicity, including Greek, Russian and Middle Eastern, although they all belong to the same church.
Jacobse seeks to unite Orthodox Christians.
St. Peter is the second Antiochian Orthodox church in Southwest Florida. The first, St. Paul Antiochian Orthodox Church in Naples, was founded a decade ago.
[…]
Read the entire article on the Fort Myers News-Tribune website.