The Sunday of Zacchaeus
The Sunday of Zacchaeus rings like a bell in the distance to alert us that Great Lent is approaching. Starting this Sunday we are to start preparing, to ready ourselves, to start pondering the coming of Great Lent.
Great Lent is a time of purification, of earnest work, the kind that allows Christ to perform His work in us. Great Lent is to be taken seriously; each person according to his ability is expected to take on the disciplines of Lent so that the interior cleansing we undertake can be met with a greater revelation of Christ to us at the time of His choosing.
Before we receive an important guest in our home, we clean our house. Before we give him a ride in our car, we clean the car. So it is with our interior lives. In order to meet Christ and share our life with His, we first have to do some interior house cleaning.
Great Lent offers us the means to do that. We worship more, we pray more, we discipline our bodies more — we make a greater effort to conform our lives to Him in ways that can deepen our communion with Christ and our experience of Him.
Start preparing now by thinking about Great Lent. Then when it comes you will be ready for it.
The Stature of Zacchaeus
By Fr. Thomas Hopko.
The paschal season of the Church is preceded by the season of Great Lent, which is itself preceded by its own liturgical preparation. The first sign of the approach of Great Lent comes five Sundays before its beginning. On this Sunday the Gospel reading is about Zacchaeus the tax-collector. It tells how Christ brought salvation to the sinful man and how his life was greatly changed simply because he "sought to see who Jesus was" (Lk 19:3). The desire and effort to see Jesus begins the entire movement through lent towards Easter. It is the first movement of salvation.

Our lenten journey begins with a recognition of our own sinfulness, just as Zacchaeus recognized his. He promised to make restitution by giving half of his wealth to the poor, and by paying to those he had falsely accused four times as much as they had lost. In this, he went beyond the requirements of the Law (Ex. 22:3-12).

The example of Zacchaeus teaches us that we should turn away from our sins, and atone for them. The real proof of our sorrow and repentance is not just a verbal apology, but when we correct ourselves and try to make amends for the consequences of our evil actions.

We are also assured of God's mercy and compassion by Christ's words to Zacchaeus, "Today salvation is come to this house" (Luke 19:9). After the Great Doxology at Sunday Matins (when the Tone of the week is Tone 1, 3, 5, 7) we sing the Dismissal Hymn of the Resurrection "Today salvation has come to the world," which echoes the Lord's words to Zacchaeus.

Zacchaeus was short, so he climbed a tree in order to see the Lord. All of us have sinned and come short of the glory of God (Rom. 3:23). We are also short in our spiritual stature, therefore we must climb the ladder of the virtues. In other words, we must prepare for spiritual effort and growth.
February 8 – Adam Roberts to Lead First Evangelism Training
Adam Roberts who spoke to us last month about learning how to bring the Gospel of Christ to our neighbors and others will be back at St. Peter's to launch a series of classes that begin on Sunday, February 8 immediately following the Divine Liturgy.
Please plan on attending, particularly if you want to learn about how to talk about Christ to others.
This is an important project for St. Peter's. We want to see St. Peter's open to anyone who desires to seek and know Christ within the Orthodox Church.
The class begins immediately following a shortened coffee hour. Plan to stay until about 2:30pm. A light lunch will be provided.
Is this an extra commitment on our part? Yes it is. But it is a commitment worth making.
St. Paul's Founders Day
We would like to reserve a table or two to help support St. Paul's, our sister parish.
Archpriest Joseph Shaheen and the Parish Council
and Parishioners of St. Paul Antiochian Orthodox Church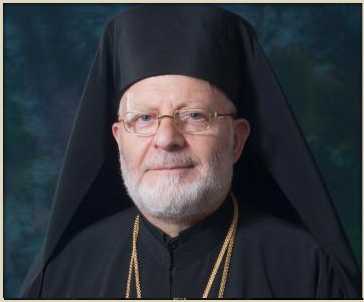 Announce with great joy the presence of His Eminence,
Metropolitan JOSEPH and His Grace, Bishop ANTOUN
February 21 and February 22, 2015
Celebrating the 18th Annual St. Paul Founders' Weekend
Please save these dates and plan to attend.
Watch for details!
All Evening Services Will Begin at 6pm
From now on, all services at St. Peter's held in the evening be begin at 6pm.
Stewardship for 2015
Stewardship forms for 2015 are available in the back pocket of each chair or on the website.
Your financial support of the Church is very important because it enables us to continue and grow.
We are also instructed to support our Church in scripture.
How much to give? How about the equivalent of one hour of work each week?

Bible Study Continues
Bible Study continues on Tuesday evenings at 7pm at Church. We are studying 1 Corinthians.
Everyone is welcome. Bring a friend if you would like.
Remember in Your Prayers
Joe Repya who is fighting off an infection
Angela Long who is recovering from pneumonia.
John, the brother of Pauline Poulos who is suffering from cancer.
Pat and Milam Evanoff. Milam is unable to make it to Church.
Tom and Jean, parents of Patty and Jerry.
Greg and his wife Margaret. Greg is the founder of Project Mexico and has cancer.
How should we pray for the sick? Remember them daily. Say their names and ask God to bestow mercy and grace on them.
The Sunday Scripture Readings
The Gospel Reading
For the Fifteenth Sunday of Luke—"Zacchaeus Sunday"
The reading from the Holy Gospel according to St. Luke. (19:1-10)
At that time, Jesus entered Jericho and was passing through. And there was a man named Zacchaeus; he was a chief tax collector, and rich. And he sought to see Who Jesus was, but could not, on account of the crowd, because he was small of stature. So he ran on ahead and climbed up into a sycamore tree to see Jesus, for He was to pass that way.

And when Jesus came to the place, He looked up and said to him, "Zacchaeus, make haste and come down; for I must stay at your house today." So he made haste and came down, and received Him joyfully. And when they saw it they all murmured, "He has gone in to be the guest of a man who is a sinner."

And Zacchaeus stood and said to the Lord, "Behold, Lord, the half of my goods I give to the poor; and if I have defrauded anyone of anything, I restore it fourfold."

And Jesus said to him, "Today salvation has come to this house, since he also is a son of Abraham; for the Son of man came to seek and to save the lost."
The Epistle Reading
For Gregory the Theologian
My mouth shall speak of wisdom; and the meditation of my heart shall be of understanding.
Hear this, all ye people.
The Reading from the Epistle of St. Paul to the Hebrews. (7:26-8:2)
Brethren, it was fitting that we should have such a High Priest, holy, blameless, unstained, separated from sinners, exalted above the heavens. He has no need, like those high priests, to offer sacrifices daily, first for his own sins and then for those of the people; He did this once for all when He offered up Himself.

Indeed, the law appoints men in their weakness as high priests, but the word of the oath, which came later than the law, appoints a Son Who has been made perfect forever.

Now the point in what we are saying is this: we have such a High Priest, one Who is seated at the right hand of the throne of the Majesty in heaven, a minister in the sanctuary and the true tent which is set up not by man but by the Lord.