Sharing the Light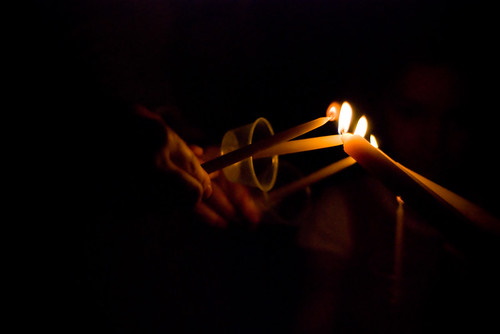 I have received several requests about sharing the light, the flame from the Paschal Candle, that many people like to bring home.
Since we can't meet, I will light about six votive candles (the ones that burn for seven days) with the light from the Paschal Candle. If they run low, I will light six more with the same flame. I will keep them burning until we resume the services at the Church. If you would like to take the Paschal light home after the parish is opened, you will be able to get them from these candles.
So this is what we will do. On the first Sunday after opening, I will anoint everyone with Holy Oil after the Divine Liturgy with oil I have saved from the Holy Unction service last year. Then we will go to the Social Hall and have a celebratory meal. On the way out you can light a candle to bring the Holy Light home and bless your homes.
God bless all the good people of St. Peter's. God is with you. Stay faithful to our Lord and Savior Jesus Christ and to each other.
Christ is Risen!

Bishop Nicholas Live Stream
His Grace Bishop NICHOLAS will speak via a LIVE STREAM to everyone in the Diocese of Miami and the Southeast SUNDAY at 3:00pm ET / 2:00pm CT
You will be able to send questions directly to Bishop NICHOLAS via chat during the live stream. A recording of the live stream will be posted to the DOMSE BAND group.
Open this invite link below to install Band on your iPhone, Android, or desktop. https://band.us/@domse
Once you have Band installed, a live stream notification will be sent when the session begins, simply click on the notification it to join.
If you missed the live stream from previous Sunday's, you can view them here: