Fourteenth Sunday after Pentecost
First Sunday of Luke
Saint Luke came from the city of Antioch, probably of a pagan family. From his youth he applied himself to seek after wisdom and to study the arts and sciences. He traveled all over the world to quench his thirst for knowledge, and had particular skill as a physician and in painting. The Gospel he wrote shows his excellent command of Greek; he also knew Hebrew and Aramaic.
There is a tradition says that Luke did not know the Lord during His earthly sojourn, and that he met Saint Paul while working as a physician at Thebes in Boeotia during the reign of Claudius (c. 42 AD). The Apostle's fiery words convinced him of he Truth that he had vainly sought in the wisdom of this world for so many years. Without hesitation, he gave up all that he had and his profession in physical medicine to follow Paul and become the beloved physician (Colossians 4:14) of souls.
He went with the Apostle in his journeys from Troas to Philippi, where Paul left him to nurture the newly born Church. Luke remained in Macedonia for some years and, when Paul visited Philippi again during his third journey (AD 58), he sent him to Corinth to receive the collection made by the faithful there for the needs of the poor at Jerusalem. They went together to the Holy City, strengthening the Churches on their way. When Paul was arrested in Jerusalem and transferred to Caesarea, Luke remained with him. He accompanied Paul to Rome and describes their difficult and eventful voyage at the end of the Acts of the Apostles (chapters 27-28).
Read the full story on the Greek Orthodox Archdiocese website.
Women's Group Forming – First Meeting September 22, 2016 at 6:30pm
The meeting on Sunday indicated great interest in starting a women's group at St. Peter's. Our first meeting will be held on Thursday, September 22 at 6:30pm. All women interested in participating are encourage to attend!
Interfaith Ministries Needs Canned Fruit

Interfaith Ministries needs canned peaches, pears, mandarin oranges, and apple sauce.
We help Interfaith Ministries when they run low on items to help the poor, especially working poor families.
Please bring the food to Church on Sunday.
Events This Fall
As we enter into the new Ecclesiastical Year, St. Peter's will hold at least one monthly parish social event. Please mark you calendars.
October 22 (Saturday, 6pm) New Members Welcome pot luck.
November 12-13 Christmas Lent Retreat with Fr. Gregory Jensen on "Building an Intentional Community." Fr. Gregory will speak on our calling and vocation as Christians and how to live it especially in the Church.
More details as we move closer to the dates.
Phanouropita Recipe on the Website
Everyone loved Fr. Stephanos' phanouropita so we posted it on the St. Peter website!
St. Phanourios is a saint who helps us in difficult situations including finding lost things, employment troubles, a saint to go to when we need something we do not have. When he answers the custom is to bake a cake in gratitude and thanksgiving and share it with others.
St. Phanourios' name "Phanourios" comes from the Greek word, fa?e???? "phanerono", meaning "I reveal".
Learn more about St. Phanourios on the Antiochian Archdiocese website.
Receive the Daily Readings in your Inbox
You can read the daily scripture readings in two ways:
Follow the calendar on the website, or
Have them delivered to your inbox by signing up (scroll to bottom of page).
You can also download apps for your mobile device for daily readings.
Reading scripture is important. Our hearts have to be purified but so do our minds. Holy Scripture contains what our Lord wants us to know and understand. It shapes how we think, and how we think is how we see the world. Read scripture and the eyes of our mind will open to see Jesus Christ working around us more clearly.
Choir practice on Wednesday, September 28, 2016
No Choir practice this Wednesday, September 21.
Choir practice begins at 6:00pm.
Bible Study on Wednesday, September 28, 2016
Bible study also this Wednesday, September 21.
Bible study begins at 7:00pm.
Wisdom from the Elders
Open, O doors and bolts of my heart, that Christ the King of Glory may enter!
Enter, O my Light, and enlighten my darkness;
Enter, O my Life, and resurrect my deadness;
Enter, O my Physician, and heal my wounds;
Enter, O Divine Fire, and burn up the thorns of my sins;
Ignite my inward parts and my heart with the flame of Thy love;
Enter, O my King, and destroy in me the kingdom of sin;
Sit on the throne of my heart and alone reign in me, O Thou, my King and Lord!
—Prayer of St. Dimitri of Rostov
So every time you fall, get up again and at once seek forgiveness. Don't hide sorrow in your heart, because sorrow and despondency are the joy of the evil one. They fill one's soul with bitterness and give birth to many evils. Whereas the frame of mind of someone who repents says, "I have sinned! Forgive me Father!" and he expels the sorrow. He says, "Am I not a weak human? So what do I expect?" Truly, my child this is how it is. So take courage.
Only when the grace of God comes does a person stand on his feet. Otherwise, without grace, he always changes and always falls. So be a man and don't be afraid at all.
Do you see how that brother you wrote about endured the temptation? You, too, should do likewise. Acquire a brave spirit against the temptations that come. In any case, they will come. Forget about what your despondency and indolence tell you. Don't be afraid of them. Just as the previous temptations passed by the grace of God, these, too, will pass once they do their job.
—Elder Joseph the Hesychast
Remember in Your Prayers
Robert Jarvis
Petronia (Wife of Phil Pappas)
Anna Marie Smith Baker
Harry Zifiris
Iris Kuring (Bettina Zifiris' mother)

Constantine Houpis
Gerhard Kuring (Bettina Zifiris' father)
Ron Chromulak
Beverly Chromulak
Katerina
Dianne
Loucine Kassis
Mary Kassis
Baby Maximus
Annette Star
Christine
Maria
Claire Livaditis
Eva Chandilles
Baby Dani
Scott Nedoff
Anthony Mourgis
John Hansen
Constandina James
James Hord
Bob Smith
Tom and Jean, parents of Patty and Jerry.
How should we pray for the sick? Remember them daily. Say their names (first names are sufficient) and ask God to bestow mercy and grace on them.
Add or remove names and print this list for easy reference during your prayer time on the St. Peter website.
Sunday Readings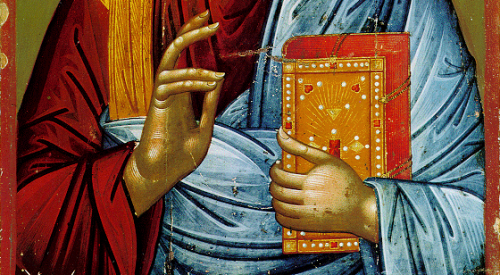 Epistle
For the Fourteenth Sunday after Pentecost
Thou, O Lord, shalt keep and preserve us. Save me, O Lord, for the godly man is no more.
The Reading from the Second Epistle of St. Paul to the Corinthians. (1:21-2:4)
Brethren, it is God who establishes us with you in Christ, and has commissioned us; He has put his seal upon us and given us His Spirit in our hearts as a guarantee. But I call God to witness against me—it was to spare you that I refrained from coming to Corinth. Not that we lord it over your faith; we work with you for your joy, for you stand firm in your faith. For I made up my mind not to make you another painful visit. For if I cause you pain, who is there to make me glad but the one whom I have pained? And I wrote as I did, so that when I came I might not suffer pain from those who should have made me rejoice, for I felt sure of all of you, that my joy would be the joy of you all. For I wrote you out of much affliction and anguish of heart and with many tears, not to cause you pain but to let you know the abundant love that I have for you.
Gospel
For the First Sunday of Luke
The Reading from the Holy Gospel according to St. Luke. (5:1-11)
At that time, Jesus was standing by the lake of Gennesaret. And He saw two boats by the lake; but the fishermen had gone out of them and were washing their nets. Getting into one of the boats, which was Simon's, Jesus asked him to put out a little from the land. And He sat down and taught the people from the boat. And when Jesus had finished speaking, He said to Simon, "Put out into the deep and let down your nets for a catch." And Simon answered, "Master, we toiled all night and took nothing! But at Thy word I will let down the nets." And when they had done this, they enclosed a great shoal of fish; and as their nets were breaking, they beckoned to their partners in the other boat to come and help them. And they came and filled both the boats, so that they began to sink.

But when Simon Peter saw it, he fell down at Jesus' knees, saying, "Depart from me, for I am a sinful man, O Lord." For he was astonished, and all that were with him, at the catch of fish, which they had taken; and so also were James and John, sons of Zebedee, who were partners with Simon. And Jesus said to Simon, "Do not be afraid; henceforth you will be catching men." And when they had brought their boats to land, they left everything and followed Him.