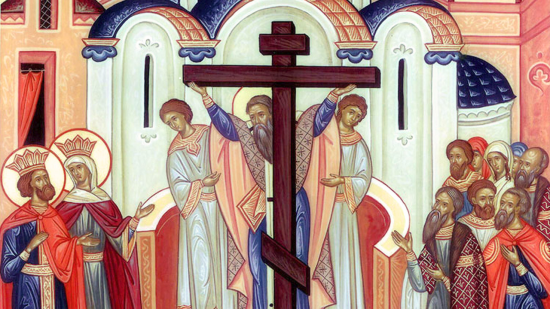 Divine Liturgy of the Holy Cross on Tuesday, September 13, 2016 at 6:30pm
That's tonight!
Events This Fall
As we enter into the new Ecclesiastical Year, St. Peter's will hold at least one monthly parish social event. Please mark you calendars.
October 22 (Saturday, 6pm) New Members Welcome pot luck.
November 12-13 Christmas Lent Retreat with Fr. Gregory Jensen on "Building an Intentional Community." Fr. Gregory will speak on our calling and vocation as Christians and how to live it especially in the Church.
More details as we move closer to the dates.
Women's Group Forming – First Meeting September 22, 2016 at 6:30pm
The meeting on Sunday indicated great interest in starting a women's group at St. Peter's. Our first meeting will be held on Thursday, September 22 at 6:30pm. All women interested in participating are encourage to attend!
Phanouropita Recipe on the Website
Everyone loved Fr. Stephanos' phanouropita so we posted it on the St. Peter website!
St. Phanourios is a saint who helps us in difficult situations including finding lost things, employment troubles, a saint to go to when we need something we do not have. When he answers the custom is to bake a cake in gratitude and thanksgiving and share it with others.
St. Phanourios' name "Phanourios" comes from the Greek word, φανερώνω "phanerono", meaning "I reveal."
Learn more about St. Phanourios on the Antiochian Archdiocese website.
Fr. Hans on "Ask an Expert" 5am Saturday on 92.5FM, 103.3FM
I was interviewed recently on the "Ask an Expert" radio show on Fox 92.5FM, 103.3FM. The show was pre-recorded with the second half airing this Saturday at 5am. That's early but the shows will be available on the Ask an Expert website and they will streamed through the parish website once the second segment airs.
The show interview business leaders and entrepreneurs so it was a loose fit overall but since we are building a church and I am interested in business and entrepreneurial activity it worked out very well.
The show is hosted by Tom Conwell who is the president of the Florida Professional Association.
Receive the Daily Readings in your Inbox
You can read the daily scripture readings in two ways:
Follow the calendar on the website, or
Have them delivered to your inbox by signing up (scroll to bottom of page).
You can also download apps for your mobile device for daily readings.
Reading scripture is important. Our hearts have to be purified but so do our minds. Holy Scripture contains what our Lord wants us to know and understand. It shapes how we think, and how we think is how we see the world. Read scripture and the eyes of our mind will open to see Jesus Christ working around us more clearly.
Choir practice on Wednesday, September 21, 2016
No Choir practice this Wednesday, September 14.
Choir practice begins at 6:00pm.
Bible Study on Wednesday, September 21, 2016
Bible study also this Wednesday, September 14.
Bible study begins at 7:00pm.
Wisdom from the Elders
Do you believe that God provides for His creatures, and is able to do all things? Let suitable labor, therefore, follow on your faith, and then He will hear you.
—St. Isaac the Syrian
Fasting is an exceptional virtue; it represses bodily impulses and gives strength to the soul to fight against the poisoning of the heart through the senses, and provides it with a remedy against any past poisoning. Fasting causes the mind to be cleansed constantly. It whithers up every evil thought and brings healthy, godly thoughts — -holy thoughts that enlighten the mind and kindle it with more zeal and spiritual fervor.
Elder Ephraim of Philotheou Mount Athos
As medicines purge the body from the impurity of bad humours, so grievous afflictions purify the heart from evil passions.
—St. Isaac the Syrian
An old man said, "Unto every thought that riseth up in thee say, "Art thou of us, or of our enemies?" And the thought will always make confession unto thee."
—The Paradise of the Holy Fathers Vol 2
The aim is for one to struggle with discretion and philotimo (responsive gratitude), according to one's powers… God knows the struggle of each person and what strength he gave to each person and he will reward each accordingly. I love all equally and am moved by those who struggle with responsive gratitude.
—Elder Paisios of Mount Athos
Remember in Your Prayers
Ray Zeena
Robert Jarvis
Petronia (Wife of Phil Pappas)
Anna Marie Smith Baker
Harry Zifiris
Iris Kuring (Bettina Zifiris' mother)
Constantine Houpis
Gerhard Kuring (Bettina Zifiris' father)
Ron Chromulak
Beverly Chromulak
Katerina
Dianne
Loucine Kassis
Mary Kassis
Baby Maximus
Annette Star
Christine
Maria
Claire Livaditis
Eva Chandilles
Baby Dani
Scott Nedoff
Anthony Mourgis
John Hansen
Constandina James
James Hord
Bob Smith
Tom and Jean, parents of Patty and Jerry.
How should we pray for the sick? Remember them daily. Say their names (first names are sufficient) and ask God to bestow mercy and grace on them.
Add or remove names and print this list for easy reference during your prayer time on the St. Peter website.
Sunday Readings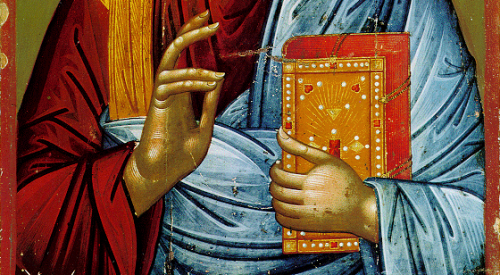 Epistle
For Sunday after the Elevation of the Holy Cross
O Lord, how manifold are Thy works. In wisdom hast Thou made them all.
Bless the Lord, O my soul.
The Reading from the Epistle of St. Paul to the Galatians. (2:16-20)
Brethren, you know that a man is not justified by works of the law but through faith in Jesus Christ. Even we have believed in Christ Jesus, in order to be justified by faith in Christ, and not by works of the law, because by works of the law shall no one be justified. But if, in our endeavor to be justified in Christ, we ourselves were found to be sinners, is Christ then an agent of sin? Certainly not! But if I build up again those things which I tore down, then I prove myself a transgressor. For I through the Law died to the Law, that I might live to God. I have been crucified with Christ; it is no longer I who live, but Christ Who lives in me; and the life I now live in the flesh I live by faith in the Son of God, Who loved me and gave Himself for me.
Gospel
For Sunday after the Elevation of the Holy Cross
The Reading from the Holy Gospel according to St. Mark. (8:34-9:1)
The Lord said, "If any man would come after Me, let him deny himself and take up his cross and follow Me. For whoever would save his life will lose it; and whoever loses his life for My sake and the Gospel's will save it. For what does it profit a man, to gain the whole world and forfeit his soul? For what can a man give in return for his soul?

For whoever is ashamed of Me and of My words in this adulterous and sinful generation, of him will the Son of man also be ashamed, when He comes in the glory of His Father with the holy angels." And He said to them, "Truly, I say to you, there are some standing here who will not taste death before they see the Kingdom of God come with power."