Sunday After the Elevation of the Holy Cross
Great-Martyr Nikitas the Goth and those with him; Martyr Porphyrios the Mime; Vissarion, Bishop of Larisa; New-Martyr John of Crete; Joseph the New of Partosh
Who is the Great Martyr Nikitas the Goth?
Saint Nikitas was a warrior who lived with the Gothic tribes on the eastern side of the Danube River within the boundaries of present-day Romania. He was a convert to Christianity of the Gothic Bishop Theophilus, a well-known enlightener of the Goths, who also had baptized Nikitas.
At the time there was internecine warfare among the Goths, in particular between Prince Athanarichus, who hated Christians, and Frigentus who revenged a defeat by Athanarichus with the help of Arian emperor Valens, forcing Athanarichus into exile. After Frigentus' victory the Christian Goths enjoyed a period of peace during which Bishop Hierarch Urphilus, successor to Bp. Theophilus, created the Gothic alphabet and translated many spiritual books from Greek into Gothic. St. Nikitas participated during these time by his preaching the Gospel while living a pious life, which greatly aided the confirmation of the Christian faith among the Goths.
However, after a few years, Athanarichus returned to his homeland with a large army and warfare among the Goths started again. As part of his actions, Athanarichus raised a fierce persecution against the Christians. Nikitas, who had become a spiritual leader among the Christian Goths, denounced Athanarichus for godlessness and cruelty. He called on the faithful to be firm and not to fear martyrdom. Athanarichus soon had Nikitas seized.
Nikitas was then given over to cruel tortures and, finally, was thrown into a fire where he died on September 15, 372. A friend of Nikitas, a Christian named Marianus, found his remains during the night and transferred them to Cilicia. Since then, miracles and cures have occurred before the relics of the holy Martyr Nikitas. A particle of his relics is held in the monastery of Vysokie Dechany in Serbia.
Source: Orthodox Wiki.
Our Condolences to Bess and Jim Hord
Our Condolences to Bess and Jim Hord on the passing of Bess' brother Anastasios last week. May his memory be eternal. Bess will return to Naples later this week.
Community Luncheon on Thursday, September 12, 2019 at 12:00pm
Our next Community Luncheon will be held on Thursday, September 12.
Menu
Stuffed Baked Tomato
Greek Salad with Feta and Kalamata Olives
Dessert
Barbara Dionysopoulos and friends are preparing a delicious meal for all our members. Come and join us to enjoy some good food and the company of your friends. Make some new friends too and get to know other parishioners.
Reservations are required! Please call Barbara at 239-826-1655 or sign up in the Social Hall after Divine Liturgy.
Donations are accepted. Proceeds benefit the building fund.
Elevation of the Holy Cross Divine Liturgy, Saturday, September 14, 2019 at 9:30am
Saint Helen, the mother of Saint Constantine the Great, when she was already advanced in years, undertook, in her great piety, the hardships of a journey to Jerusalem in search of the cross, about the year 325. A temple to Aphrodite had been raised up by the Emperor Hadrian upon Golgotha, to defile and cover with oblivion the place where the saving Passion had been suffered.
The venerable Helen had the statue of Aphrodite destroyed, and the earth removed, revealing the Tomb of our Lord, and three crosses. Of these, it was believed that one must be that of our Lord, the other two of the thieves crucified with Him; but Saint Helen was at a loss which one might be the Wood of our salvation. At the inspiration of Saint Macarius, Archbishop of Jerusalem, a lady of Jerusalem, who was already at the point of death from a certain disease, was brought to touch the crosses, and as soon as she came near to the Cross of our Lord, she was made perfectly whole.
Consequently, the precious Cross was lifted on high by Archbishop Macarius of Jerusalem; as he stood on the ambo, and when the people beheld it, they cried out, "Lord have mercy."
It should be noted that after its discovery, a portion of the venerable Cross was taken to Constantinople as a blessing. The rest was left in Jerusalem in the magnificent church built by Saint Helen, until the year 614. At that time, the Persians plundered Palestine and took the Cross to their own country (see Jan. 22, Saint Anastasius the Persian). Late, in the year 628, Emperor Heraclius set out on a military campaign, retrieved the Cross, and after bringing it to Constantinople, himself escorted it back to Jerusalem, where he restored it to its place.
We Need Some People to Help Barbara Dusckas Move
Barbara is moving and could use some help packing and a few other things. Here is the schedule:
Sunday, September 15, 2:00pm to 5:00pm — help pack garage and bring items to Goodwill.
Tuesday-Thursday, September 24-26, 10-4pm — help pack up boxes.
The move is on Saturday September 28 (movers have been hired) but help throughout the day especially with unpacking is appreciated. Workday begins at 9:00am.
If you could help Barbara for even a few hours on any of these days, please call her at 239-220-7383.
Men: Join AMEN
AMEN is growing in the Miami Diocese, very fast actually, and there is a lot of good energy behind it. Fr. Hans has been appointed the Spiritual Advisor to the group by Bp. Nicholas. Steve Breitenbach is our local president.
What will AMEN do? It will bring together the men of the parish for friendship, fellowship, and work.
St. Peter's Men:
Income Report – July 2019
In order to meet our operating Budget goal for 2019 we need to take in $16,777.00 each month.
In July we took in $18,104.00 in total contributions. Our monthly goal is $16,777.00. Thank you to everyone who responded to our letter of appeal. So far we are meeting our budget and have remained in the black in these more difficult summer months.
We also apologize for the late report. Our bookkeeper is very busy this summer and was only to compile the report recently.
Please pledge in order to meet our goal. Pledge forms are available on the table in the narthex.
Bible Studies
Bible Studies will resume Wednesday, September 18, 2019
Wed Sep 18 — Community Bible Study 7:00pm
Wed Sep 25 — Men's & Women's Bible Study (Held separately) 7:00pm
The Community Bible Study is for the entire community.
The Men's and Women's Bible Study are separate studies but held concurrently.
Calendar At A Glance
SEPTEMBER
Thu Sep 12 — Community Luncheon 12:00pm
Sat Sep 14 — Elevation of the Holy Cross Divine Liturgy 9:30am
Wed Sep 18 — Community Bible Study 7:00pm
Mon Sep 23 — Conception of St. John Baptist Divine Liturgy 9:30am
Wed Sep 25 — Men's & Women's Bible Study (Held separately) 7:00pm
Thu Sep 26 — Apostle John Divine Liturgy 9:30am
Wisdom From The Elders
He who prays must hunger after, must ardently desire those blessings— especially the spiritual ones— the forgiveness of sins, the cleansing, the sanctification, the strengthening in virtue, for which he prays, otherwise, it will be a useless waste of words. Righteous John, Wonderworker of Kronstadt
Let us learn to live an inward life. Let us turn our thoughts to the highest blessings, to the heavenly recompense which is alone desirable, true, and makes those who obtain it truly happy. St. John of Kronstadt
Let us be patient! Are not all our temporary burdens and difficulties worth eternal happiness? Metropolitan Gregory (Postnikov) of St. Petersburg
Learn to love opportunities not to speak, not to contribute, not to influence. Rather than crave conversations in which your voice can be heard, crave instead those opportunities in which your silence may respond to voice, in which you may sac­rifice your willful desire for self-involvement on the altar of quiet humility before God and man. Bishop Irenei Steenberg
If it falls to you to have to bear great misfortunes, sorrows, and sicknesses, do not grow faint-hearted or despondent do not murmur; do not desire death for yourself and do not speak audaciously before the all-seeing God—as, for instance : "O, what a cruel affliction!" "O, what an unbearable misfortune; let me rather die!" or "I would rather kill myself!" God save you from such faint-heartedness, murmuring, and audacity! But endure all this courageously, as having been sent to you from God for your sins. Righteous John, Wonderworker of Kronstadt
Some men tell me, "I don't agree with my wife; we are complete opposites! How does God allow for such strange matches? Couldn't He provide so that couples would be compatible and live spiritually?" But I tell them, "Don't you understand that in this very difference of character lies hidden the harmony of God? It is the different characters which create harmony. God forbid that you should be the same in character! Think of what would happen if, for example, both of you had a short fuse; you would tear the house down!" Saint Paisios of Mount Athos
For instance, the change of the bread and wine into the Body and Blood of Christ is accomplished immediately after the utterance of the words: "Make this bread the precious Body of Thy Christ, and that which is in this cup the precious Blood of Thy Christ, changing them by Thy Holy Ghost." After these last words, and after the blessing, with the sign of the cross with the hand, the bread and wine are instantaneously changed into the Body and Blood of Christ, but not before; for the divine Omnipotence awaits the word of the priest co-operating with it. Righteous John, Wonderworker of Kronstadt
Remember in Your Prayers
Alan L (B Duskcas)
Charles (Oberg)
Christine (Kouzes)
Nina (Kovalev)
Hugh (Jacquie)
Violet (Jacquie Mom)
Tammie (Jacquie friend)
Phillip
Connie
Baby Luke
George
Priest Kyprianos
Savannah (Jonson)
Bud
Silvana
Nicole
Evan
Megan
Bill R.
Pat R.
Aglaia
George
Hieromonk Serapion
Priest Kyprianos
Athanasia
Alexandra
Constantina
Maryanne (E)
Ron (E)
Tim
Robert (J)
Mary (J)
Patricia
Gregory
Andreas
Sofia Tešanovic
Paul
Dennis H. and Family
Victor Evan
Ann
James
Vasiliki
Efstratia
Alexandra
Nikos
Georgia
Ioannis
Costandino
Jeffrey
Vaso
Dave
Dimitri – Presbyter
Vassiliki
Octavio
Tom
Carl
Rena
Nikolay (5 year old boy in Bulgaria whose parents asked us to pray)
David
Rosie
Kathryn
Jeremy
Constantine
Robert
Jane
Theodora
David
Gina
Micheal
Haralambos
Lillian
Presbytera Rosy
Valentina
Eva W.
Barbara
Angela
Carol Ann
Matthew
Chrysostom
Tim
Pat
Christina
Maria Louise
Maximos
Marian
Photini
Nicholas
Sarah
Constantine Houpis
Anna Marie Smith Baker
Katerina
Mary Kassis
Baby Maximus
Christine
Maria
Annette Star
Claire Livaditis
Eva Chandilles
Baby Dani
Scott Nedoff
James Hord
Tom
How should we pray for the sick? Remember them daily. Say their names (first names are sufficient) and ask God to bestow mercy and grace on them.
Add or remove names and print this list for easy reference during your prayer time on the St. Peter website.
Sunday Readings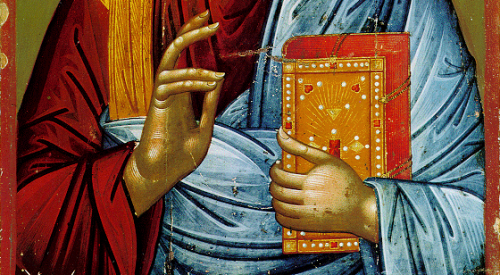 Epistle
For the Sunday after the Elevation of the Holy Cross
O Lord, how manifold are Thy works.
In wisdom hast Thou made them all.
Bless the Lord, O my soul.
The Reading from the Epistle of St. Paul to the Galatians. (2:16-20)
Brethren, you know that a man is not justified by works of the law but through faith in Jesus Christ. Even we have believed in Christ Jesus, in order to be justified by faith in Christ, and not by works of the law, because by works of the law shall no one be justified. But if, in our endeavor to be justified in Christ, we ourselves were found to be sinners, is Christ then an agent of sin? Certainly not! But if I build up again those things which I tore down, then I prove myself a transgressor. For I through the Law died to the Law, that I might live to God. I have been crucified with Christ; it is no longer I who live, but Christ Who lives in me; and the life I now live in the flesh Ilive by faith in the Son of God, Who loved me and gave Himself for me.
Gospel
For the Sunday after the Elevation of the Holy Cross
The Reading from the Holy Gospel according to St. Mark. (8:34-9:1)
The Lord said, "If any man would come after Me, let him deny himself and take up his cross and follow Me. For whoever would save his life will lose it; and whoever loses his life for My sake and the Gospel's will save it. For what does it profit a man, to gain the whole world and forfeit his soul? For what can a man give in return for his soul? For whoever is ashamed of Me and of My words in this adulterous and sinful generation, of him will the Son of man also be ashamed, when He comes in the glory of His Father with the holy angels." And He said to them, "Truly, I say to you, there are some standing here who will not taste death before they see the Kingdom of God come with power.