Garage Sale — Saturday November 9, 2013
Peggy Mazeras is hosting a garage sale on Saturday, November 9 at her home – 3656 McComb Lane, Bonita Springs, FL 34135 (get map).
If you have items you need to get rid of please deliver them on Friday, November 1 between 9am-3pm. A portion of the proceeds will go to St. Peter's.
Alternative drop-off times can be arranged. If you have questions please call Peggy at 239-2497-5995.
Georgian Metropolitan to Visit Naples
Metropolitan Nicholas, an Orthodox Metropolitan from Georgia (the country bordering Turkey and Armenia) will be giving a talk in Naples on December 11 "The Orthodox Church in Georgia after the fall of Communism." The Georgian Church suffered severe persecution under the Communists. It has nearly 2000 parishes in the 1920's. Only 50 remained after the Communist era.
The public presentation starts at 7pm at Faith Lutheran Church (get map). Faith Lutheran Church is located Goodletter-Frank Road about 1/2 mile south of Pine Ridge on the south side (a few blocks past the Moorings).
The Orthodox Clergy Association of Southwest Florida is helping with the presentation.
Bible Study this Tuesday, November 5 at the Hansen's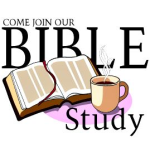 Bible studies resume this Tuesday, November 5 at Tom and Frieda Hansen's home starting at 7pm (get map). We will begin a study in the book of Luke. Mark you calendars and bring your questions.
If you have a friend who would like to attend bring them along!
Next scheduled bible study (after this one) is on November 19 at the Hansens.
General Assembly and Stewardship Sunday on November 10, 2013
It is time to start thinking about our stewardship commitment to St. Peter's for 2014.
Sunday, November 10, is designated Stewardship Sunday where we will hear from our Parish Council reporting on our progress, enlisting your ideas, and discussing support for our small but thriving parish into next year.
A light breakfast (bagels and coffee) will be provided.
Pot Luck Dinner at the Long's on Saturday, November 16, 2013 at 6pm
Join us for another great evening of food and fellowship at Jack and Angela Long's (get map) on Saturday, November 16 starting at 6pm.
Our pot-lucks are low key affairs, but that is why they are so enjoyable! Bring a friend.
Food Drive Continues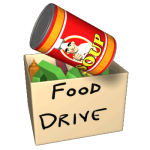 Every year we collect food for the poor in our area. This year we are starting early. Check your pantry and cupboards, but something extra at Publix, and bring it in strarting this Sunday.
We will collect and distribute through Thanksgiving.
Check Our the St. Peter Facebook Page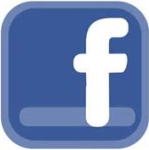 Did you know that St. Peter's is on Facebook? Check us out at https://www.facebook.com/StPeterOrthodoxChurch
Sunday Scripture Readings
Epistle
II Corinthians 11:31-12:1 (19th Sunday after Pentecost)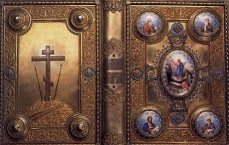 The Lord is my strength and my song.
The lord has chastened me sorely.
The Reading is from St. Paul's Second Letter to the Corinthians.
BRETHREN, the God and Father of the Lord Jesus, he who is blessed for ever, knows that I do not lie. At Damascus, the governor under King Aretas guarded the city of Damascus in order to seize me, but I was let down in a basket through a window in the wall, and escaped his hands.

I must boast; there is nothing to be gained by it, but I will go on to visions and revelations of the Lord. I know a man in Christ who f ourteen years ago was caught up to the third heaven — whether in the body or out of the body I do not know, God knows. And I know that this man was caught up into Paradise — whether in the body or out of the body I do not know, God knows — and he heard thing s that cannot be told, which man may not utter. On behalf of this man I will boast, but on my own behalf I will not boast, except of my weaknesses.

Though if I wish to boast, I shall not be a fool, for I shall be speaking the truth. But I refrain from i t, so that no one may think more of me than he sees in me or hears from me. And to keep me from being too elated by the abundance of revelations, a thorn was given me in the flesh, a messenger of Satan , to harass me, to keep me from being too elated. Three ti mes I besought the Lord about this, that it should leave me; but he said to me, "My grace is sufficient for you, for my power is made perfect in weakness."

I will all the more gladly boast of my weaknesses, that the power of Christ may rest upon me.
Gospel
Luke 16:19-31 (5th Sunday of Luke)
The Reading of the Holy Gospel according to St. Luke
The Lord said: "There was a rich man, who was clothed in purple and fine linen and who feasted sumptuously every day. And at his gate lay a poor man named Lazarus, full of sores, who desired to be fed with what fell from the rich man's table; moreover the dogs came and licked his sores. The poor man died and was carried by the angels to Abraham's bosom.

The rich man also died and was buried; and in Hades, being in torment, he lifted up his eyes , and saw Abraham far off and Lazarus in his bosom. And he called out, "Father Abraham, have mercy upon me, and send Lazarus to dip the end of his finger in water and cool my tongue; for I am in anguish in this flame.'

But Abraham said, 'Son, remember th at you in your lifetime received your good things, and Lazarus in like manner evil things; but now he is comforted here, and you are in anguish. And besides all this, between us and you a great chasm has been fixed, in order that those who would pass from here to you may not be able, and none may cross from there to us.'

And he said, 'Then I beg you, father, to send him to my father's house, for I have five brothers, so that he may warn them, lest they also come into this place of torment.' But Abraham s aid, 'They have Moses and the prophets; let them hear them.' And he said, 'No, father Abraham; but if some one goes to them from the dead, they will repent.'

He said to him, 'If they do not hear Moses and the prophets, neither will they be convinced if s ome one should rise from the dead.'"