Eighteenth Sunday After Pentecost
Third Sunday of Luke
Righteous Mother Pelagia the Penitent of Antioch
Who was Righteous Mother Pelagia the Penitent of Antioch?
Righteous Mother Pelagia the Penitent of Antioch
The Lord loves sinners with an abiding love, we are told, and it is easy to imagine that He must have loved the Venerable Pelagia pelagia2 with a special fervor – because this egregious sinner not only sought repentance for her misdeeds, but then went on to become a pious and ascetic saint.
Born in Antioch to parents who were intensely observant pagans, this Third-Century saint frittered away her youth. Blessed with beautiful features and graceful limbs, she soon became a popular dancer and an accomplished actress. So wanton and reckless were her ways, however, that she fell at last into the abyss of outright prostitution, which brought her great wealth – even as it deadened and degraded her soul to any awareness of God or spiritual beauty.
Pelagia seemed doomed to a life of moral collapse . . . but the Almighty took mercy on her and inspired her to confront the iniquity into which her existence had descended. The miracle of her awakening took place one morning around 250 A.D. as she was passing the Church of the Holy Martyr Julian, where the famed Bishop St. Nonnus was delivering a powerful sermon that had his listeners entranced.
[…]
Read the entire story on the Patriarch of Antioch. website.
Meet John Heers of First Things Foundation on Wednesday, October 4 at 7pm
Join us on Wednesday, October 4, 2017 to hear John Heers speak about his work helping the poor around the world.
Those of us present last Sunday heard John Heers of First Things Foundation give a short talk after Liturgy. John told us about the work of First Things Foundation in helping the poor become self-sustaining. John will worship with us when he is in Naples which is about two weeks every month.
Many parishioners asked to learn more about John and his work. They are located in different parts of the world including Sierra Leone where they work with Fr. Themi.
You can learn more about First Things on their website. Pizza and drinks will be provided at the talk.
Living the Orthodox Faith Class starts Wednesday, October 11 at 7:00pm
"Living the Orthodox Faith" will look at why our Church does things the way it does, and how to do it properly. We will learn about the sign up the cross, how to enter the Church properly (candles and veneration), how to make a home altar, and more. This is a very practical class, not theological as much as how to live the Orthodox life as Orthodox.
Any question is welcome. If you can mention your questions to Fr. Hans ahead of time (use the contact form on the website), he will make sure to include it in the class.
The class will run on Wednesday evening for four weeks, October 11, 18 and November 1 and 15 (October 25 is the Liturgy of St. Demetrios, November 8 is the Liturgy of St. Nektarios).
Through the Bible in One Year Schedule Posted

On September 1, the start of the new Church Year, St. Peter's started a program to read the bible in one year. Information is posted on the website.
Calendar At A Glance
Wednesday, October 4, 2017 7:00pm Meet John Heers
Wednesday, October 11, 2017 7:00pm "Living the Orthodox Faith" Class
Sunday, October 15, 2017 Mary Spiropoulos Memorial by John and Joan Simon
Wednesday, October 18 2017 7:00pm "Living the Orthodox Faith" Class
Wednesday, October 25, 2017 6:30pm Liturgy Eve of St. Demetrios
Wednesday, November 1, 2017 7:00pm "Living the Orthodox Faith" Class
Saturday, November 4, 2017 8:45am (NOTE TIME) Liturgy St. Raphael of Brooklyn
Saturday, November 4, 2017 10:00am Church Clean Up Day
Wednesday, November 7, 2017 6:30pm Liturgy Eve of Archangels Michael and Gabriel
Wednesday, November 8, 2017 6:30pm Liturgy Eve of St. Nektarios
Saturday, November 15, 2017 Nativity Fast begins
Saturday, November 15, 2017 Nativity Drive for NAMI and Toys for Tots begins
Saturday, December 2, 2017 3:30pm Social Hall Decoration, Vespers, Potluck Day
Wisdom From The Elders
In spite of our sinfulness, in spite of the darkness surrounding our souls, the Grace of the Holy Spirit, conferred by baptism in the name of the Father and the Son and the Holy Spirit, still shines in our hearts with the inextinguishable light of Christ…and when the sinner turns to the way of repentance the light smooths away every trace of the sins committed, clothing the former sinner in the garments of incorruption, spun of the Grace of the Holy Spirit. It is this acquisition of the Holy Spirit about which I have been speaking.
St. Seraphim of Sarov
Our life is but a minute in comparison with eternity.
St. Seraphim of Sarov
Let your prayer be completely simple. For both the publican and the prodigal son were reconciled to God by a single phrase.
St. John Climacus
Never confuse the person, formed in the image of God, with the evil that is in him: because evil is but a chance misfortune, an illness, a devilish reverie. But the very essence of the person is the image of God, and this remains in him despite every disfigurement.
St. John of Kronstadt
Someone who bears a grudge while he prays is like a person who sows in the sea and expects to reap a harvest.
St. Isaac The Syrian
The reading of the Word of God should be performed in solitude, in order that the whole mind of the reader might be plunged into the truths of the Holy Scripture.
St. Seraphim of Sarov
Remember in Your Prayers
Theodora
Baby Brynn L.
Micheal
Haralambos
Lillian
Presbytera Rosy
Valentina
John
Eva W.
Barbara
Angela
Sonya
Kenneth
Carol Ann
Matthew
Chrysostom
Tim
Ron
Ivy-Jean
Pat
Christina
Maria Louise
Maximos
Marian
Photini
Nicholas
Brad William
Sarah
Petronia (Wife of Phil Pappas)
Constantine Houpis
Anna Marie Smith Baker
Ron Chromulak
Beverly Chromulak
Katerina
Loucine Kassis
Mary Kassis
Baby Maximus
Christine
Maria
Annette Star
Claire Livaditis
Eva Chandilles
Baby Dani
Scott Nedoff
Anthony Mourgis
John Hansen
James Hord
Tom and Jean, parents of Patty and Jerry.
How should we pray for the sick? Remember them daily. Say their names (first names are sufficient) and ask God to bestow mercy and grace on them.
Add or remove names and print this list for easy reference during your prayer time on the St. Peter website.
Sunday Readings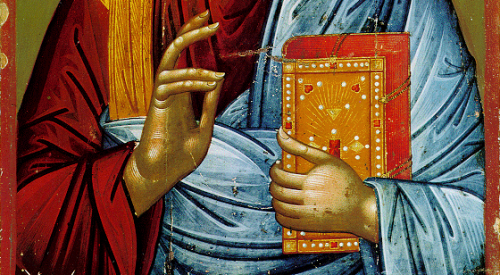 Epistle
For the Eighteenth Sunday after Pentecost
Let Thy mercy, O Lord, be upon us.
Rejoice in the Lord, O ye righteous.
The Reading from the Second Epistle of St. Paul to the Corinthians. (9:6-11)
Brethren, he who sows sparingly will also reap sparingly, and he who sows bountifully will also reap bountifully. Each one must do as he has made up his mind, not reluctantly or under compulsion, for God loves a cheerful giver. And God is able to provide you with every blessing in abundance, so that you may always have enough of everything and may provide in abundance for every good work. As it is written, "He scatters abroad, he gives to the poor; his righteousness endures forever." He who supplies seed to the sower and bread for food will supply and multiply your resources and increase the harvest of your righteousness. You will be enriched in every way for great generosity, which through us will produce thanksgiving to God.
Gospel
For the Third Sunday of Luke
The Reading from the Holy Gospel according to St. Luke. (7:11-16)
At that time, Jesus went to a city called Nain, and many of His disciples and a great crowd went with Him. As He drew near to the gate of the city, behold, a man who had died was being carried out, the only son of his mother, and she was a widow; and a large crowd from the city was with her. And when the Lord saw her, He had compassion on her and said to her, "Do not weep." And He came and touched the bier, and the bearers stood still. And Jesus said, "Young man, I say to you, arise." And the dead man sat up, and began to speak. And Jesus gave him to his mother. Fear seized them all; and they glorified God, saying, "A great prophet has arisen among us!" and "God has visited His people!"