The Upcoming Election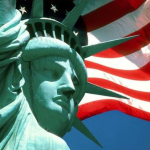 Every time election season rolls around I think about the American Founding Fathers. It is almost a miracle that men of their caliber and foresight emerged in what was really a backwater outpost to craft the Declaration of Independence and the US Constitution.
Did you know that all the refugee movements of the last century were directed to American shores? Or that America still represents freedom and hope to countless people around the world? For that matter think of our own parents or grandparents. Why did they come to America?
So whoever your candidate might be, all of us ask for God's blessing on America and the wisdom and insight to preserve the civil freedoms codified by the Founders for our benefit and the generation that follows.
God bless America!
Don't Forget, Final 2 Days of Rummage Sale Saturday and Sunday
Hang on to those treasures sitting out in the garage! St. Peter's is holding its annual rummage sale.
When?
Saturday 9am – 4pm on October 20, and 27.
Sunday 12pm – 3pm on October 21.
Where?
The Sunshine Shopping Center, about 1/2 mile east of 41 on Bonita Beach Road on the north side of the street (get map).
The space is on the far east side of the plaza, next to "Stage" (if you are facing ACE Hardware, it is on the right a the far end of the complex). Look for the signs.
Bible Study Starts for 2013
We will begin our 2013 bible studies on Thursday, November 1, 15, and 29. We chose Thursday because we could not find a home that could host on Tuesdays.
We will meet at the home of Jack and Angela Long at 204 Cheshire Way, Naples, FL 34110 (in the Audubon neighborhood, entrance on Vanderbilt Drive) — get map.
Spread the word and invite your friends!
Raffling an Afghan
One donated item to the rummage sale is a beautiful afghan that will be raffled to both customers and members of St. Peters.
Tickets cost $1 each or seven for $5. It's a small cost for a nice prize and way to help increase the profits of the sale for our parish. Tickets will be sold Sunday after Church.
Sunday Scripture Readings
Epistle
Galatians 2:16-20 (21st Sunday after Pentecost)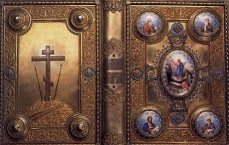 How great are thy works, O Lord!

Thou hast made all things in wisdom.
Bless the Lord, O my soul.
The Reading is from St. Paul's Letter to the Galatians
BRETHREN, you know that a man is not justified by works of the law but through faith in Jesus Christ, even we have believed in Christ Jesus, in order to be justified by faith in Christ, and not by works of the law, because by works of the law shall no one be justified.

But if, in our endeavor to be justified in Christ, we ourselves were found to be sinners, is Christ then an agent of sin? Certainly not! But if I build up again those things which I tore down, then I prove myself a transgressor. For I through the law died to the law, that I might live to God.

I have been crucified with Christ; it is no longer I who live, but Christ who lives in me; and the life I now live in the flesh I live by faith in the Son of God, who loved me and gave himself for me.
Gospel
Luke 8:41-56 (7th Sunday of Luke)
The Reading of the Holy Gospel according to St. Luke
At that time: There came a man named Jairus, who was a ruler of the synagogue; and falling at Jesus' feet he besought him to come to his house, for he had an only daughter, about twelve years of age, and she was dying.

As he went, the people pressed round him. And a woman who had had a flow of blood for twelve years and had spent all her living upon physicians and could not be healed by any one, came up behind him, and touched the fringe of his garment; and immediately her flow of blood ceased. And Jesus said, "Who was it that touched me?" When all denied it, Peter and those who were with him said, "Master, the multitudes surround you and press upon you!" But Jesus said, "Some one touched me; for I perceive that power has gone forth from me." And when the woman saw that she was not hidden, she came trembling, and falling down before him declared in the presence of all the people why she had touched him, and how she had been immediately healed. And he said to her, "Daughter, your faith has made you well go in peace."

While he was still speaking, a man from the ruler's house came and said, "Your daughter is dead; do not trouble the Teacher any more." But Jesus on hearing this answered him, "Do not fear; only believe, and she shall be well." And when he came to the house, he permitted no one to enter with him, except Peter and John and James, and the father and mother of the child. And all were weeping and bewailing her; but he said, "Do not weep; for she is not dead but sleeping." And they laughed at him, knowing that she was dead. But taking her by the hand he called, saying, "Child, arise." And her spirit returned, and she got up at once; and he directed that something should be given her to eat. And her parents were amazed; but he charged them to tell no one what had happened.