The Hieromartyr Zenobius, Bishop of Aegea, and his sister Zenobia suffered a martyr's death in the year 285 in Cilicia. From childhood they were raised in the holy Christian Faith by their parents, and they led pious and chaste lives. In their mature years, shunning the love of money, they distributed away their inherited wealth giving it to the poor. For his beneficence and holy life the Lord rewarded Zenobius with the gift of healing various maladies. He was also chosen bishop of a Christian community in Cilicia.
As bishop, St Zenobius zealously spread the Christian Faith among the pagans. When the emperor Diocletian (284-305) began a persecution against Christians, Bishop Zenobius was the first one arrested and brought to trial to the governor Licius. "I shall only speak briefly with you," said Licius to the saint, "for I propose to grant you life if you worship our gods, or death, if you do not." The saint answered, "This present life without Christ is death. It is better that I prepare to endure the present torment for my Creator, and then with Him live eternally, than to renounce Him for the sake of the present life, and then be tormented eternally in Hades."
By order of Licius, they nailed him to a cross and began the torture. The bishop's sister, seeing him suffering, wanted to stop it. She bravely confessed her own faith in Christ before the governor, therefore, she also was tortured.
By the power of the Lord they remained alive after being placed on a red-hot iron bed, and then in a boiling kettle. The saints were then beheaded. The priest Hermogenes secretly buried the bodies of the martyrs in a single grave.
St Zenobius is invoked by those suffering from breast cancer.
Source: Orthodox Church in America website.
St. Demetrios Divine Liturgy Tuesday, October 25, 6:30pm (Tonight)
We will celebrate a Divine Liturgy on the eve of the feast day of St. Demetrios starting at 6:30pm.
May Their Memory Be Eternal
Upcoming Memorials at St. Peter's include:
Sunday, October 30:Memorial for Magdalen Pandazi (one year – mother of Maria Pandazi and Andrea Psaras) and Andrew Pandazi (two years – Father of Maria Pandazi and Andrea Psaras) by Andrea and John Psaras, and Maria Pandazi. Andrea, Maria and John will sponsor a luncheon following Liturgy in honor of Magdalen and Andrew.
Sunday, November 6: Memorial for Dimitrios Foukaridis (15 years – wife of Konstandia Foukaridis, father of Stephania Sarros, grandfather of Dimitri Sarros) and Angeliki Kritikou (aunt of the Foukaridis and Sarros families) by Konstandina Foukaridis, Stephania and Dimitri Sarros. The Foukaridis and Sarros families will sponsor Social Hour following the Divine Liturgy.
Events This Fall
As we enter into the new Ecclesiastical Year, St. Peter's will hold at least one monthly parish social event. Please mark you calendars.
October 22 (Saturday, 6pm) New Members Welcome pot luck.
November 12-13 (Saturday and Sunday) Christmas Lent Retreat with Fr. Gregory Jensen on "Aceticism, Monasticism, and Christian Discipleship." Fr. Gregory will speak on our calling and vocation as Christians and how to live it especially in the Church.
December 3 (Saturday – 6pm) Christmas pot luck
More details as we move closer to the dates.
Choir Practice on Tuesday, November 1, 2016
Choir practice this Tuesday, October 18, 2016 CANCELLED.
We will hold the Divine Liturgy for St. Demetrios instead.
Bible Study on Wednesday, November 2, 2016 at 7pm
Bible study also this Wednesday, October 26, 2016 at 7pm..
Calendar At A Glance
Choir Practice every Tuesday at 6:00pm and Bible Study every Wednesday at 7:00pm unless cancelled as noted below. Divine Liturgy every Sunday at 9:30. Extra services noted below.
October 25 (Tues) Choir Practice Cancelled
October 25 (Tuesday) 6:30pm Divine Liturgy St. Demetrios
October 30 (Sunday) Memorial Andrew and Magdelen Pandazi
November 6 (Sunday) Memorial Demetrios Foukaridis
November 23-24 (Saturday/Sunday) Christmas Lent Retreat
December 3 (Saturday) Christmas Pot Luck
Wisdom From The Elders
Western thinkers are accustomed to separating the mind and the spirit. If they study humility, obedience, repentance, or even love, they treat these subjects either from the perspective of the spirit, phenomenologically, or in a behavioristic way, from the perspective of the mind (or, more precisely, of the brain).
Mother Michaela
"If wrong actions occur, it means that our inner state is wrong; and it is this inner state which determines our worth before God-our essential worth."
—Unseen Warfare
Your children should not hear you arguing even once, not even if you raise the tone of your voices to one another.

—Elder Porphyrios
Although it may appear outwardly that we make our way toward God, the joyful and wonderful truth is that it is God who comes to us.
—Matthew the Poor
As soon as condemnation comes into your head, immediately say with attention: "Lord grant me to see my sins and not condemn my brother."
—St. Nektary of Optina
Remember in Your Prayers
Ryan
Sarah
Robert Jarvis
Petronia (Wife of Phil Pappas)
Anna Marie Smith Baker
Harry Zifiris
Iris Kuring (Bettina Zifiris' mother)
Constantine Houpis
Gerhard Kuring (Bettina Zifiris' father)
Ron Chromulak
Beverly Chromulak
Katerina
Dianne
Loucine Kassis
Mary Kassis
Baby Maximus
Annette Star
Christine
Maria
Claire Livaditis
Eva Chandilles
Baby Dani
Scott Nedoff
Anthony Mourgis
John Hansen
Constandina James
James Hord
Bob Smith
Tom and Jean, parents of Patty and Jerry.
How should we pray for the sick? Remember them daily. Say their names (first names are sufficient) and ask God to bestow mercy and grace on them.
Add or remove names and print this list for easy reference during your prayer time on the St. Peter website.
Sunday Readings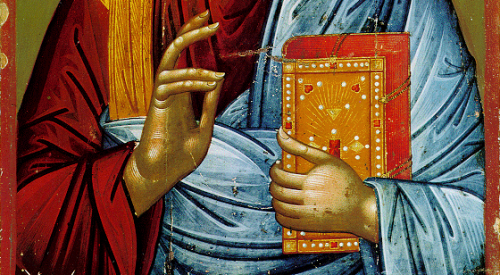 Epistle
For the Nineteenth Sunday after Pentecost
The Lord is my strength and my song.
The Lord has chastened me severely.
The Reading from the Second Epistle of St. Paul to the Corinthians. (11:31-12:9)
Brethren, the God and Father of the Lord Jesus, He Who is blessed forever, knows that I do not lie. At Damascus, the governor under King Aretas guarded the city of Damascus in order to seize me, but I was let down in a basket through a window in the wall, and escaped his hands.

I must boast; there is nothing to be gained by it, but I will go on to visions and revelations of the Lord. I know a man in Christ who 14 years ago was caught up to the third heaven—whether in the body or out of the body I do not know, God knows. And I know that this man was caught up into Paradise—whether in the body or out of the body I do not know, God knows—and he heard things that cannot be told, which man may not utter. On behalf of this man I will boast, but on my own behalf I will not boast, except of my weaknesses. Though if I wish to boast, I shall not be a fool, for I shall be speaking the truth. But I refrain from it, so that no one may think more of me than he sees in me or hears from me.

And to keep me from being too elated by the abundance of revelations, a thorn was given me in the flesh, a messenger of Satan, to harass me, to keep me from being too elated. Three times I besought the Lord about this, that it should leave me; but He said to me, "My grace is sufficient for you, for My power is made perfect in weakness." I will all the more gladly boast of my weaknesses, that the power of Christ may rest upon me.
Gospel
For the Fifth Sunday of Luke
The Reading from the Holy Gospel according to St. Luke. (16:19-31)
The Lord said, "There was a rich man, who was clothed in purple and fine linen and who feasted sumptuously every day. And at his gate lay a poor man named Lazarus, full of sores, who desired to be fed with what fell from the rich man's table; moreover the dogs came and licked his sores.

The poor man died and was carried by the angels to Abraham's bosom. The rich man also died and was buried; and in Hades, being in torment, he lifted up his eyes, and saw Abraham far off and Lazarus in his bosom. And he called out, 'Father Abraham, have mercy upon me, and send Lazarus to dip the end of his finger in water and cool my tongue; for I am in anguish in this flame.'

But Abraham said, 'Son, remember that you in your lifetime received your good things, and Lazarus in like manner evil things; but now he is comforted here, and you are in anguish. And besides all this, between us and you a great chasm has been fixed, in order that those who would pass from here to you may not be able, and none may cross from there to us.' And he said, 'Then I beg you, father, to send him to my father's house, for I have five brothers, so that he may warn them, lest they also come into this place of torment.'

But Abraham said, 'They have Moses and the prophets; let them hear them.' And he said, 'No, father Abraham; but if someone goes to them from the dead, they will repent.' He said to him, 'If they do not hear Moses and the prophets, neither will they be convinced if someone should rise from the dead.'"