Seventh Sunday of Luke
Twenty First Sunday after Pentecost
Venerable Martyr Anastasia the Roman; Venerable Abraham and his niece Mary of Mesopotamia; New Hieromartyr Athanasios of Sparta; Venerable Martyr Timothy of Esphigmenou monastery on Athos; Abraham, bishop of Rostov
Who Was The Venerable Martyr Anastasia the Roman?
The Martyr Anastasia the Roman lost her parents in infancy, and was then taken to be reared by the abbess of a women's monastery, named Sophia. She raised Anastasia in fervent faith, in the fear of God and obedience.
The persecution against Christians by the emperor Decius (249-251) began at that time. The city administrator, Probus, on the orders of the emperor commanded that Anastasia be brought to him. Blessed by her abbess to suffer for Christ, the young martyr Anastasia humbly came out to meet the armed soldiers. Seeing her youth and beauty, Probus first attempted flattery to make her deny Christ.
"Why waste your youth, deprived of pleasure? What is there to gain by enduring tortures and death for the Crucified? Worship our gods, marry a handsome husband, and live in glory and honor."
The saint steadfastly replied, "My spouse, my riches, my life and my happiness are my Lord Jesus Christ, and you will not turn me away from Him by your deceit!"
Probus subjected Anastasia to fierce tortures. The holy martyr bravely endured them, glorifying and praising the Lord. In anger the torturers cut out her tongue.
The people, seeing the inhuman and disgusting treatment of the saint, became indignant, and the ruler was compelled to end the tortures by beheading the martyr. In this manner, Saint Anastasia received the crown of martyrdom.
The body of the saint was thrown out beyond the city to be eaten by wild animals, but the Lord did not permit her holy relics to be dishonored. At the command of a holy angel, Abbess Sophia went to find Saint Anastasia's mutilated body. With the help of two Christians, she buried it in the earth.
Source: The Orthodox Church in America website.
Who Were The Venerable Abraham and His Niece Mary of Mesopotamia?
St. Abramius the Hermit and Blessed Maria, his niece, lived the ascetic life in the village of Chidan, near the city of Edessa in Mesopotamia. They were contemporaries and fellow countrymen of St. Ephraim the Syrian, who afterwards wrote about their life.
St. Abramius began the solitary life in the prime of youth. He left his parents' home and settled in the wilderness and spending his days in unceasing prayer. After the deaths of his parents, the saint refused his inheritance and requested his relatives to give it away to the poor. By his strict ascetic life, fasting, and love for mankind, Abramius attracted many seeking spiritual enlightenment, prayers and blessings.
Soon his faith was put to a serious test, as he was appointed presbyter in one of the pagan villages of Mesopotamia. For three years, the saint worked to enlighten the pagans. He had a pagan temple destroyed and built a church in its place. Humbly enduring mockery and beatings from idol-worshippers, he entreated the Lord, "Look down, O Master, upon Your servant, hear my prayer. Strengthen me and set Your servants free from diabolical snares, and grant them to know You, the one true God." He was granted the happiness to see the culmination of his righteous efforts: the pagans eventually came to believe in Jesus Christ, and St. Abramius baptized each of them himself.
[…]
St. Abramius's niece, the Nun Maria, grew up being sustained by his spiritual instruction. Her father died when she was seven, and so she was raised by her saintly uncle. However, the devil tried to turn her from the true path. When she was 27, she fell into a sinful relationship with a man. Thoroughly ashamed, she left her cell, went to another city, and began to live in a brothel. Two years later, when he learned of this, St. Abramius dressed himself in soldier's garb so that he should not be recognized, and he went to the city to find his niece. Pretending to be one of her "clients," he revealed his identity once they were alone. With many tears and exhortations, he brought her to repentance and took her back to her cell.
St. Maria spent the rest of her days in prayer and tears of repentance. The Lord forgave her and even granted her the gift of healing the sick. She peacefully died five years after St. Abramius.
Read the complete story on the Antiochian Archdiocese website.
St. Demetrios Liturgy on Wednesday, October 25, 2017 at 6:30pm
St. Demetrios is with St. Peter's parish. He revealed himself after hurricane Irma. Read about it here (scroll to "St. Demetrios Visits St. Peter's").
We will celebrate the Divine Liturgy for St. Demetrios on the eve of his feast day Wednesday, October 25, 2017 at 6:30pm.
Who Was St. Demetrios?
The holy, glorious and right-victorious Great-martyr Demetrios of Thessaloniki the Myrrh-streamer (also Demetrios) is one of the most popular saints in the Orthodox world. He was martyred around the year 306 in Thessalonica, and his cult rapidly grew during the Middle Ages, when he was regarded as the first recognized patron and protector of the city, militarily as well as spiritually. His feast day is celebrated on October 26. The Serbian Orthodox Church commemorates the Saint as a Mitar having a feast of Mitrovan on November 8.
Demetrios came from a noble family of the Roman province of Macedonia. Through this noble ancestry and through his own ability and virtue he rose to a high military position under Galerius Maximian, Caesar of the Eastern part of the Roman Empire (with Diocletian as the Augustus, or senior emperor). Despite this position in the still-pagan empire, he remained fervent in faith and works for Christ, encouraging many Christians to endure persecution and even bringing many pagans to the faith.
When Maximian returned from one of his campaigns to Thessaloniki, which he had made his capital, he had pagan games and sacrifices celebrated for his triumph. Demetrios was denounced by pagans who were envious of his success, and he was thrown into prison. While in prison he was visited by a young Christian named Nestor, who asked him for a blessing to engage in single combat with the giant Lyaios (or Lyaeus), who was posing as the champion of paganism. Demetrios gave his blessing and Nestor, against all odds, slew his opponent in the arena, as David had once defeated Goliath.
The enraged emperor, learning that this had occurred with Demetrios's aid, first had Nestor beheaded outside the city and then had Demetrios impaled in prison. Later Demetrios's servant Lupus was beheaded after using his master's blood-stained tunic and signet ring to work many miracles. The Christians buried Demetrios and Nestor next together in the bath where Demetrios had been imprisoned. During the seventh century a miraculous flow of fragrant myrrh was found emanating from his tomb, giving rise to the appellation Mirovlitis, the Myrrh Gusher to his name. His tomb containing his relics is now in the crypt of the Church of St. Demetrios in Thessaloniki.
St. Demetrios is revered as the patron saint of Thessaloniki and is believed by the people as having intervened to save the city over the years from invading foreigners, from the Slavic nations, Bulgarians, Arabs, Saracens, and others. While well remembered in the Hellenic world, the memory of the Great Martyr Demetrios of Thessaloniki found an attachment in the Slavic, particularly the Russian, world from the times of the Russian Primary Chronicle.
Source: The Orthodoxwiki website.
Bob Smith Hospitalized
Winter resident Bob Smith was hospitalized recently and is undergoing rehabilitation in Minneapolis, Minnesota. Bob and his wife Jane are strong supporters of St. Peter's having joined just as we moved into our present location and helping us with the move.
You can send Bob a note a Caring Bridge, a website that delivers notes and well wishes to people undergoing medical treatment.
Keep Bob and Jane in your prayers (they are the top of the prayer list). Pray for a speedy recovery and a return to good health.
Living the Orthodox Faith Class Continues Wednesday, November 1 at 7:00pm
"Living the Orthodox Faith" will look at why our Church does things the way it does, and how to do it properly. We will learn about the sign up the cross, how to enter the Church properly (candles and veneration), how to make a home altar, and more. This is a very practical class, not theological as much as how to live the Orthodox life as an Orthodox Christian.
This week we will learn about the Proskomede – How the priest prayers the gifts (the bread and wine that become the Holy Eucharist).
Can't make the class? Join in on Facebook Live! You can also view last week's class too.
Toys for Tots Drive Begins
Every Christmas season St. Peter's parishioners contribute to Toys for Tots which gives children who otherwise would receive no gifts some presents on Christmas Day.
If you would like to contribute, bring an unwrapped present for a child in its original packaging. A collection box is in the Social Hall. We will deliver them to the fire station where they are collected for distribution to the needy children.
Thank You from the Tuefel Family
The Teufel family would like to thank all those that were in attendance for the baptism of Lucas James on August 19. We are grateful for the thoughtful cards and generous gifts. Unfortunately, a package of thank you notes sent to Florida may have been lost in the mail, as it was sent shortly after Hurricane Irma.
We look forward to visiting the Saint Peter Orthodox Church family when we are in Florida over the holiday season.
Order Your Thanksgiving and Christmas Bakery Items at St. Peter's Bake Sale!
It's easy! Click on the image below or here (it will bring you to the St. Peter's website), print out the order form, and fill in what you want to order for Thanksgiving and Christmas! We offer spanikopita (spinach pie), tiropita (cheese pie), baklava, galatoboureko (milk and egg custard), and koularikia (butter cookies).
Pick up your order on Sunday November 12 or November 19 following the Divine Liturgy.
Trunk or Treat — An Alternative to Halloween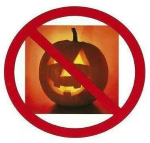 Halloween is problem. It remains as a cultural hold-over from pagan (pre-Christianized) Europe. Several decades ago it was not a problem because it was sanitized. Kids dressed up as cartoon characters and it was still safe to go house to house. As our society becomes increasingly de-Christianized however, the old pagan roots of Halloween become more evident. You see this especially on television where (horrible!) horror shows are played endlessly, the costumes become gory, and so forth.
The problem for parents is that Halloween is so hyped up that all kids get into it. The promise of candy and sweets is a great lure. We could isolate ourselves from it but that is difficult for our children to understand. It is better to restrict our children's exposure to it by joining with like-mined parents who handle it ways different than what the dominant culture dictates.
To that end, parents are invited to bring your children to the Trunk or Treat Celebration hosted on the grounds of First Baptist Church (get directions here). Bring your children to St. Peter's at 5:30 on October 31 where Fr. Hans will give a small talk to the kids about Halloween. Then parents will drive to First Baptist Church and kids will pick up their candy from the trunks of cars hosted by parents with the same concerns we have. The event begins at 6:30pm.
There will be no Halloween themed costumes or candy (no monsters, no gore, nothing that implies death or horror) at Trunk or Treat. Kids can wear costumes but they should be wholesome characters. This way the kids partake of the day without ostracization from their peers but without the dark themes that are becoming increasingly prevalent in the larger culture.
Memorial Prayers of John Spiropoulos and Plato Pavis, Sunday November 5, 2017
Thirteen year memorial prayers will be offered of John Spiropoulos, father of Joan Simon, on Sunday, November 5, 2017 following the Divine Liturgy. John was born in Manhattan and grew up in Elmhurst, Queens, NY. He had resided in Succasunna for 47 years before moving to Mt. Arlington, New Jersey. He also resided in Ft. Myers, FL. Mr. Spiropoulos served in World War II and the Korean War as a First Lieutenant in the US Marine Corps. He was a 1947 graduate of Princeton University where he earned his B.S. Degree in Economics and was Captain of the Varsity fencing team. Mr. Spiropoulos worked as a market research analyst for various companies, including Reliance Electric in Newark, NJ.
One year memorial prayers will be offered for Plato Pavis was a long time resident of Fort Myers, a locally known painter, and a much loved man in the local Orthodox community. Plato possessed an indomitable spirit and was active until his death at 97 years old. Several years ago the Fort Myer's News Press published an article that reveals what an interesting man Plato was.
Both memorials are sponsored by John and Joan Simon.
Church Clean Up Day, Saturday November 4, 2017 following Divine Liturgy at 9:00am
Church clean up day is scheduled for Saturday, November 4 starting at 10:30am. Please note that this follows a Divine Liturgy at 9:00am for St. Raphael of Brooklyn that our Metropolitan requires us to celebrate.
Please bring your cleaning tools from home along. We will have supplies at Church as well the the more we have the easier and faster the job can be done.
This prepares the Church for the Christmas and Epiphany season.
Many hands make light work. The more volunteers we have, the quicker the clean up can be done.
Calendar At A Glance
Wednesday, October 25, 2017 6:30pm Liturgy Eve of St. Demetrios
Tuesday, October 31, 2017 5:30pm Trunk or Treat. Meet at Church at 5:30.
Wednesday, November 1, 2017 6:30pm Choir Practice
Wednesday, November 1, 2017 7:00pm "Living the Orthodox Faith" Class
Saturday, November 4, 2017 9:00am (NOTE TIME) Liturgy St. Raphael of Brooklyn
Saturday, November 4, 2017 10:30am Church Clean Up Day
Sunday, November 5, 2017 John Spiropoulos and Plato Pavis Memorial by John and Joan Simon
Wednesday, November 7, 2017 6:30pm Liturgy Eve of Archangels Michael and Gabriel
Wednesday, November 8, 2017 6:30pm Liturgy Eve of St. Nektarios
Saturday, November 15, 2017 Nativity Fast begins
Saturday, November 15, 2017 Charity Drive for NAMI and Toys for Tots begins
Wednesday, November 15, 2017 6:30pm Choir Practice
Saturday, December 2, 2017 3:30pm Social Hall Decoration, Vespers, Potluck Day
Wisdom From The Elders
The most pure name of Jesus cannot tolerate to dwell in the midst of impurity. It requires that all impurity should be expelled and vanished from the vessel of the soul. It enters the vessel according to the degree of its purity, and it at once begins to act in it and effect the further purification for which the man's own efforts were insufficient and which is needed if the vessel is to become a worthy recepticle for the spiritual treasure, a shrine for the most holy name.
St. Ignatius Brianchaninov
If you wish that God should speedily give you hearty faith in prayer, strive with all your heart to speak and to do everything in regard to other people sincerely, and never be deceitful in your dealings with them. If you are straightforward and truthful with others, then God will give you straightforwardness and sincere faith also in reference to Himself.
St. John of Kronstadt
Whoever observes God's benevolence learns to rely upon divine providence. He then feels like an infant in a crib, crying when left alone for a little while by its mother, until she returns to its side. It is an important matter to entrust yourself to God.
Elder Paisios of Mount Athos
And so it is incumbent upon us to strive, rather, to correct our faults and to improve our behavior.
St. John Cassian
On account of its soul-saving effect upon us of prayer in general, and of the rememberance of God or the prayer of Jesus in particular,as means to remaining in constant union with God and to constantly repulsing the attacks of the enemy, engagement in the prayer of Jesus is especially hateful to the devil.
St. Ignatius Brianchaninov
Satan dwells morally in a man when the man becomes a door of the devil's will. It was in this way that Satan entered into Judas Iscariot (John 13:27), that is, he controlled his reason and will, and became one with him in spirit.
St. Ignatius Brianchaninov
Remember in Your Prayers
Constantine
Robert
Jane
Theodora
Baby Brynn L.
Micheal
Haralambos
Lillian
Presbytera Rosy
Valentina
John
Eva W.
Barbara
Angela
Sonya
Kenneth
Carol Ann
Matthew
Chrysostom
Tim
Ron
Ivy-Jean
Pat
Christina
Maria Louise
Maximos
Marian
Photini
Nicholas
Brad William
Sarah
Petronia (Wife of Phil Pappas)
Constantine Houpis
Anna Marie Smith Baker
Ron Chromulak
Beverly Chromulak
Katerina
Loucine Kassis
Mary Kassis
Baby Maximus
Christine
Maria
Annette Star
Claire Livaditis
Eva Chandilles
Baby Dani
Scott Nedoff
Anthony Mourgis
John Hansen
James Hord
Tom and Jean, parents of Patty and Jerry.
How should we pray for the sick? Remember them daily. Say their names (first names are sufficient) and ask God to bestow mercy and grace on them.
Add or remove names and print this list for easy reference during your prayer time on the St. Peter website.
Sunday Readings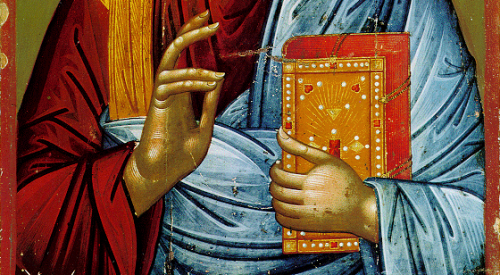 Epistle
For the Twenty-First Sunday after Pentecost
O Lord, how magnified are Thy works. In wisdom hast Thou made them all.
Bless the Lord, O my soul.
The Reading from the Epistle of St. Paul to the Galatians. (2:16-20)
Brethren, you know that a man is not justified by works of the Law but through faith in Jesus Christ. Even we have believed in Christ Jesus, in order to be justified by faith in Christ, and not by works of the Law, because by works of the Law shall no one be justified. But if, in our endeavor to be justified in Christ, we ourselves were found to be sinners, is Christ then an agent of sin? Certainly not! But if I build up again those things which I tore down, then I prove myself a transgressor. For I through the Law died to the Law, that I might live to God. I have been crucified with Christ; it is no longer I who live, but Christ Who lives in me; and the life I now live in the flesh I live by faith in the Son of God, Who loved me and gave Himself for me.
Gospel
For the Seventh Sunday of Luke
The Reading from the Holy Gospel according to St. Luke. (8:41-56)
At that time, there came to Jesus a man named Jairus, who was a ruler of the synagogue; and falling at Jesus' feet he besought Him to come to his house, for he had an only daughter, about twelve years of age, and she was dying. As Jesus went, the people pressed round Him. And a woman, who had had a flow of blood for twelve years, and had spent all her living upon physicians, and could not be healed by anyone, came up behind Him, and touched the fringe of His garment; and immediately her flow of blood ceased. And Jesus said, "Who was it that touched Me?" When all denied it, Peter said, "Master, the multitudes surround Thee and press upon Thee! And Thou sayest, 'Who touched Me?'" But Jesus said, "Someone touched Me; for I perceive that power has gone forth from Me."

And when the woman saw that she was not hidden, she came trembling, and falling down before Him declared in the presence of all the people why she had touched Him, and how she had been immediately healed. And Jesus said to her, "Daughter, your faith has made you well; go in peace." While Jesus was still speaking, a man from the ruler's house came and said, "Your daughter is dead; do not trouble the Teacher anymore." But Jesus on hearing this answered him, "Do not fear; only believe, and she shall be well." And when Jesus came to the house, He permitted no one to enter with Him, except Peter and James and John, and the father and mother of the child. And all were weeping and bewailing her; but Jesus said, "Do not weep; for she is not dead but sleeping." And they laughed at him, knowing that she was dead. But taking her by the hand Jesus called, saying, "Child, arise." And her spirit returned, and she got up at once; and Jesus directed that something should be given her to eat. And her parents were amazed; but He charged them to tell no one what had happened.