The Holy Apostle James the Brother of Our Lord
The Sixth Sunday of Luke
St. James Brother of Our Lord
Saint James was the son of Joseph the Betrothed from his (first) marriage. He was blessed by God while he was still in his mother's womb and was so righteous in his life that all the Jews called him the "Just". Even from a very early age, James lived a very ascetic life. He did not partake of wine or other strong drinks. In imitation of Saint John the Baptist.
After the Lord's Ascension, the Apostles unanimously elected James the Just as first bishop of Jerusalem. Perfect in all the virtues of action and contemplation, James alone entered the Holy of Holies of the New Testament- not once a year, like the High Priest of the Jews- but on a daily basis, in order to celebrate the holy sacraments. Dressed in a linen garment, he would enter the Temple and kneel for hours, praying for the people and the salvation of the world, to such an extent that his knees became hard as stone.
Many people, ordinary and prominent citizens, had embraced the faith and the scribes and Pharisees were afraid that soon everyone would recognize the Messiah in the person of Christ. So they presented themselves to the Bishop of Jerusalem and entreated him to speak to the crowds at the temple. To make himself heard, he went up onto a roof, and preached that Jesus is the Messiah and the Son of God. The scribes and Pharisees were enraged and hurled him from the roof. Despite the fall, he was not killed, and, like Christ before him, prayed for his enemies, until he was stoned and a bystander hit him on the head with a large piece of wood and dispatched him. He may have been buried at the site, near the Temple.
Read the complete biography on the Pempousia website.
Bea Chionis — Memory Eternal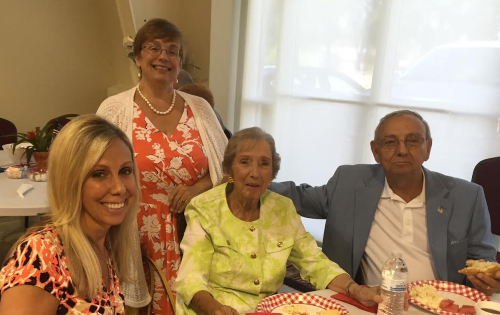 Bea Chionis – May her memory be eternal
A recent picture of Bea (center) with her two daughters and husband George.
With sadness we announce the falling asleep of the servant of God Bea (Panagiota) Chionis, beloved wife of George Chionis. We will miss her. May her memory be eternal.
The Funeral will be held on Friday,October 21, 2016.
Schedule:
The location of the makaria (memorial dinner) following the funeral will be announced shortly.
St. Peter's Donation to Interfaith Charities
When Interfaith Charities asked St. Peter's to help restock the shelves with canned fruit, we responded!
We help Interfaith Ministries when they run low on items to help the poor, especially working poor families.
May Their Memory Be Eternal
Upcoming Memorials at St. Peter's include:
Sunday, October 30:Memorial for Magdalen Pandazi (one year – mother of Maria Pandazi and Andrea Psaras) and Andrew Pandazi (two years – Father of Maria Pandazi and Andrea Psaras) by Andrea and John Psaras, and Maria Pandazi. Andrea, Maria and John will sponsor a luncheon following Liturgy in honor of Magdalen and Andrew.
Sunday, November 6: Memorial for Dimitrios Foukaridis (15 years – wife of Konstandia Foukaridis, father of Stephania Sarros, grandfather of Dimitri Sarros) and Angeliki Kritikou (aunt of the Foukaridis and Sarros families) by Konstandina Foukaridis, Stephania and Dimitri Sarros. The Foukaridis and Sarros families will sponsor Social Hour following the Divine Liturgy.
Get To Know Your Neighbor Pot Luck This Saturday
Plan on attending our New Member Potluck on Saturday, October 22 at 6:00pm in the Social Hall. This will be a great chance to get to know new members in our parish and for the new member to get to know others.
Our pot lucks are great, by the way. You'll like it. St. Peter's puts a premium on food and fellowship!
Women's Group Meets
The next meeting is scheduled for Thursday, October 20, 2016 at 6:00pm in the Social Hall.
Events This Fall
As we enter into the new Ecclesiastical Year, St. Peter's will hold at least one monthly parish social event. Please mark you calendars.
October 22 (Saturday, 6pm) New Members Welcome pot luck.
November 12-13 (Saturday and Sunday) Christmas Lent Retreat with Fr. Gregory Jensen on "Aceticism, Monasticism, and Christian Discipleship." Fr. Gregory will speak on our calling and vocation as Christians and how to live it especially in the Church.
December 3 (Saturday – 6pm) Christmas pot luck
More details as we move closer to the dates.
Choir Practice on Tues, October 25, 2016 at 6pm
Choir practice also this Tuesday, October 18, 2016 at 6:00pm.
Bible Study on Wednesday, October 26, 2016 at 7pm
Bible study also this Wednesday, October 19, 2016 at 7pm..
Calendar At A Glance
Choir Practice every Tuesday at 6:00pm and Bible Study every Wednesday at 7:00pm unless cancelled as noted below. Divine Liturgy every Sunday at 9:30. Extra services noted below.
October 20 (Thursday) 6:00pm St. Peter Women's Group
October 22 (Saturday) 6pm New Members Welcome pot luck
October 24 (Monday) 6:30pm Expansion Committee Meeting
October 30 (Sunday) Memorial Andrew and Magdelen Pandazi
November 6 (Sunday) – Memorial Demetrios Foukaridis
November 23-24 (Saturday/Sunday) Christmas Lent Retreat
December 3 (Saturday) Christmas Pot Luck
Wisdom From The Elders
A terrible accident has a power to awaken us to the realization of the existence of various calamities and dangers surrounding us, from which the Providence of God preserves us. At the same time it convincingly persuades us to acknowledge our own infirmity and weakness and to seek the Father's protection and His most powerful defense, which affirms us in the Wisdom and the Word of God, which came down from above by the will of the Heavenly Father under a curtain of flesh like ours, woven by the Divine Might from the Immaculate Virgin, for our salvation.
He became man and taught us to pray that we be not led into temptation. This reminds us from what Father we have our existence, and this in turn should make us seek our heavenly Fatherland and our eternal inheritance.
—St. Herman of Alaska
Look, brethren, look what the devil is doing, has done and will do, leading the mind of man from the spiritual heaven to material things, chaining the heart of man to earth and earthly pursuits and occupations!
—Bishop Ignatius Brianchaninov
If you pray persistently for deliverance from pride, you'll start finding out about yourself in all sorts of ways.
—Dee Pennock
Let no one out of laziness or continuous worldly occupations miss these holy Sunday gatherings, which God Himself handed down to us, lest he be justly abandoned by God… If you are detained and do not attend on one occasion, make up for it the next time, bringing yourself to Christ's Church. Otherwise you may remain uncured, suffering from unbelief in your soul because of deeds or words, and failing to approach Christ's surgery to receive… holy healing.
—St. Gregory Palamas
Remember in Your Prayers
Ryan
Sarah
Robert Jarvis
Petronia (Wife of Phil Pappas)
Anna Marie Smith Baker
Harry Zifiris
Iris Kuring (Bettina Zifiris' mother)
Constantine Houpis
Gerhard Kuring (Bettina Zifiris' father)
Ron Chromulak
Beverly Chromulak
Katerina
Dianne
Loucine Kassis
Mary Kassis
Baby Maximus
Annette Star
Christine
Maria
Claire Livaditis
Eva Chandilles
Baby Dani
Scott Nedoff
Anthony Mourgis
John Hansen
Constandina James
James Hord
Bob Smith
Tom and Jean, parents of Patty and Jerry.
How should we pray for the sick? Remember them daily. Say their names (first names are sufficient) and ask God to bestow mercy and grace on them.
Add or remove names and print this list for easy reference during your prayer time on the St. Peter website.
Sunday Readings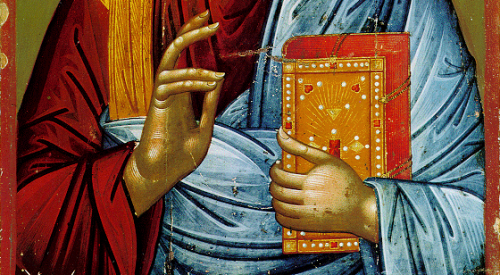 Epistle
For St. James
His voice has gone out into all the earth.
The heavens declare the glory of God.
The Reading from the Epistle of St. Paul to the Galatians. (1:11-19) Brethren, I would have you know that the Gospel which was preached by me is not man's gospel. For I did not receive it from man, nor was I taught it, but it came through a revelation of Jesus Christ.
For you have heard of my former life in Judaism, how I persecuted the Church of God violently and tried to destroy it; and I advanced in Judaism beyond many of my own age among my people; so extremely zealous was I for the traditions of my fathers.
But when He reveal His Son to me, in order that I might preach Him among the Gentiles, I did not confer with flesh and blood, nor did I go up to Jerusalem to those who were Apostles before me, but I went away into Arabia; and again I returned to Damascus. Then after three years I went up to Jerusalem to visit Cephas, and remained with him fifteen days. But I saw none of the other Apostles except James the Lord's brother.
Gospel
For the Sixth Sunday of Luke
The Reading from the Holy Gospel according to St. Luke. (8:26-39)
At that time, Jesus arrived at the country of the Gadarenes, which is opposite Galilee. And as He stepped out on land, there met Him a man from the city who had demons; for a long time he had worn no clothes, and he lived not in a house but among the tombs.

When he saw Jesus, he cried out and fell down before him, and said with a loud voice, "What hast Thou to do with me, Jesus, Son of the Most High God? I beseech Thee, do not torment me." For Jesus had commanded the unclean spirit to come out of the man. [For many a time it had seized him; he was kept under guard, and bound with chains and fetters, but he broke the bonds and was driven by the demon into the desert.]

Jesus then asked him, "What is your name?" And he said, "Legion"; for many demons had entered him. And they begged Jesus not to command them to depart into the abyss. Now a large herd of swine was feeding there on the hillside; and they begged Jesus to let them enter these. So He gave them leave. Then the demons came out of the man and entered the swine, and the herd rushed down the steep bank into the lake and was drowned.

When the herdsmen saw what had happened, they fled, and told it in the city and in the country. Then people went out to see what had happened, and they came to Jesus, and found the man from whom the demons had gone, sitting at the feet of Jesus, clothed and in his right mind; and they were afraid. And those who had seen it told them how he who had been possessed with demons was healed. Then all the people of the surrounding country of the Gadarenes asked Jesus to depart from them; for they were seized with great fear; so He got into the boat and returned.

The man from whom the demons had gone begged that he might be with Jesus; but Jesus sent him away, saying, "Return to your home, and declare all that God has done for you." And he went away, proclaiming throughout the whole city all that Jesus had done for him.