Eighth Sunday of Luke
Who Was John the Almsgiver, Patriarch of Alexandria
St. John the Merciful
John was born in Amathus on Cyprus c. 550 to the patrician Epiphanius, a governor of the island. He married and had children, but was a widower when he was called to become patriarch of Alexandria on the recommendation of his friend, the city's imperial prefect Nicetas.
John was remarkable for his almsgiving or mercy (??e?µ?s??? in Greek, hence his title ??e?µ??). To someone who was astounded at his generosity he recounted a vision he had seen in his youth in which Compassion appeared to him as a beautiful maiden and told him that she was the eldest daughter of God.
The patriarchate of Alexandria had at its disposal immense wealth in both money and commercial enterprises, including shipping, and John put it all at the disposal of the poor. He was not only liberal with the resources of his see, but with his own goods.
In one incident in his life he felt remorseful for accepting a richly-embroidered blanket as a gift and was unable to sleep until he sold it and gave the proceeds to the poor. He also made himself available to anyone who had a petition, grievance, or request.
His generosity did draw censure at times. In one case one of his aides noticed that someone was abusing the distribution of goods in John's very presence, returning several times in different guises, but when he mentioned this John replied that it might be Christ in disguise. In another case he came to loggerheads with his friend Nicetas when the latter, concerned to contribute to Emperor Heraclius' war effort against the Persians, tried to appropriate some of the church's wealth to that end, an attempt which John firmly resisted and which ended in Nicetas' apology.
His care was not limited to his own flock in Alexandria, but extended to the people of Palestine in their sufferings during the Persian invasion and sack of Jerusalem. John sent convoys of essential supplies to Palestine and welcomed many refugees to Alexandria.
He was forced to flee Alexandria by the Persian invasion of Egypt in 619. Returning to Cyprus, he died soon thereafter.
Source: The Orthodoxwiki website.
Synaxis of the Archangels Michael and Gabriel Divine Liturgy on Tuesday, November 7, 2017 at 6:30pm
We will celebrate the Divine Liturgy for the Sunaxis of the Archangels Michael and Gabriel and the Heavenly Hosts on the eve of the Holy Day Tuesday, November 7, 2017 at 6:30pm.
On November 8 in the Holy Orthodox Church we celebrate the Synaxis of the Supreme Commanders Michael, Gabriel and Raphael, and of the other bodiless and heavenly orders, the Seraphim, Cherubim, Thrones, Dominions, Powers, Authorities, Principalities, Archangels and Angels.
Dionysius the Areopagite, a disciple of the Apostle Paul who was taken up into the third heaven (II Cor. 12:2), described the nine orders of angels in his book, On the Celestial Hierarchies. The Apostle Paul says all angels are ministering spirits, sent forth to minister to them who shall be heirs of salvation (Heb. 1:14). The leader of all the angelic hosts is the Archangel Michael.
When Satan fell away from God and drew a part of the angels with him to destruction, then Michael stood up and cried out before the faithful angels: "Let us stand aright! Let us stand with fear! Let us attend!" and all of the faithful angelic heavenly hosts cried out: "Holy! Holy! Holy! Lord God of Sabaoth! Heaven and earth are full of Thy glory!" The Archangel Gabriel proclaimed the news of the conceptions of John the Baptist and our Lord Jesus Christ to their mothers, Elizabeth and the Ever-virgin Mary (Luke 1). The Archangel Raphael healed Tobit of his blindness (Tobit 11) and freed his daughter-in-law, Sarah, from a demon (Tobit 6). Every nation has its guardian angel, as does every Christian. We must always remember that whatever we do, in open or in secret, we do in the presence of our guardian angel
.
Light sandwiches will be offered after Liturgy.
Source: The Antiochian Orthodox Archdiocese website.
Divine Liturgy for St Nektarios on Wednesday, November 8, 2017 at 6:30pm
The divine Nektarios of Aegina, is one of the most widely known of Greek Orthodox Saints. He was born on October 1st, 1846 in Silyvria, in Asia Minor (now occupied by Turkey).His great service to the Church, prolific writings and teachings, energy and zeal led Fr Nektarios to be ordained as the Metropolitan of Pentapolis in Egypt.
In 1904, our Saint founded a monastery for women in Aegina, the Holy Trinity Convent. Under his guidance the Convent flourished. In 1908, the Blessed Nektarios, at the age of 62, retired from the Rizarios Ecclesiastical School and withdrew to Holy Trinity Convent in Aegina. There, for the rest of his life as a true monk and ascetic. He served as a confessor and spiritual guide to the nuns and even priests from as far as Athens and Piraeus. His Holy and pious life shone forth like a guiding light to all near him. Many would come to him for healing. Saint Nektarios was a great ëWonder-workerí even while alive.
On September 20, 1920 one of the nuns took him to the local hospital, in spite of his protest. He was convulsing in pain from a long-standing ailment. He was admitted, and placed into a ward reserved for the poor and unwanted. There he stayed for two months among the sick and dying. At 10:30 in the evening of November 8th, although in the midst of terrible pains, in peace and at prayer he gave up his spirit unto God at the age of 74.
As soon as the Saint gave up his Spirit, a nurse came to prepare him for transfer to Aegina for burial. As the nurse removed the Saints sweater, she inadvertently placed it on the next bed, on which a paralytic lay. And O, strange wonder!, the paralytic immediately began to regain his strength and arose from his bed healthy, and glorifying God.
Read the complete story on the Orthodox Christian Info website.
Our Condolences
To Theo and Margaret Pallis on the loss of Margaret's brother Jack (Iakovos). May his memory be eternal.
To Corgette and John Troutman on the loss of Corgette's brother Constantine. May his memory be eternal.
Living the Orthodox Faith Class Continues Wednesday, November 15 at 7:00pm
"Living the Orthodox Faith" will look at why our Church does things the way it does, and how to do it properly. We will learn about the sign up the cross, how to enter the Church properly (candles and veneration), how to make a home altar, and more. This is a very practical class, not theological as much as how to live the Orthodox life as an Orthodox Christian.
This week we will learn about the Proskomede – How the priest prayers the gifts (the bread and wine that become the Holy Eucharist).
Can't make the class? Join in on Facebook Live! You can also view last week's class too.
Christmas Season Food Drive for NAMI Begins
Every Christmas season St. Peter's runs a food drive for NAMI (National Association for Mental Illness)serving local people in need. NAMI helps people with serious and persistent mental illnesses, as well as their parents, children, spouses, siblings and friends.
St. Peter's has contributed to NAMI emergency food bank care for six years. Donations go to the Sarah Ann Drop In Center in Naples, FL. Three categories of items are needed:
Canned and dry goods
Toiletry articles (The small hotel type items work very well)
Diabetic foods
Bring them to church and we will get them to NAMI. The drive will run through Christmas.
Toys for Tots Drive Begins
Every Christmas season St. Peter's parishioners contribute to Toys for Tots which gives children who otherwise would receive no gifts some presents on Christmas Day.
If you would like to contribute, bring an unwrapped present for a child in its original packaging. A collection box is in the Social Hall. We will deliver them to the fire station where they are collected for distribution to the needy children.
Calendar At A Glance
Wednesday, November 7, 2017 6:30pm Liturgy Eve of Archangels Michael and Gabriel
Wednesday, November 8, 2017 6:30pm Liturgy Eve of St. Nektarios
Saturday, November 15, 2017 Nativity Fast begins
Saturday, November 15, 2017 Charity Drive for NAMI and Toys for Tots begins
Wednesday, November 15, 2017 6:30pm Choir Practice
Wisdom From The Elders
A man may seem to be silent, but if his heart is condemning others, he is babbling ceaselessly. But there may be another who talks from morning till night and yet he is truly silent, that is, he says nothing that is not profitable.
Abba Pimen
Don't worry about anything, but in all your prayers ask God for what you need, always asking him with a thankful heart.
Philippians 4:6
"How is it that I think and do things that I don't want or desire to think or do"? I answered that everyone is that way, and so forth. Therefore, the more one conquers himself, the greater the reward that he will receive there in eternity. This is the Christian's most essential duty, and for this one needs God's help, which is received through prayer…
St. Innocent of Alaska
He who prays with his lips but neglects his soul and does not guard his heart, prays to the air and not to God: and he labours in vain, because God attends to the mind and fervour, and not to prolixity.
Dorotheous The Russian
And so it is incumbent upon us to strive, rather, to correct our faults and to improve our behavior.
St. John Cassian
On account of its soul-saving effect upon us of prayer in general, and of the rememberance of God or the prayer of Jesus in particular,as means to remaining in constant union with God and to constantly repulsing the attacks of the enemy, engagement in the prayer of Jesus is especially hateful to the devil.
St. Ignatius Brianchaninov
Remember in Your Prayers
Robert
Jane
Theodora
Baby Brynn L.
Micheal
Haralambos
Lillian
Presbytera Rosy
Valentina
John
Eva W.
Barbara
Angela
Sonya
Kenneth
Carol Ann
Matthew
Chrysostom
Tim
Ron
Ivy-Jean
Pat
Christina
Maria Louise
Maximos
Marian
Photini
Nicholas
Brad William
Sarah
Petronia (Wife of Phil Pappas)
Constantine Houpis
Anna Marie Smith Baker
Ron Chromulak
Beverly Chromulak
Katerina
Loucine Kassis
Mary Kassis
Baby Maximus
Christine
Maria
Annette Star
Claire Livaditis
Eva Chandilles
Baby Dani
Scott Nedoff
Anthony Mourgis
John Hansen
James Hord
Tom and Jean, parents of Patty and Jerry.
How should we pray for the sick? Remember them daily. Say their names (first names are sufficient) and ask God to bestow mercy and grace on them.
Add or remove names and print this list for easy reference during your prayer time on the St. Peter website.
Sunday Readings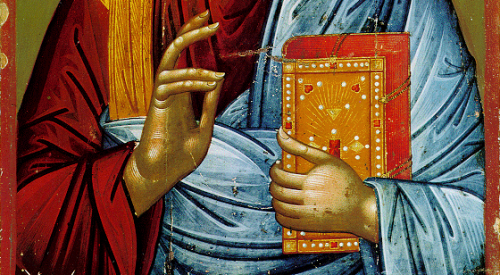 Epistle
For St. John the Almsgiver
Precious in the sight of the Lord is the death of His saints.
What shall I render to the Lord for all that He has given me?
The Reading from the Second Epistle of St. Paul to the Corinthians. (9:6-11)
Brethren, he who sows sparingly will also reap sparingly, and he who sows bountifully will also reap bountifully. Each one must do as he has made up his mind, not reluctantly or under compulsion, for God loves a cheerful giver. And God is able to provide you with every blessing in abundance, so that you may always have enough of everything and may provide in abundance for every good work. As it is written, "He scatters abroad, he gives to the poor; his righteousness endures forever."

He who supplies seed to the sower and bread for food will supply and multiply your resources and increase the harvest of your righteousness. You will be enriched in every way for great generosity, which through us will produce thanksgiving to God.
Gospel
For the Eighth Sunday of Luke
The Reading is from the Holy Gospel according to St. Luke. (10:25-37)
At that time, a lawyer stood up to put Jesus to the test, saying, "Teacher, what shall I do to inherit eternal life?" Jesus said to him, "What is written in the Law? How do you read?" And the lawyer answered, "You shall love the Lord your God with all your heart, and with all your soul, and with all your strength, and with all your mind; and your neighbor as yourself." And Jesus said to him, "You have answered right; do this, and you will live."

But the lawyer, desiring to justify himself, said to Jesus, "And who is my neighbor?" Jesus replied, "A man was going down from Jerusalem to Jericho, and he fell among robbers, who stripped him and beat him, and departed, leaving him half dead. Now by chance a priest was going down that road; and when he saw him he passed by on the other side. So likewise a Levite, when he came to the place and saw him, passed by on the other side.

But a Samaritan, as he journeyed, came to where he was; and when he saw him, he had compassion, and went to him and bound up his wounds, pouring on oil and wine; then he set him on his own beast and brought him to an inn, and took care of him. And the next day he took out two denarii and gave them to the innkeeper, saying, 'Take care of him; and whatever more you spend, I will repay you when I come back.'Which of these three, do you think, proved neighbor to the man who fell among the robbers?" The lawyer said, "The one who showed mercy on him." And Jesus said to him, "Go and do likewise."