Twenty-sixth Sunday after Pentecost
Fourteenth Sunday of Luke
The Holy Prophet Zephaniah
The Prophet Zephania
Zephaniah was the son of Cushi, a native of Mount Sarabatha, from the tribe of Simeon. He lived and prophesied in the seventh century before Christ, at the time of Josiah the pious king of Judah (641-610 B.C.). Zephaniah was also a contemporary of the Prophets Jeremiah and Habakkuk. Having great humility and a pure mind raised to God, he was found worthy of the grace of God to discern the future.
The prophet spoke boldly against the religious and moral corruption, when, in view of the idolatry which had penetrated even into the sanctuary, he warned that God would "destroy out of this place the remnant of Baal, and the names of the … priests" (Zeph. 1:4), and pleaded for a return to the simplicity of their fathers instead of the luxurious foreign clothing which was worn especially in aristocratic circles (1:8). He saw Jerusalem as a filthy and polluted and oppressing city (Zeph. 3:1-4).
Foreseeing the advent of the Messiah, he enthusiastically exclaimed: "Sing, O daughter of Zion; shout, O Israel; be glad and rejoice with all your heart, O daughter of Jerusalem" (Zeph. 3:14). Further he proclaimed that the gentiles will become the people of God when the Messiah comes, and that the Messiah will be the judge of all rational creatures, giving to all according to their works.
This seer of mysteries entered into rest at his birthplace to await the General Resurrection and his reward from God. His name is commonly transliterated Sophonias in Bibles translated from the Latin Vulgate or Septuagint. The name might mean "Yahweh has concealed", "[he whom] Yahweh has hidden", or "Yahweh lies in wait." He is numbered among the so-called Minor Prophets.
Read the complete history on the Mystagogy website.
Living the Orthodox Faith Class Continues Wednesday, November 29 at 7:00pm
"Living the Orthodox Faith" will look at why our Church does things the way it does, and how to do it properly. We will learn about the sign up the cross, how to enter the Church properly (candles and veneration), how to make a home altar, and more. This is a very practical class, not theological as much as how to live the Orthodox life as an Orthodox Christian.
Can't make the class? Join in on Facebook Live! You can also view last week's class too.
Decorate the Social Hall for Christmas on Saturday, December 2 at 10:00am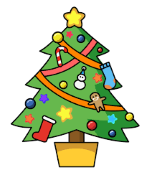 We have all the supplies (tree, lights, wire, etc.). Coffee and bagels provided.
Church Pot-Luck Saturday, December 2, 2017 at 6:00pm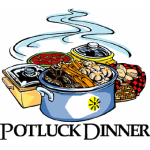 St. Peter's Pot Luck's are always a great time of fellowship. Please bring a dish in this category and sign up in the Social Hall:
Please remember: This is a fasting season no no meat or cheese in the food item.
St. Nicholas Celebration on Tuesday, December 5, 2017
Mark you calendars for the St. Nicholas Day Celebration Tuesday December 5, 2017. We will begin with Divine Liturgy at 6:00pm (note time!) followed by a presentation on the real Santa Clause (hint: it was really a bishop from Myra in the fourth century) for the children.
All children should attend! The program will be for them including a surprise at the end.
Toys for Tots Drive Last Day December 3
Every Christmas season St. Peter's parishioners contribute to Toys for Tots which gives children who otherwise would receive no gifts some presents on Christmas Day.
If you would like to contribute, bring an unwrapped present for a child in its original packaging. A collection box is in the Social Hall. We will deliver them to the fire station where they are collected for distribution to the needy children.
After December 3 no more donations can be accepted.
Christmas Fast Continues
The Nativity Fast is one of the four Canonical Fasting Seasons in the Church year. This is a joyous fast in anticipation of the Nativity of Christ. That is the reason it is less strict than other fasting periods. The fast is divided into two periods. The 1st period is November 15th through December 19th when the traditional fasting discipline (no meat, dairy, fish, wine, and oil) is observed. There is dispensation given for wine and oil on Tuesdays and Thursdays. Similarly, fish, wine, and oil are permitted on Saturdays and Sundays.
The 2nd period is December 20th through 24th when the traditional fasting discipline (no meat, dairy, fish, wine, and oil) is observed. There is dispensation given for wine and oil only on Saturday and Sunday during this period.
Fasting always works in conjuction with prayer and giving alms (helping the poor, giving to worthy charities, etc.). Fasting helps us reorder the interior life, but the reordering does not occur with greater prayer and greater concern for the poor.
The reordering is a clarification — we end up seeing things more clearly, we get stronger in the fight against sin and temptation. The fast always ends on a great Feast Day of our Lord.
For a complete list, visit the Antiochian website or click on the image below:
Christmas Season Food Drive for NAMI Continues
Every Christmas season St. Peter's runs a food drive for NAMI (National Association for Mental Illness)serving local people in need. NAMI helps people with serious and persistent mental illnesses, as well as their parents, children, spouses, siblings and friends.
St. Peter's has contributed to NAMI emergency food bank care for six years. Donations go to the Sarah Ann Drop In Center in Naples, FL. Three categories of items are needed:
Canned and dry goods
Toiletry articles (The small hotel type items work very well)
Diabetic foods
Bring them to church and we will get them to NAMI. The drive will run through Christmas.
Calendar At A Glance
November
Wednesday, November 29, 2017 7:00pm. Living the Orthodox Faith Class
December
Tuesday, December 2, 2017 10:00am. Decorate Social Hall
Tuesday, December 2, 2017 6:00pm. Christmas Pot Luck
Tuesday, December 5, 2017 6:00pm. St. Nicholas Liturgy
Tuesday, December 5, 2017 7:15pm. St. Nicholas Program
Nativity (Christmas) Worship Schedule
Friday, December 22, 2017 9am Nativity Royal Hours
Sunday, December 24, 2017 8:30am/9:30am Orthros and Divine Liturgy
Sunday, December 24, 2017 7:00pm Great Vespers of Nativity
Monday, December 25, 2017 8:30am/9:30am Festal Orthros and Festal Divine Liturgy of St. Basil the Great
Wisdom From The Elders
The Apostle speaks of this: "We are unto God a sweet savour of Christ," the sweet perfume of recognition of the truth and the sweetness of love.
2 Cor. 2:14-16
When we approach someone with pain and true love, then this true love of Christ transforms our neighbor.
St. Paisios of Mount Athos
When a person observes the commandments of God, working to be cleansed of one's passions, then the mind is enlightened; it attains spiritual vision, and the soul becomes as resplendent as it was before the Fall of man.
St. Paisios of Mount Athos
[On the Jesus Prayer] The God-fearing fathers, in expounding the teaching on this prayer, affirm that its beginning and its unshakable foundation is true obedience, from which is born true humility; and humility guards him who labors in prayer from all the delusions which dog the self-directed.
St. Ignatius Brianchaninov
[W]e shall find that after a storm at sea there comes a deep calm.

St. John Climacus
The Lord is longsuffering…
St. Ambrose of Optina
Remember in Your Prayers
Katherine
Sean
Kathryn
Jeremy
Robert
Jane
Theodora
Baby Brynn L.
Micheal
Haralambos
Lillian
Presbytera Rosy
Valentina
John
Eva W.
Barbara
Angela
Sonya
Kenneth
Carol Ann
Matthew
Chrysostom
Tim
Ron
Ivy-Jean
Pat
Christina
Maria Louise
Maximos
Marian
Photini
Nicholas
Brad William
Sarah
Petronia (Wife of Phil Pappas)
Constantine Houpis
Anna Marie Smith Baker
Ron Chromulak
Beverly Chromulak
Katerina
Loucine Kassis
Mary Kassis
Baby Maximus
Christine
Maria
Annette Star
Claire Livaditis
Eva Chandilles
Baby Dani
Scott Nedoff
Anthony Mourgis
John Hansen
James Hord
Tom and Jean, parents of Patty and Jerry.
How should we pray for the sick? Remember them daily. Say their names (first names are sufficient) and ask God to bestow mercy and grace on them.
Add or remove names and print this list for easy reference during your prayer time on the St. Peter website.
Sunday Readings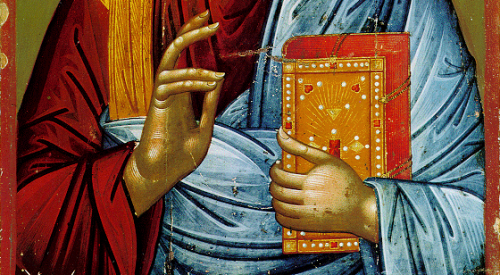 Epistle
For the Twenty-Sixth Sunday after Pentecost
Let Thy mercy, O Lord, be upon us.
Rejoice in the Lord, O ye righteous.
The Reading from the Epistle of St. Paul to the Ephesians. (5:8-19)
Brethren, walk as children of light—for the fruit of light is found in all that is good and right and true—and try to learn what is pleasing to the Lord. Take no part in the unfruitful works of darkness, but instead expose them. For it is a shame even to speak of the things that they do in secret; but when anything is exposed by the light it becomes visible, for anything that becomes visible is light. Therefore, it is said, "Awake, O sleeper, and arise from the dead, and Christ shall give you light." Look carefully then how you walk, not as unwise men but as wise, making the most of the time, because the days are evil. Therefore, do not be foolish, but understand what the will of the Lord is. And do not get drunk with wine, for that is debauchery; but be filled with the Spirit, addressing one another in psalms and hymns and spiritual songs, singing and making melody to the Lord with all your heart.
Gospel
The Reading from the Holy Gospel according to St. Luke. (18:35-43)
At that time, when Jesus drew near to Jericho, a blind man was sitting by the roadside begging; and hearing a multitude going by, he inquired what this meant. They told him, "Jesus of Nazareth is passing by." And he cried, "Jesus, Son of David, have mercy on me!" And those who were in front rebuked him, telling him to be silent; but he cried out all the more, "Son of David, have mercy on me!" And Jesus stopped, and commanded him to be brought to him; and when he came near, Jesus asked him, "What do you want me to do for you?" He said, "Lord, let me receive my sight." And Jesus said to him, "Receive your sight; your faith has made you well." And immediately he received his sight and followed Jesus, glorifying God; and all the people, when they saw it, gave praise to God.