Thirteenth Sunday of Luke
Great-martyr James the Persian
The Holy Great Martyr James the Persian (the Sawn-Asunder) was born in the fourth century into a pious Christian family, both wealthy and illustrious. His wife was also a Christian, and the couple raised their children in piety, inspiring in them a love for prayer and the Holy Scriptures. James occupied a high position at the court of the Persian emperor Izdegerd (399-420) and his successor Barakhranes (420-438). But on one of the military campaigns James, seduced by the emperor's beneficence, was afraid to acknowledge himself a Christian, and so he offered sacrifice to idols with the emperor.
Learning of this, James' mother and wife wrote him a letter, in which they rebuked him and urged him to repent. Receiving the letter, James realized the gravity of his sin. Faced with the horror of being cut off not only from his family, but also from God Himself, he began to weep loudly, imploring the Lord for forgiveness.
His fellow-soldiers, hearing him pray to the Lord Jesus Christ, reported this to the emperor. Under interrogation, St James bravely confessed his faith in the one True God. No amount of urging by the emperor could make him renounce Christ. The emperor then ordered the saint to be put to death.
Source: Orthodox Church in America
Divine Liturgy Thanksgiving, Wednesday, November 23 at 6:30pm
Although there technically is no Thanksgiving in the Orthodox Calendar, Thanksgiving is as close as it gets to a Christian Holiday on the American civil calendar along with Christmas and Easter. Met. Joseph has encouraged churches to begin the weekend by giving thanks to God from who all blessings flow.
We've Entered the Christmas Fasting Period
The Christmas fasting period runs from November 15 to December 24. Guidelines for proper fasting during the Christmas fast can be found on the Antiochian Archdiocese website.. Look at the schedule, conform to the fast as you are able, and if you have questions consult Fr. Hans.
Fasting is important but sometimes circumstances require adjustments to the directions. We are not bound to directions (fasting is voluntary) but we should not use our liberty as an excuse for slackness or negligence either.
Why fast? It helps us focus on Christ more in our interior lives. As we learn to master our interior life, our exterior life changes for the better too. We fast faithfully and in secret, not judging others, and not holding ourselves up as an example.
From the Antiochian Archdiocese Website:
The Purpose of Fasting
The purpose of fasting is to focus on the things that are above, the Kingdom of God. It is a means of putting on virtue in reality, here and now. Through it we are freed from dependence on worldly things.
Fasting in itself is not a means of pleasing God. Fasting is not a punishment for our sins. Nor is fasting a means of suffering and pain to be undertaken as some kind of atonement. Christ already redeemed us on His Cross. Salvation is a gift from God that is not bought by our hunger or thirst.
We fast to be delivered from carnal passions so that God's gift of Salvation may bear fruit in us.
We fast and turn our eyes toward God in His Holy Church. Fasting and prayer go together.
Fasting is not irrelevant. Fasting is not obsolete, and it is not something for someone else. Fasting is from God, for us, right here and right now.
Most of all, we should not devour each other. We ask God to "set a watch and keep the door of our lips."
Do Not Fast
between December 25 and January 5 (even on Wednesdays and Fridays);
if you are pregnant or nursing a newborn;
during serious illness;
without prayer;
without alms-giving;
according to your own will without guidance from your spiritual father
Stewardship Letters for 2017 Coming
Responsibility towards God includes taking responsibility for His Church. We love God because He first loved us. He established the Church as His body, as the way we find Him and draw closer to Him. We are responsible for maintaining it so that the work of Christ can continue in the world. That's how it works.
You will be getting letter next week asking for your commitment to St. Peter's. Prayerfully consider your support of St. Peter's. The Church is not a charity. The Church is the Body of Christ. It needs to be high on our list.
May Their Memory Be Eternal
Upcoming Memorials at St. Peter's include:
Sunday, December 4: Bea (Panagiota) Chionis (40 days) by husband George and the entire Chionis family.
Women's Group News
Women's Group will decorate the Christmas Tree during Social Hour on Sunday, November 27 in time for the St Nicholas Pot Luck.
Women's Group set up tables on Tuesday, November 29 at 7:00pm for St. Nicholas Pot Luck.
Label and stuff envelopes for Parish Christmas Cards on Sunday, December 11 during Social Hour following Liturgy.
Thank you to our faithful women of St. Peter's. Their work keeps the train moving!
Christmas Season Food Drive for NAMI
Every Christmas season St. Peter's runs a food drive for NAMI (National Association for Mental Illness)serving local people in need. NAMI helps people with serious and persistent mental illnesses, as well as their parents, children, spouses, siblings and friends.
St. Peter's has contributed to NAMI emergency food bank care for six years. Donations go to the Sarah Ann Drop In Center in Naples, FL. Three categories of items are needed:
Canned and dry goods
Toiletry articles (The small hotel type items work very well)
Diabetic foods
Bring them to church and we will get them to NAMI. The drive will run through Christmas.
Mark you Calendar for the St. Nicholas Pot Luck December 3
Celebrate St. Nicholas Day with a pot luck on Saturday, December 3 starting at 6pm. Sign up to bring a dish in the social hall following Divine Liturgy on Sunday. We are in the Christmas Fasting season so all dishes should be meatless.
Tina and Doug Kucera will be our speakers. They will talk about Tina's donation of a kidney to save Doug's life. We will see a video produced about their journey that has brought them closer to God and each other.
Bring an unwrapped toy to the pot luck for needy children in the area. We will donate them to Toys for Tots.
Thank You From Interfaith Charities
https://stpeterorthodoxchurch.com/wp-content/uploads/2016/11/interfaith-charities-food-collect-500×422.png
A note to St. Peter's from Interfaith Charities:
Dear St. Peter's,

On behalf of ICSL, I want to thank you for the 734.5 pounds of food that you donated so far this year. That is simply amazing!

We continue to focus on ending hunger in our community. Your donation will help to make that easier.

As the need in our community for basic items such as food and shelter continue to be an issue, people like you make a great impact. We are blessed to have your support!

Thank you so very much.

Nancy Martin
Executive Director
Choir Practice on Tuesday, November 29, 2016
Choir practice this Tuesday, November 22, 2016 CANCELLED.
Bible Study on Wednesday, November 30, 2016 at 7pm
Bible study also this Wednesday, November 23, 2016 CANCELLED due to Liturgy.
Calendar At A Glance
Choir Practice every Tuesday at 6:00pm and Bible Study every Wednesday at 7:00pm unless cancelled as noted below. Divine Liturgy every Sunday at 9:30. Extra services noted below.
November 15 – December 24 Christmas Fast Period
November 21 (Monday) Liturgy Entrance of the Theotokos 6:30pm
November 21 (Tuesday) Choir Practice CANCELLED
November 23 (Wednesday) Liturgy for Thanksgiving 6:30pm (NO BIBLE STUDY)
November 27 (Sunday) Women's Group decorate Christmas tree during social hour
November 29 (Tuesday) Women's Group setup tables for St. Nicholas Pot Luck 7:00pm
December 3 (Saturday) St. Nicholas Pot Luck 6:00pm
December 4 (Sunday) Memorial Bea Chionis
December 5 (Monday) St. Nicholas Liturgy 6:30pm
December 11 (Sunday) Women's Group pepares Parish Christmas Card during social hour
December 23 (Friday) Nativity Royal Hours 9:00am
December 24 (Saturday) Nativity Eve Divine Liturgy 9:00am
December 25 (Sunday) Nativity Divine Liturgy, Hours 9:00am, Liturgy 9:30am
Wisdom From The Elders
Almost everyone feels more or less uneasy most of their life in this earthly existence. This is a part of the cross that we all must bear.
—Elder Sergei of Vanves
Never confuse the person formed in the image of God, with the evil that is in him; because evil is but a chance misfortune, an illness, a devilish reverie. But the very essence of the person is the image of God, and this remains in him despite every disfigurement.
—St. John of Kronstadt
Cut off your own will everyday and hour, and seek no other path beside this one.
—Elder Joseph the Hesychast
Question: How can we know that grace abides in us? Response: It makes itself known. But St. Seraphim of Sarov said that modern man has lost his sense of intimacy with God.
—Elder Sergei of Vanves
Compel yourselves; say the prayer; stop idle talk; close your mouths to criticism; place doors and locks against unnecessary words. Time passes and does not come back, and woe to us if time goes by without spiritual profit.

—Elder Ephraim of Philotheou
I call up all to fully participate in the Divine banquet of the Risen Christ — the Holy Liturgy, and then, at its conclusion, to announce the good news of Christ's Resurrection and greet one another with this symbol of the Resurrection.
—St. John of Shanghai and San Francisco
Remember in Your Prayers
Baby Kyriake
Maximos
Marian
Photini
Nicholas
Brad William
Ryan
Sarah
Robert Jarvis
Petronia (Wife of Phil Pappas)
Anna Marie Smith Baker
Harry Zifiris
Iris Kuring (Bettina Zifiris' mother)
Constantine Houpis
Gerhard Kuring (Bettina Zifiris' father)
Ron Chromulak
Beverly Chromulak
Katerina
Dianne
Loucine Kassis
Mary Kassis
Baby Maximus
Annette Star
Christine
Maria
Claire Livaditis
Eva Chandilles
Baby Dani
Scott Nedoff
Anthony Mourgis
John Hansen
Constandina James
James Hord
Bob Smith
Tom and Jean, parents of Patty and Jerry.
How should we pray for the sick? Remember them daily. Say their names (first names are sufficient) and ask God to bestow mercy and grace on them.
Add or remove names and print this list for easy reference during your prayer time on the St. Peter website.
Sunday Readings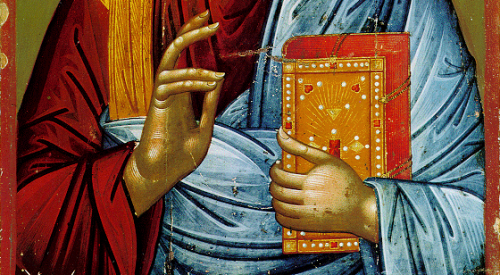 Epistle
For the Twenty-Third Sunday after Pentecost
O Lord, save Thy people and bless Thine inheritance.
To Thee, O Lord, have I cried, O my God.
The Reading from the Epistle of St. Paul to the Ephesians. (2:4-10)
Brethren, God, Who is rich in mercy, out of the great love with which He loved us, even when we were dead through our trespasses, made us alive together with Christ (by grace you have been saved), and raised us up with Him, and made us sit with Him in the heavenly places in Christ Jesus, that in the coming ages He might show the immeasurable riches of His grace in kindness toward us in Christ Jesus. For by grace you have been saved through faith; and this is not your own doing, it is the gift of God—not because of works, lest any man should boast. For, we are His workmanship, created in Christ Jesus for good works, which God prepared beforehand, that we should walk in them.
Gospel
For the Thirteenth Sunday of Luke
The Reading from the Holy Gospel according to St. Luke. (18:18-27)
At that time, a man came testing Jesus and asking, "Good Teacher, what shall I do to inherit eternal life?" And Jesus said to him, "Why do you call Me good? No one is good but God alone. You know the commandments: 'Do not commit adultery. Do not kill. Do not steal. Do not bear false witness. Honor your father and mother.'" And the man said, "All these I have observed from my youth."

And when Jesus heard it, he said to him, "One thing you still lack. Sell all that you have and distribute to the poor, and you will have treasure in heaven; and come, follow Me." But when the man heard this he became sad, for he was very rich. Jesus, seeing him sad, said, "How hard it is for those who have riches to enter the kingdom of God! For it is easier for a camel to go through the eye of a needle than for a rich man to enter the kingdom of God." Those who heard it said, "Then who can be saved?" Jesus said, "What is impossible with men is possible with God."