Update on Jeremiah Tewis
Jeremiah is progressing very well. Next week he begins outpatient therapy. This consists of 5 hours or so of rehabilitation every day, usually in the mornings. Afternoons are free. The doctors anticipate that this should take four or five weeks. After that he returns to Naples. Recovery continues and should take anywhere from six to twelve months after that.
We are of course very grateful for his healing so far. Much of this is due to the fervent prayers of those who love Jeremiah (including Elder Paisios who has brought miracles to brain injured patients in Greece), the skill and care of the doctors and nurses, as well as Jeremiah's commitment to his own healing.
I discussed the miraculous dimension of Jeremiah's healing last Sunday and frankly, it is easy to see but difficult to comprehend. The only adequate response is gratitude to God for His great mercy toward Jeremiah.
Please Pray for Anatole Kurdsjuk and Bob Smith
Both men are having health problems and need our prayers. We see with Jeremiah that God hears our prayers and now these men need our prayers too. Pray for them when they come to mind and included them in your scheduled prayers.
Grateful for the Small Things
Gratitude is an attitude, but it's one that helps us see the many valuable things in life. Most of the time it is seen in the people we know, the blessings we have like a home and other things that many people don't have.
Every just take a walk or look at the sky and notice the incredible beauty all around us? It is that kind of attitude, where we see what has been given to us and are thankful for it. There are many things in life like that, and they help take the edge off the harder things. They remind us that God is good and no matter what we might be facing in our personal lives, the mercy and grace of God is always there to help us.
Wisdom from the Fathers
Some quotes from Elder Paisios, the Saint who is helping in Jeremiah's healing:
Whether we pray for ourselves or for others, the prayer must be from the heart. The problems of others should become our problems. You have to prepare for prayer. Read a bit of the Gospel or the sayings of the Fathers and then pray. It requires an attempt to take the mind to the divine space. Study is like a gift which God gives us to direct us to greater spirituality. With study the soul is warmed.
Stillness and freedom from worry help to recollect the person in prayer. On the other hand, distraction does not help because it scatters the mind.
Freedom is good when the person can use it appropriately. Otherwise it is a disaster.
The world today has need of good confessors. Good spiritual fathers are few today and the few that remain have to do their work in a hurry because of the many who go to them. Like a good surgeon who does many interventions and is wearied by the results so as to not give all as he should. If there were good spiritual fathers, there would not be so many psychiatrists.
Sunday Scripture Readings
Epistle
Acts 9:32-42 (Sunday of the Paralytic)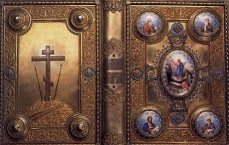 Sing praises to our God, sing praises.
Clap your hands, all you nations.
The Reading is from the Acts of the Apostles
In those days, as Peter went here and there among them all, he came down also to the saints that lived at Lydda. There he found a man named Aeneas, who had been bedridden for eight years and was paralyzed. And Peter said to him, "Aeneas, Jesus Christ heals you; rise and make your bed." And immediately he rose. And all the residents of Lydda and Sharon saw him, and they turned to the Lord.

Now there was a Joppa disciple named Tabitha, which means Dorcas. She was full of good works and acts of charity. In those days she fell sick and died; and when they had washed her, they laid her in an upper room. Since Lydda was near Joppa, the disciples, hearing that Peter was there, sent two men to him entreating him, "Please come to us without delay." So Peter rose and went with them. And when he had come, they took him to the upper room. All the widows stood beside him weeping, and showing tunics and other garments which Dorcas made while she was with them.

But Peter put them all outside and knelt down and prayed; then turning to the body he said, "Tabitha, rise." And she opened her eyes, and when she saw Peter she sat up. And he gave her his hand and lifted her up. Then calling the saints and widows he presented her alive. And it became known throughout all Joppa, and many believed in the Lord.
Gospel
John 5:1-15 (Sunday of the Paralytic)
The Reading of the Holy Gospel according to St. John
At that time: Jesus went up to Jerusalem. Now there is in Jerusalem by the Sheep Gate a pool, in Hebrew called Bethzatha, which has five porticoes. In these lay a multitude of invalids, blind, lame, paralyzed waiting for the moving of the water; for an angel of the Lord went down at certain seasons into the pool, and troubled the water; whoever stepped in first after the troubling of the water was healed of whatever disease he had.
One man was there, who had been ill for thirty-eight years. When Jesus saw him and knew that he had been lying there a long time, he said to him, "Do you want to be healed?' The sick man answered him, "Sir, I have no man to put me into the pool when the water is troubled, and while I am going another steps down before me." Jesus said to him, "Rise, take up your pallet, and walk." And at once the man was healed, and he took up his pallet and walked.
Now that day was the sabbath. So the Jews said to the man who was cured, "It is the sabbath, it is not lawful for you to carry your pallet." But he answered them, 'The man who healed me said to me, "Take up your pallet, and walk.'" They asked him, "Who is the man who said to you, "Take up your pallet, and walk'?" Now the man who had been healed did not know who it was, for Jesus had withdrawn, as there was a crowd in the place.
Afterward, Jesus found him in the temple, and said to him, "See, you are well! Sin no more, that nothing worse befall you." The man went away and told the Jews that it was Jesus who had healed him.