Christ is Risen!
The Fourth Sunday of Pascha
Sunday of the Paralytic
Close to the Sheep's Gate in Jerusalem, there was a pool, which was called the Sheep's Pool. It had five porches, that is, five sets of pillars supporting a domed roof. Under this roof there lay very many sick people with various maladies awaiting the moving of the water. The first person to step in after the troubling of the water was healed immediately of whatever malady he had.
It was there that the paralytic of today's Gospel was lying, tormented by his infirmity of thirty-eight years. When Christ beheld him, He asked him, "Will you be made whole?" And he answered with a quiet and meek voice, "Sir, I have no man, when the water is troubled, to put me into the pool." The Lord said unto him, "Rise, take up your bed, and walk." And straightaway the man was made whole and took up his bed.
Walking in the presence of all, he departed rejoicing to his own house. According to the expounders of the Gospels, the Lord Jesus healed this paralytic during the days of the Passover, when He had gone to Jerusalem for the Feast, and dwelt there teaching and working miracles. According to Saint John the Evangelist, this miracle took place on the Sabbath.
Read more on the Greek Orthodox website.
Looking for a Companion for a Senior
Many widowed and single Seniors look for live-in companions for friendship, help and more. This can be very helpful to both because expenses and chores are shared, less chance to be lonely, and more.
If you know of anyone looking for this kind of situation, please mention it to Fr. Hans.
Baptism Invitation for June 4
Andrew Forgeron, the fiance of Ashley Clark who is the Granddaughter of Pauline Poulos will be baptized at St. Peter's on Saturday, June at 1pm. Anthea Teufel is Godmother. Dr. Zannos Grekos is Godfather. The parish is invited to attend.
A reception follows in the Social Hall immediately following the baptism.
Choir Practice Continues Wednesday, May 25 at 6:00pm
Everyone welcome. Please be on time. Choir practice also held tomorrow (Wednesday) May 18, 2016.
Bible Study Continues Wednesday, May 25 at 7:00pm
We will continue with the books of Acts. Bible Study also held tomorrow (Wednesday) May 18, 2016.
Father's Day Luncheon June 19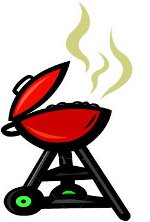 Mark you calendars for June 19 for a Father's Day Luncheon following Divine Liturgy. More details are coming but tentative plans include hot dogs and hamburgers.
Orthodox Wisdom
And then you have the desert. Even there the slayer of mankind tempted the hermits, trying to arouse the passions of greed, lust, and despair. Many fell into the trap, many. At the same time, how many princes and powerful people of this world were saved, and not only saved, but glorified by the Church as saints. They had everything, but their heart did not belong to the corruption of this world, but to the heavenly world.
-Elder Anthony
Look to the end of every involuntary suffering and you will find in it removal of sins.
-St. Mark the Ascetic
St. Maximos points out that the passion of pride consists of two ignorances: the ignorance of the divine power and the ignorance of human weakness. And this double ignorance creates a "confused mind".
—A Night In The Desert Of The Holy Mountain
From the moment an evil thought appears, we should repent and ask God's forgiveness.
—Elder Sergei of Vanves
Want to receive Orthodox Quote of the Day in your email? Sign up here.
Remember in Your Prayers
Maria Karela
Anthony Mourgis
John Simon
John Hansen
Constandina James
Peter Wouralis
James Hord
Bob Smith
Tom and Jean, parents of Patty and Jerry.
How should we pray for the sick? Remember them daily. Say their names and ask God to bestow mercy and grace on them.
Sunday Readings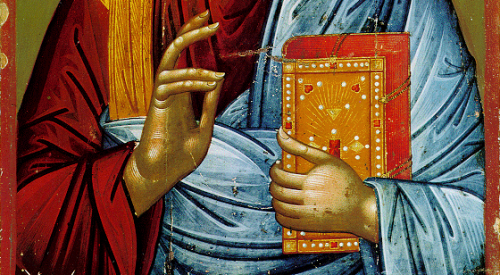 Epistle
Sing praises to our God, sing praises.
Clap your hands, all you nations.
The Reading from the Acts of the Saintly and Pure Apostles. (9:32-42)
In those days, as Peter went here and there among them all, he came down also to the saints that lived at Lydda. There he found a man named Aeneas, who had been bedridden for eight years and was paralyzed. And Peter said to him, "Aeneas, Jesus Christ heals you; rise and make your bed." And immediately he rose. And all the residents of Lydda and Sharon saw him, and they turned to the Lord.

Now there was at Joppa a disciple named Tabitha, which means Dorcas. She was full of good works and acts of charity. In those days she fell sick and died; and when they had washed her, they laid her in an upper room. Since Lydda was near Joppa, the disciples, hearing that Peter was there, sent two men to him entreating him, "Please come to us without delay." So Peter rose and went with them. And when he had come, they took him to the upper room. All the widows stood beside him weeping, and showing tunics and other garments, which Dorcas made while she was with them. But Peter put them all outside and knelt down and prayed; then turning to the body he said, "Tabitha, rise." And she opened her eyes, and when she saw Peter she sat up. And he gave her his hand and lifted her up. Then calling the saints and widows he presented her alive. And it became known throughout all Joppa, and many believed in the Lord.
Gospel
The Reading from the Holy Gospel according to St. John. (5:1-15)
At that time, Jesus went up to Jerusalem. Now there is in Jerusalem by the Sheep Gate a pool, in Hebrew called Bethsaida, which has five porticoes. In these lay a multitude of invalids, blind, lame, paralyzed, waiting for the moving of the water. For an angel of the Lord went down at certain seasons into the pool and troubled the water; whoever stepped in first, after the troubling of the water was healed of whatever disease he had.

One man was there, who had been ill for 38 years. When Jesus saw him and knew that he had been lying there a long time, He said to him, "Do you want to be healed?" The sick man answered Him, "Sir, I have no man to put me into the pool when the water is troubled, and while I am going another steps down before me." Jesus said to him, "Rise, take up your pallet, and walk." And at once the man was healed, and he took up his pallet and walked.

Now that day was the Sabbath. So the Jews said to the man who was cured, "It is the Sabbath, it is not lawful for you to carry your pallet." But he answered them, "The man who healed me said to me, 'Take up your pallet, and walk.'" They asked him, "Who is the man who said to you, 'Take up your pallet, and walk'?" Now the man who had been healed did not know who it was, for Jesus had withdrawn, as there was a crowd in the place. Afterward, Jesus found him in the temple, and said to him, "See, you are well! Sin no more, that nothing worse befalls you." The man went away and told the Jews that it was Jesus Who had healed him.