Christ is Risen!
The Sixth Sunday after Pascha
Sunday of the Blind Man
Sts. Constantine and Helen
O Bestower of light, Who art Light coming forth from Light,
Thou dost give eyes to the man who was blind from his birth, O Word.
The Savior met this man, born blind and incurable after every human effort, while leaving the Temple on the Sabbath. Jesus spat into the dirt, made clay, rubbed it in his eyes and told him to wash in the pool of Siloam, a famous water spring in Jerusalem. The Savior did not send him there because his eyes were covered in clay, nor did the pool have healing power, but instead to test his faith and obedience.
The blind man proclaimed that Jesus healed him, but this confession caused him to be cast out by the enemies of the truth. Even his own parents would not defend him. However, the blind man followed Jesus from that moment forward.
Read more on the Greek Orthodox Archdiocese website.
Sts. Constantine and Helen
This great and renowned sovereign of the Christians was the son of Constantius Chlorus (the ruler of the westernmost parts of the Roman empire), and of the blessed Helen. He was born in 272, in (according to some authorities) Naissus of Dardania, a city on the Hellespont. In 306, when his father died, he was proclaimed successor to his throne. In 312, on learning that Maxentius and Maximinus had joined forces against him, he marched into Italy, where, while at the head of his troops, he saw in the sky after midday, beneath the sun, a radiant pillar in the form of a cross with the words: "By this shalt thou conquer."
The following night, our Lord Jesus Christ appeared to him in a dream and declared to him the power of the Cross and its significance. When he arose in the morning, he immediately ordered that a labarum be made (which is a banner or standard of victory over the enemy) in the form of a cross, and he inscribed on it the Name of Jesus Christ. On the 28th Of October, he attacked and mightily conquered Maxentius, who drowned in the Tiber River while fleeing. The following day, Constantine entered Rome in triumph and was proclaimed Emperor of the West by the Senate, while Licinius, his brother-in-law, ruled in the East.
But out of malice, Licinius later persecuted the Christians. Constantine fought him once and again, and utterly destroyed him in 324, and in this manner he became monarch over the West and the East. Under him and because of him all the persecutions against the Church ceased. Christianity triumphed and idolatry was overthrown. In 325 he gathered the First Ecumenical Council in Nicaea, which he himself personally addressed.
In 324, in the ancient city of Byzantium, he laid the foundations of the new capital of his realm, and solemnly inaugurated it on May 11, 330, naming it after himself, Constantinople. Since the throne of the imperial rule was transferred thither from Rome, it was named New Rome, the inhabitants of its domain were called Romans, and it was considered the continuation of the Roman Empire.
Falling ill near Nicomedia, he requested to receive divine Baptism, according to Eusebius (The Life of Constantine. Book IV, 61-62), and also according to Socrates and Sozomen; and when he had been deemed worthy of the Holy Mysteries, he reposed in 337, on May 21 or 22, the day of Pentecost, having lived sixty-five years, of which he ruled for thirty-one years. His remains were transferred to Constantinople and were deposed in the Church of the Holy Apostles, which had been built by him (see Homily XXVI on Second Corinthians by Saint John Chrysostom).
St. Helen
As for his holy mother Helen, after her son had made the Faith of Christ triumphant throughout the Roman Empire, she undertook a journey to Jerusalem and found the Holy Cross on which our Lord was crucified (see Sept. 13 and 14). After this, Saint Helen, in her zeal to glorify Christ, erected churches in Jerusalem at the sites of the Crucifixion and Resurrection, in Bethlehem at the cave where our Saviour was born, another on the Mount of Olives whence He ascended into Heaven, and many others throughout the Holy Land, Cyprus, and elsewhere.
She was proclaimed Augusta, her image was stamped upon golden coins, and two cities were named Helenopolis after her in Bithynia and in Palestine. Having been thus glorified for her piety, she departed to the Lord being about eighty years of age, according to some in the year 330, according to others, in 336.
Read more on the Greek Orthodox Archdiocese website.
Abbreviated Coffee Hour
Due to the baptism following Liturgy at 1pm, coffee hour will be very brief with only minimal refreshments.
Ascension Divine Liturgy, May 24, 2017 at 6:30pm
We will celebrate the Ascension of Our Lord and Savior Jesus Christ on Ascension Eve, Wednesday, May 24, 2007 at 6:30pm. This evening marks the final day of Pascha.
Calendar At A Glance
May 21, 2017 (Sunday) Baptism of Konnie Yankopolus grandsons at 1:00pm.
May 24, 2017 (Wednesday) Ascension Liturgy (eve) at 6:30pm.
Wisdom From The Elders
If one loses his cross, his life becomes cold and tepid, without cooperation with God.
Metropolitan Saba(Esber)
'The pure of heart will see God,' according to the Lord's infallible word (Mt. 5:8), according to his capacity, receiving as much as his mind can sustain; yet the infinite and incomprehensible nature of the Godhead remains beyond all understanding.
St. Gregory of Nyssa
I realized that we all worry about ourselves too much and that only he who leaves everything to the will of God can feel truly joyous, light, and peaceful.
Elder Thaddeus of Vitovnica
Let us avoid overeating and even satisfaction.
St. Ignatius Brianchaninov
Only those who have interior prayer and watch over their souls receive the gifts of grace.
St. Seraphim of Sarov
A life is meaningful only when it is moving or striving toward Absolute Good."
Bishop Mitrophan (Znosko)
Remember in Your Prayers
Sonya
Kenneth
Carol Ann
Matthew
Gerhard
Valerie
Chrysostom
Tim
Ron
Ivy-Jean
Pat
Christina
Baby Samuel
Jennie
Mary
Baby Kyriake
Maximos
Marian
Photini
Nicholas
Brad William
Ryan
Sarah
Robert Jarvis
Petronia (Wife of Phil Pappas)
Anna Marie Smith Baker
Iris Kuring (Bettina Zifiris' mother)
Constantine Houpis
Ron Chromulak
Beverly Chromulak
Katerina
Dianne
Loucine Kassis
Mary Kassis
Baby Maximus
Annette Star
Christine
Maria
Claire Livaditis
Eva Chandilles
Baby Dani
Scott Nedoff
Anthony Mourgis
John Hansen
Constandina James
James Hord
Bob Smith
Tom and Jean, parents of Patty and Jerry.
How should we pray for the sick? Remember them daily. Say their names (first names are sufficient) and ask God to bestow mercy and grace on them.
Add or remove names and print this list for easy reference during your prayer time on the St. Peter website.
Sunday Readings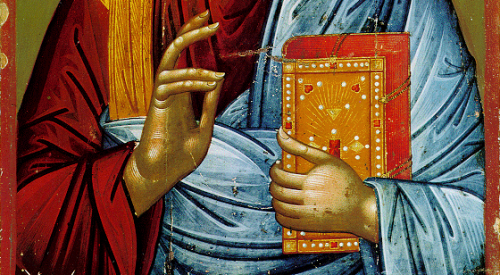 Epistle
For Sts. Constantine and Helen
Their voice has gone out into all the earth.
The heavens declare the glory of God.
The Reading from the Acts of the Saintly and Pure Apostles. (26:1, 12-20)
In those days, King Agrippa said to Paul, "You have permission to speak for yourself." Then Paul stretched out his hand and made his defense: "I journeyed to Damascus with the authority and commission of the chief priests. At midday, O king, I saw on the way a light from heaven, brighter than the sun, shining round me and those who journeyed with me. And when we had all fallen to the ground, I heard a voice saying to me in the Hebrew language, 'Saul, Saul, why do you persecute me? It hurts you to kick against the goads.'

And I said, 'Who art Thou, Lord?' And the Lord said, 'I am Jesus Whom you are persecuting. But rise and stand upon your feet; for I have appeared to you for this purpose, to appoint you to serve and bear witness to the things in which you have seen me and to those in which I will appear to you, delivering you from the people and from the Gentiles, to whom I send you to open their eyes, that they may turn from darkness to light and from the power of Satan to God, that they may receive forgiveness of sins and a place among those who are sanctified by faith in me.'

Wherefore, O King Agrippa, I was not disobedient to the heavenly vision, but declared first to those at Damascus, then at Jerusalem and throughout all the country of Judea, and also to the Gentiles, that they should repent and turn to God and perform deeds worthy of their repentance."
Gospel
For Blind Man Sunday
The Reading from the Holy Gospel according to St. John. (9:1-38)
At that time, when Jesus was passing, He saw a man blind from his birth. And His Disciples asked Him, "Rabbi, who sinned, this man or his parents, that he was born blind?" Jesus answered, "It was not that this man sinned, or his parents, but that the works of God might be made manifest in him. I must work the works of Him Who sent me, while it is day; night comes, when no one can work. As long as I am in the world, I am the light of the world." As He said this, he spat on the ground and made clay of the spittle and anointed the man's eyes with the clay, saying to him, "Go, wash in the pool of Siloam" [which means Sent]. So he went and washed and came back seeing.

The neighbors and those who had seen him before as a beggar, said, "Is not this the man who used to sit and beg?" Some said, "It is he"; others said, "No, but he is like him." He said, "I am the man." They said to him, "Then how were your eyes opened?" He answered, "The man called Jesus made clay and anointed my eyes and said to me, 'Go to Siloam and wash'; so I went and washed and received my sight." They said to him, "Where is He?" He said, "I do not know." They brought to the Pharisees the man who had formerly been blind. Now it was a Sabbath day when Jesus made the clay and opened his eyes. The Pharisees again asked him how he had received his sight. And he said to them, "He put clay on my eyes, and I washed, and I see."

Some of the Pharisees said, "This man is not from God, for He does not keep the Sabbath." But others said, "How can a man who is a sinner do such signs?" There was a division among them. So they again said to the blind man, "What do you say about Him, since He has opened your eyes?" He said, "He is a prophet."

The Jews did not believe that he had been blind and had received his sight, until they called the parents of the man

who had received his sight, and asked them, "Is this your son, who you say was born blind? How then does he now see?" His parents answered, "We know that this is our son, and that he was born blind; but how he now sees we do not know, nor do we know who opened his eyes. Ask him; he is of age, he will speak for himself." His parents said this because they feared the Jews, for the Jews had already agreed that if anyone should confess Him to be Christ, he was to be put out of the synagogue. Therefore his parents said, "He is of age, ask him."

So for the second time they called the man who had been blind, and said to him, "Give God the praise; we know that this man is a sinner." He answered, "Whether He is a sinner, I do not know; one thing I know, that though I was blind, now I see." They said to him, "What did He do to you? How did He open your eyes?" He answered them, "I have told you already, and you would not listen. Why do you want to hear it again? Do you too want to become His disciples?" And they reviled him, saying, "You are His disciple, but we are disciples of Moses. We know that God has spoken to Moses, but as for this man, we do not know where He comes from."

The man answered, "Why, this is a marvel! You do not know where He comes from, and yet He opened my eyes. We know that God does not listen to sinners, but if anyone is a worshiper of God and does His will, God listens to him. Never since the world began has it been heard that anyone opened the eyes of a man born blind. If this man were not from God, He could do nothing."

They answered him, "You were born in utter sin, and would you teach us?" And they cast him out. Jesus heard that they had cast him out, and having found him He said, "Do you believe in the Son of God?" He answered, "And Who is He, Sir, that I may believe in Him?" Jesus said to him, "You have seen Him, and it is He who speaks to you." He said, "Lord, I believe"; and he worshiped Him.