Third Sunday of Great Lent
Veneration of the Precious and Life Giving Cross
Divine Liturgy of St. Basil the Great
St. Gregory Palamas, Abp. Of Thessaloniki
Each of the Sundays of Great Lent has its own special theme. This Sunday's theme is that in the cross of Christ crucified lies both "the power of God and the wisdom of God" for those being saved (1 Cor 1:24). On this Sunday in the middle of the Lenten season, the cross stands in the middle of the church, not merely to remind the faithful of Christ's redemption and for them to keep the goal of their Lenten efforts, but also as a reminder: "He who does not take up his cross and follow me is not worthy of me" (Mt 10:38).
Historical theme
The historical theme, as seen in the hymnology, is the victory and joy of the cross, not the suffering. The Church fathers equate the life-giving cross with the tree of life and plant it in the middle of the Lenten pilgrimage. It was the tree that was planted in Paradise; it is to remind the faithful of both Adam's bliss and how he was deprived from it.
Personal theme
For the catechumens of the early church, and the faithful preparing for Pascha today, the spiritual theme starts to change from personal faith, and personal effort, to Christ. The Church teaches that it is Christ's cross that saves. One cannot take up his own cross and follow Christ unless one has Christ's cross which he took up to save mankind. Partaking of this tree, one will no longer die, but will be kept alive.
This is done to refresh, reassure and to encourage those participating in Great Lent. The Church equates the appearance of the cross at this time to the banners and symbols that precede the return of a victorious king. The Epistle reading is from Hebrews 4:14-5:6 and explains Christ's priesthood, and the Gospel lesson from Mark 8:34-9:1 ends with And He said to them, "Assuredly, I say to you that there are some standing here who will not taste death till they see the kingdom of God present with power."
From Orthodoxwiki website.
Fr. Thomas Hopko on "Taking Up Your Cross"
On the third Sunday of Great Lent, we concentrate on the Cross of Christ, and Fr. Tom helps us understand what it means to take up our cross.
Listen here:
Parents: Bring Your Children on Lazarus Saturday
The Raising of Lazarus
We will begin with the Liturgy (where Fr. Hans will explain the importance of the day to the children), a pancake breakfast, making palm crosses to be distributed the next day at Palm Sunday and confession for the kids.
Please sign up in the Social Hall or on the website.
Lenten Service Books
Salutation and Akathist (Friday evening services)
The Akathist Hymn to the Theotokos in a new translation by Father Seraphim Dedes, presented in Greek and English on opposite pages. Text is metered.
Order your copy through the Holy Cross Bookstore either online or call (800) 245-0599. We will have a few extra copies at Church for visitors.
Holy Week (Palm Sunday Evening through Agape Service)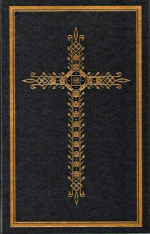 We will be using the Holy Week Service Book of the Antiochian Archdiocese during Holy Week. If you would like one for private use please order it from Ancient Faith Publishing. The price is $35.00.
Includes the three Bridegroom services, the three Liturgies of the Presanctified Gifts; the service of Holy Unction; the Vesperal Divine Liturgy and 12 Passion Gospels of Holy Thursday; the Royal Hours, Vespers, and Lamentations of Holy Friday; the Vesperal Divine Liturgy of Holy Saturday morning; Great and Holy Pascha; and the Agape Vespers of Sunday afternoon.
Printing Services from Your Computer
Some of the services we use can be found on the internet. This page lists all the services that you can print out and use. Most of the services we use not found in books will be taken from here.
St. Basil Liturgy Celebrated During Lent
During the Lenten Sundays we celebrate St. Basil's Liturgy instead of our usual St. John Chrysostom Liturgy. St. John's liturgy is derived from St. Basil's but the prayers are a bit shorter.
Lenten Suppers — Sign-Ups and Program
We will hold a light Lenten supper following each Wednesday Presanctified Liturgy during Lent. This will be something like lentil soup, bread and fruit — very simple.
A sign up sheet is posted on the board in the Social Hall. The dates are March 1, 8, 15, 22, 29.
We also will hold brief presentations during the suppers. This year we look at Monasticism. The schedule this year:
March 15 Trude Mancini talks about her son's life on Mt. Athos
March 22 Monasticism in the United States — A video on the monastery in Arizona
March 29 From the Little Mountain — A video on a hermitage in West Virginia
Sign up for Palm Sunday Brunch (Sunday April 9, 2017)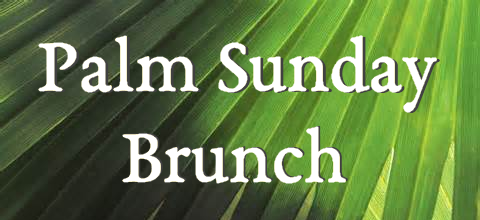 St. Peter's will hold a Palm Sunday Brunch following the Liturgy on Palm Sunday, April 24. This is a great time of fellowship for all. We need a count so please sign up at Church this Sunday or submit your names on the website.
Agape Service Pascha Dinner (Sunday April 16, 2017)
On Pascha Sunday we will come together again after the Pascha service to celebrate Agape Vespers (Sunday, May 1 2015), a very short service followed by a community wide Pascha dinner. This will be good!
Like all dinners however, we need a count. Sign up in the Social Hall or let us know through the website if you will be attending.
Social Hall Lenten Food
In order to stay faithful to our Lenten disciplines, during Lent we will eliminate animal products (meat, cheese, eggs, fish, etc.) from our refreshments following the Divine Liturgy. Shell fish (shrimp, etc.) and oil are still allowed.
Orthodox Christian Fellowship Started
Attention college age and above Orthodox Christians in SW Florida. Members of St. Peter's have started an Orthodox Christian Fellowship open to anyone who would like to join. They meet twice a month. Many plans are in the works including activities, occasional bible studies and more. This is a great way to get to know Orthodox Christians your own age!
Events will be announced in the newsletter and on the website and the OCF phone text list. Questions? Want to join? Contact Jeremiah at 504-256-8768 (text him), Erika at 412-716-2899, or Julia at 239-450-2400.
Calendar At A Glance
Choir Practice every Tuesday at 6:00pm and Bible Study every Wednesday at 7:00pm unless cancelled as noted below. Divine Liturgy every Sunday at 9:30. Extra services noted below.
March 13 (Monday) Great Compline 6:30pm
March 15 (Wednesday) Presanctified Liturgy 6:30pm
March 17 (Friday) Third Stanza Akathist Hymn 6:30pm
March 19 (Sunday) Veneration of the Cross
March 20 (Monday) Great Compline 6:30pm
March 22 (Wednesday) Presanctified Liturgy 6:30pm
March 24 (Friday) Great Vespers Annunciation / Fourth Stanza Akathist Hymn 6:30pm
March 25 (Saturday) Annunciation Divine Liturgy 9:30pm
Full Lenten schedule available on the website.
Wisdom From The Elders
A man can be harmed by another only through the causes of the passions which lie within himself. It is for this reason that God, the Creator of all and the Doctor of men's souls, who alone has accurate knowledge of the soul's wounds, does not tell us to forsake the company of men; He tells us to root out the causes of evil within us and to recognize that the soul's health is achieved not by a man's separating himself from his fellows, but by his living the ascetic life in the company of holy men. When we abandon our brothers for some apparently good reason, we do not eradicate the motives for dejection but merely exchange them, since the sickness which lies hidden within us will show itself again in other circumstances
St. John Cassian
Remain in prayer, persevere, go through the day without sin. All the rest will be given by God Himself.

Archimandrite Sophrony of Essex
To be negative and critical is no good, whether it comes from the clergy or the people. Let us be at peace at all times, in whatever we do and say. The Church needs to become a holy place where God is.
His Eminence, Metropolitan JOSEPH
A monk said to St. Sisoes: "I would like to preserve my heart but I cannot," to which the elder responded: "How can we preserve the heart when the gate to our heart, the tongue stands open?"
St. Sisoes
People speak sometimes about the "bestial" cruelty of man, but that is terribly unjust and offensive to beasts, no animal could ever be so cruel as a man, so artfully, so artistically cruel.
I love mankind, he said, "but I find to my amazement that the more I love mankind as a whole, the less I love man in particular.
Fyodor Dostoyevsky
Such is the power of love: it embraces, and unites, and fastens together not only those who are present and near, and visible, but also those who are distant. And neither time, not separation in space, nor anything else of that kind, can break up and divide in pieces the affection of the soul.
St. John Chrysostom
Remember in Your Prayers
Tim
Ron
Ivy-Jean
Pat
Christina
Baby Samuel
Victoria
Jennie
Mary
Baby Kyriake
Maximos
Marian
Photini
Nicholas
Brad William
Ryan
Sarah
Robert Jarvis
Petronia (Wife of Phil Pappas)
Anna Marie Smith Baker
Iris Kuring (Bettina Zifiris' mother)
Constantine Houpis
Ron Chromulak
Beverly Chromulak
Katerina
Dianne
Loucine Kassis
Mary Kassis
Baby Maximus
Annette Star
Christine
Maria
Claire Livaditis
Eva Chandilles
Baby Dani
Scott Nedoff
Anthony Mourgis
John Hansen
Constandina James
James Hord
Bob Smith
Tom and Jean, parents of Patty and Jerry.
How should we pray for the sick? Remember them daily. Say their names (first names are sufficient) and ask God to bestow mercy and grace on them.
Add or remove names and print this list for easy reference during your prayer time on the St. Peter website.
Sunday Readings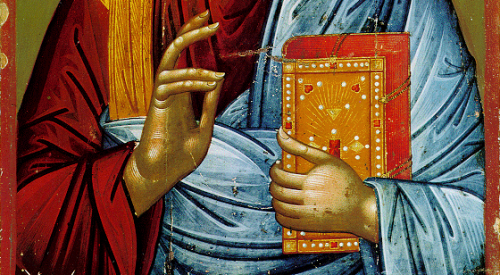 Epistle
For the Third Sunday of Great Lent
O Lord, save Thy people and bless Thine inheritance.
To Thee, O Lord, have I cried, O my God.
The Reading from the Epistle of St. Paul to the Hebrews. (4:14-5:6)
Brethren, since we have a High Priest, Who has passed through the heavens, Jesus, the Son of God, let us hold fast our confession. For we have not a high priest who is unable to sympathize with our weaknesses, but One Who in every respect has been tempted as we are, yet without sin. Let us then with confidence draw near to the throne of grace, that we may receive mercy and find grace to help in time of need.

For every high priest chosen from among men is appointed to act on behalf of men in relation to God, to offer gifts and sacrifices for sins. He can deal gently with the ignorant and wayward, since he himself is beset with weakness. Because of this he is bound to offer sacrifice for his own sins as well as for those of the people. And one does not take the honor upon himself, but he is called by God, just as Aaron was.

So also Christ did not exalt Himself to be made a high priest, but was appointed by Him Who said to Him, "Thou art My Son, today I have begotten Thee"; as He says also in another place, "Thou art a priest forever, after the order of Melchizedek."
Gospel
For the Third Sunday of Great Lent
The Reading from the Holy Gospel according to St. Mark. (8:34-9:1)
The Lord said, "If any man would come after Me, let him deny himself and take up his cross and follow Me. For whoever would save his life will lose it; and whoever loses his life for My sake and the Gospel's will save it. For what does it profit a man, to gain the whole world and forfeit his soul? For what can a man give in return for his soul?

For whoever is ashamed of Me and My words in this adulterous and sinful generation, of him will the Son of man also be ashamed, when He comes in the glory of His Father with the holy angels." And Jesus said to them, "Truly, I say to you, there are some standing here who will not taste death before they see the Kingdom of God come with power."