Memorial Prayers for our Loved Ones this Sunday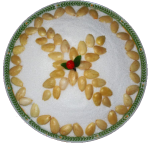 Since we cannot do Saturday of the Souls because we don't have a permanent worship space yet, we will memorialize our loved ones following the Divine Liturgy this Sunday.
Place bring a list of the names of family members you would like remembered. We will have a table prepared for kollyva.
Pot Luck on Clean Monday — March 18 at Hunter's Ridge
On Monday, March 18 we will mark the beginning of Lent with a pot-luck dinner at Hunter's Ridge, the development where Bill and Mary Copeland live (get directions). The pot luck starts at 5:30pm.
Remember that Lent starts the Monday so no meat dishes.
Easy Directions: I 75 to Bonita Beach Road East, Hunters Ridge is first right, follow drive to fountain (or ask at the gate), circle around fountain, club house is on on the Northeast side of the fountain.
Please call or email Mary Copeland (239-498-1331 wilmarcope@embarqmail.com) Mary Copeland or Mary Jarvis (239-263-9292 jamjar4mb@gmail.com) to let them know you will be coming.
The pot lucks are great fellowship and the food is always top notch. You will enjoy it.
Sunday of Orthodoxy on March 24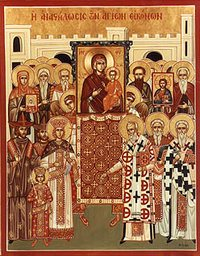 The Lenten Sundays begins with the Triumph of Orthodoxy which marks the resolution of the iconoclast (icon breakers) and iconodule (icon-lover) conflict. The Orthodox world was torn with this conflict when ideas that filtered in from the Muslim world affected Orthodox belief.
Basically the conflict concerned the Second Commandment (of the 10 Commandments) which says:
Thou shalt not make unto thee any graven image, or any likeness of any thing that is in heaven above, or that is in the earth beneath, or that is in the water under the earth. Thou shalt not bow down thyself to them, nor serve them: for I the Lord thy God am a jealous God, visiting the iniquity of the fathers upon the children unto the third and fourth generation of them that hate me; And shewing mercy unto thousands of them that love me, and keep my commandments.
The iconoclasts taught that icons were graven images. What they did not understand was that Jesus was the image (iekon or icon in Greek; see Colossians 1:15) of the Father. You cannot make an image of the Father because the Father was never Incarnate, He never took on human flesh. You can make an icon of the Son however because He took on human flesh.
What the argument boils down to is that the iconoclasts ended up denying that Jesus came in the flesh, that he was Incarnate of the Theotokos. But if Jesus was not incarnate, then salvation would not be possible. If salvation was not really possible, then the Orthodox faith was empty. This is why the Church calls the victory over iconoclasm the "Triumph of Orthodoxy."
On that Sunday we will process with the icons in the Church following Divine Liturgy. All children are invited to bring their icons and take part in the procession.
If you would like to learn more about the Sunday of Orthodoxy and Great Lent go to the Antiochian Archdiocese website.
Orthodoxy 101 Resumes
After a two year hiatus, Orthodoxy 101 will begin on the Sunday evenings of Great Lent starting at 6:30.
The fist session will be held at St. Paul's Antiochian Orthodox Church (get directions) on Sunday, March 24. That evening we will celebrate the Vespers of the Annunciation and the session will follow.
What is Orthodoxy 101. It is a teaching series where you get to ask any question that you want. If you feel a little sheepish asking questions (some people do), we will also have paper and pencil where you can write out your question anonymously.
On the following Sundays no Vespers, just the sessions.
All sessions (including Vespers and class on the First Sunday of Lent) start at 6:30.
No Bible Studies Until after Pascha

Since we have more services during Great Lent, bible studies are on hold until after Pascha.
Sunday Scripture Readings
Epistle
Romans 13:11-14:4 (Cheesefare Sunday)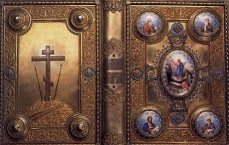 Sing praises to our God, sing ye: sing praises to our king, sing ye.
O clap your hands, all ye nations.
The Reading is from Saint Paul's Letter to the Romans
BRETHREN, salvation is nearer to us now than when we first believed; the night is far gone, the day is at hand. Let us then cast off the works of darkness and put on the armor of light; let us conduct ourselves becomingly as in the day, not in reveling and drunkenness, not in debauchery and licentiousness, not in quarreling and jealousy. But put on the Lord Jesus Christ, and make no provision for the flesh, to gratify its desires.

As for the man who is weak in faith, welcome him, but not for disputes over opinion. One believes he may eat anything, while the weak man eats only vegetables. Let not him who eats despise him who abstains, and let not him who abstains pass judgment on him who eats; for God has welcomed him. Who are you to pass judgment on the servant of another? It is before his own master that he stands or falls. And he will be upheld, for God is able to make him stand.
Gospel
Matthew 6:14-21 (Cheesefare Sunday)
The Reading of the Holy Gospel according to St. Matthew
If you forgive men their trespasses, your heavenly Father also will forgive you; but if you do not forgive men their trespasses, neither will your Father forgive your trespasses.

And when you fast, do not look dismal, like the hypocrites, for they disfigure their faces that their fasting may be seen by men. Truly, I say to you, they have their reward. But when you fast, anoint your head and wash your face, that your fasting may not be seen by men but by your Father who sees in secret; and your Father who sees in secret will reward you openly.

Do not lay up for yourselves treasures on earth, where moths and rust consume and where thieves break in and steal, but lay up for yourselves treasures in heaven, where neither moth nor rust consumes, and where thieves do not break in and steal. For where your treasure is, there will your heart be also.