The Sunday of Forgiveness / The Expulsion from the Garden / Cheesefare Sunday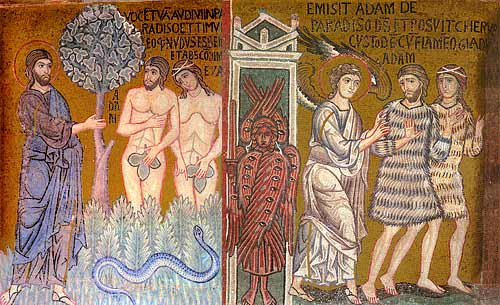 On Cheese-Fare Sunday, we also commemorate the expulsion of Adam and Eve from Paradise, entering into the Lenten fast in remembrance of mankind's separation from God through disobeying his commandment to fast from the fruit of the tree.
Furthermore, many faithful attend Forgiveness Vespers on Sunday evening, asking forgiveness from each other in accordance with the Lord's words: If you forgive men their trespasses, your heavenly Father will forgive you; but if you do not forgive men their trespasses, neither will your heavenly Father forgive you your trespasses (Matt. 6:14).
Learn more on the Greek Orthodox Archdiocese website.
How and Why Do We Fast?
By Fr. Steven Ritter
Fasting is, according to St. John Chrysostom, the third most important element in our spiritual practices outside the worship of God in community.
What are the other two? They are almsgiving, which indicates a mature spiritual Christian's willingness to help others, even at the expense of his or her own well-being, and prayer, which should be self-evident as the primary means by which we commune with God and He forms His will in us.
However, what we normally hear about most at this time of the year is fasting, and in fact our Lenten season also bears the name of the Holy and Great Fast.
Read more on the St. Peter the Apostle website.
For a complete fasting schedule, visit the website.
Lenten Schedule This Week
Saturday February 21
9:30am Saturday of the Souls
Sunday February 22
9:00am Royal Hours
9:30am Divine Liturgy
5:00 Forgiveness Vespers
Monday February 23
6:00pm — Compline and Canon of St. Andrew
Tuesday February 24
6:00pm — Compline and Canon of St. Andrew
Wednesday February 25
6:00pm — Pre-Sanctified Liturgy
Thursday February 26
6:00pm — Compline and Canon of St. Andrew
Friday February 27
Akathist Hymn
Learn More About Lent
Baptism of Samuel Tewis
Samuel Tewis, brother of Jeremiah Tewis will be baptized on Saturday, February 28 at 2:00pm. Godfather is Jack Long.
Many of you will remember Samuel during Jeremiah's hospital stay when he would give us the "Jeremiah Report" — the updates on Jeremiah's progress when he was still in the hospital.
He is currently living in Boca Raton and has been attending Catechumen classes there.
Everyone is invited to attend as witnesses of this joyful event.
No Bible Study During Lent
We will discontinue Bible Study until after Pascha.
Remember in Your Prayers
Angela Long who is recovering from pneumonia.
John, the brother of Pauline Poulos who is suffering from cancer.
Pat and Milam Evanoff. Milam is unable to make it to Church.
Tom and Jean, parents of Patty and Jerry.
Greg and his wife Margaret. Greg is the founder of Project Mexico and has cancer.
How should we pray for the sick? Remember them daily. Say their names and ask God to bestow mercy and grace on them.
The Sunday Scripture Readings
The Gospel Reading
The Sunday of Forgiveness
The Reading from the Holy Gospel according to St. Matthew. (6:14-21)
The Lord said to His Disciples: If you forgive men their trespasses, your heavenly Father also will forgive you; but if you do not forgive men their trespasses, neither will your Father forgive your trespasses.

And when you fast, do not look dismal, like the hypocrites, for they disfigure their faces that their fasting may be seen by men. Truly, I say to you, they have received their reward. But when you fast, anoint your head and wash your face, that your fasting may not be seen by men but by your Father Who is in secret; and your Father Who sees in secret will reward you.

Do not lay up for yourselves treasures on earth, where moth and rust consume and where thieves break in and steal, but lay up for yourselves treasures in heaven, where neither moth nor rust consumes and where thieves do not break in and steal. For where your treasure is, there will your heart be also.
The Epistle Reading
The Sunday of Forgiveness
Sing praises to our God, sing praises.
Sing praises to our King, sing praises.
O clap your hands, all ye nations.
The Reading from the Epistle of St. Paul to the Romans. (13:11-14:4)
Brethren, salvation is nearer to us now than when we first believed; the night is far gone, the day is at hand. Let us then cast off the works of darkness and put on the armor of light; let us conduct ourselves becomingly as in the day, not in reveling and drunkenness, not in debauchery and licentiousness, not in quarreling and jealousy.

But put on the Lord Jesus Christ, and make no provision for the flesh, to gratify its desires. As for the man who is weak in faith, welcome him, but not for disputes over opinions. One believes he may eat anything, while the weak man eats only vegetables. Let not him who eats despise him who abstains, and let not him who abstains pass judgment on him who eats; for God has welcomed him.

Who are you to pass judgment on the servant of another? It is before his own master that he stands or falls. And he will be upheld, for the Master is able to make him stand.