Fourth Sunday after Pentecost
Fourth Sunday of Matthew
Parish Feast Day Liturgy Sts. Peter and Paul on Wednesday, June 28, at 6:30pm
Sts. Peter and Paul
The Feast of our Parish is on Thursday, June 29. We will celebrate with a Divine Liturgy on Wednesday, June 28 starting at 6:30pm. We celebrate on the eve of the feast day so that more people can attend.
The Feast of Saints Peter and Paul or Solemnity of Saints Peter and Paul is a liturgical feast in honour of the martyrdom in Rome of the apostles Saint Peter and Saint Paul, which is observed on 29 June. The celebration is of ancient origin, the date selected being the anniversary of either their death or the translation of their relics.
Who is St. John Maximovitch the Wonder Worker?
St. John Maximovitch the Wonder Worker
The biography below is longer than what is usually published but that is because it is important to know who St. John's history. He has performed miracles at St. Peter's which is why he is on our pillar of miracle working saints to the left of our Holy Table (altar).
For example, once a man who was in a desperate need of a job called me (Fr. Hans). I didn't know what to do or say or how to help him so I told I would go to Church and pray in front of the icon of St. John to help him. I prayed that morning and a few hours later he got a call from a company where he did not even apply for a job. The next day he went in for an interview and they told him they would take a week to decide whether they would hire him. A few hours after the interview he got a call (he was stuck in a traffic jam) telling him to report for work the next day.
St. John is very good for prayers like this but he is also a healer and performs other kinds of miracles. That is why he has the title "Wonder Worker." That is also why his icon is located among the other healers in our parish.

The future St. John was born on June 4, 1896, in the southern Russian village (current day Ukraine) of Adamovka in Kharkov province to pious aristocrats, Boris and Glafira Maximovitch. He was given the baptismal name of Michael, after the Holy Archangel Michael. In his youth, Michael was sickly and had a poor appetite, but he displayed an intense religious interest. He was educated at the Poltava Military School (1907-14), Kharkiv Imperial University, from which he received a law degree (in 1918), and the University of Belgrade (where he completed his theological education in 1925).
He and his family fled their country as the Bolshevik revolutionaries descended on the country, emigrating to Yugoslavia. There, he enrolled in the Department of Theology of the University of Belgrade. He was tonsured a monk in 1926 by Metropolitan Anthony (Khrapovitsky) of Kharkov (later the first primate of the Russian Orthodox Church Outside of Russia). Metr. Anthony later in 1926 ordained him hierodeacon. Bishop Gabriel of Chelyabinsk ordained him hieromonk on November 21, 1926. Subsequent to his ordination he began an active life of teaching in a Serbian high school and serving, at the request of local Greeks and Macedonians, in the Greek language. With the growth of his popularity, the bishops of the Russian Church Aboard resolved to elevate him to the episcopate.
Hieromonk John was consecrated bishop on May 28, 1934, with Metr. Anthony serving as principal consecrator, after which he was assigned to the Diocese of Shanghai. Twelve years later he was named Archbishop of China. Upon his arrival in Shanghai, Bp. John began working to restore unity among the various Orthodox nationalities. In time, he worked to build a large cathedral church that was dedicated to Surety of Sinners Icon to the Mother of God, with a bell tower and large parish house. Additionally, he inspired many activities: building of churches, hospitals, and orphanages among the Orthodox and Russians of Shanghai. He was intensely active, constantly praying and serving the daily cycle of services, while also visiting the sick with the Holy Gifts. He often would walk barefooted even in the coldest days. Yet to avoid the appearance of secular glory, he would pretend to act the fool.
With the end of World War II and the coming to power of the Communists in China, Bp. John led the exodus of his community from Shanghai in 1949. Initially, he helped some 5,000 refugees to a camp on the island of Tubabao in the Philippines, while he travelled successfully to Washington, D.C., to lobby to amending the law to allow these refugees to enter the United States. It was while on this trip that Bp. John took time to establish a parish in Washington dedicated to St. John the Forerunner.
In 1951, Abp. John was assigned to the Archdiocese of Western Europe with his cathedra in Paris. During his time there, he also served as archpastor of the Orthodox Church of France, whose restored Gallican liturgy he studied and then celebrated. He was the principal consecrator of the Orthodox Church of France's first modern bishop, Jean-Nectaire (Kovalevsky) of Saint-Denis, and ordained to the priesthood the man who would become its second bishop, Germain (Bertrand-Hardy) of Saint-Denis.
In 1962, Abp. John was assigned to the Diocese of San Francisco, succeeding his long time friend Abp. Tikhon. Abp. John's days in San Francisco were to prove sorrowful as he attempted to heal the great disunity in his community. He was able to bring peace such that the new cathedral, dedicated to the Joy of all Who Sorrow Icon of the Mother of God, was completed.
Learn more about St. John and some of the miracles he performed on the Pravoslavie website.
Interfaith Charities Reaches Out to St. Peter's
Interfaith Charities reached out to us last week to provide peanut butter, jelly, and Ramen noodles to feed hungry kids in our area this summer. When school gets out, the need gets greater.
Please bring these items to church and we will get them to Interfaith Charities. St. Peter's is committed to meeting the needs of people locally and Interfaith Charities is one way we fulfill that commission.
Learn more about Interfaith Charities on their website.
The Apostles Fast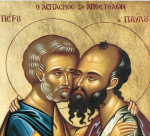 From the Monday after Pentecost until the Feast Day of Sts. Peter and Paul (June 29) is a fasting period. The normal rules of fasting apply (no meat and dairy products, using the same disciplines we used for Great Lent). Many people do not practice this fast but nevertheless it is part of the Orthodox Liturgical calendar.
Change in Plans: A Light Social Hall This Sunday
We announced last Sunday that Social Hall was cancelled.
Plans have changed and we will have a light Social Hall following Liturgy this coming Sunday.
Parish Portraits: Introducing George Chionis
George Chionis, a loved and valued parishioner, is a son of the Mid-West. The youngest of six children, George was born in Chicago in 1931. He is the offspring of Greek immigrants; his mother and father, seeking opportunities in America, migrated to the middle of the country. George's hard working father began as a meat cutter in Chicago and soon opened his own grocery store.
George remembers that that the four boys in his family worked in the grocery store after school. No baseball or sports activities for them because they immediately went to work, helping their father at the store.
Read George's full story on the St. Peter website.
Coming in September: Through the Bible in One Year

Would you like to read the entire bible? Would you like to take on this challenge with friends for encouragement and support?
On September 1, the start of the new Church Year, St. Peter's will start a program to read the bible in one year. Information will be posted on the website in August.
Start thinking about it now.
Calendar At A Glance
June 28, 2017 (Wednesday) 6:30pm Sts. Peter and Paul Liturgy
Wisdom From The Elders
Wherefore on no account suffer any evil habit to master thee; but, while it is yet young, pluck the evil root out of thine heart, lest it fasten on and strike root so deep that time and labor be required to uproot it.

St. John Damascene
Indeed, the Fathers teach that the ascent to Heaven is connected with the descent into ourselves. The more we sink our attention deep into the soul, the more we find our secret heart; through repentance the Kingdom of Heaven descends into the heart and makes it Paradise and Heaven.
Hierotheos Vlakos
In order to acquire humility, be silent when you are mocked and when they are angry with you, and pray within yourself the prayer "O Theotokos and Virgin."
Archbishop Seraphim (Sobolev) of Bogucharsk
I saw the snares that the enemy spreads out over the world and I said groaning, "What can get through from such snares?" Then I heard a voice saying to me, "Humility."
St. Anthony the Great
Whosoever rejects the fasts, deprives himself and others of weapons against his own much-suffering flesh and against the devil, who have power over us especially as the result of our intemperance.
St. John of Kronstadt
Remember in Your Prayers
Katherine
Douglas
Corwin
Jim
Tracy
John
Eva W.
John Dusckas
Barbara
Melissa
David
Lisa
Nancy
Bob
Angela
James L.
Anthony
Marcie
Michele
Sonya
Kenneth
Carol Ann
Matthew
Gerhard
Valerie
Chrysostom
Tim
Ron
Ivy-Jean
Pat
Christina
Baby Samuel
Jennie
Mary
Baby Kyriake
Maximos
Marian
Photini
Nicholas
Brad William
Ryan
Sarah
Robert Jarvis
Petronia (Wife of Phil Pappas)
Anna Marie Smith Baker
Iris Kuring (Bettina Zifiris' mother)
Constantine Houpis
Ron Chromulak
Beverly Chromulak
Katerina
Dianne
Loucine Kassis
Mary Kassis
Baby Maximus
Annette Star
Christine
Maria
Claire Livaditis
Eva Chandilles
Baby Dani
Scott Nedoff
Anthony Mourgis
John Hansen
Constandina James
James Hord
Bob Smith
Tom and Jean
How should we pray for the sick? Remember them daily. Say their names (first names are sufficient) and ask God to bestow mercy and grace on them.
Add or remove names and print this list for easy reference during your prayer time on the St. Peter website.
Sunday Readings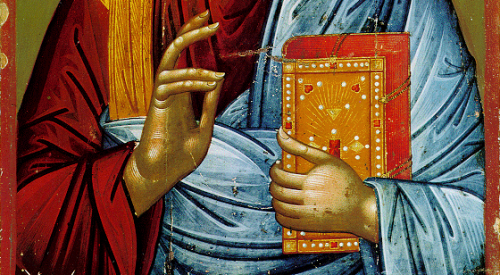 Epistle
For the Fourth Sunday after Pentecost
My soul doth magnify the Lord, and my spirit doth rejoice in God my Savior.
For He hath regarded the lowliness of His servant.
The Reading from the Epistle of St. Paul to the Hebrews. (9:1-7)
Brethren, even the first covenant had regulations for worship and an earthly sanctuary. For a tent was prepared, the outer one, in which were the lamp stand and the table and the bread of the Presence; it is called the Holy Place.

Behind the second curtain stood a tent called the Holy of Holies, having the golden altar of incense and the ark of the covenant covered on all sides with gold, which contained a golden urn holding the manna, and Aaron's rod that budded, and the tables of the covenant; above it were the cherubim of glory overshadowing the mercy seat. Of these things we cannot now speak in detail.

These preparations having thus been made, the priests go continually into the outer tent, performing their ritual duties; but into the second only the high priest goes, and he but once a year, and not without taking blood which he offers for himself and for the errors of the people.
Gospel
For the Fourth Sunday of Matthew
The Reading from the Holy Gospel according to St. Matthew. (8:5-13)
At that time, as Jesus entered Capernaum, a centurion came forward to him, beseeching Him and saying, "Lord, my servant is lying paralyzed at home, in terrible distress." And Jesus said to him, "I will come and heal him." But the centurion answered Him, "Lord, I am not worthy to have you come under my roof; but only say the word, and my servant will be healed. For I am a man under authority, with soldiers under me; and I say to one, 'Go,' and he goes, and to another, 'Come,' and he comes, and to my slave, 'Do this,' and he does it."
When Jesus heard him, He marveled, and said to those who followed him, "Truly, I say to you, not even in Israel have I found such faith. I tell you, many will come from east and west and sit at table with Abraham, Isaac, and Jacob in the Kingdom of Heaven, while the sons of the kingdom will be thrown into the outer darkness; there men will weep and gnash their teeth." And to the centurion Jesus said, "Go; be it done for you as you have believed." And the servant was healed at that very moment.