Third Sunday after Pentecost
Third Sunday of Matthew
A Prayer for the Granting of Prayer
The following is a prayer written by St. John of Kronstadt to pray if you want your prayer to deepen. St. John was a Russian Orthodox priest who prayed deeply. Many miracles are attributed to his prayers.
O All-merciful Lord!
Grant me the divine gift of holy prayer, flowing from the depth of my heart.
Gather together the dispersed thoughts of my mind, that it may always strive towards its Creator and Saviour.
Destroy the burning arrows of the evil one, which tear me away from Thee.
Quench the flame of the passionate thoughts that devour me during prayer.
Cover me with the grace of Thy Most-holy Spirit, that to the very end of my sinful life I may love Thee alone with all my heart, all my soul and mind, and all my strength, and in the hour when my soul takes leave of my mortal body, O Sweetest Jesus, take into Thy hands my spirit when Thou comest into Thy Kingdom.

Amen.
Learn more about St. John on the Orthodoxwiki website.
The Apostles Fast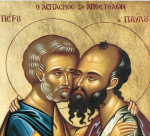 the same disciplines we used for Great Lent). Many people do not practice this fast but nevertheless it is part of the Orthodox Liturgical calendar.
Fr. Hans Our of Town
Fr. Hans will be out of town this Tuesday, June 20, to Saturday, June 24.
Parish Portraits: Introducing George Chionis
is mother and father, seeking opportunities in America, migrated to the middle of the country. George's hard working father began as a meat cutter in Chicago and soon opened his own grocery store.
George remembers that that the four boys in his family worked in the grocery store after school. No baseball or sports activities for them because they immediately went to work, helping their father at the store.
Read George's full story on the St. Peter website.
Coming in September: Through the Bible in One Year

Would you like to read the entire bible? Would you like to take on this challenge with friends for encouragement and support?
On September 1, the start of the new Church Year, St. Peter's will start a program to read the bible in one year. Information will be posted on the website in August.
Start thinking about it now.
Calendar At A Glance
June 20-24, 2017 (Tuesday-Saturday) Fr. Hans Out of Town
Wisdom From The Elders
Anyone who is sick should seek the prayer of others, that they may be restored to health; that through the intercession of others the enfeebled form of the body and the wavering footsteps of our deeds may be restored to health….Learn, you who are sick, to gain health through prayer. Seek the prayer of others, call upon the Church to pray for you, and God, in His regard for the Church, will give what He might refuse to you.
St. Ambrose of Milan
Through fasting man can become a lamb. If he becomes a beast, it means the ascetic struggle he is undertaking is either beyond his capabilities, or is done with egoism, and therefore does not have divine assistance.

St. Paisios of Mount Athos
Perfection… is clearly not achieved simply by being naked, by the lack of wealth or by the rejection of honors, unless there is also that love whose ingredients the apostle described (cf. I Cor. 13) and which is to be found solely in purity of heart. Not to be jealous, not to be puffed up, not to act heedlessly, not to seek what does not belong to one, not to rejoice over some injustice, not to plan evil – what is this and its like if not the continuous offering to God of the heart that is perfect and truly pure, a heart kept free of all disturbance?
St. John Cassian
Let this always be the aim of your conduct: to be courteous and respectful to all.
St. Isaac the Syrian
Some people say, "I believe God will help me," and at the same time they try to make lots of money so that they won't be deprived of anything. These people mock God, because they do not entrust themselves to God but to money.

Elder Paisios of Mount Athos
Remember in Your Prayers
John
Eva W.
John Dusckas
Barbara
Melissa
David
Lisa
Nancy
Bob
Angela
James L.
Anthony
Marcie
Michele
Sonya
Kenneth
Carol Ann
Matthew
Gerhard
Valerie
Chrysostom
Tim
Ron
Ivy-Jean
Pat
Christina
Baby Samuel
Jennie
Mary
Baby Kyriake
Maximos
Marian
Photini
Nicholas
Brad William
Ryan
Sarah
Robert Jarvis
Petronia (Wife of Phil Pappas)
Anna Marie Smith Baker
Iris Kuring (Bettina Zifiris' mother)
Constantine Houpis
Ron Chromulak
Beverly Chromulak
Katerina
Dianne
Loucine Kassis
Mary Kassis
Baby Maximus
Annette Star
Christine
Maria
Claire Livaditis
Eva Chandilles
Baby Dani
Scott Nedoff
Anthony Mourgis
John Hansen
Constandina James
James Hord
Bob Smith
Tom and Jean
How should we pray for the sick? Remember them daily. Say their names (first names are sufficient) and ask God to bestow mercy and grace on them.
Add or remove names and print this list for easy reference during your prayer time on the St. Peter website.
Sunday Readings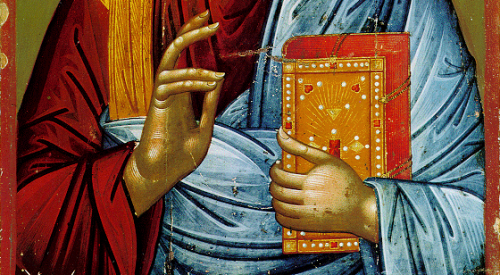 e sorely.
The Reading from the Epistle of St. Paul to the Romans. (5:1-11)
Brethren, since we are justified by faith, we have peace with God through our Lord Jesus Christ. Through Him we have obtained access to this grace in which we stand, and we rejoice in our hope of sharing the glory of God. More than that, we rejoice in our sufferings, knowing that suffering produces endurance, and endurance produces character, and character produces hope, and hope does not disappoint us, because God's love has been poured into our hearts through the Holy Spirit which has been given to us.

While we were still weak, at the right time Christ died for the ungodly. Why, one will hardly die for a righteous man—though perhaps for a good man one will dare even to die. But God shows His love for us in that while we were yet sinners Christ died for us. Since, therefore, we are now justified by His blood, much more shall we be saved by Him from the wrath of God. For if while we were enemies we were reconciled to God by the death of His Son, much more, now that we are reconciled, we shall be saved by His life. Not only so, but we also rejoice in God through our Lord Jesus Christ, through whom we have now received our reconciliation.
Gospel
For Second Sunday of Matthew
For Third Sunday of Matthew
The Reading from the Holy Gospel according to St. Matthew. (6:22-33)
The Lord said, "The eye is the lamp of the body. So, if your eye is sound, your whole body will be full of light; but if your eye is evil, your whole body will be full of darkness. If then the light in you is darkness, how great is the darkness! No one can serve two masters; for either he will hate the one and love the other, or he will be devoted to the one and despise the other. You cannot serve God and mammon.

Therefore, I tell you, do not be anxious about your life, what you shall eat or what you shall drink; nor about your body, what you shall put on. Is not the soul more than food, and the body more than clothing? Look at the birds of heaven: they neither sow nor reap nor gather into barns, and yet your heavenly Father feeds them. Are you not of more value than they? And which of you by being anxious can add one cubit to his stature? And why are you anxious about clothing? Consider the lilies of the field, how they grow; they neither toil nor spin; yet I tell you, even Solomon himself in all his glory was not arrayed like one of these. But if God so clothes the grass of the field, which today is alive and tomorrow is thrown into the oven, will He not much more clothe you, O men of little faith?

Therefore, do not be anxious, saying, 'What shall we eat?' or 'What shall we drink?' or 'What shall we wear?' For the Gentiles seek all these things; and your heavenly Father knows that you need them all. But seek first His kingdom and His righteousness, and all these things shall be yours as well."