Sunday of the Holy Fathers of Fourth Ecumenical Council
Apostle Aquila of the Seventy; Joseph the Confessor, archbishop of Thessalonica; Peter, Bishop of Crete; Venerable Onesimos of Magnesia and Nicodemus of the Holy Mountain
Held in Chalcedon, near Constantinople, 451. Under Emperor Marcian. 630 Bishops were present.
Monophysite Controversy
The Council was concerned, once again, with the nature of Jesus Christ. The teaching arose that Christ's human nature (less perfect) dissolved itself in His divine nature (more perfect): like a cube of sugar in a post of water. Thus, in reality, Christ had only one nature, the Divine. Hence, the term: Monophysites ("mono", one and "physis", "nature".) Monophysitism overemphasized the divine nature of Christ, at the expense of the human.
Proclamation
The Council condemned Monophysitism and proclaimed that Christ has two complete natures: the divine and the human, as defined by previous Councils. These two natures function without confusion, are not divided nor separate (against Nestorius), and at no time did they undergo any change (against Eutyches: Monophysites).
History of the Ecumenical Councils
The First Council, of the 318 Fathers who assembled in Nicaea in 325 to condemn Arius, who denied that the Son of God is consubstantial with the Father; the Fathers of the First Council also ordained that the whole Church should celebrate Pascha according to the same reckoning;
The Second Council, of the 150 Fathers who assembled in Constantinople in 381 to condemn Macedonius, Patriarch of Constantinople, who denied the Divinity of the Holy Spirit;
The Third Council, of the 200 Fathers who assembled in Ephesus in 431, to condemn Nestorius, Patriarch of Constantinople, who called Christ a mere man and not God incarnate;
The Fourth Council, of the 630 who assembled in Chalcedon in 451, to condemn Eutyches, who taught that there was only one nature, the divine, in Christ after the Incarnation, and Dioscorus, Patriarch of Alexandria, who illegally received Eutyches back into communion and deposed Saint Flavian, Patriarch of Constantinople, who had excommunicated Eutyches;
The Fifth Council in 553, of the 165 who assembled in Constantinople for the second time to condemn Origen and Theodore of Mopsuestia, the teacher of Nestorius;
The Sixth Council in 680, of the 170 who assembled in Constantinople for the third time, to condemn the Monothelite heresy, which taught that there is in Christ but one will, the divine;
The Seventh Council in 787, of the 350 who assembled in Nicaea for the second time to condemn Iconoclasm.
Read the entire history on the Greek Orthodox Archdiocese website.
St. Paisios Liturgy, Friday, July 12, 2018 at 9:30am
A Divine Liturgy commemorating St. Paisios of Mt. Athos (the same St. Paisios who has performed miracles in our parish) will be held on Friday, July 12 at 9:30am.
Who Is St. Paisios?
Our venerable and God-bearing Father Paisios of Mount Athos or Paisios the New, of the Holy Mountain (July 25, 1924 – July 12, 1994), also known as Elder Paisios, was a monastic of Mount Athos. An ascetic, he was known by his visitors for his gentle manner and acceptance of those who came to receive his advice, counsel, and blessing. His words of counsel continue to be published. [1] Elder Paisios was canonized on January 13, 2015, by the Holy and Sacred Synod of the Ecumenical Patriarchate of Constantinople.[1][2] The Church commemorates St. Paisios on July 12.
Read more on the Orthodox Wiki website.
Fr. Hans Our Town Monday, July 22 to Friday, July 26, 2018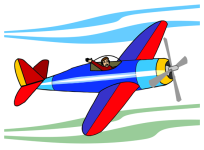 He will be attending the Antiochian Convention in Grand Rapids, Michigan.
Summers are Rough, St. Peter's Needs Your Help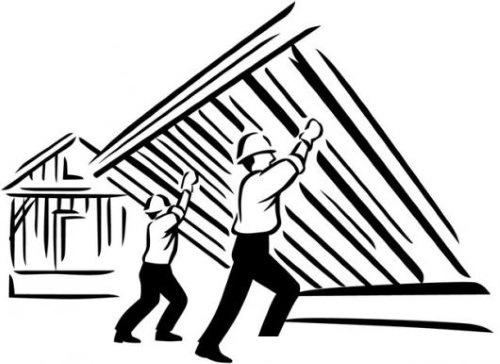 Summers are always a difficult time to pay our bills. Parishioners are up north, others are on vacation, and the real financial needs bubble up.
If we can't make our monthly goals, the money has to come from somewhere else. Usually it's a reserve like the building fund. We don't want to do that but there is no other choice. The bills have to be paid.
The Parish Council recently send a out a letter explaining our situation. Please read it and respond at your earliest convenience.
The first five months have been good. Now we are falling behind. We respectfully ask everyone to remain current on their pledge, give more if you can, and help us keep St. Peter's in the black.
St. Peter's Community Luncheon Moved to Thursday, July 19, 2019 at 12:00pm
PLEASE NOTE: The Community Luncheon originally scheduled for this week has been moved to next week — Thursday, July 18, 2019.
Menu
Baked Tomato Stuffed with Whole Wheat Orzo
Potato
Greek Salad with Feta Cheese and Kalamata Olives
Bread, Dessert, Beverage
Barbara Dionysopoulos and friends are preparing a delicious meal for all our members. Come and join us to enjoy some good food and the company of your friends. Make some new friends too and get to know other parishioners.
Reservations are required! Please call Barbara at 239-826-1655 or sign up in the Social Hall after Divine Liturgy.
Donations are accepted. Proceeds benefit the building fund.
Would like to sponsor a lunch? Please see Barbara Dionysopoulos.
Bp. Nicholas Outlines the Vision of the Newly Formed AMEN Group
Antiochian Men (AMEN), the new men's group formed by Bp. Nicholas is off to a strong start. Recently Bp. Nicholas offered a short interview explaining his vision for AMEN. Click to view the video.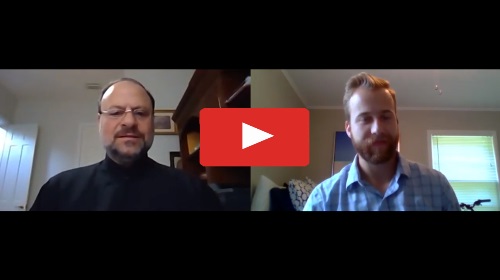 Pledge Report – June 2019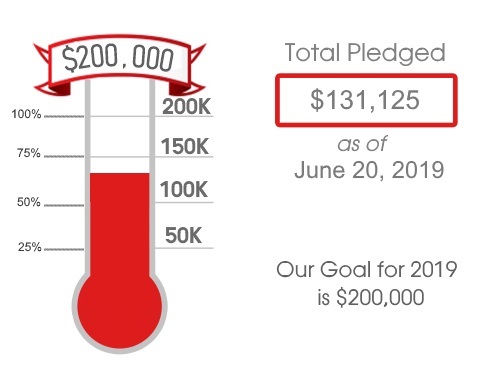 In order to meet our operating Budget goal for 2019 we need to take in $16,777.00 each month.
We are $4,400.00 short of our goal for May.
Please pledge in order to meet our goal. Pledge forms are available on the table in the narthex.
Icons Available in the Social Hall

St. Peter's has a large selection of Icons available for sale and donation. They come in various sizes — mini, small, medium and large.
The Icons are generously donated by Theo Palis and therefore all proceeds go directly to St. Peter's.
If there is a specific icon you are looking for and we don't have it, Theo might be able to make it for you.
Bible Studies
Bible Studies have been cancelled for the summer. We will resume in September.
Calendar At A Glance
JULY
Thursday Jul 11 — St. Demetrios Brotherhood at 7:00pm
Friday, Jul 12 — Divine Liturgy of St. Paisios of Athos at 9:30am
Thursday Jul 14 — Community Luncheon at 12:00pm Noon
Thursday Jul 18 — St. Demetrios Brotherhood at 7:00pm
Monday-Saturday, July 22-26 — Fr. Hans Out of Town Attending Antiochian Convention
Thursday Jul 25 — CANCELLED St. Demetrios Brotherhood at 7:00pm (Fr. Hans out of town
AUGUST
Thursday Aug 1 — St. Demetrios Brotherhood at 7:00pm
Wisdom From The Elders
There are saints who were very anxious, who had nervous tics, and also those who were very brusque. Others were exceptionally slow. Some saints had physical defects. What makes a saint is not outward perfection, it's that the old man is conquered on the inside. The saints are not yet totally transfigured, and the old man continues to be visible on the outside. These appearances can trick us and hide their inner reality from us.
Elder Sergei of Vanves
"Love of the body is a sign of unbelief." Faith frees the intellect from the categories of the senses and sobers it by means of fasting, by pondering on God and by vigils. St. Justin Popovich
When bad thoughts surround us like a swarm of flies, we shouldn't become discouraged, but persevere in prayer and hold on. Elder Sergei of Vanves
Pride, too, has its levels, just like humility. Outward pride is easier to cure, but pride of the mind is almost impossible to eradicate. No one can prove to such a person that he is on the wrong track. But outward pride is curable, because one can go from riches to rags in the twinkling of an eye and become humble whether he wants to or not!
Elder Thaddeus of Vitovnica
Therefore humble yourselves under the mighty hand of God, that He may exalt you in due time, casting all your care upon Him, for He cares for you. 1 Peter 5:6-7
…an untried man is unpracticed. St. Barsanuphius
Remember in Your Prayers
Christine
Nina (Kovalev)
Hugh (Jacquie)
Violet (Jacquie Mom)

Tammie (Jacquie friend)
Connie
Baby Luke
George
Priest Kyprianos
Presvytera Charlotte
Savannah (Jonson)
Bud
Silvana
Nicole
Evan
Megan
Bill R.
Pat R.
Aglaia
George
Hieromonk Serapion
Priest Kyprianos
Presvytera Charlotte
Bryan, Carolina, their unborn baby
Athanasia
Alexandra
Constantina
Maryanne (E)
Ron (E)
Tim
Robert (J)
Mary (J)
Patricia
Gregory
Andreas
Sofia Tešanovic
Paul
Dennis H. and Family
Victor Evan
Ann
James
Vasiliki
Efstratia
Alexandra
Nikos
Georgia
Ioannis
Costandino
Jeffrey
Vaso
Dave
Dimitri – Presbyter
Vassiliki
Octavio
Tom
Carl
Rena
Nikolay (5 year old boy in Bulgaria whose parents asked us to pray)
David
Rosie
Kathryn
Jeremy
Constantine
Robert
Jane
Theodora
David
Gina
Micheal
Haralambos
Lillian
Presbytera Rosy
Valentina
Eva W.
Barbara
Angela
Carol Ann
Matthew
Chrysostom
Tim
Pat
Christina
Maria Louise
Maximos
Marian
Photini
Nicholas
Sarah
Constantine Houpis
Anna Marie Smith Baker
Katerina
Mary Kassis
Baby Maximus
Christine
Maria
Annette Star
Claire Livaditis
Eva Chandilles
Baby Dani
Scott Nedoff
James Hord
Tom
How should we pray for the sick? Remember them daily. Say their names (first names are sufficient) and ask God to bestow mercy and grace on them.
Add or remove names and print this list for easy reference during your prayer time on the St. Peter website.
Sunday Readings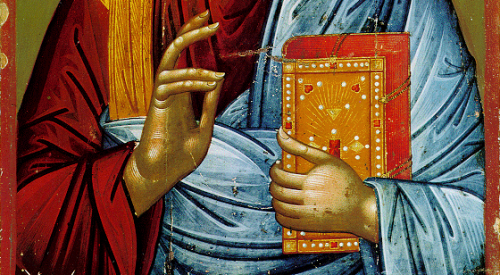 Epistle
Blessed art Thou, O Lord, the God of our Fathers.
For Thou art just in all that Thou hast done for us.
The Reading from the Epistle of St. Paul to St. Titus. (3:8-15)
Titus, my son, the saying is sure. I desire you to insist on these things, so that those who have believed in God may be careful to apply themselves to good deeds; these are excellent and profitable to men. But avoid stupid controversies, genealogies, dissensions, and quarrels over the law, for they are unprofitable and futile. As for a man who is factious, after admonishing him once or twice, have nothing more to do with him, knowing that such a person is perverted and sinful; he is self-condemned.

When I send Artemas or Tychicus to you, do your best to come to me at Nicopolis, for I have decided to spend the winter there. Do your best to speed Zenas the lawyer and Apollos on their way; see that they lack nothing. And let our people learn to apply themselves to good deeds, so as to help cases of urgent need, and not to be unfruitful. All who are with me send greetings to you. Greet those who love us in the faith. Grace be with you all. Amen.
Gospel
For the Holy Fathers
The Reading from the Holy Gospel according to St. Matthew. (5:14-19)
The Lord said to His Disciples: "You are the light of the world. A city set on a hill cannot be hid. Nor do men light a lamp and put it under a bushel, but on a stand, and it gives light to all in the house. Let your light so shine before men, that they may see your good works and give glory to your Father Who is in heaven. Think not that I have come to abolish the law and the prophets; I have come not to abolish them, but to fulfill them. For truly, I say to you, until heaven and earth pass away, not an iota, not a dot, will pass from the law until all is accomplished. Whoever then relaxes one of the least of these commandments, and teaches men so, shall be called least in the kingdom of heaven; but he who does them and teaches them shall be called great in the kingdom of heaven."