The Seventh Sunday after Pentecost
The Seventh Sunday of Matthew
The Holy Seven Sleeping Youths of Ephesus; Recovery of the relics of Martyr Eudokia of Persia
Who were The Seven Holy Youths of Ephesus?
The Seven Youths of Ephesus: Maximilian, Iamblicus, Martinian, John, Dionysius, Exacustodianus (Constantine) and Antoninus, lived in the third century. Saint Maximilian was the son of the Ephesus city administrator, and the other six youths were sons of illustrious citizens of Ephesus. The youths were friends from childhood, and all were in military service together.
When the emperor Decius (249-251) arrived in Ephesus, he commanded all the citizens to offer sacrifice to the pagan gods. Torture and death awaited anyone who disobeyed. The seven youths were denounced by informants, and were summoned to reply to the charges. Appearing before the emperor, the young men confessed their faith in Christ.
Their military belts and insignia were quickly taken from them. Decius permitted them to go free, however, hoping that they would change their minds while he was off on a military campaign. The youths fled from the city and hid in a cave on Mount Ochlon, where they passed their time in prayer, preparing for martyrdom.
Read the entire story on the Orthodox Church of America website.
Dormtion Fast and Akathist Hymns begin (August 1-15, 2018)
August 1 starts the Dormition period in our Orthodox Church. We fast (abstain from meat and dairy as much as possible) from August 1 to August 15. At St. Peter's the fast ends after the Dormition Liturgy on the evening of August 14.
Most weekdays we will sing an Akathist to the Theotokos starting at 6:00pm. These are very powerful prayers and you will notice a focusing in your life if you participate in them.
On the evening of August 14, 2018 we will celebrate the Dormition of the Theotokos with a Divine Liturgy at 6:30pm.
What is the Dormition of the Theotokos?
The Holy Scriptures tell us that when our Lord was dying on the Cross, He saw His mother and His disciple John and said to the Virgin Mary, "Woman, behold your son!" and to John, "Behold your mother!" (John 19:25-27). From that hour, the Apostle took care of the Theotokos in his own home.
Along with the biblical reference in Acts 1:14 that confirms that the Virgin Mary was with the Holy Apostles on the day of Pentecost, the tradition of the Church holds that she remained in the home of the Apostle John in Jerusalem, continuing a ministry in word and deed.
At the time of her death, the disciples of our Lord who were preaching throughout the world returned to Jerusalem to see the Theotokos. Except for the Apostle Thomas, all of them including the Apostle Paul were gathered together at her bedside. At the moment of her death, Jesus Christ himself descended and carried her soul into heaven.
Following her repose, the body of the Theotokos was taken in procession and laid in a tomb near the Garden of Gethsemane. When the Apostle Thomas arrived three days after her repose and desired to see her body, the tomb was found to be empty. The bodily assumption of the Theotokos was confirmed by the message of an angel and by her appearance to the Apostles.
Source: Greek Orthodox Archdiocese website.
Divine Liturgy for the Feast of the Transfiguration on August 5, 6:30pm (Transfiguration Eve)
The Feast of the Transfiguration of Our Lord, God and Savior Jesus Christ is celebrated each year on August 6. The feast commemorates the transfiguration or metamorphosis of Christ on Mount Tabor, when our Lord appeared in His divine glory before the Apostles Peter, James, and John.
Biblical Story
The event of the Transfiguration is recorded in three of the four Gospels: Matthew 17:1-9, Mark 9:2-8, and Luke 9:28-36. Jesus took the Apostles Peter, James, and John with Him up upon a mountain, and while they were on the mountain Jesus was transfigured. His face shone like the sun, and His garments became glistening white.
Moses and Elijah appeared with Christ, talking to Him. Peter declared how good it was for them to be there and expressed the desire to build three booths for Moses, Elijah, and Christ. This reference to the booths could imply that this occurred during the time of the Feast of Tabernacles when the Jews would be camping out in the fields for the grape harvest; for this Feast had acquired other associations in the course of its history, including the memory of the wanderings in the wilderness recorded in the Old Testament book of Exodus.
While Peter was speaking, a bright cloud overshadowed them. A voice came from the cloud saying, "This is my beloved Son, with whom I am well pleased; listen to Him." When the disciples heard this they fell on their faces filled with awe. Jesus came to them and told them to not be afraid. When the three looked up they saw only Jesus.
As Jesus and His disciples came down the mountain, He told them not to speak of what they had seen until He had risen from the dead.
Source: Greek Orthodox Archdiocese.
Pilgrimage to Panagia Vlaheron Monastery in Ocala FL. on Saturday August 10, 2019
Join us for a Dormition Pilgrimage to the Panagia Vlaheron Monastery on Saturday, October 10.
The bus leaves St. Peter's at 8:00am and returns at 9:00pm. The cost is $30 to pay for transportation.
Please sign up on Sunday in the Social Hall following the Divine Liturgy.
Visiting the monastery always entails a special blessing, although sometimes the blessing is not evident until two or three days later. It also introduces us to monastic life, and shows us how the monastic dimension of Orthodoxy strengthens the entire Church.
Steve Breitenbach New President of AMEN
Thank you to Steve Breitenbach who has taken leadership of St. Peter's recently formed Antiochian Men (AMEN) group.
AMEN is growing in the Miami Diocese, very fast actually, and there is a lot of good energy behind it. Fr. Hans has been appointed the Spiritual Advisor to the group by Bp. Nicholas.
What will AMEN do? It will bring together the men of the parish for friendship, fellowship, and work.
St. Peter's Men:
Tuition for Young Organist Mihail Strezev
Many of you know Mihail (we call him Michael). You see him coming into church late on Sundays. He comes late because he makes his living playing the organ for other churches on Sundays. On weekday liturgies you see him come in on time.
Mihail has a very interesting story that you can read on his God Fund Me page. He won the Green Card Lottery in his home country of Moldavia, came to Naples, was invited to play a new organ at a concert and it turned out one of the American Grand Master organ players heard his playing and invited him to attend the Eastman School of Music to become his student.
Mihail found St. Peter's through Jeremiah and Irina. They were having coffee one day and bumped into Mihail. He was struggling a bit (a stranger in a strange land at the time) and invited him to St. Peter's. He came and has been a member of our congregation ever since. He comes from an Orthodox family and his devout mother probably thanks the Lord every day he found St. Peter's.
Mihail is raising money for his tuition. Tuition each year for his two year program costs $39,000. He received a $22,000 scholarship. He also needs to raise another $15,000 for living expenses for the year although he is going to try and make it on $10,000. This leaves $27,000 yet to be raised. If he does well the first year, his second year will be paid. This shows that Eastman definitely sees he has talent.
It's remarkable thing for us to witness as well. It takes a lot of courage and fortitude to come into a strange country and move forward to establish your talents and gifts. It shows America is still a place of opportunity for those who have the resolve and discipline to make something of themselves. Mihail is one of those people.
We need to pray that somehow Mihail's goal of raising the money will be reached somehow. Prayer works, but we have to do our part as well, just as Mihail is doing his. If you can help please do. If you know of others resources please let Mihail know about that too. You can help him on his Go Fund Me page.
Click the image below to hear him play.
Pledge Report – July 2019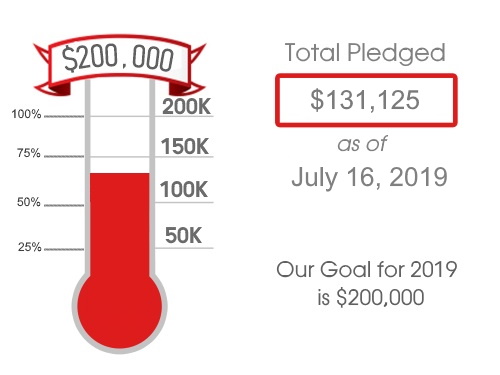 In order to meet our operating Budget goal for 2019 we need to take in $16,777.00 each month.
In June we took in $9741.00 in total donations. Our monthly goal is $16777.00 leaving us $7036.00 short for June.
Please pledge in order to meet our goal. Pledge forms are available on the table in the narthex.
Bible Studies
Bible Studies have been cancelled for the summer. We will resume in September.
Calendar At A Glance
AUGUST
Thursday Aug 1 — St. Demetrios Brotherhood at 7:00pm
Thu Aug 1 — Paraklesis Service 6pm
Fri Aug 2 — Paraklesis Service 6pm
Mon Aug 5 — Transfiguration Liturgy 6:30pm
Wed Aug 7 — Paraklesis Service 6pm
Fri Aug 9 — Paraklesis Service 6pm
Mon Aug 12 — Paraklesis Service 6pm
Tue Aug 13 — Paraklesis Service 6pm
Wed Aug 14 — Dormition Liturgy 6:30pm
Wisdom From The Elders
apriciousness is the germ of the corruption of the heart, the rust of the heart, the moth of love, the seed of evil, and an abomination to the Lord. St. John of Kronstadt
lf we possess faith and hope, the thought of death will no longer be frightening, and it will appear no longer as the revolting skeleton of destruction but as a bright comforting angel. A believ­er's soul will, furthermore, not suffer when he loses his next of kin or others who are close to him; his parting from them will be a promise of meeting in a new and better existence, in the dwellings of the heavenly world beyond the grave. A. Calmet
Do not grieve if you do not at once receive from God that which you ask. He wishes to benefit you still more by making you persist longer in your patient prayer before Him. For what can be higher than to address ones converse to God and be in communion with Him? St Nilus of Sinai
As the man consists of a soul and body, so, correspondingly, there are double means for supporting his life—spiritual and bodily ones. Those for supporting the bodily life are air, food, drink, light and warmth, and those for supporting the spiritual life, prayer (like air), reading the word of God, the life-giving Sacrament, and pious meditations. Righteous John, Wonderworker of Kronstadt
Love does not delight in evil but rejoices with the truth. It always protects, always trusts, always hopes, always perseveres. KJV 1 Corinthians 13:6-7
If you do not fight against your passions, or only do so seldom and feebly, you will find it very difficult to fight against them, you will often be conquered by them. Righteous John, Wonderworker of Kronstadt
Remember in Your Prayers
Richard (Wilkowski)
Charles (Oberg)
Christine (Kouzes)
Nina (Kovalev)
Hugh (Jacquie)
Violet (Jacquie Mom)
Tammie (Jacquie friend)
Phillip
Connie
Baby Luke
George
Priest Kyprianos
Presvytera Charlotte
Savannah (Jonson)
Bud
Silvana
Nicole
Evan
Megan
Bill R.
Pat R.
Aglaia
George
Hieromonk Serapion
Priest Kyprianos
Presvytera Charlotte
Bryan, Carolina, their unborn baby
Athanasia
Alexandra
Constantina
Maryanne (E)
Ron (E)
Tim
Robert (J)
Mary (J)
Patricia
Gregory
Andreas
Sofia Tešanovic
Paul
Dennis H. and Family
Victor Evan
Ann
James
Vasiliki
Efstratia
Alexandra
Nikos
Georgia
Ioannis
Costandino
Jeffrey
Vaso
Dave
Dimitri – Presbyter
Vassiliki
Octavio
Tom
Carl
Rena
Nikolay (5 year old boy in Bulgaria whose parents asked us to pray)
David
Rosie
Kathryn
Jeremy
Constantine
Robert
Jane
Theodora
David
Gina
Micheal
Haralambos
Lillian
Presbytera Rosy
Valentina
Eva W.
Barbara
Angela
Carol Ann
Matthew
Chrysostom
Tim
Pat
Christina
Maria Louise
Maximos
Marian
Photini
Nicholas
Sarah
Constantine Houpis
Anna Marie Smith Baker
Katerina
Mary Kassis
Baby Maximus
Christine
Maria
Annette Star
Claire Livaditis
Eva Chandilles
Baby Dani
Scott Nedoff
James Hord
Tom
How should we pray for the sick? Remember them daily. Say their names (first names are sufficient) and ask God to bestow mercy and grace on them.
Add or remove names and print this list for easy reference during your prayer time on the St. Peter website.
Sunday Readings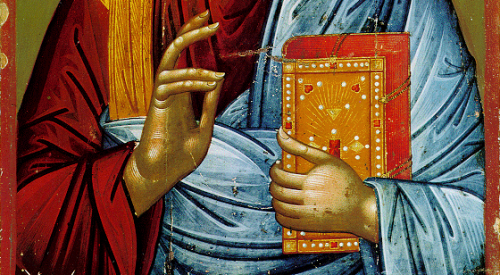 Epistle
For the Seventh Sunday after Pentecost
O Lord, save Thy people, and bless Thine inheritance.
Until Thee will I cry, O Lord my God.
The Reading from the Epistle of St. Paul to the Romans. (15:1-7)
Brethren, we who are strong ought to bear with the failings of the weak, and not to pleaseourselves; let each of us please his neighbor for his good, to edify him. For Christ did not pleasehimself; but, as it is written, "The reproaches of those who reproached thee fell on me." Forwhatever was written in former days was written for our instruction, that by steadfastness and bythe encouragement of the scriptures, we might have hope. May the God of steadfastness andencouragement grant you to live in such harmony with one another, in accord with Christ Jesus,so that together you may with one voice glorify the God and Father of our Lord Jesus Christ.Welcome one another, therefore, as Christ has welcomed you, for the glory of God.
Gospel
For the Seventh Sunday of Matthew
The Reading from the Holy Gospel according to St. Matthew. (9:27-35)
At that time, as Jesus passed on from there, two blind men followed him, crying aloud:"Have mercy on us, Son of David." When He entered the house, the blind men came to Him; and Jesus said to them, "Do you believe that I am able to do this?" They said to Him, "Yes, Lord."Then He touched their eyes, saying, "According to your faith be it done to you." And their eyes were opened. And Jesus sternly charged them, "See that no one knows it." But they went away and spread His fame through all that district. As they were going away, behold, a dumb demoniac was brought to Him. And when the demon had been cast out, the dumb man spoke; and the crowds marveled, saying, "Never was anything like this seen in Israel." But the Pharisees said, "He casts out demons by the prince of demons." And Jesus went about all the cities and villages, teaching in their synagogues and preaching the gospel of the kingdom, and healing every disease and every infirmity.