Forefeast of the Transfiguration Sunday after Pentecost
Ninth Sunday of Matthew

Martyr Eusignios of Antioch; New-martyr Habakkuk of Thessalonica
The Feast of the Transfiguration of Our Lord, God and Savior Jesus Christ is celebrated each year on August 6. The feast commemorates the transfiguration or metamorphosis of Christ on Mount Tabor, when our Lord appeared in His divine glory before the Apostles Peter, James, and John.
Biblical Story
The event of the Transfiguration is recorded in three of the four Gospels: Matthew 17:1-9, Mark 9:2-8, and Luke 9:28-36. Jesus took the Apostles Peter, James, and John with Him up upon a mountain, and while they were on the mountain Jesus was transfigured. His face shone like the sun, and His garments became glistening white.
Moses and Elijah appeared with Christ, talking to Him. Peter declared how good it was for them to be there and expressed the desire to build three booths for Moses, Elijah, and Christ. This reference to the booths could imply that this occurred during the time of the Feast of Tabernacles when the Jews would be camping out in the fields for the grape harvest; for this Feast had acquired other associations in the course of its history, including the memory of the wanderings in the wilderness recorded in the Old Testament book of Exodus.
While Peter was speaking, a bright cloud overshadowed them. A voice came from the cloud saying, "This is my beloved Son, with whom I am well pleased; listen to Him." When the disciples heard this they fell on their faces filled with awe. Jesus came to them and told them to not be afraid. When the three looked up they saw only Jesus.
As Jesus and His disciples came down the mountain, He told them not to speak of what they had seen until He had risen from the dead.
Source: Greek Orthodox Archdiocese.
The Transfiguration of our Lord and Saviour Jesus Christ Divine Liturgy at St. Paul's on Monday, August 6, 2018
Please note the change of venue. The Liturgy will be held at St. Paul's in Naples (get directions here). Orthros at 8:30 and Divine Liturgy at 9:30am.
Fr. Stephanos Shagoury – May His Memory Be Eternal
It is with sadness that we announce the passing of Fr. Stephanos Shagoury. Fr. Stephanos suffered a heart attack on Monday and the emergency personnel were not able to revive him.
Many of you will remember Fr. Stephanos assisting St. Peter's as well as his two children, Abraham and Sophia.
The funeral will be held at St. Katherine's Greek Orthodox Church in Naples, on Wednesday, August 1, 2018 at 11am.
Please pray for Fr. Stephanos and Abraham and Sophia.
Community Luncheon on Thursday, August 2, 2018 at 12:00pm
You are invited to join your St. Peter's friends for lunch and fellowship at 12 noon on Thursday, August 2 at 12:00pm.
Barbara Dionysopoulos and friends are preparing a delicious meal for all our members. Come and join us to enjoy some good food and the company of your friends. Make some new friends too and get to know other parishioners.
MENU
Baked Tomato Stuffed with Whole Wheat Orzo
Oven Roasted Potato
Greek Salad
Bread, Dessert, Beverage
Reservations are required! Please call Barbara at 239-826-1655 or sign up in the Social Hall after Divine Liturgy.
There is no charge for this luncheon. An anonymous friend is donating this dinner to the good people of St. Peter's.
Can You Help Cliff Tewis Get to Kenya?
Cliff needs about $400 to complete his goal of funding his mission trip. If you could help it would be greatly appreciated.
Cliff Tewis (Jeremiah's brother) is a member of our parish. He was baptized at St. Peter's and attended often until he moved to Boca Raton to start college.
Cliff is going to Kenya this August to provide medical aid to Kenyans in need through the Orthodox Christian Mission Center (OCMC). OCMC is the overseas medical and missionary arm of the Orthodox Church and sends teams all over the world.
His days will consist of clinic work and health education in nearby schools. The team consists of doctors, nurses, and other medical professionals and is led by a priest that was a medic in the army. Cliff was selected because of some extra work he did in the medical field as a pre-med student.
Please contribute. Team members raise their own funds. Click the image below to be taken to his Go Fund Me page.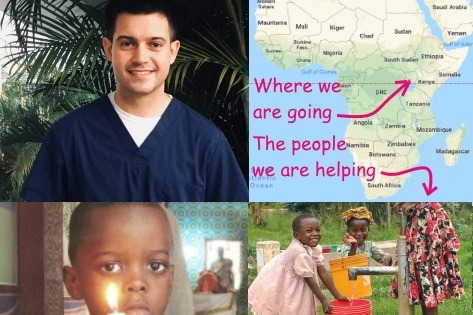 Dormtion Fast and Akathist Hymns begin (August 1-15, 2018)
August 1 starts the Dormition period in our Orthodox Church. We fast (abstain from meat and dairy as much as possible) from August 1 to August 15. At St. Peter's the fast ends after the Dormition Liturgy on the evening of August 14.
Every weekday we will sing an Akathist to the Theotokos starting at 6:00pm. These are very powerful prayers and you will notice a focusing in your life if you participate in them.
On the evening of August 14, 2018 we will celebrate the Dormition of the Theotokos with a Divine Liturgy at 6:30pm.
What is the Dormition of the Theotokos?
The Holy Scriptures tell us that when our Lord was dying on the Cross, He saw His mother and His disciple John and said to the Virgin Mary, "Woman, behold your son!" and to John, "Behold your mother!" (John 19:25-27). From that hour, the Apostle took care of the Theotokos in his own home.
Along with the biblical reference in Acts 1:14 that confirms that the Virgin Mary was with the Holy Apostles on the day of Pentecost, the tradition of the Church holds that she remained in the home of the Apostle John in Jerusalem, continuing a ministry in word and deed.
At the time of her death, the disciples of our Lord who were preaching throughout the world returned to Jerusalem to see the Theotokos. Except for the Apostle Thomas, all of them including the Apostle Paul were gathered together at her bedside. At the moment of her death, Jesus Christ himself descended and carried her soul into heaven.
Following her repose, the body of the Theotokos was taken in procession and laid in a tomb near the Garden of Gethsemane. When the Apostle Thomas arrived three days after her repose and desired to see her body, the tomb was found to be empty. The bodily assumption of the Theotokos was confirmed by the message of an angel and by her appearance to the Apostles.
Source: Greek Orthodox Archdiocese website.
Lily and Carmine Riccioli Baby Shower Saturday, August 18, 2018 at 4pm
All St. Peter parishioners are invited to a baby shower for Lily and Carmine Riccioli on Saturday, August 18, 2018 starting at 4pm. The shower will be held in the Social Hall.
Lily is registered at Target.
Calendar At A Glance
August 1 to August 14 Dormition Fasting Period
Friday, July 19, 2018 — 9:30am St. Panteleimon Liturgy
Wednesday, August 1, 2018 — 11:00am Funeral for Fr. Stephen Shagoury at St. Katherine's in Naples
Wednesday, August 1, 2018 — 6:00pm Akathist to the Theotokos (Dormition)
Thursday, August 2, 2018 — 12:00pm Community Luncheon
Friday, August 3, 2018 — 6:00pm Akathist to the Theotokos (Dormition)
Monday, August 6, 2018 — 8:30am Orthros / 9:30am Liturgy Divine Liturgy of the Transfiguration at St. Paul's in Naples
Monday, August 6, 2018 — 6:00pm Akathist to the Theotokos (Dormition)
Tuesday, August 7, 2018 — 6:00pm Akathist to the Theotokos (Dormition)
Wednesday, August 8, 2018 — 6:00pm Akathist to the Theotokos (Dormition)
Thursday, August 9, 2018 — 6:00pm Akathist to the Theotokos (Dormition)
Friday, August 10, 2018 — 6:00pm Akathist to the Theotokos (Dormition)
Monday, August 13, 2018 — 6:00pm Akathist to the Theotokos (Dormition)
Tuesday, August 14, 2018 — 6:30pm Divine Liturgy for the Dormition of the Theotokos
Tuesday, August 19, 2018 — 4:00pm Lily Riccioli Baby Shower
Wisdom From The Elders
Men throughout all their earthly life see everything but Christ, the life-giver; this is why they have no spiritual life, this is why they are given to every passion : unbelief, want of faith, covetousness, envy, hatred, ambition, the pleasures or eating and drinking. St. John of Kronstadt
Spiritual vigilance or sobriety is a spiritual art which completely delivers a man, with the help of God, from sinful actions and passionate thoughts and words when fervently practiced for a considerable time. It is silence of the heart; it is guarding of the mind; it is attention to oneself without any other thought which always, incessantly and unceasingly calls upon Jesus Christ, the Son of God, and God… St. Hesychius of Jerusalem
We are all in deception. The knowledge of this is the greatest preventative against deception. It is the greatest deception to acknowledge oneself to be free of deception. St. Ignatius Brianchaninov
O relatives and close ones of the dead! Do for them what is needful for them and within your power. Use your money not for outward adornment of the coffin and grave, but in order to help those in need, in memory of your close ones who have died, for churches, where prayers for them are offered. Show mercy to the dead, take care of their souls. St. John of Shanghai and San Francisco
The drunkard, the fornicator, the proud – he will receive God's mercy. But he who does not want to forgive, to excuse, to justify conciously, intentionally … that person closes himself to eternal life before God, and even more so in the present life. He is turned away and not heard. Elder Sampson of Russia
Christ leads us out of separation from God, away from a "self" defined by our will and passions, into a new life that is the work of His hands, the fruit of His will, the created glory of His eternal, unending and glorious life.
Bishop Irenei Steenberg
Remember in Your Prayers
Vasiliki
Efstratia
Alexandra
Nikos
Georgia
Ioannis
Costandino
Jeffrey
Vaso
Dave
Dimitri – Presbyter
Vassiliki
Octavio
Tom
Carl
Rena
Nikolay (5 year old boy in Bulgaria whose parents asked us to pray)
David
Eva K.
Rosie
Kathryn
Jeremy

Constantine
Robert
Jane
Theodora
David
Gina
Baby Brynn L.
Micheal
Haralambos
Lillian
Presbytera Rosy
Valentina
John
Eva W.
Barbara
Angela
Carol Ann
Matthew
Chrysostom
Tim
Ivy-Jean
Pat
Christina
Maria Louise
Maximos
Marian
Photini
Nicholas
Sarah
Petronia (Wife of Phil Pappas)
Constantine Houpis
Anna Marie Smith Baker
Ron Chromulak
Beverly Chromulak
Katerina
Loucine Kassis
Mary Kassis
Baby Maximus
Christine
Maria
Annette Star
Claire Livaditis
Eva Chandilles
Baby Dani
Scott Nedoff
Anthony Mourgis
John Hansen
James Hord
Tom
How should we pray for the sick? Remember them daily. Say their names (first names are sufficient) and ask God to bestow mercy and grace on them.
Add or remove names and print this list for easy reference during your prayer time on the St. Peter website.
Sunday Readings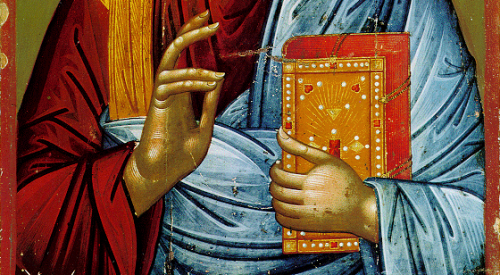 Epistle
For the Tenth Sunday after Pentecost
Let Thy mercy, O Lord, be upon us.
Rejoice in the Lord, O ye righteous.
The Reading from the First Epistle of St. Paul to the Corinthians. (4:9-16)
Brethren, God has exhibited us Apostles as last of all, like men sentenced to death; because we have become a spectacle to the world, to angels and to men. We are fools for Christ's sake, but you are wise in Christ. We are weak, but you are strong. You are held in honor, but we in disrepute. To the present hour we hunger and thirst, we are ill clad and buffeted and homeless; and we labor, working with our own hands. When reviled, we bless; when persecuted, we endure; when slandered, we try to conciliate; we have become, and are now, as the refuse of the world, the off scouring of all things. I do not write this to make you ashamed, but to admonish you as my beloved children. For though you have countless guides in Christ, you do not have many fathers. For I became your father in Christ Jesus through the Gospel. I urge you, then, be imitators of me.
Gospel
For the Tenth Sunday of Matthew
The Reading from the Holy Gospel according to St. Matthew. (17:14-23)
At that time, a man came up to Jesus and kneeling before Him said, "Lord, have mercy on my son, for he is an epileptic and he suffers terribly; for often he falls into the fire, and often into the water. And I brought him to Thy disciples, and they could not heal him." And Jesus answered, "O faithless and perverse generation, how long am I to be with you? How long am I to bear with you? Bring him here to me." And Jesus rebuked him, and the demon came out of him, and the boy was cured instantly. Then the disciples came to Jesus privately and said, "Why could we not cast it out?" Jesus said to them, "Because you have no faith. For truly, I say to you, if you have faith as a grain of mustard seed, you will say to this mountain, 'Move from here to there,' and it will move; and nothing will be impossible to you. This kind never comes out except by prayer and fasting." As they were traveling together through Galilee, Jesus said to them, "The Son of man is to be delivered into the hands of men, and they will kill Him, and He will rise on the third day."