Fifth Sunday of Matthew
St. Christina of Tyre
The Martyr Christina lived during the third century. She was born into a rich family, and her father was Governor of Tyre. By the age of 11 the girl was exceptionally beautiful, and many men asked for her hand in marriage. Christina's father, however, wanted his daughter to become a pagan priestess. He placed her in a special room where he had set up many gold and silver idols, and he ordered his daughter to burn incense before them.
[…]
Christina was visited by an angel, who instructed her in the true faith in Christ. The angel called her a bride of Christ and told her that she would suffer for her faith. Christina smashed all the idols in her room and threw them out the window. Shortly thereafter, Christina's father visited her and asked where all the idols had gone. Christina would not speak, but summoning her servants, her father learned the truth from them.
[…]
In a rage, Christina's father began to slap her face. At first, she was quiet, but then she told her father about her faith in the One True God, and that she had destroyed the idols with her own hands. Her father gave orders to kill all the servants who had attended his daughter, and he fiercely beat Christina and threw her in prison. Having learned about what had happened, Christina's mother came crying to her daughter's cell and urged her to renounce Christ. However, Christina remained unyielding. The next day, her father brought Christina to trial and ordered that she worship the pagan gods and ask forgiveness for her sins. Instead, she gave a firm and steadfast confession of her faith in Christ.
Her father ordered that Christina be tied to an iron wheel, beneath which was lit a fire. Her body, turning round on the wheel, was scorched on all sides. She was then thrown back into prison.
[…]
In place of Dion, a new governor, Julian, arrived and resumed Christina's torture. Julian ordered that she be locked in a red-hot furnace. After five days the furnace was opened and Christina was found alive and unharmed. Seeing this miracle, many came to believe in Christ the Savior.
Finally, St. Christina was executed with a sword.
Read the complete story on the Antiochian Archdiocese website.
Dormition of the Theotokos Approaching
From August 1 through 15 we commemorate the Dormition of the Theotokos. "Dormition" means "falling-asleep," the term St. Paul uses for those who have died in Christ. Death in Christ is like a falling asleep and then awakening with Christ.
The Holy Scriptures tell us that when our Lord was dying on the Cross, He saw His mother and His disciple John and said to the Virgin Mary, "Woman, behold your son!" and to John, "Behold your mother!" (John 19:25-27). From that hour, the Apostle took care of the Theotokos in his own home.
The season ends on August 15 with a special Divine Liturgy held in the evening. During the two weeks leading up to that day, we will hold a smaller service called "The Paraklesis to the Theotokos" on Monday, Wednesdays, and Fridays at 6:30pm.
Can You Donate 30 Books?
The books for the Paraklesis cost $9.00 each. Each person can order their own but if someone were willing to donate them (total cost: about $290 with shipping) we would have them for years to come. Please contact Fr. Hans.
If someone prefers to order their own, you can find the book here.
Register Your Children for Sunday School
Let the Children Come unto Me
Sunday School begins September 11, 2016 — the first Sunday after Labor Day and parents need to register their children!
You can register you child in three ways:
Fill in the registration online on the website or…
Download and print the registration form, fill it in and bring it to Church or…
During Social Hall on Sundays.
Please register early. Sunday School is growing and we need to plan. It is only about 7 weeks away.
St. Peters Donated over 100lbs of Food to the Poor
Interfaith Charities, a local organization that helps the poor in the San Carlos area asked us for help last month. They needed peanut butter, jelly, and Spaghettios to help feed the poor children they help.
We responded big time with over 100 pounds of food! They are very grateful for our help.
Give, and it shall be given unto you; good measure, pressed down, and shaken together, and running over, shall men give into your bosom. For with the same measure that ye mete withal it shall be measured to you again. Luke 6:38.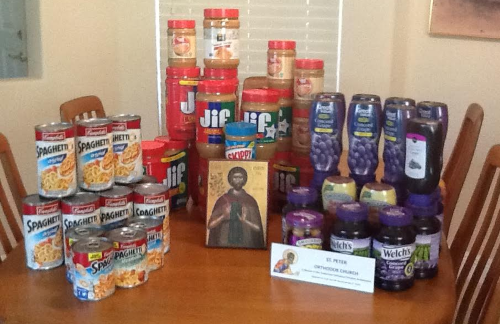 Two Important Things to Remember…
The Church is not a Charity
The Church is the Body of Christ not a charity. The Church is the way that God's work gets accomplished in the world. The Church is the place we come to Christ in full measure — Baptism, Holy Communion, Confession, healing, learning the word of God and much, much more. The Church is the place where Christ's transformative power in our lives first flows. The Church is the place where friendships blossom and form that can last a lifetime. The Church is a place where Christ is found.
The Church exists because God has called each and everyone of us. The response to His call in our lives is what constitutes the Church as Church and not just a club of like-minded people. It is dynamic, a place where God lives too, the place that requires the cleansing of our hearts and minds so that God can reveal Himself to us and thus save us.
We love God because He first loved us, the scripture says. He gives to us so in turn we must give to Him. One critical way of meeting that obligation (and it is an obligation) is to support our Church to the best measure of our ability.
Worship is Very Important
Worship is not optional. To be properly formed as Sons of the Living God — men and women alike — we have to worship. Worship is the proper response to God's revelation of Himself to us. Worship transforms us. It makes clear who we are and who God created us to be because that knowledge can only be acquired in the presence of God and not outside of Him.
If we make worship optional we don't really understand what it means to be a Christian. Put another way, if worship becomes optional than we never move beyond our own ideas about who God is and who we are. Some people are comfortable with this but the truth that their maturation has slowed or stopped.
Wisdom and knowledge and all the things necessary for a deeper life come from the outside, not from within. Our job is to till the soil of our heart so that when they are given by God they can be recognized, received, and applied. Worship — participation in the liturgical life of the Church — is critical for personal progress to occur.
Choir Practice Continues Wednesday, July 27, 2016
We also have choir practice this Wednesday, July 20.
Bible Study Continues Wednesday, July 27, 2016
No bible study this Wednesday July 20. Fr. Hans is attending the clergy conference.
Fr. Hans Out of Town Monday-Friday of This Week
He will be attending the nation clergy conference in Pittsburgh. He will be gone from Monday, July 18 through Friday, July 22.
Wisdom from the Elders
A monk said to St. Sisoes: "I would like to preserve my heart but I cannot," to which the elder responded: "How can we preserve the heart when the gate to our heart, the tongue stands open?"
-St. Sisoes
The unattainableness of perfection obliges us all to continually turn to God in prayer for understanding and help.
-Father Sophrony
Let us give thanks to God continually. For, it is outrageous that when we enjoy His benefaction to us in deed every single day, we do not acknowledge the favor with so much as a word; and this, when the acknowledgment confers great benefit on us. He does not need anything of ours, but we stand in need of all things from Him.
In point of fact, thanksgiving adds nothing to Him, but it brings us closer to Him. For if, when we recall the benefactions of men, we are the more warmed by affection for them; much more, when we continually bring to mind the benefits of the Master towards us, shall we be more earnest with regard to His commandments.
For this cause Paul also said, Be ye thankful. For the best preservative of any benefaction is the remembrance of the benefaction, and a continual thanksgiving for it.
-St. John Chrysostom
Prayer List on the St. Peter website
The Prayer List is now available on the St. Peter website. You can add or remove names using the form provided. More important is that you can print out the names periodically to keep on your family altar or near your icons and bible and reference the names whenever you pray.
Remember in Your Prayers
Annette Star
Claire Livaditis
Eva Chandilles
Baby Dani
Scott Nedoff
Maria Karela
Anthony Mourgis
John Hansen
Constandina James
Peter Wouralis
Sia Wouralis
James Hord
Bob Smith
Tom and Jean, parents of Patty and Jerry.
Tom and Jean, parents of Patty and Jerry.
How should we pray for the sick? Remember them daily. Say their names (first names are sufficient) and ask God to bestow mercy and grace on them.
Add or remove names and print this list for easy reference during your prayer time on the St. Peter website.
Sunday Readings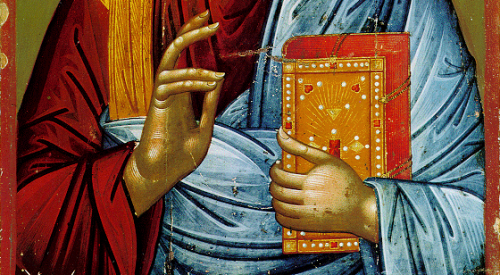 Epistle
For the Fifth Sunday after Pentecost
How great are Thy works, O Lord! In wisdom hast Thou made them all.
Bless the Lord, O my soul.
The Reading from the Epistle of St. Paul to the Romans. (10:1-10)
Brethren, my heart's desire and prayer to God for Israel is that it may be saved. I bear them witness that they have a zeal for God, but it is not enlightened. For, being ignorant of the righteousness that comes from God, and seeking to establish their own, they did not submit to God's righteousness. For Christ is the end of the law, that everyone who has faith may be justified. Moses writes that the man who practices the righteousness which is based on the law shall live by it.

But the righteousness based on faith says: Do not say in your heart, "Who will ascend into Heaven?" (that is, to bring Christ down) or "Who will descend into the abyss?" (that is, to bring Christ up from the dead). But what does it say? The word is near you, on your lips and in your heart (that is, the word of faith which we preach); because, if you confess with your lips that Jesus is Lord and believe in your heart that God raised Him from the dead, you will be saved. For man believes with his heart and so is justified, and he confesses with his lips and so is saved.
Gospel
For the Fifth Sunday of Matthew
The Reading from the Holy Gospel according to St. Matthew. (8:28-9:1)
At that time, when Jesus came to the country of the Gergesenes, two demoniacs met Him, coming out of the tombs, so fierce that no one could pass that way. And behold, they cried out, "What have we to do to Thee, O Son of God? Art Thou come here to torment us before the time?" Now a herd of many swine was feeding at some distance from them. And the demons begged Him, "If Thou castest us out, send us away into the herd of swine." And He said to them, "Go." So they came out and went into the swine; and behold, the whole herd rushed down the steep bank into the sea, and perished in the waters. The herdsmen fled, and going into the city they told everything, and what had happened to the demoniacs. And behold, all the city came out to meet Jesus; and when they saw Him, they begged Him to leave their neighborhood. And getting into a boat He crossed over and came to His own city.