Sunday of the Holy Fathers of the Fourth Ecumenical Council
Venerable Macrina, sister of Basil the Great; Venerable Dios of Antioch; Theodore, archbishop of Edessa; Uncovering of the relics of Venerable Seraphim of Sarov; Holy Stephen Lazarevic, Serbian Prince and Holy Militsa his mother
Fathers of the Fourth Ecumenical Council
Held in Chalcedon, near Constantinople, 451. Under Emperor Marcian. 630 Bishops were present.
Monophysite Controversy
The Council was concerned, once again, with the nature of Jesus Christ. The teaching arose that Christ's human nature (less perfect) dissolved itself in His divine nature (more perfect): like a cube of sugar in a post of water. Thus, in reality, Christ had only one nature, the Divine. Hence, the term: Monophysites ("mono", one and "physis", "nature".) Monophysitism overemphasized the divine nature of Christ, at the expense of the human.
Proclamation
The Council condemned Monophysitism and proclaimed that Christ has two complete natures: the divine and the human, as defined by previous Councils. These two natures function without confusion, are not divided nor separate (against Nestorius), and at no time did they undergo any change (against Eutyches: Monophysites).
History of the Ecumenical Councils
The First Council, of the 318 Fathers who assembled in Nicaea in 325 to condemn Arius, who denied that the Son of God is consubstantial with the Father; the Fathers of the First Council also ordained that the whole Church should celebrate Pascha according to the same reckoning;
The Second Council, of the 150 Fathers who assembled in Constantinople in 381 to condemn Macedonius, Patriarch of Constantinople, who denied the Divinity of the Holy Spirit;
The Third Council, of the 200 Fathers who assembled in Ephesus in 431, to condemn Nestorius, Patriarch of Constantinople, who called Christ a mere man and not God incarnate;
The Fourth Council, of the 630 who assembled in Chalcedon in 451, to condemn Eutyches, who taught that there was only one nature, the divine, in Christ after the Incarnation, and Dioscorus, Patriarch of Alexandria, who illegally received Eutyches back into communion and deposed Saint Flavian, Patriarch of Constantinople, who had excommunicated Eutyches;
The Fifth Council in 553, of the 165 who assembled in Constantinople for the second time to condemn Origen and Theodore of Mopsuestia, the teacher of Nestorius;
The Sixth Council in 680, of the 170 who assembled in Constantinople for the third time, to condemn the Monothelite heresy, which taught that there is in Christ but one will, the divine;
The Seventh Council in 787, of the 350 who assembled in Nicaea for the second time to condemn Iconoclasm.
Read the entire history on the Greek Orthodox Archdiocese website.
Services This Week
Sun Jul 11 — THIRD SUNDAY OF MATTHEW Divine Liturgy – Orthros 8:30am Divine Liturgy 9:30am LIVE STREAM
Thu Jul 15 — St. Vladimir Equal to the Apostles Divine Liturgy 9:30am LIVE STREAM
Sat Jul 17 — Great Marina of Antioch Divine Liturgy 9:30am LIVE STREAM
Services This Week
No services. Fr. Hans out of town.
Sunday School Registration and the Blessing of the Children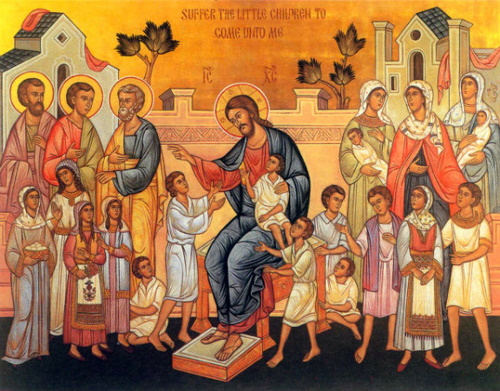 Mark you calendars for Sunday, September 8, 2021. Following the Divine Liturgy we will bless all Sunday School and regular school students.
Also, we need to update our Sunday School roster. We will also hold registration for Sunday School on that date in the social hall.
Bring your children!
New Procedures for Hospitality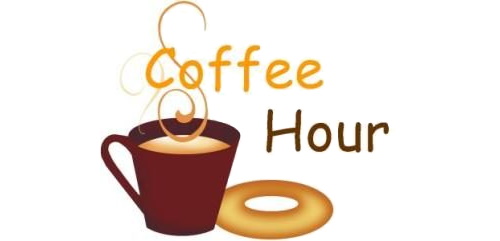 Our Church is growing and the old ways have to become new ways so that things run smoothly.
First of all, thumbs up to our July volunteers: Barbara Dionysopoulos, Marianthi Kazakos, Niki and Ray Locklear, Maria Mourgis, and Carol Palantine. Thank you and thank you again!
Thank you to Tom and Marlene Haley who organize everything. They do a great job!
NEW PROCEDURES
On most Sundays we will serve lighter refreshments like coffee, sweets, hummus, olives, feta, pita and similar items. Please continue bringing these items. Even though we have a range (unlike our former facility), we appreciate items that are "ready to be served."
Please do not donate coffee. We have a space age coffee brewer that we aquired at no cost if we buy our coffee from one supplier. If you bring in coffee, we can't use it.
We cannot continue preparing meals for Memorials, Name Days, Anniversaries, and other celebrations. We don't have the appliances or manpower to do it well. We do, however, have the name of two catering companies that can prepare and deliver the food if you would like to sponsor a celebration. Please call Tom Haley at 239-887-0753 for details and to make arrangements.
If you would like to bring in your own prepared food, please contact Tom Haley at 239-887-0753 by the Friday before the upcoming Sunday. That way we know not to prepare any food for Sunday.
Thank you and let's BREAK BREAD!
WOMEN'S BOOK STUDY This Wednesday, July 14, 2021 at 6:00pm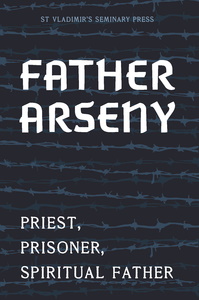 The Women's Book Study meets in the Social Hall. The book we will study is Fr. Arseny: Priest, Prisoner, Spiritual Father. Fr. Arseny was a prisoner in a Soviet Gulag and ministered to many prisoners. His story is gripping, compelling, and shows how God worked even in the Gulag through a faithful priest.
Cafe of Life Ministry – Making Sandwiches This Thursday July 15, 2021 at 1:00pm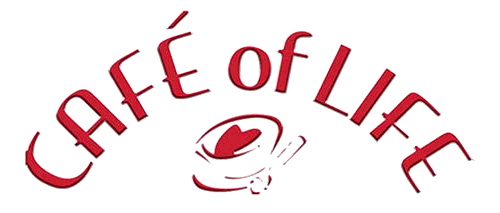 How full does your pantry look this morning? Did you eat breakfast? How about lunch? You didn't have to guess where your meals came from this morning,did you? Maybe tomorrow or a week from now your pantry will look the same. As will as the stomach of those who crave from hunger. There are people who will starve to death today while you eat your dinner tonight. So Please help us in donating to those who don't have a pantry to look into by giving generously to the poor and homeless in our community.
We will be gathering this Thursday at 1:00 pm in the social hall to make those sandwiches. Volunteers are welcomed.
Thank you, God bless and IC XC NI KA!
The Safest Way to Come to Church
US 41 is a busy highway and the intersection at Hickory Drive does not have a stop light. We recommend turning on Sanibel Boulevard and following Coconut Road instead.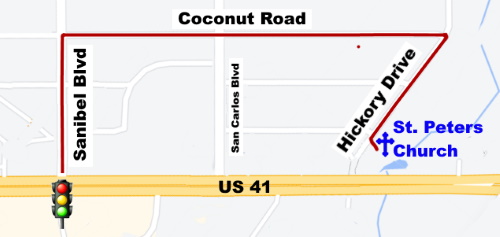 Pledge & Income Report – June 2021
Donations received in June: $17,697.
Amount of money needed to cover expenses: $22,760.21.
We are behind by $5, 063.
These numbers reflect the operating costs of the the Hickory Drive property.
Please note:Summer months are always lean and in June we fell behind by $5,063. Please remember to send in your pledge so we can make up the deficit and keep St. Peter's on a secure financial footing.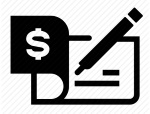 St. Peter Orthodox Church
7470 Hickory Drive
Fort Myers, FL 33967
You can also donate online:
Calendar At A Glance
Calendar also available on the St. Peter website.
JULY
Sun Jul 11 — THIRD SUNDAY OF MATTHEW Divine Liturgy – Orthros 8:30am Divine Liturgy 9:30am LIVE STREAM
Thu Jul 15 — St. Vladimir Equal to the Apostles Divine Liturgy 9:30am LIVE STREAM
Sat Jul 17 — Great Marina of Antioch Divine Liturgy 9:30am LIVE STREAM
Sun Jul 18 — FATHERS OF THE FOURTH ECUMENICAL COUNCIL Divine Liturgy – Orthros 8:30am Divine Liturgy 9:30am LIVE STREAM
Mon Jul 19-22 — Fr. Hans out of Town
Sun Jul 25 — DORMITION OF ST ANNA Divine Liturgy – Orthros 8:30am Divine Liturgy 9:30am LIVE STREAM
Mon Jul 26 — St. Paraskeve Divine Liturgy 9:30am LIVE STREAM
Tue Jul 27 — St. Panteleimon Divine Liturgy 9:30am LIVE STREAM
Fri Jul 30 — Paraklesis to the Theotokos 9:30am LIVE STREAM
Wisdom From The Elders
Seeing our sinful state of spirit and heart, the devil suggests we keep a sharp watch on what others say and do. And he leads us to draw conclusions from these observations concerning what others think and feel. Then, on the basis of these suppositions, we form an opinion of them (generally not good), exaggerating this supposed fault until we conclude that the person we are judging has a deeply rooted character defect. Fr. Jack Sparks
We do indeed affirm that the soul, when pure, perceives God's grace, tasting it in some ineffable manner; but no invisible reality appears to it in a visible form, since now 'we walk by faith, not by sight', as St Paul says (2 Cor. 5:7). If light or some fiery form should be seen by one pursuing the spiritual way, he should not on any account accept such a vision: it is an obvious deceit of the enemy. St. Diadochus, bishop of Photike in Epirus
The heart is always cold when the thoughts are scattered. It is only when the thoughts are gathered and centered in the heart that the heart begins to burn. Elder Thaddeus
Worldly thoughts and the cares of life have the same effect on the understanding as a veil draped over the eyes, for the understanding is the eye of the soul. So long as we leave them there, we cannot see. But when they fall away as we remember that we are to die, then we shall clearly see the true light which illumines every man as it comes into the world from on high. Venerable Symeon the New Theologian
The measure of a man's spiritual growth is his humility. The more advanced he is spiritually, the more humble he is. And vice versa: the more humble, the higher spiritually. Neither prayer rules, nor prostrations, nor fasts, nor reading God's Word— only humility brings a man closer to God. Without humility, even the greatest spiritual feats are not only useless but can altogether destroy a person. Abbot Nikon Vorobiev
Some people are prone to the sin of condemnation due to habit, others from remembering wrongs, others from envy and hatred, but for the most part, we are prone to this sin due to conceit and haughtiness. In spite of our incorrigibility and sinfulness, it seems to us that we are better than many others. If we desire to be corrected of this sin of condemnation, we must in every way force ourselves to be humble before God and man, and implore God for help in this. St. Ambrose of Optina
Remember in Your Prayers
Names will remain on the list for two months.
If you would like to keep them on longer please mention it to Fr. Hans. We will keep the names on the list for as long as the person needs prayers.
Names will include the person who requested the prayers and the month the name will be removed.
The permanent list includes friends and members of St. Peter's and others including shut-ins.
Were names dropped that should have remained? Please mention it to Fr. Hans. He will add them back.
Updated June 13 / Resets August
Current Prayer List
David (Duskas 9/21)
Mike (Duskas 9/21)
Georgia D. (Repya 10/21)
Colleen R. (Repya 10/21)
Debbie (Breitenbach 9/21)
Anne (Breitenbach 9/21)
Patricia (Tsikita 9/21)
Robert (Tewis 9/21)
Lydia (Irena 9/21)
Lee (Irena 9/21)
Demetrios (Karras 8/21)
Leah (Brubaker 7/21)
Elena (Brubaker 7/21)
George III (Ghanem 7/21)
Kristin (Ghanem 7/21)
Nora (Ghanem 7/21)
George IV (Ghanem 7/21)
Lena (Ghanem 7/21)
Barbara (Dusckas 7/21)
Georgia (Jacobse 6/21)
Jean (Wolffe 6/21)
Robin (Wolffe 6/21)
Permanent Prayer List
Baby Dani (Repya)
Maria and her unborn child Iakovos (Diveris)
Sophia (D. Constantine)
Herman (Kerr)
Innocent (Kerr)
Nicholas (Kerr)
Paola (Jacobse)
Gregory (Yankopolos)
Soterios (Ninos)
Pauline (Poulos)
Sergio (Kazakos)
Rae (Semeretis)
Fran (Hansen)
Nina (Krotov)
Franklin (Pyrrson)
George (Chionis)
Stamatia (Evelyn)
Demetrios (Kuchera)
Theodosios (Palis)
Theodora (Webb)
Helen (Rogers)
Robert (Smith)
Robert (Jarvis)
Presbytera Rosy (in Pakistan)
James (Hord)
Ann (Rellis)
Vassiliki (Kontinos)
Vassiliki (Morekeas)
Founders, Members, and Benefactors Departed this Life
John (Hansen)
Anatoly (Kurdsjuk)
Thareni (Brooks)
Milan Evanoff
Jean (Sam)
Eleni (Pearson)
Richard (Pearson)
Fr. Stephanos (Shagoury)
Panagiota (Bea Chionis)
Anthony (Mourgis)
Anthony (Mankus)
Constantine (Houpis)
Constantine (Joseph)
Mary (Jarvis)
Panagiota Margarita (Palis)
Maria (Ninos)
John (Katsigianopoulos)
George (Chionis)
Gregory (Pappas)
Angela (Coran K)
How should we pray for the sick? Remember them daily. Say their names (first names are sufficient) and ask God to bestow mercy and grace on them.
Add or remove names and print this list for easy reference during your prayer time on the St. Peter website.
Sunday Readings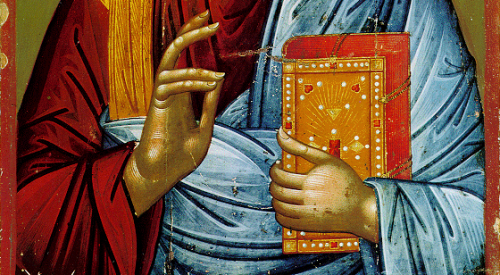 EPISTLE
For St. Euphemia the All-Praised
For the Holy Fathers
Be glad in the Lord, and rejoice, O ye righteous.
Blessed are those whose iniquities are forgiven!
The Reading from the Epistle of St. Paul to St. Titus. (3:8-15)
Titus, my son, faithful is the saying, and concerning these things I desire you to affirm confidently, that those who have believed in God may be thoughtful of how to preside in honorable occupations. These things are good and profitable to men. But avoid foolish disputes, and genealogies, and contentions, and controversies about the Law; for they are unprofitable and vain.

A man who is a heretic after the first and second admonition reject, knowing that such a one is subverted, and sins, being self-condemned. When I send Artemas to you, or Tychicós, give diligence to come to me to Nicopolis; for I have determined to winter there. Set forward Zenas the lawyer and Apollos on their journey diligently, that they may be lacking in nothing.

And let our people also learn how to preside in honorable occupations, so as to help in cases of urgent need, that they should not be unfruitful. All who are with me salute you. Salute those who love us in the faith. Grace be with you all. Amen.
GOSPEL
For the Holy Fathers
The Reading from the Holy Gospel according to St. Matthew. (5:14-19)
The Lord said to His Disciples: "You are the light of the world. A city set on a hill cannot be hid. Nor do men light a lamp and put it under a bushel, but on a stand, and it gives light to all in the house. Let your light so shine before men, that they may see your good works and give glory to your Father Who is in heaven.

Think not that I have come to abolish the law and the prophets; I have come not to abolish them, but to fulfill them. For truly, I say to you, until heaven and earth pass away, not an iota, not a dot, will pass from the law until all is accomplished. Whoever then relaxes one of the least of these commandments, and teaches men so, shall be called least in the kingdom of heaven; but he who does them and teaches them shall be called great in the kingdom of heaven."