Sunday of the Holy Fathers of Fourth Ecumenical Council
The Holy Fathers of Fourth Ecumenical Council
About the Fourth Ecumenical Council
The Fourth Ecumenical Council was deld in Chalcedon, near Constantinople, 451. Under Emperor Marcian. 630 Bishops were present.
Monophysite Controversy
The Council was concerned, once again, with the nature of Jesus Christ. The teaching arose that Christ's human nature (less perfect) dissolved itself in His divine nature (more perfect): like a cube of sugar in a post of water. Thus, in reality, Christ had only one nature, the Divine. Hence, the term: Monophysites ("mono", one and "physis", "nature".) Monophysitism overemphasized the divine nature of Christ, at the expense of the human.
Proclamation
The Council condemned Monophysitism and proclaimed that Christ has two complete natures: the divine and the human, as defined by previous Councils. These two natures function without confusion, are not divided nor separate (against Nestorius), and at no time did they undergo any change (against Eutyches: Monophysites).
Source: Greek Orthodox Archdiocese website
Save the Date! – Lucas Teufel Baptism on August 19
All of St. Peter's family is invited to attend the baptism of Lucas James Teufel, grandson of Anthea Teufel.
The baptism will be held Saturday, August 19, at 2:30pm.
Appetizers and refreshments will be served in the Social Hall following the baptism.
Everyone is invited but please RSVP to Anthea at 239-994-6975 (text preferred) or sign up in the Social Hall following the Divine Liturgy this Sunday.
Orthodox Nursing Home Opens in Clearwater, Florida
From Most Holy Theotokos Rescuer of the Perishing:
Recently, a pan-Orthodox group banded together and started Most Holy Theotokos Rescuer of the Perishing. It is a house of prayer and repentance which ministers to the physical and spiritual needs of Orthodox elderly in the Tampa Bay area. We are located just south of downtown Clearwater and less than a quarter mile from the largest hospital in the area, Morton Plant.
The board of directors is pan-Orthodox representing every major Orthodox jurisdiction currently serving in the area. We have priests serving on the board from the Antiochian Archdiocese, the Moscow Patriarchate, the Serbian Diocese of North America, the OCA, and a layman from the Greek Archdiocese.
Presently, we have a collaborative agreement with the owner of Magnolia Manor (where Most Holy Theotokos Rescuer of the Perishing is located). Magnolia Manor will continue to look after the physical needs of the residents while we will minister to the spiritual needs of the Orthodox residents. We will hold services, including Divine Liturgies, at the residence and have a full schedule of daily services for the residents' spiritual edification.
We are now accepting applications from prospective Orthodox residents who would like to join us. We are seeking those who desire to live a more intense spiritual life in an Orthodox atmosphere of love and community. While we are located in the Tampa Bay area, we are pleased to welcome Orthodox residents from other parts of the country.
Please visit our website to learn more.
Fr. Hans is the Antiochian representative of this endeavor.
Interfaith Charities Reaches Out to St. Peter's
Interfaith Charities reached out to us last week to provide peanut butter, jelly, and Ramen noodles to feed hungry kids in our area this summer. When school gets out, the need gets greater.
Please bring these items to church and we will get them to Interfaith Charities. St. Peter's is committed to meeting the needs of people locally and Interfaith Charities is one way we fulfill that commission.
Learn more about Interfaith Charities on their website.
Coming in September: Through the Bible in One Year

Would you like to read the entire bible? Would you like to take on this challenge with friends for encouragement and support?
On September 1, the start of the new Church Year, St. Peter's will start a program to read the bible in one year. Information will be posted on the website in August.
Start thinking about it now.
Calendar At A Glance
July 11, 2017 6:30pm Vespers/Liturgy St. Paisios
July 17-31, 2017 Fr. Hans on Vacation
Wisdom From The Elders
Acts of charity, almsgiving and all the external good works do not suppress the arrogance of the heart; but noetic meditation, the labor of repentance, contrition and humility—these humble the proud mind.
Elder Joseph the Hesychast
It would be a good thing had we no need of the written Scriptures but instead had the Holy Spirit living and active in our hearts. But because we lost the grace of the Holy Spirit, God, in his love and mercy gave us the holy Scriptures. And how bad are you if having lost the Holy Spirit and received the holy scriptures you don't even read the holy scriptures.
St. John Chrysostom
The intellect does many good and bad things without the body, whereas the body can do neither good nor evil without the intellect. This is because the law of freedom applies to what happens before we act.
Saint Kosmas Aitolos
He who created us without our help, will not save us without our consent.
Blessed Augustine
But do not be troubled or sad. The Lord sometimes allows people who are devoted to Him to fall into such dreadful vices; and this is in order to prevent them from falling into a still greater sin—pride. Your temptation will pass and you will spend the remaining days of your life in humility. Only do not forget your sin.
St. Seraphim of Sarov
Remember in Your Prayers
Katherine
Douglas
Corwin
Jim
Tracy
John
Eva W.
John Dusckas
Barbara
Melissa
David
Lisa
Nancy
Bob
Angela
James L.
Anthony
Marcie
Michele
Sonya
Kenneth
Carol Ann
Matthew
Gerhard
Valerie
Chrysostom
Tim
Ron
Ivy-Jean
Pat
Christina
Baby Samuel
Jennie
Mary
Baby Kyriake
Maximos
Marian
Photini
Nicholas
Brad William
Ryan
Sarah
Robert Jarvis
Petronia (Wife of Phil Pappas)
Anna Marie Smith Baker
Iris Kuring (Bettina Zifiris' mother)
Constantine Houpis
Ron Chromulak
Beverly Chromulak
Katerina
Dianne
Loucine Kassis
Mary Kassis
Baby Maximus
Annette Star
Christine
Maria
Claire Livaditis
Eva Chandilles
Baby Dani
Scott Nedoff
Anthony Mourgis
John Hansen
James Hord
Bob Smith
Tom and Jean
How should we pray for the sick? Remember them daily. Say their names (first names are sufficient) and ask God to bestow mercy and grace on them.
Add or remove names and print this list for easy reference during your prayer time on the St. Peter website.
Sunday Readings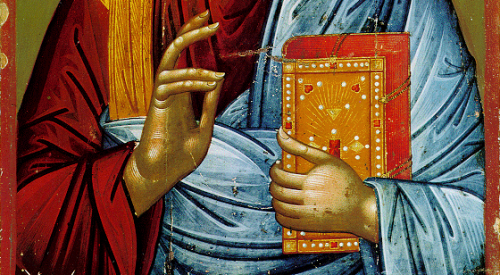 Epistle
For the Holy Fathers
Blessed art Thou, O Lord, the God of our Fathers.
For Thou art just in all that Thou hast done for us.
The Reading from the Epistle of St. Paul to St. Titus. (3:8-15)
Titus, my son, the saying is sure. I desire you to insist on these things, so that those who have believed in God may be careful to apply themselves to good deeds; these are excellent and profitable to men. But avoid stupid controversies, genealogies, dissensions, and quarrels over the law, for they are unprofitable and futile. As for a man who is factious, after admonishing him once or twice, have nothing more to do with him, knowing that such a person is perverted and sinful; he is self-condemned.

When I send Artemas or Tychicus to you, do your best to come to me at Nicopolis, for I have decided to spend the winter there. Do your best to speed Zenas the lawyer and Apollos on their way; see that they lack nothing. And let our people learn to apply themselves to good deeds, so as to help cases of urgent need, and not to be unfruitful. All who are with me send greetings to you. Greet those who love us in the faith. Grace be with you all. Amen.
Gospel
For the Holy Fathers
The Reading from the Holy Gospel according to St. Matthew. (5:14-19)
The Lord said to His Disciples: "You are the light of the world. A city set on a hill cannot be hid. Nor do men light a lamp and put it under a bushel, but on a stand, and it gives light to all in the house. Let your light so shine before men, that they may see your good works and give glory to your Father Who is in heaven.

Think not that I have come to abolish the law and the prophets; I have come not to abolish them, but to fulfill them. For truly, I say to you, until heaven and earth pass away, not an iota, not a dot, will pass from the law until all is accomplished. Whoever then relaxes one of the least of these commandments, and teaches men so, shall be called least in the kingdom of heaven; but he who does them and teaches them shall be called great in the kingdom of heaven."