Sunday of the Holy Fathers of Fourth Ecumenical Council
Great Prince Vladimir (Basil) of Kiev, Equal-to-the-Apostles; Martyrs Kyrikos and his mother Julitta of Tarsus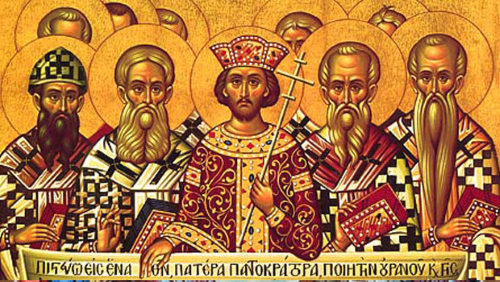 On the Sunday that falls from the 13th to the 19th of the present month, we chant the Service to the Holy and God-bearing Fathers who came together in the Seven Ecumenical Councils, that is: the First Council, of the 318 Fathers who assembled in Nicaea in 325 to condemn Arius, who denied that the Son of God is consubstantial with the Father; the Fathers of the First Council also ordained that the whole Church should celebrate Pascha according to the same reckoning; the Second Council, of the 150 Fathers who assembled in Constantinople in 381 to condemn Macedonius, Patriarch of Constantinople, who denied the Divinity of the Holy Spirit; the Third Council, of the 200 Fathers who assembled in Ephesus in 431, to condemn Nestorius, Patriarch of Constantinople, who called Christ a mere man and not God incarnate; the Fourth Council, of the 630 who assembled in Chalcedon in 451, to condemn Eutyches, who taught that there was only one nature, the divine, in Christ after the Incarnation, and Dioscorus, Patriarch of Alexandria, who illegally received Eutyches back into communion and deposed Saint Flavian, Patriarch of Constantinople, who had excommunicated Eutyches; the Fifth Council in 553, of the 165 who assembled in Constantinople for the second time to condemn Origen and Theodore of Mopsuestia, the teacher of Nestorius; the Sixth Council in 680, of the 170 who assembled in Constantinople for the third time, to condemn the Monothelite heresy, which taught that there is in Christ but one will, the divine; and the Seventh Council in 787, of the 350 who assembled in Nicaea for the second time to condemn Iconoclasm.
Read the entire history on the Greek Orthodox Archdiocese website.
Bishop Nicholas Pastoral Visit to St. Peter's on Saturday and Sunday, July 14-15, 2018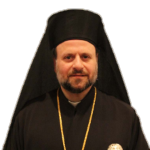 His Grace Bishop Nicholas will be making a pastoral visit to St. Peter's next Saturday and Sunday. We begin with Great Vespers at 5pm. That evening His Grace will meet with the Parish Council.
Sunday Bp. Nicholas will preside at the Divine Liturgy and then address all of us during a light luncheon during Social Hall. He expressed that he wants to get to know all of us! He likes what we are doing and his visit will encourage us all.
It is a very special event when the Bishop visits, and Bp. Nicholas is a very down to earth and practically minded man. He like and understands people and he knows how parishes and congregations grow. He spent twenty years in the working world before getting ordained and has a lot of experience in management and planning.
Please make every effort to attend. It's summer and the population is always smaller but it would be a fine gesture and a great welcome if everybody who could come would be there.
Could You Bring A Home Made Desert?
It would add a beautiful touch to our light luncheon and offer a warm welcome to Bp. Nicholas.
St. Paisios Liturgy, Thursday, July 12, 2018 at 9:30am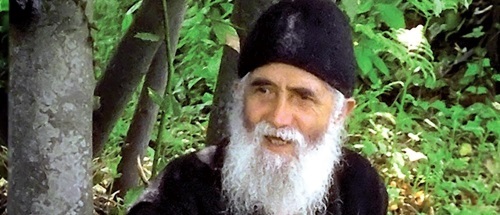 A Divine Liturgy commemorating St. Paisios of Mt. Athos (the same St. Paisios who has performed miracles in our parish) will be held on Thursday, July 12 at 9:30am. Fr. Paul Girgis from St. Paul's in Naples and some of his parishioners will be joining us for worship.
Who Is St. Paisios?
Our venerable and God-bearing Father Paisios of Mount Athos or Paisios the New, of the Holy Mountain (July 25, 1924 – July 12, 1994), also known as Elder Paisios (Greek: G????ta? ?a?s??? ? ?????e?t??), was a monastic of Mount Athos. An ascetic, he was known by his visitors for his gentle manner and acceptance of those who came to receive his advice, counsel, and blessing. His words of counsel continue to be published. [1] Elder Paisios was canonized on January 13, 2015, by the Holy and Sacred Synod of the Ecumenical Patriarchate of Constantinople.[1][2] The Church commemorates St. Paisios on July 12.
Read more on the Orthodox Wiki website.
We Are Moving Forward and Need Your Help
UPDATE: We have over $500 thousand committed which means we are more than half way. We are now in the due diligence phase (building inspection, city compliance, and so forth).
We need to raise the remaining commitments by July 15. This is a short period but the process is moving fast. Please prayerfully consider what you can invest or donate and include it on the commitment letter.

At our General Assembly Meeting earlier this month, it was unanimously approved to pursue the acquisition of the new property for our parish expansion. The property is a steel building formerly used as a post office sorting facility with parking. It is located on Broadway and US41. The cost for the building is $600 thousand (a good price) and with improvements and city requirements for upgrades the total cost is estimated to be $900 thousand to $1 million.
All in all it is a good find for the price. It is also one of the few buildings for sale in the area with enough parking. The area is zoned for a church which saves us a considerable amount of money and time.
The new facility will be able to seat 180 parishioners. Currently we have room for 125. The floor level seats 100 people and you can see during season we reach capacity almost every Sunday. There is also room for a social hall, kitchen, and Sunday School rooms.
We will have to retrofit the building to make it a church but we are good at that. Also, everything that has been purchased in our present facility can be moved (we planned on this from the start). Being in a new building will offer us more opportunities and it will also draw more people. Our tentative date for occupancy is February 1, 2019 barring no unforeseen issues.
We will fund this through donations and a private mortgage. The private mortgage will be converted to a bank mortgage once we establish a track record for lenders. Debt service on this mortgage will amount to about one-half of what we presently pay for rent so it will not be a hardship.
How Can You Help?
Now the heavy lifting starts. We need donations and investments. The more donations we have the less debt we have to carry. If you would like to invest, please talk to Fr. Hans and he will direct you to the people in charge of side of the process.
We need financial commitments. We have to bring money to the table in order to buy the property. Please donate generously so that our goal of $1 million can be reached.
Please note that we will need commitments by the middle of July.
Below is a commitment letter. Click the image and you will be brought to the page.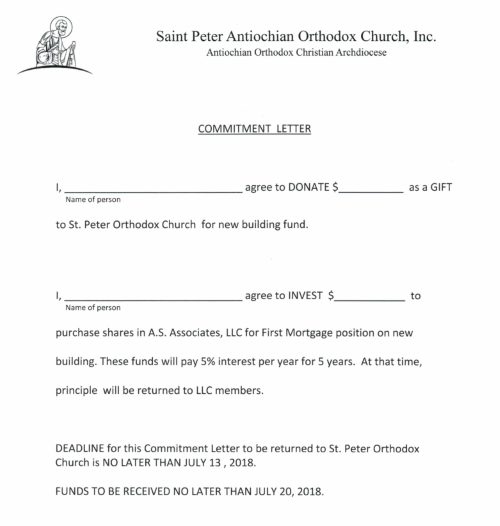 A Personal Note from Fr. Hans
We began in humble beginnings at the Holiday Inn. Then we moved to Bernwood. It was a risk but one worth taking we decided at the time and it turned out to be correct. I think this next step is a logical one that is led by our Lord as well. St. Peter's has flourished, it is meant to flourish, and it can flourish into the future as we remain faithful.
To that end let me assure everyone that St. Peter's will be my home until God calls me to my eternal home. I love the people of St. Peter's, I love the work I am called to do, and I am not going anywhere. My personal goal is to see St. Peter's completely established and to be faithful in my pastoral work to the best of my ability.
We are in this together because our Lord has called us to work together. And we work for the future which means we work for the young because the young enable to see the future. If we do that the parish will prosper and flourish and outlast our brief sojourn on this earth.
Calendar At A Glance
Thursday, July 12, 2018 — 9:30am Divine Liturgy St. Paisios
Friday, July 13, 2018 — 2:30pm Parish Council Meeting
Saturday, July 14, 2018 — Great Vespers with Bishop Nicholas
Sunday, July 15, 2018 — Divine Liturgy with Bp. Nicholas followed by light luncheon
Monday – Friday, July 16-20, 2018 — Fr. Hans at Antiochian Clergy Symposium
Fr. Hans Attending Antiochian Clergy Symposium July 16-20
Every two years a week long Clergy Symposium is held for all Antiochian Clergy held at Antiochian Village. This is geared toward clergy continuing education as well as providing opportunity for clergy to get to know each other. Fr. Hans will be attending from Monday, July 16 to Friday, July 20.
Wisdom From The Elders
There are saints who were very anxious, who had nervous tics, and also those who were very brusque. Others were exceptionally slow. Some saints had physical defects. What makes a saint is not outward perfection, it's that the old man is conquered on the inside. The saints are not yet totally transfigured, and the old man continues to be visible on the outside. These appearances can trick us and hide their inner reality from us.
Elder Sergei of Vanves
"Love of the body is a sign of unbelief." Faith frees the intellect from the categories of the senses and sobers it by means of fasting, by pondering on God and by vigils. St. Justin Popovich
When bad thoughts surround us like a swarm of flies, we shouldn't become discouraged, but persevere in prayer and hold on. Elder Sergei of Vanves
Pride, too, has its levels, just like humility. Outward pride is easier to cure, but pride of the mind is almost impossible to eradicate. No one can prove to such a person that he is on the wrong track. But outward pride is curable, because one can go from riches to rags in the twinkling of an eye and become humble whether he wants to or not!
Elder Thaddeus of Vitovnica
Therefore humble yourselves under the mighty hand of God, that He may exalt you in due time, casting all your care upon Him, for He cares for you. 1 Peter 5:6-7
…an untried man is unpracticed. St. Barsanuphius
Remember in Your Prayers
Vasiliki
Efstratia
Alexandra
Nikos
Georgia
Ioannis
Costandino
Jeffrey
Vaso
Dave
Dimitri – Presbyter
Vassiliki
Octavio
Tom
Carl
Rena
Nikolay (5 year old boy in Bulgaria whose parents asked us to pray)
David
Eva K.
Rosie
Kathryn
Jeremy

Constantine
Robert
Jane
Theodora
David
Gina
Baby Brynn L.
Micheal
Haralambos
Lillian
Presbytera Rosy
Valentina
John
Eva W.
Barbara
Angela
Carol Ann
Matthew
Chrysostom
Tim
Ivy-Jean
Pat
Christina
Maria Louise
Maximos
Marian
Photini
Nicholas
Sarah
Petronia (Wife of Phil Pappas)
Constantine Houpis
Anna Marie Smith Baker
Ron Chromulak
Beverly Chromulak
Katerina
Loucine Kassis
Mary Kassis
Baby Maximus
Christine
Maria
Annette Star
Claire Livaditis
Eva Chandilles
Baby Dani
Scott Nedoff
Anthony Mourgis
John Hansen
James Hord
Tom
How should we pray for the sick? Remember them daily. Say their names (first names are sufficient) and ask God to bestow mercy and grace on them.
Add or remove names and print this list for easy reference during your prayer time on the St. Peter website.
Sunday Readings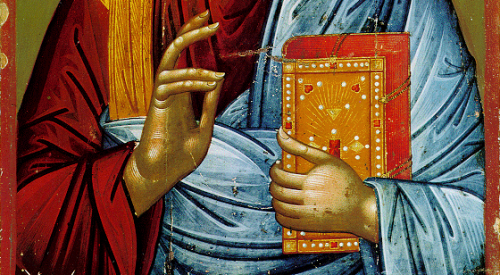 Epistle
For the Holy Fathers
Blessed art Thou, O Lord, the God of our Fathers.
For Thou art just in all that Thou hast done for us.
The Reading from the Epistle of St. Paul to St. Titus. (3:8-15)
Titus, my son, the saying is sure. I desire you to insist on these things, so that those who have believed in God may be careful to apply themselves to good deeds; these are excellent and profitable to men. But avoid stupid controversies, genealogies, dissensions, and quarrels over the law, for they are unprofitable and futile. As for a man who is factious, after admonishing him once or twice, have nothing more to do with him, knowing that such a person is perverted and sinful; he is self-condemned. When I send Artemas or Tychicus to you, do your best to come to me at Nicopolis, for I have decided to spend the winter there. Do your best to speed Zenas the lawyer and Apollos on their way; see that they lack nothing. And let our people learn to apply themselves to good deeds, so as to help cases of urgent need, and not to be unfruitful. All who are with me send greetings to you. Greet those who love us in the faith. Grace be with you all. Amen
Gospel
For the Holy Fathers
The Reading from the Holy Gospel according to St. Matthew. (5:14-19)
The Lord said to His Disciples: "You are the light of the world. A city set on a hill cannot be hid. Nor do men light a lamp and put it under a bushel, but on a stand, and it gives light to all in the house. Let your light so shine before men, that they may see your good works and give glory to your Father Who is in heaven. Think not that I have come to abolish the law and the prophets; I have come not to abolish them, but to fulfill them. For truly, I say to you, until heaven and earth pass away, not an iota, not a dot, will pass from the law until all is accomplished. Whoever then relaxes one of the least of these commandments, and teaches men so, shall be called least in the kingdom of heaven; but he who does them and teaches them shall be called great in the kingdom of heaven."