The Sunday After Theophany
Pastoral Letter from Met. Joseph on Theophany
Excerpt: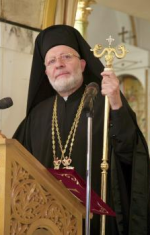 In this feast we see the Holy Trinity, God the Father, God the Son, and God the Holy Spirit, manifested to us in dramatic fashion. The voice of the Father expresses His pleasure with His Son, and the Holy Spirit descends upon the Son in the form of a dove which is also significant because the dove is a symbol of peace.

Our Lord reveals His true identity to us for the first time as He begins His earthly ministry, and immediately departs for a period of fasting into the wilderness where He utterly defeats the feeble efforts of Satan to tempt Him into sinfulness.
Read the entire letter on the Antiochian Archdiocese website.
House Blessings
Fr. Hans will be doing house and business blessing all through January. To sign up please visit the website or talk to Fr. Hans.
Choir Practice and Bible Study Continue Wednesday, January 6, 2016
Choir practice begins at 6pm and Bible Study at 7pm.
Since Orthodoxy 101 is completed we will resume our bible study of the Book of Acts.
Please note: Shortly we will be returning to Tuesday evenings for Choir practice and bible study.
Remember in Your Prayers
Bonnie Joseph
Bob Smith
Tom and Jean, parents of Patty and Jerry.
How should we pray for the sick? Remember them daily. Say their names and ask God to bestow mercy and grace on them.
Sunday Readings
Epistle
For the Sunday after the Theophany of Christ
Let Thy mercy, O Lord, be upon us.
Rejoice in the Lord, O ye righteous.
The Reading from the Epistle of St. Paul to the Ephesians. (4:7-13)
Brethren, grace was given to each of us according to the measure of Christ's gift. Therefore it is said, "When He ascended on high He led a host of captives, and He gave gifts to men." (In saying, "He ascended," what does it mean but that He had also descended into the lower parts of the earth? He who descended is He who also ascended far above all the heavens, that He might fill all things.)

And His gifts were that some should be apostles, some prophets, some evangelists, some pastors and teachers, to equip the saints for the work of ministry, for building up the body of Christ, until we all attain to the unity of the faith and of the knowledge of the Son of God, to mature manhood, to the measure of the stature of the fullness of Christ.
Gospel
For the Sunday after the Theophany of Christ
The reading from the Holy Gospel according to St. Matthew. (4:12-17)
At that time, when Jesus heard that John had been arrested, he withdrew into Galilee; and leaving Nazareth he went and dwelt in Capernaum by the sea, in the territory of Zebulon and Naphtali, so that what was spoken by the prophet Isaiah might be fulfilled: "The land of Zebulon and the land of Naphtali, toward the sea, across the Jordan, Galilee of the Gentiles—the people who sat in darkness have seen a great light, and for those who sat in the region and shadow of death light has dawned." From that time Jesus began to preach, saying, "Repent, for the kingdom of heaven is at hand."