Venerable Isidore of Pelusium; Venerable Nicholas the Confessor of Studion; New-martyr Joseph of Aleppo; George, Prince of Vladimir; and of the Holy and Righteous Mothers of the Three Hierarchs: Emmelia, Nona and Anthousa
The Sunday of the Prodigal Son is the second Sunday of pre-Lent, the weeks of preparation preceding Great Lent. It is the Sunday after the Sunday of the Publican and Pharisee and Sunday before Meatfare Sunday. This pre-Lent is the start of the Easter cycle of worship in the Orthodox Church.
On this Sunday in the preparation for Great Lent, Orthodox Christians are read Christ's parable about God's loving
forgiveness (Luke 15:11-24). They are to see themselves as being in a foreign country far from the Father's house and to make the movement of return to God, where we truly belong. The parable gives assurance that the Father will receive them with joy and gladness in their journey through Great Lent, their journey home.
From Orthodoxwiki.
Living the Orthodox Faith Class Wednesday, January 31 is CANCELLED
We will pick up the class the following week.
Presentation of the Lord in the Temple Divine Liturgy, February 1, 2018 at 6:30pm
On Thursday February 1, 2017 at 6:30pm we will celebrate the Presentation of the Lord in the Temple on the eve of this important feast day.
Forty days after Christ was born He was presented to God in the Jerusalem Temple according to the Mosaic Law. At this time as well His mother Mary underwent the ritual purification and offered the sacrifices as prescribed in the Law. Thus, forty days after Christmas, on the second of February, the Church celebrates the feast of the presentation called the Meeting (or Presentation or Reception) of the Lord.
Learn more on the Orthodox Church in America website.
NAMI Walkathon on February 17, 2018
Every year St. Peter's joins the NAMI walk organized by Bill and Mary Copeland.
Registration starts at 8-9am, at Cambria Park, Naples, FL. The walk starts at 9:30am.
There are refreshments before and after the walk provided for free. There will be fun for all age groups to participate in before and after.
Let Mary Copeland know if you want to join our team.
Learn more about NAMI here.
New Dentistry Office Opens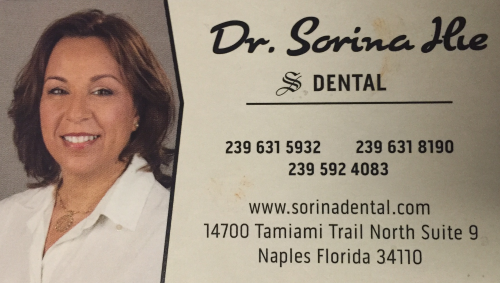 At St. Peter's we are pro-business especially towards the businesses of our parishioners. Stable incomes contribute to stable families, and when the business grows and can employ others even more stability is created. We ask God to bless businesses and offer prosperity for this reason.
Two other reasons that businesses are blessed is so that the poor can be helped (you can't give to the poor if you have nothing to give) and also for the support of the Church.
Recently St. Peter's parishioners Dr. Sorina Ilie and her husband Christian opened at dental office not far from the Church. If you need a dentist or know anyone who does, consider visiting or recommending them.
Dr. Sorina Ilie graduated from the New York University, School of Dentistry. Dr. Ilie worked in a number of offices in New York and New Jersey before moving to Florida, where she currently resides. Dr. Sorina Ilie is an accomplished general dentist with over 15 years of experience.
Visit the Sorina Dental website for more information.
St. Paul Founder's Day Brunch
St. Paul' Antiochian Church, our sister parish, is holding a brunch following Divine Liturgy on Sunday, February 11, 2018 at the Olde Cypress Country Club.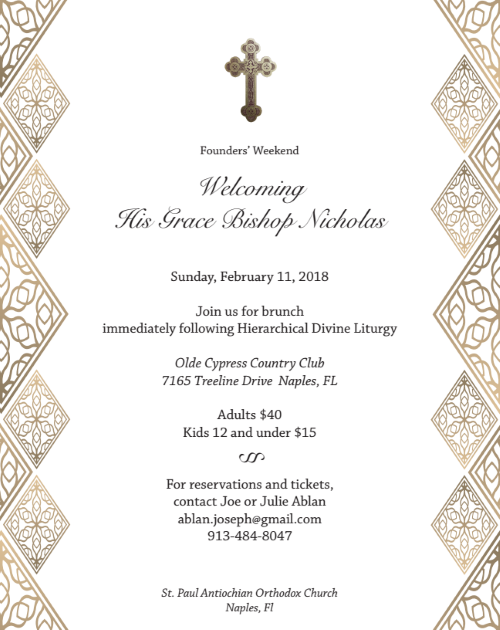 To order tickets please call the number on the flyer. Deadline for ordering tickets is February 1.
The brunch will be held at the Olde Cypress Country Club,7165 Treeline Dr, Naples, FL 34119 (view their website or get directions).
Since St. Paul's will be celebrating a hierarchical liturgy that Sunday there should be enough time for St. Peter's parishioners to get to Olde Cypress before the brunch begins.
Interfaith Charities Needs Our Help!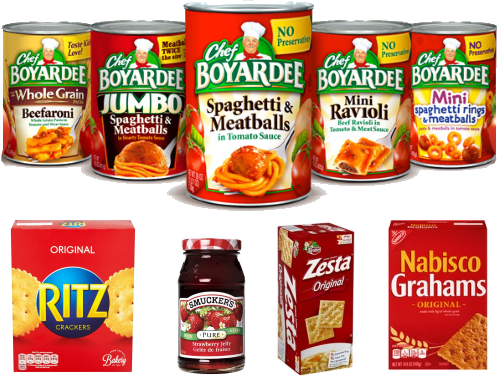 Interfaith Charities has asked us to help supply:
Jelly
Crackers (Ritz or Saltines)
Any Chef Boyardee food item (cans only please)
They also need:
Used clothing
Shoes
Bedding
Bring bring all items you can to St. Peter's and we will get them to Interfaith Charities.
Interfaith Charities is a coalition of churches and business that help the poor in the San Carlos and south Fort Myers area (view their website). We partner with them to help the working poor in our area as part of our mission to serve the poor around us.
Holy Trinity Greek Orthodox Church Festival held February 16-18 in Port Charlotte
Holy Trinity Greek Orthodox Church in Port Charlotte invites all parishioners to attend their annual Greek Festival from February 16-18. The food and entertainment will be great.
Visit the Holy Trinity website for more information. Get directions to Holy Trinity.
Ladies, Mark Your Calendar: Lenten Women's Retreat on Saturday, March 3, 2018
The Lenten Retreat for women will be held at St. Peter's on Saturday, March 3, 2018. The women from St. Paul's will join us.
The topic will be on the Theotokos as our teacher and guide. Fr. Hans and Fr. Paul Girgis will be the presenters. Details will be announced in a few weeks.
Calendar At A Glance
February
Wednesday, January 31, 2018 7:00pm. Living the Orthodox Faith Class CANCELLED
Thursday, February 1, 2018 6:30pm Divine Liturgy Presentation of Christ in the Temple
Friday, February 23, 2018 2:30pm Parish Council Meeting
March
Lenten Schedule
Sunday, February 18, 2018 9:30am Forgiveness Sunday Liturgy
Sunday, February 18, 2018 5:30 Forgiveness Vespers
Monday, February 19, 2018 LENT BEGINS
Monday, February 19, 2018 6:30pm Great Compline with Canon of St. Andrew
Tuesday, February 20, 2018 6:30pm Great Compline with Canon of St. Andrew
Wednesday, February 21, 2018 6:30pm Presanctified Liturgy
Thursday, February 22, 2018 6:30pm Great Compline with Canon of St. Andrew
Friday, February 23, 2018 6:30pm Salutations to the Theotokos
Saturday, March 3, 2018 Women's Lenten Retreat (Details forthcoming)
Wisdom From The Elders
God is good and all-goodness, and you, His image, must also be good. He is bountiful to all, and you too must be generous, and avoid avarice and grudging your neighbor anything material, perishable, as the greatest calamity and foolishness.St John of Kronstadt
I always emphasize that young person should try to live as spiritually as they can before marriage, since preserving their chastity secures their physical and spiritual health.St. Paisios of Mount Athos
Your children should not hear you arguing even once, not even if you raise the tone of your voices to one another.
Elder Porphyrios
Ever let mercy outweigh all else in you. Let our compassion be a mirror where we may see in ourselves that likeness and that true image which belong to the Divine nature and Divine essence. A heart hard and unmerciful will never be pure.St. Isaac the Syrian
When you rise from sleep, your first thought should be of God, your first word should be a prayer to God—your Father and Creator.Elder Anthony of Optina
One may have a good worldly relationship with non-believers, but one cannot have a relationship in prayer and one must not carry on arguments about religion so that the name of God not be offended during an argument.St. Nektary of Optina
Remember in Your Prayers
Anne B.
Eva K.
Rosie
Jill
Connie
Sean Helgeland (great nephew to Steve and Anne Brietenbach)
Kathryn
Jeremy
Robert
Jane
Theodora
Baby Brynn L.
Micheal
Haralambos
Lillian
Presbytera Rosy
Valentina
John
Eva W.
Barbara
Angela
Sonya
Kenneth
Carol Ann
Matthew
Chrysostom
Tim
Ron
Ivy-Jean
Pat
Christina
Maria Louise
Maximos
Marian
Photini
Nicholas
Sarah
Petronia (Wife of Phil Pappas)
Constantine Houpis
Anna Marie Smith Baker
Ron Chromulak
Beverly Chromulak
Katerina
Loucine Kassis
Mary Kassis
Baby Maximus
Christine
Maria
Annette Star
Claire Livaditis
Eva Chandilles
Baby Dani
Scott Nedoff
Anthony Mourgis
John Hansen
James Hord
Tom
How should we pray for the sick? Remember them daily. Say their names (first names are sufficient) and ask God to bestow mercy and grace on them.
Add or remove names and print this list for easy reference during your prayer time on the St. Peter website.
Sunday Readings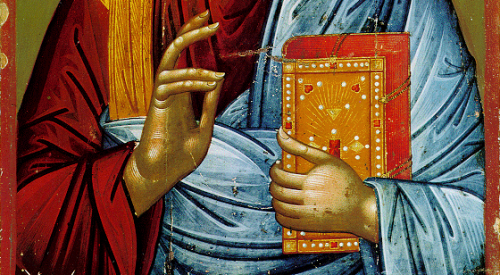 Epistle
For Sunday of the Prodigal Son
Let Thy mercy, O Lord, be upon us.
Rejoice in the Lord, O ye righteous.
The Reading from the First Epistle of St. Paul to the Corinthians. (6:12-20)
Brethren, all things are lawful for me, but not all things are helpful. All things are lawful for me, but I will not be enslaved by anything. Food is meant for the stomach and the stomach for food; but God will destroy both one and the other. The body is not meant for immorality, but for the Lord, and the Lord for the body. And God raised the Lord and will also raise us up by His power. Do you not know that your bodies are members of Christ? Shall I therefore take the members of Christ and make them members of a prostitute? Never! Do you not know that he who joins himself to a prostitute becomes one body with her? For, as it is written, "The two shall become one flesh."

But he who is united to the Lord becomes one spirit with Him. Shun immorality. Every other sin which a man commits is outside the body; but the immoral man sins against his own body. Do you not know that your body is a temple of the Holy Spirit within you, which you have from God? You are not your own; you were bought with a price. So glorify God in your body, and in your spirit, which are God's.
Gospel
For Sunday of the Prodigal Son
The Reading from the Holy Gospel according to St. Luke. (15:11-32)
The Lord spoke this parable: "There was a man who had two sons; and the younger of them said to his father, 'Father, give me the share of property that falls to me.' And he divided his living between them. Not many days later, the younger son gathered all he had and took his journey into a far country, and there he squandered his property in loose living.

And when he had spent everything, a great famine arose in that country, and he began to be in want. So he went and joined himself to one of the citizens of that country, who sent him into his fields to feed swine. And he would gladly have fed on the pods that the swine ate; and no one gave him anything. But when he came to himself he said, 'How many of my father's hired servants have bread enough and to spare, but I perish here with hunger! I will arise and go to my father, and I will say to him, "Father, I have sinned against heaven and before you; I am no longer worthy to be called your son; treat me as one of your hired servants."' And he arose and came to his father.

But while he was yet at a distance, his father saw him and had compassion, and ran and embraced him and kissed him. And the son said to him, 'Father, I have sinned against heaven and before you; I am no longer worthy to be called your son.' But the father said to his servants, 'Bring quickly the best robe, and put it on him; and put a ring on his hand, and shoes on his feet; and bring the fatted calf and kill it, and let us eat and make merry; for this my son was dead, and is alive again; he was lost, and is found.' And they began to make merry.

Now his elder son was in the field; and as he came and drew near to the house, he heard music and dancing. And he called one of the servants and asked what this meant. And he said to him, 'Your brother has come, and your father has killed the fatted calf, because he has received him safe and sound.' But he was angry and refused to go in. His father came out and entreated him, but he answered his father, 'Lo, these many years I have served you, and I never disobeyed your command; yet you never gave me a kid that I might make merry with my friends. But when this son of yours came, who has devoured your living with harlots, you killed for him the fatted calf!' And he said to him, 'Son, you are always with me, and all that is mine is yours. It was fitting to make merry and be glad, for this your brother was dead, and is alive; he was lost, and is found.'"