Sunday after the Baptism of Christ
Wisdom from Abott Tryphon: Practice Reverence in Church
We must practice reverence in the temple, whether during services or when we step into the church to light a candle and venerate the holy icons. The temple is the place set apart for the worship of the Holy Trinity and is the place where the Bloodless Sacrifice is offered before the Throne of God.
It is in the temple that we receive the Body and Blood of our Saviour unto remission of sins and unto life everlasting. It is the holy place where we are cleansed of our sins through the threefold immersion of baptism, becoming members of One Body, the Church.
The temple is the place where we seek to be reconciled with God through the Mystery of Penance and enter into the life of the Spirit. The temple is God's house and must be entered with awe and fear.
Cutting of the Vasilopita
The cutting of the Vasilopita (St. Basil's bread) will take place on Sunday, January 8 following the Divine Liturgy.
Stewardship Letters in the Mail
Responsibility towards God includes taking responsibility for His Church. We love God because He first loved us. He established the Church as His body, as the way we find Him and draw closer to Him. We are responsible for maintaining it so that the work of Christ can continue in the world. That's how it works.
You will be getting letter next week asking for your commitment to St. Peter's. Prayerfully consider your support of St. Peter's. The Church is not a charity. The Church is the Body of Christ. It needs to be high on our list.
A Luncheon and Fashion Show for All Generations
Andrea Pandazi has launched a clothing business and invites any interested women to attend "A Luncheon and Fashion Show for all Generations."
The luncheon and show will be held at the Bonita Bay Club, 26660 Country Club Dr, Bonita Springs, FL 34134 (get map)on Saturday January 28, 2017.
Schedule: 11:00am boutique, 11:30am lunch, 12:30pm fashion show. The cost for lunch and show is $25 per person. Clothes feature LuLaRoe Clothing, India Hicks bags and Noon Collection jewelry.
Bible Study Resumes Wednesday January 18, 2017
See you then.
Calendar At A Glance
Choir Practice every Tuesday at 6:00pm and Bible Study every Wednesday at 7:00pm unless cancelled as noted below. Divine Liturgy every Sunday at 9:30. Extra services noted below. BIBLE STUDY RESUMES JANUARY 18, 2017.
January 8 (Sunday) Cutting of the Vasilopita (St. Basil's Bread) following Liturgy
January 18 (Wednesday) Bible Study Resumes 7:00pm
Wisdom From The Elders
Let thy mind fast from vain thoughts; let thy memory fast from remembering evil; let thy will fast from evil desire; let thine eyes fast from bad sights: turn away thine eyes that thou mayest not see vanity; let thine ears fast from vile songs and slanderous whispers; let thy tongue fast from slander, condemnation, blasphemy, falsehood, deception, foul language and every idle and rotten word; let thy hands fast from killing and from stealing another's goods; let thy legs fast from going to evil deeds: Turn away from evil, and do good.
—St. Tikhon of Zadonsk
If we want to have our heart filled with divine love we must first empty them of the love of this world, its frivolous and sinful customs and then turn our hearts to the one God, our only good and happiness and eternal beatitude.
—St. Tikhon of Zadonsk
We make Idols of our concepts, but Wisdom is born of wonder.
—St. Gregory the Great
The demons…first make an attack by temptation and place hindrances to hamper our way, to wit, evil thoughts. But we need not fear their suggestions, for by prayer, fasting, and faith in the Lord their attack immediately fails.
—Saint Athanasius, The Life of Saint Antony
In the Orthodox Church, healing of the soul ranks higher than the healing of the body. In fact, the healing of the body is offered as a sign of His mercy and blessing to the person experiencing God's healing and to inspire others to do His will. Healing is to be sought both through prayer and the application of physical sciences, but no complete healing is possible apart from the final resurrection of an individual because the sentence of death still reigns in the mortal body. Further, not all people are healed, despite fervent pleas to God and the applications of the best medicines. Sometime illness needs to be endured.
—Fr.George Morelli
Remember in Your Prayers
Maria Louise
Jennie
Mary
James
Lori
Baby Kyriake
Maximos
Marian
Photini
Nicholas
Brad William
Ryan
Sarah
Robert Jarvis
Petronia (Wife of Phil Pappas)
Anna Marie Smith Baker
Harry Zifiris
Iris Kuring (Bettina Zifiris' mother)
Constantine Houpis
Gerhard Kuring (Bettina Zifiris' father)
Ron Chromulak
Beverly Chromulak
Katerina
Dianne
Loucine Kassis
Mary Kassis
Baby Maximus
Annette Star
Christine
Maria
Claire Livaditis
Eva Chandilles
Baby Dani
Scott Nedoff
Anthony Mourgis
John Hansen
Constandina James
James Hord
Bob Smith
Tom and Jean, parents of Patty and Jerry.
How should we pray for the sick? Remember them daily. Say their names (first names are sufficient) and ask God to bestow mercy and grace on them.
Add or remove names and print this list for easy reference during your prayer time on the St. Peter website.
Sunday Readings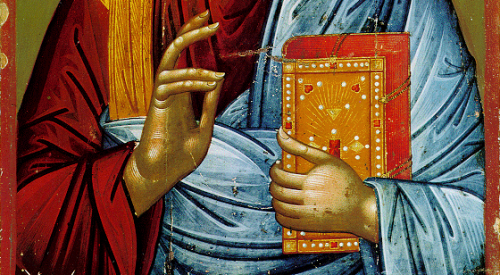 Epistle
For the Sunday after Theophany of Christ
Let Thy mercy, O Lord, be upon us.
Rejoice in the Lord, O ye righteous.
The Reading from the Epistle of St. Paul to the Ephesians. (4:7-13)
Brethren, grace was given to each of us according to the measure of Christ's gift. Therefore it is said, "When He ascended on high He led a host of captives, and He gave gifts to men." (In saying, "He ascended," what does it mean but that He had also descended into the lower parts of the earth? He who descended is He who also ascended far above all the heavens, that He might fill all things.)

And His gifts were that some should be apostles, some prophets, some evangelists, some pastors and teachers, to equip the saints for the work of ministry, for building up the body of Christ, until we all attain to the unity of the faith and of the knowledge of the Son of God, to mature manhood, to the measure of the stature of the fullness of Christ.
Gospel
For the Sunday after Theophany of Christ
The reading from the Holy Gospel according to St. Matthew. (4:12-17)
At that time, when Jesus heard that John had been arrested, he withdrew into Galilee; and leaving Nazareth he went and dwelt in Capernaum by the sea, in the territory of Zebulon and Naphtali, so that what was spoken by the prophet Isaiah might be fulfilled: "The land of Zebulon and the land of Naphtali, toward the sea, across the Jordan, Galilee of the Gentiles—the people who sat in darkness have seen a great light, and for those who sat in the region and shadow of death light has dawned." From that time Jesus began to preach, saying, "Repent, for the kingdom of Heaven is at hand."