Seventeenth Sunday after Pentecost
Seventeenth Sunday of Matthew
Translation of the relics of Ignatius the God-bearer of Antioch
New-martyr Demetrios of Chios
Who Was St. Ignatius of Antioch?
Our father among the saints Ignatius the God-bearer of Antioch (probably died AD 107) was the third bishop of Antioch, after the Apostle Peter and Euodios, whom Ignatius succeeded around AD 68. Ignatius, who also called himself Theophorus ("God-bearer"), was most likely a disciple of both Apostles Peter and John. Several of his letters have survived to this day; he is one of the Apostolic Fathers (the earliest group of the Church Fathers), and a saint in the Orthodox Church (feastday, December 20).
He was arrested by the Roman authorities and transported to Rome to die in the arena. They hoped to make an example of him and thus discourage Christianity from spreading. Instead, he met with and encouraged Christians all along his route, and wrote letters to the Ephesians, Magnesians, Trallians, Philadelphians, Smyrneans, and Romans, as well as a letter to Polycarp, who was bishop of Smyrna and a disciple of John the Evangelist.
Read more on the Orthdoxwiki website.
House and Business Blessing Schedule
Fr. Hans will be doing house and business blessings all through January and February on Wednesdays, Thursdays, and Fridays. Contact Fr. Hans either by phone, in person at church, or through the website (preferred) to schedule a date.
Liturgy: Presentation of Our Lord – Wednesday, February 1, 2017 at 6:30pm
On Wednesday February 1, 2017 at 6:30pm we will celebrate the Presentation of the Lord in the Temple on the eve of this important feast day.
Forty days after Christ was born He was presented to God in the Jerusalem Temple according to the Mosaic Law. At this time as well His mother Mary underwent the ritual purification and offered the sacrifices as prescribed in the Law. Thus, forty days after Christmas, on the second of February, the Church celebrates the feast of the presentation called the Meeting (or Presentation or Reception) of the Lord.
Learn more on the Orthodox Church in America website.
Calling All Women to a Retreat Saturday, March 4
St. Paul's has invited all Orthodox women in the area to "Spiritual Saturday Women's Reteat" at St. Paul's on Saturday November 4. Full schedule of the day's events are posted on the website.
Mark you calendar. More details will be provided this Sunday. Cost is $10 to cover lunch and snacks. Questions? Please see Angela Long or Anthea Teufel.
This is a good opportunity to meet other Orthodox women in our area in a setting that also is good for the soul!
Stewardship Letters in the Mail
Responsibility towards God includes taking responsibility for His Church. We love God because He first loved us. He established the Church as His body, as the way we find Him and draw closer to Him. We are responsible for maintaining it so that the work of Christ can continue in the world. That's how it works.
You will be getting letter next week asking for your commitment to St. Peter's. Prayerfully consider your support of St. Peter's. The Church is not a charity. The Church is the Body of Christ. It needs to be high on our list.
Interfaith Charities Needs Peanut Butter, Jelly and Ramen Noodles
Interfaith Charities (IC), the local agency St. Peter's partners with to help working poor families, needs peanut butter, jelly, and ramen noodles to help feed underprivileged kids. They do not need spaghetti.
St. Peter's helps IC at crunch time. Last time we supplied over 90lbs of peanut butter and jelly when the call came out.
Please bring your donation to Church. We will be sure it gets to IC.
A Luncheon and Fashion Show for All Generations
Andrea Psaras has launched a clothing business and invites any interested women to attend "A Luncheon and Fashion Show for all Generations."
The luncheon and show will be held at the Bonita Bay Club, 26660 Country Club Dr, Bonita Springs, FL 34134 (get map)on Saturday January 28, 2017.
Schedule: 11:00am boutique, 11:30am lunch, 12:30pm fashion show. The cost for lunch and show is $25 per person. Clothes feature LuLaRoe Clothing, India Hicks bags and Noon Collection jewelry.
For more information call Andrea at 239-591-8002 or email Andrea at andrea.psaras@gmail.com
Bible Study Continues on Wednesday January 25, 2017
Bible Study resumes this Wednesday, January 18, 2017
See you then.
Preparing for Lent Presentation
Fr. Stephanos will give us some practical instruction on Saturday, February 4, 2017 from 9:00am to 11:00am on what Lent is for, why we fast and how to fast, the worship cycle and more. We've planned it to fit into your schedule.
9:00 – Coffee, bagels, more
9:30 – Start of Presentation
11:00 – End of Presentation
Please plan to attend. The talk will be focused and cover the important points regarding Lent.
Calendar At A Glance
Choir Practice every Tuesday at 6:00pm and Bible Study every Wednesday at 7:00pm unless cancelled as noted below. Divine Liturgy every Sunday at 9:30. Extra services noted below.
February 1 (Wednesday) Liturgy Presentation of the Lord in the Temple (eve) 6:30pm; Choir Pract and Bible Study CANCELLED
February 4 (Saturday) How to Prepare for Lent by Fr. Stephanos 9:00am to 11:00am.
February 12 (Sunday) Memorial Luke Pallis by John and Joan Simon; Memorial Rena (Tharina) Brooks
February 27 (Monday) Lent Begins
Wisdom From The Elders
One who is striving towards monasticism must not be troubled by anything, but must put all his hope in God.

Archbishop Seraphim (Sobolev) of Bogucharsk
Guard sacredly and strictly our Orthodox Faith, both in its canons and in its dogmas. Do not adapt your faith to your life, but your life to the faith.
Archbishop Seraphim (Sobolev) of Bogucharsk
The crown of all good works consists in this: that a man place all his hope in God, that he find recourse in Him once and for all with his heart and strength, that he be filled with compassion for all, and that he weep before God, imploring His help and mercy.
Venerable Isaiah the Recluse
Therefore, let us make an effort sacredly and strictly to guard the Orthodox Faith, and along with it always to have a grace-filled, true love for our neighbors.
Archbishop Seraphim (Sobolev) of Bogucharsk
One monk asked Sisoes: How can I please God and be saved? The saint answered: If you wish to please God, withdraw from the world, separate yourself from the earth, put aside creation, draw near to the Creator, and unite yourself to God with prayers and tears –then you will find rest in this age and in the age to come.

St. Sisoes the Great
Remember in Your Prayers
Baby Samuel
Victoria
Jennie
Mary
James
Lori
Baby Kyriake
Maximos
Marian
Photini
Nicholas
Brad William
Ryan
Sarah
Robert Jarvis
Petronia (Wife of Phil Pappas)
Anna Marie Smith Baker
Harry Zifiris
Iris Kuring (Bettina Zifiris' mother)
Constantine Houpis
Gerhard Kuring (Bettina Zifiris' father)
Ron Chromulak
Beverly Chromulak
Katerina
Dianne
Loucine Kassis
Mary Kassis
Baby Maximus
Annette Star
Christine
Maria
Claire Livaditis
Eva Chandilles
Baby Dani
Scott Nedoff
Anthony Mourgis
John Hansen
Constandina James
James Hord
Bob Smith
Tom and Jean, parents of Patty and Jerry.
How should we pray for the sick? Remember them daily. Say their names (first names are sufficient) and ask God to bestow mercy and grace on them.
Add or remove names and print this list for easy reference during your prayer time on the St. Peter website.
Sunday Readings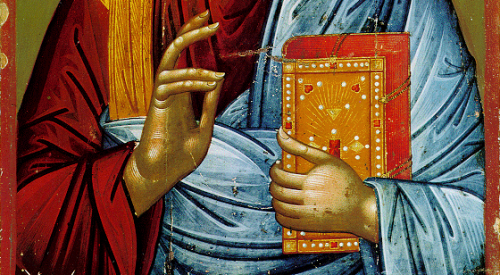 Epistle
For the Seventeenth Sunday after Pentecost
Make your vows to the Lord your God, and perform them.
In Judah God is known; His Name is great in Israel.
The Reading from the Second Epistle of St. Paul to the Corinthians. (6:16-7:1)
Brethren, you are the temple of the living God; as God said, "I will live in them and move among them, and I will be their God, and they shall be my people. Therefore, come out from them, and be separate from them," says the Lord, "and touch nothing unclean; then I will welcome you, and I will be a Father to you, and you shall be My sons and daughters," says the Lord Almighty. Since we have these promises, beloved, let us cleanse ourselves from every defilement of body and spirit, and make holiness perfect in the fear of God.
Gospel
For the Seventeenth Sunday of Matthew
The Reading from the Holy Gospel according to St. Matthew. (15:21-28)
At that time, Jesus went to the district of Tyre and Sidon. And behold, a Canaanite woman from that region came out and cried, "Have mercy on me, O Lord, Son of David; my daughter is severely possessed by a demon." But He did not answer her a word. And His disciples came and begged him, saying, "Send her away, for she is crying after us." He answered, "I was sent only to the lost sheep of the house of Israel." But she came and knelt before Him, saying, "Lord, help me." And He answered, "It is not fair to take the children's bread and throw it to the dogs." She said, "Yes, Lord, yet even the dogs eat the crumbs that fall from their master's table." Then Jesus answered her, "O woman, great is your faith! Be it done for you as you desire." And her daughter was healed instantly.