Fourteenth Sunday of Luke
Recovery of the Relics of John Chrysostom
Marciana the Empress; New-Martyr Demetrios of Constantinople; Venerable Peter of Egypt
Who was The Venerable Peter of Egypt?
Abba (the Venerable) Peter was the disciple of Abba Lot (Oct. 22), and lived for many years in the desert of the Cells. He reposed in peace in deep old age.
Below are some of the recorded Sayings of Abba Peter:
Abba Peter and Abba Epimachus were said to have been companions at Rhaithou. While they were eating with the community, they were asked to go to the table of the senior brethren. Only Abba Peter would go and that not without difficulty. When they left, Abba Epimachus said to him, "How did you dare to go to the table of the seniors?' He replied, 'If I had been sitting with you, the brothers would have asked me, as the senior brother, to give the blessing first and as I am older than you, I shall have had to do it. But with the Fathers, I was the youngest of all and the most humble in thought."

Abba Peter said, "We must not be puffed up when the Lord does something through our mediation, but we must rather thank him for having made us worthy to be called by him." He used to say it is good to think about each virtue in this way.

Some other time Peter was asked: 'What is a servant of God?' His answer was this: "As long as one practices any kind of passion he cannot be called servant of God, but he is the servant of that passion which conquers him. As long as he is conquered he cannot teach others, who are conquered by the same passions, because it is shameful for him to teach, before he has been freed from that passion about which he teaches."
Source: Mystagogy.
Presentation of the Lord in the Temple Divine Liturgy, Saturday, February 2, 2019 at 9:30am
On Saturday February 2, 2017 at 9:30am we will celebrate the Presentation of the Lord in the Temple.
Forty days after Christ was born He was presented to God in the Jerusalem Temple according to the Mosaic Law. At this time as well His mother Mary underwent the ritual purification and offered the sacrifices as prescribed in the Law. Thus, forty days after Christmas, on the second of February, the Church celebrates the feast of the presentation called the Meeting (or Presentation or Reception) of the Lord.
Learn more on the Orthodox Church in America website.
Memory Eternal! + Jean Sam
We knew that Jean Sam loved St. Peter's but many of us do not know of her extensive service to the Church. The Antiochian Church published the biography below that lists her impressive accomplishments.
May her memory be eternal.
Dedicated servant of Christ and benefactor of the Antiochian Archdiocese Jean Sam reposed on January 8, 2019 in Bonita Springs, Florida. Her parents, her brothers Fred and John, and her sister Mary, all preceded her in death.
Jean was born in Detroit on September 1, 1928 to parents George and Catherine Sam. Jean received her education at Wayne State University up to a post-graduate level, and worked at General Motors in Detroit.
A longtime member of St. George in Detroit, Michigan, Jean sang in the choir, was a member of the ladies of St. George, served as the bookstore manager and as a member of the Parish Council, and also chaired the Council. She also became involved in the greater Archdiocese in many ways, serving as President of the Antiochian Women in the Midwest and then as President of the NAB of the Antiochian Women, conducting workshops and seminars throughout the Archdiocese. Jean also collected articles prior to the building of the existing structure of the museum at the Antiochian Village before serving as Curator. Jean was also a member of the Board of Trustees of the Archdiocese, and Co-Chair of the 1987 Archdiocese Convention in Dearborn, Michigan, as well as a dame of the Order of St. Ignatius of Antioch. She was also a tireless supporter of the Department of Charities.
In honor of her outstanding service to the Archdiocese, Jean was awarded the Antonian Silver Medal.
In 1990 she moved to St. Elias in Atlanta Georgia, and later to Bonita Springs. Florida. There, she was a founding member of the St. Paul's parish in Naples, Florida.
House and Business Blessings for 2019
Fr. Hans has started house and business blessings.
You can schedule your blessing by:
Filling in the form on the website
Texting Fr. Hans at 239-248-4775 (leave a few good dates and times and your address – Fr. Hans will confirm)
Talking to Fr. Hans at Social Hall
Emailing the Church
Phone calls are fine too but only as a last resort please.
Please a several available dates ready. The schedule fills up fast but Fr. Hans will make every possible accommodation to meet it.
New Member Classes and Bible Studies Continue
Cathechumen/New Member class started on Monday, January 14 at 7:00pm. Catechumens are required to attend but anyone seeking a better understanding of the Orthodox faith is encouraged to attend as well.
General and Mens Bible studies on alternating Wednesdays beginning on Wednesday, January 16. The Mens Study will not begin until February 6 because Fr. Hans will be out of town on January 23 attending the Miami Diocese Retreat in Atlanta.
St. Demetrios Brotherhood meetings (for young men) moved to Thursdays beginning January 17.
Our Stewardship to St. Peter's: The Tree Must Bear Fruit
Please return your Stewardship Support of St. Peter's for 2019.
We are responsible to increase what God has given us. In the Parable of the Talents, the master gave his servants talents that they are expected to nurture and grow. This is a responsibility we cannot avoid.
The Church is both a place where the increase begins on the inside of us, and to which we much give some our increase. This too is a responsibility we must take on.
A contribution form will be included in the letter you receive. Our goal this year is $200,000. We must meet this goal to avoid using our reserves. If we spend our reserves, we will not be able to obtain a mortgage to buy or build when the time comes to do so (and it will come sooner than later).
All of us may have to squeeze a bit to meet this goal. But if give, the Church flourishes and that flourishing spills over into our lives as well and the lives of our families.
We must increase what we have been given by God.
Mark Your Calendar!
NAMI Walk on February 26, 2019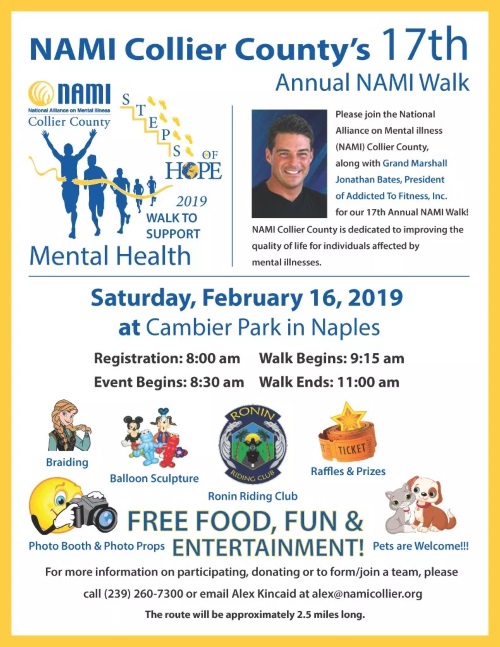 The walk will start around 830 or 9 o'clock in the morning with a light breakfast before the walk. Water and energy drinks and coffee fresh fruit offered during the walk. A light lunch will be provided after the walk with some entertainment
If anyone would like to join Bill and Mary's Copeland's team please contact us in church or call 239-498-1331.
We are asking our church family to support NAMI financially with a small contribution to help fund local activities for the mentally challenged individuals that live in Collier and Lee County.
St. Valentine's Day Potluck & Dance on Saturday Evening February 26, 2019
Join us for a St. Valentine Day potluck and dance on Saturday, February 16, 2019 starting at 5:00pm. More information coming.
Please Help on Church Directory Updates
A lot of work has been done behind the scenes updating our record keeping, parish lists, and financial tracking.
One area that has been improved is record keeping of our members.
To bring everything up to date we need current information. Please fill in the form on the website, fill in a paper form at Church, or complete the stewardship form you will be receiving shortly.
You can fill in the form on the website here.
Calendar At A Glance
JANUARY
January 22-26, 2019 — Fr. Hans attends Miami Diocese Winter Retreat in Atlanta
Wednesday, January 23 — CANCELLED Mens Bible Study at 7:00pm
Thursday, January 24 — CANCELLED St. Demetrios Brotherhood at 7:00pm
Monday, January 28 — Catechumen/New Member Class at 7:00pm
Wednesday, January 30 — Community Bible Study at 7:00pm
Thursday, January 31 — St. Demetrios Brotherhood at 7:00pm
FEBRUARY
Saturday, February 2 — 9:30am Divine Liturgy Presentation of Christ in the Temple
Monday, February 4 — Catechumen/New Member Class at 7:00pm
Wednesday, February 6 — Mens Bible Study at 7:00pm
Thursday, February 7 — St. Demetrios Brotherhood at 7:00pm
Monday, February 11 — Catechumen/New Member Class at 7:00pm
Wednesday, February 14 — Community Bible Study at 7:00pm
Thursday, February 14 — St. Demetrios Brotherhood at 7:00pm
Saturday, February 16 — St. Valentine's Day Dance/Potluck 5:00pm
Monday, February 18 — Catechumen/New Member Class at 7:00pm
Wednesday, February 20 — Mens Bible Study at 7:00pm
Thursday, February 21 — St. Demetrios Brotherhood at 7:00pm
Monday, February 25 — Catechumen/New Member Class at 7:00pm
Wednesday, February 27 — Community Bible Study at 7:00pm
Thursday, February 28 — St. Demetrios Brotherhood at 7:00pm
Wisdom From The Elders
Human charity is suspicious: it fears lest it may somehow give to a person who already has something, or lest it may give too much. But the Lord's charity is not like this : "The Lord is good to all, and His tender mercies are over all His works." Righteous John, Wonderworker of Kronstadt
The foundation of prayer is the yearning of the image towards its prototype, as of like to like. Righteous John, Wonderworker of Kronstadt
The crucified flesh reconciles itself with the spirit and with God; whilst the flesh that is cherished, that is abundantly and daintily fed, fights hard against the spirit and against God. Righteous John, Wonderworker of Kronstadt
Free-thinkers and atheists say that religion, the Church, the Divine service, the sacraments and rites, were invented by men in order to keep people in fear and submission, and to maintain, morality, and, perhaps, also in order to collect revenues from them. This is how God's mercy and His wonderful ordering for our salvation, the very incarnation, sufferings and death of the Son of God for our sakes, are blasphemed by the ignorant and free-thinkers who have lost the fear of God. Righteous John, Wonderworker of Kronstadt
Our wickedness shall not overpower the unspeakable goodness and mercy of God; our dullness shall not overpower God's wisdom, nor our infirmity God's omnipotence. Righteous John, Wonderworker of Kronstadt
Remember in Your Prayers
Athanasia
Alexandra
Constantina
Maryanne (E)
Ron (E)

Tim
Robert (J)
Mary (J)
Helen (Rogers)
Doug Spencer
Kathy Spencer
Kathy D
Andreas
Sofia Tešanovic
Paul
Dennis H. and Family
Victor Evan
Ann
James
Vasiliki
Efstratia
Alexandra
Nikos
Georgia
Ioannis
Costandino
Jeffrey
Vaso
Dave
Dimitri – Presbyter
Vassiliki
Octavio
Tom
Carl
Rena
Nikolay (5 year old boy in Bulgaria whose parents asked us to pray)
David
Eva K.
Rosie
Kathryn
Jeremy

Constantine
Robert
Jane
Theodora
David
Gina
Micheal
Haralambos
Lillian
Presbytera Rosy
Valentina
Eva W.
Barbara
Angela
Carol Ann
Matthew
Chrysostom
Tim
Pat
Christina
Maria Louise
Maximos
Marian
Photini
Nicholas
Sarah
Constantine Houpis
Anna Marie Smith Baker
Ron Chromulak
Beverly Chromulak
Katerina
Mary Kassis
Baby Maximus
Christine
Maria
Annette Star
Claire Livaditis
Eva Chandilles
Baby Dani
Scott Nedoff
James Hord
Tom
How should we pray for the sick? Remember them daily. Say their names (first names are sufficient) and ask God to bestow mercy and grace on them.
Add or remove names and print this list for easy reference during your prayer time on the St. Peter website.
Sunday Readings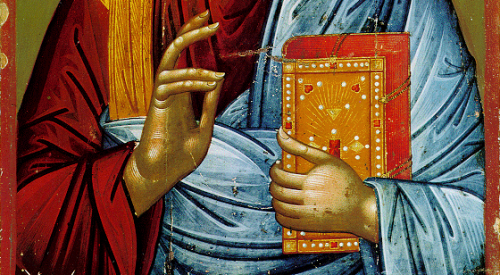 Epistle
For St. John Chrysostom
My mouth shall speak of wisdom; and the meditation of my heart shall be of understanding.
Hear this, all ye people.
The Reading from the Epistle of St. Paul to the Hebrews. (7:26-8:2)
Brethren, it was fitting that we should have such a High Priest, holy, blameless, unstained, separated from sinners, exalted above the heavens. He has no need, like those high priests, to offer sacrifices daily, first for his own sins and then for those of the people; He did this once for all when He offered up Himself. Indeed, the law appoints men in their weakness as high priests, but the word of the oath, which came later than the law, appoints a Son Who has been made perfect forever. Now the point in what we are saying is this: we have such a High Priest, one Who is seated at the right hand of the throne of the Majesty in heaven, a minister in the sanctuary and the true tent which is set up not by man but by the Lord.
Gospel
For the Fourteenth Sunday of Luke
The reading from the Holy Gospel according to St. Luke. (18:35-43)
At that time, when Jesus drew near to Jericho, a blind man was sitting by the roadside begging; and hearing a multitude going by, he inquired what this meant. They told him, "Jesus of Nazareth is passing by." And he cried, "Jesus, Son of David, have mercy on me!" And those who were in front rebuked him, telling him to be silent; but he cried out all the more, "Son of David, have mercy on me!" And Jesus stopped, and commanded him to be brought to him; and when he came near, Jesus asked him, "What do you want me to do for you?" He said, "Lord, let me receive my sight." And Jesus said to him, "Receive your sight; your faith has made you well." And immediately he received his sight and followed Jesus, glorifying God; and all the people, when they saw it, gave praise to God.