Synaxis of the Holy Prophet, Forerunner and Baptist John
The New-martyr Athanasios of Attali, and Venerable Brannock of Braunton
The Holy Prophet, Forerunner and Baptist John
In the Orthodox Church it is customary, on the day following the Great Feasts of the Lord and the Mother of God, to remember those saints who participated directly in the sacred event. So, on the day following the Theophany of the Lord, the Church honors the one who participated directly in the Baptism of Christ, placing his own hand upon the head of the Savior.
Saint John, the holy Forerunner and Baptist of the Lord, whom the Lord called the greatest of the prophets, concludes the history of the Old Testament and opens the era of the New Testament. The holy Prophet John bore witness to the Only-Begotten Son of God, incarnate in the flesh. Saint John was accounted worthy to baptize Him in the waters of the Jordan, and he was a witness of the Theophany of the Most Holy Trinity on the day of the Savior's Baptism.
The holy Prophet John was related to the Lord on His mother's side, the son of the Priest Zachariah and Righteous Elizabeth. The holy Forerunner, John, was born six months before Christ. The Archangel Gabriel announced his birth in the Temple at Jerusalem, revealing to Zachariah that a son was to be born to him.
Read the entire article on the Orthodox Church in America website.
Theophany Schedule: Friday 9am Royal Hours; Saturday 9am Theophany Liturgy
PLEASE NOTE: This is a change from the original schedule.
The Royal Hours (reading of Psalms and Prophecies) will be held on Friday, January 5, starting at 9am.
The Theophany Liturgy will be held on Saturday, January 6, starting at 9am.
The Blessing of the Water will be held following the Liturgy on Saturday inside the church.
Living the Orthodox Faith Class Continues Wednesday, January 17 at 7:00pm
"Living the Orthodox Faith" will look at why our Church does things the way it does, and how to do it properly. We will learn about the sign up the cross, how to enter the Church properly (candles and veneration), how to make a home altar, and more. This is a very practical class, not theological as much as how to live the Orthodox life as an Orthodox Christian.
Can't make the class? Join in on Facebook Live! You can also view last week's class too.
Sign up for House Blessings
Fr. Hans will be blessing homes and businesses during the Theophany season. Please sign up after Liturgy or email Fr. Hans with a few times that work for you. He will contact you to finalize date and time.
Fr. Hans Out of Town from Wednesday, January 10 to Saturday, January 13.
He will be attending SOPHIA, the Society of Orthodox Philosophers in America held at Holy Archangels Monastery in San Antonia, Texas. He will be available on his cell phone 9239-248-4775).
Cutting of the Vasilopita (St. Basil's Bread) Sunday, January 14, 2018
The tradition of baking and cutting a special "pita" (which can mean a loaf of bread, a cake, or even a pie) each year on January 1st is observed in honor of our holy father Basil the Great, archbishop of Caesarea in Cappodocia— hence its name "Vasilopita" meaning "St. Basil's Bread." This tradition is observed in both parish churches and in the homes of the faithful. What is the meaning of this tradition and how did it begin?
Read the answer on the Antiochian Archdiocese website.
St. Peter's General Assembly Meeting, Sunday, January 21
St. Peter's will hold it first annual General Assembly meeting on Sunday, January 21, 2018 following the Divine Liturgy. St. Peter's is growing and we are establishing our systems and procedures for greater stability in the long term.
We will discuss vision, budgets and other necessary items for long term planning. Of significant importance is what to do in the immediate future as space is our present facility is limited and our lease runs out at the end of 2018.
Be sure to attend. Your contribution is important to help formulate where we are going and how to get there.
Diocese of Miami Winter Retreat
Please click image to view full-size.
Ladies, Mark Your Calendar: Lenten Womens Retreat on Saturday, March 3, 2018
The Lenten Retreat for women will be held at St. Peter's on Saturday, March 3, 2018. The women from St. Paul's will join us.
The topic will be on the Theotokos as our teacher and guide. Fr. Hans and Fr. Paul Girgis will be the presenters. Details will be announced in a few weeks.
Calendar At A Glance
January
Monday, January 1, 2018 9:00am Divine Liturgy St. Basil the Great and Circumcision of Christ
Friday, January 5, 2018 9:00am/10:00am. Royal Hours of Theophany
Saturday, January 6, 2018 9:00am/10:15am. Divine Liturgy and Blessing of the Waters
Sunday, January 14, 2018 Cutting of the Vasilopita (St. Basil's Bread) after Liturgy
Wednesday, January 17, 2018 7:00pm. Living the Orthodox Faith Class
Sunday, January 21, 2018 General Assembly Meeting
March
Saturday, March 3, 2018 Women's Lenten Retreat (Details forthcoming)
Wisdom From The Elders
It is just to pray often, to pray always, which falls within our power as the means to attaining purity of prayer, which is the mother of all spiritual blessings.
The Way of a Pilgrim
Fasting is an expression of love and devotion, in which one sacrifices earthly satisfaction to attain the heavenly. Altogether too much of one's thoughts are taken up with care for sustenance and the enticements of the palate; one wishes to be free from them. Thus fasting is a step on the road of emancipation and an indispensable support in the struggle against selfish desires. Together with prayer, fasting is one of humanity's greatest gifts, carefully cherished by those who once have participated in it.
Tito Coliander
We must begin by seeking such a state within our soul that external decisions will come spontaneously -a state in which "joy in our Lord" and the power of grace imperiously dictate to us another mode of life, instead of the selfish, epicurian existence.
Alexander Elchamnov
Question: How can we know that grace abides in us? Response: It makes itself known. But St. Seraphim of Sarov said that modern man has lost his sense of intimacy with God.
Elder Sergei of Vanvesv
A saint in the patristic tradition simply means someone who is cured. It means someone who has gone through purification and reached illumination, and from illumination has gone on to glorification. He has been cured and, consequently, he is a saint.
Father John Romanides
Those who actually do progress spiritually do not recognize their great progress; they only experience great compunction and humility and the love of God together with an inexpressible exultation of joy.
Elder Paisios of Mount Athos
Remember in Your Prayers
Eva K.
Rosie
Jill
Connie
Sean Helgeland (great nephew to Steve and Anne Brietenbach)
Kathryn
Jeremy
Robert
Jane
Theodora
Baby Brynn L.
Micheal
Haralambos
Lillian
Presbytera Rosy
Valentina
John
Eva W.
Barbara
Angela
Sonya
Kenneth
Carol Ann
Matthew
Chrysostom
Tim
Ron
Ivy-Jean
Pat
Christina
Maria Louise
Maximos
Marian
Photini
Nicholas
Sarah
Petronia (Wife of Phil Pappas)
Constantine Houpis
Anna Marie Smith Baker
Ron Chromulak
Beverly Chromulak
Katerina
Loucine Kassis
Mary Kassis
Baby Maximus
Christine
Maria
Annette Star
Claire Livaditis
Eva Chandilles
Baby Dani
Scott Nedoff
Anthony Mourgis
John Hansen
James Hord
Tom
How should we pray for the sick? Remember them daily. Say their names (first names are sufficient) and ask God to bestow mercy and grace on them.
Add or remove names and print this list for easy reference during your prayer time on the St. Peter website.
Sunday Readings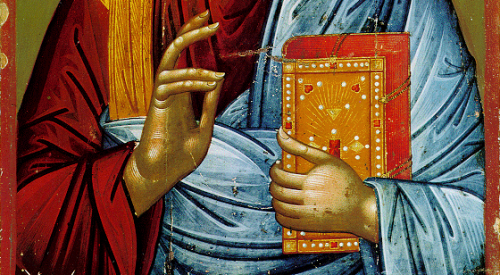 Epistle
For the Synaxis
The righteous shall rejoice in the Lord.
O God, hear my prayer.
The Reading from the Acts of the Apostles. (19:1-8)
In those days, while Apollos was at Corinth, Paul passed through the upper country and came to Ephesus. There he found some disciples. And he said to them, "Did you receive the Holy Spirit when you believed?" And they said, "No, we have never even heard that there is a Holy Spirit." And he said, "Into what then were you baptized?" They said, "Into John's baptism." And Paul said, "John baptized with the baptism of repentance, telling the people to believe in the One Who was to come after him, that is, Jesus." On hearing this, they were baptized in the Name of the Lord Jesus. And when Paul had laid his hands upon them, the Holy Spirit came on them; and they spoke with tongues and prophesied. There were about twelve of them in all. And he entered the synagogue and for three months spoke boldly, arguing and pleading about the Kingdom of God.
Gospel
For the Synaxis
The reading from the Holy Gospel according to St. John. (1:29-34)
At that time, John saw Jesus coming toward him, and said, "Behold, the Lamb of God, Who takes away the sin of the world! This is He of Whom I said, 'After me comes a man Who ranks before me, for He was before me.' I myself did not know Him; but for this I came baptizing with water, that He might be revealed to Israel." And John bore witness, "I saw the Spirit descend as a dove from heaven, and it remained on Him. I myself did not know Him; but He Who sent me to baptize with water said to me, 'He on Whom you see the Spirit descend and remain, this is He Who baptizes with the Holy Spirit.' And I have seen and have borne witness that this is the Son of God."